Nutter Butter Acorn Cookies – No Bake Fall Cookies – So Cute!
This post may contain affiliate links and I may be compensated for this post. Please read our disclosure policy here.

Nutter Butter Acorn Cookies – No Bake Fall Cookies – So Cute!
nutter butter acorn treats
These Nutter Butter Acorn Cookies are not only so cute, but they are so easy to make. No baking required, and you only need 3 ingredients to make them! Plus, they are yummy too.
The Acorn nutter butter cookies would make an adorable centerpiece for a fall get together, or have them ready for a fun treat for kids after school. The recipe is so simple, they are fun to have the kids make too.
These Acorn cookies with Nutter Butter are really part candy and part cookie, since you are using the Hershey Kisses with a cookie bottom. Either way they will satisfy that sweet craving, and they are small enough to pop in your mouth easily, for parties and gatherings.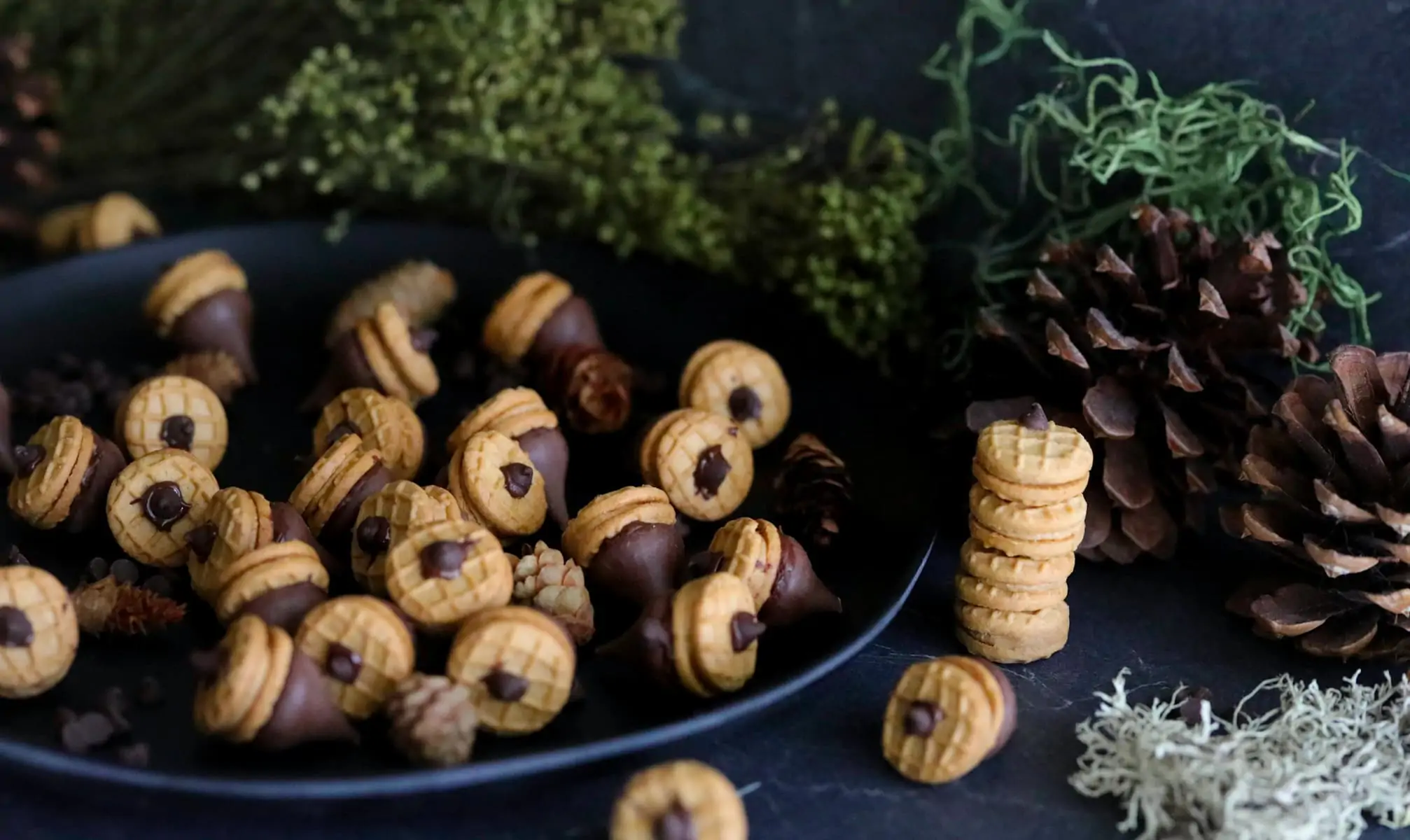 You could use these acorn cookie/candy treats for so many things. They would be a fun treat for a Thanksgiving gathering, or Harvest party. You could put a tray out for a fall themed wedding or baby shower. Best of all though, is just having them around to make a normal day feel special.
They pair well with a cup of coffee or teat for adults, and some apple cider or hot chocolate for kids, to round out the treat.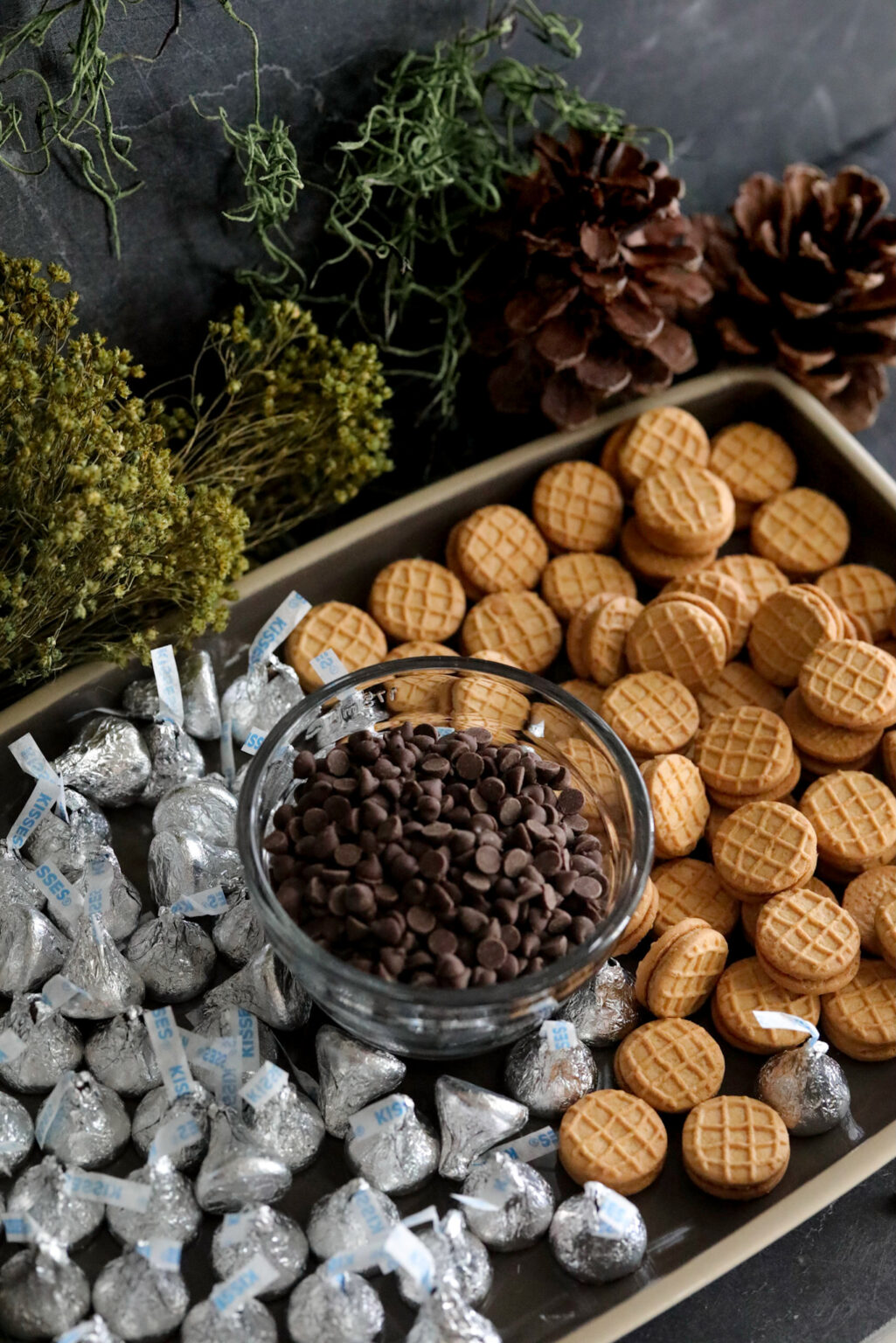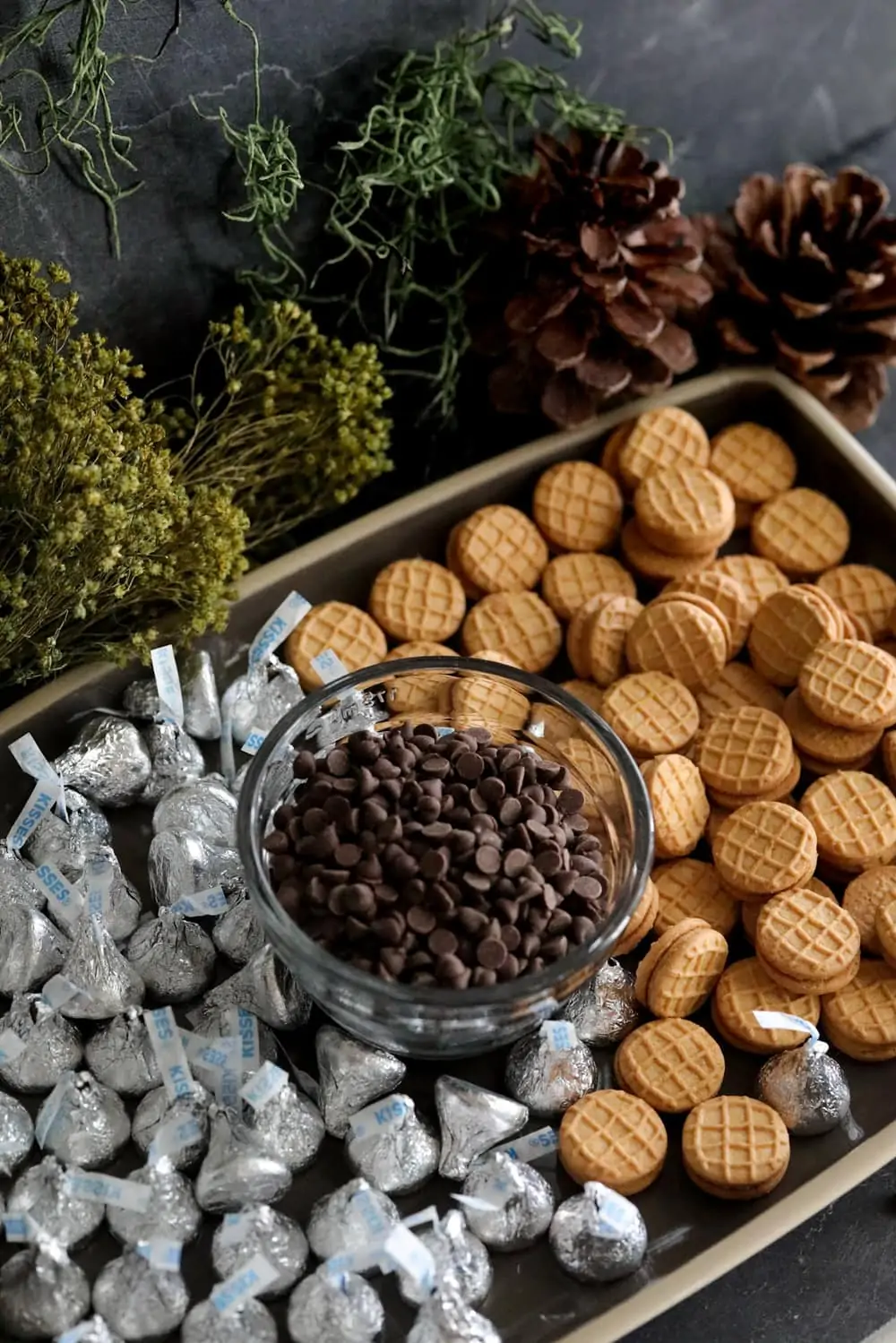 Ingredients needed for Acorn Nutter Butter Cookies
There are only three ingredients needed for these Acorn cookies, which make them so easy to put together.
Note – while we use mini Nutter Butter cookies, to give them the acorn cookie look, there are other cookie alternatives out there that you can use instead – that do not have peanuts as an ingredient if you are concerned about allergies. A good substitute would be the mini vanilla wafer cookies (like Nilla Wafers), or mini vanilla sandwich cookies (like Grandmas mini cookies).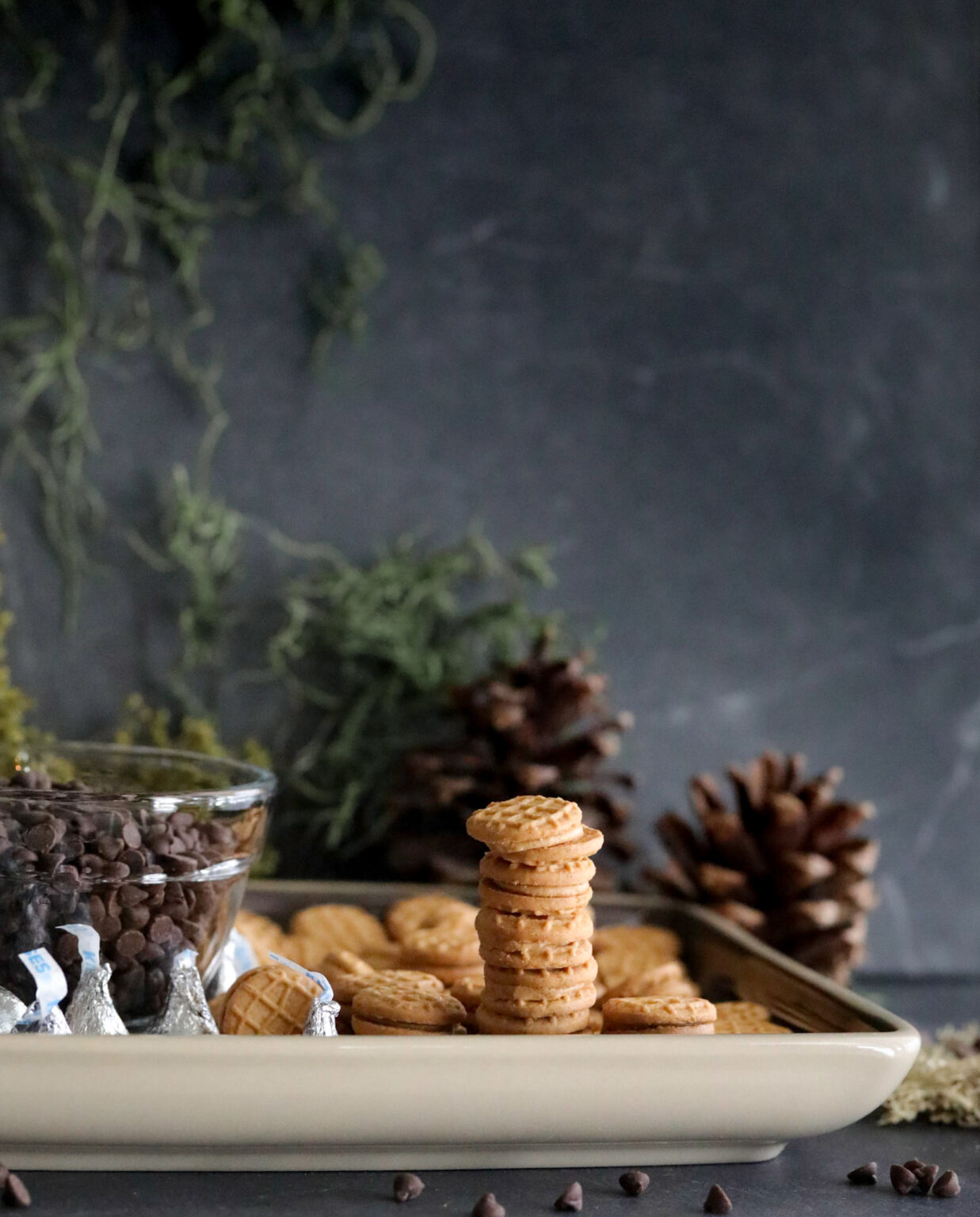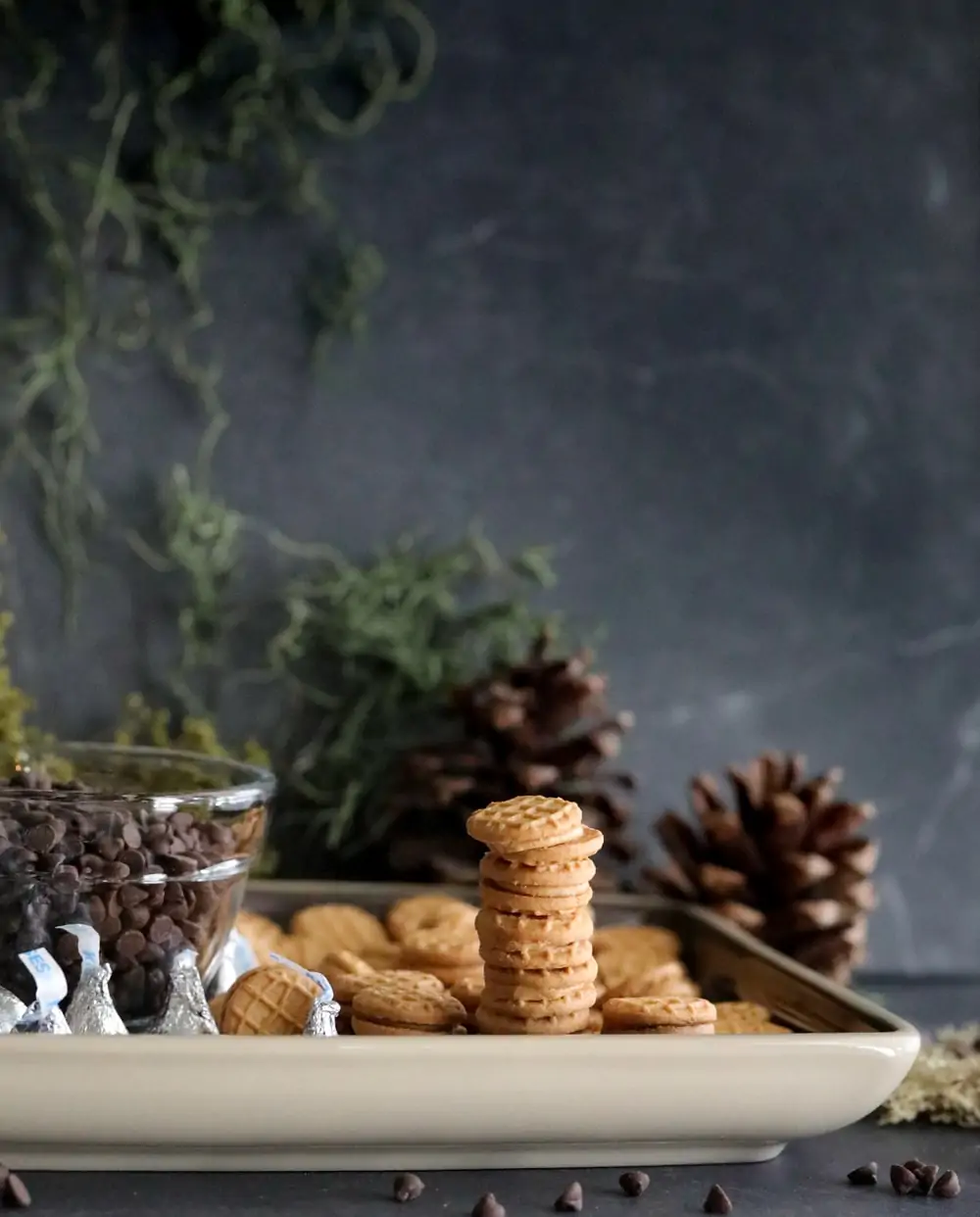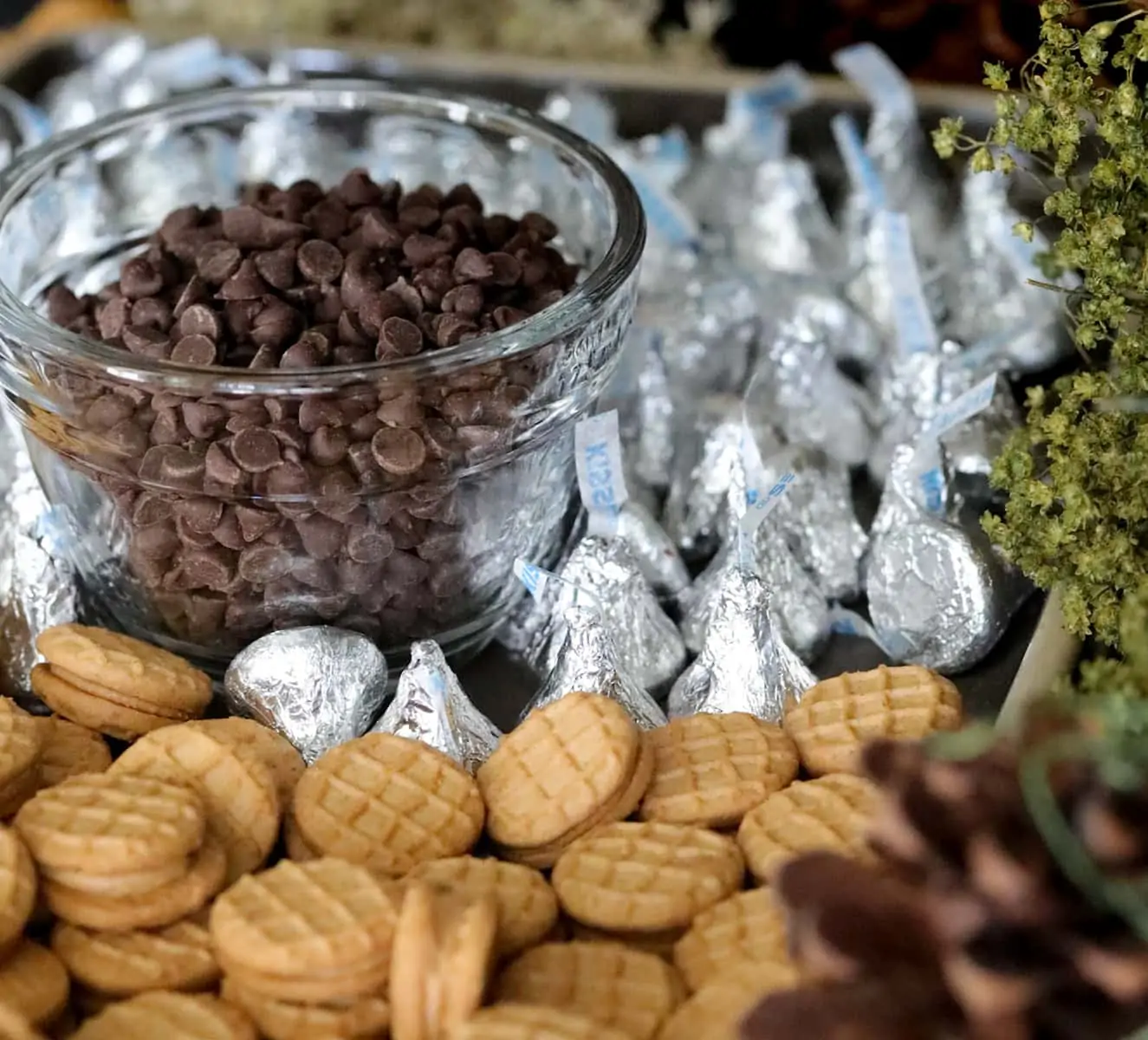 Hershey's Chocolate Kisses
Mini Chocolate Chips
Note – you could also use peanut butter or butterscotch chips if you prefer. If you plan to use the butterscotch chips, I would recommend pairing those with the vanilla wafers, as I am not sure that flavor pairs best with Nutter Butters.
How To Make These Acorn Nutter Butter Cookies
The process of making these is really simple. You are basically melting down some chocolate to act as the glue to hold it all together, and assembling it to look like an acorn. Since all of the items are already made, and you are just putting them together – it does not really get much easier.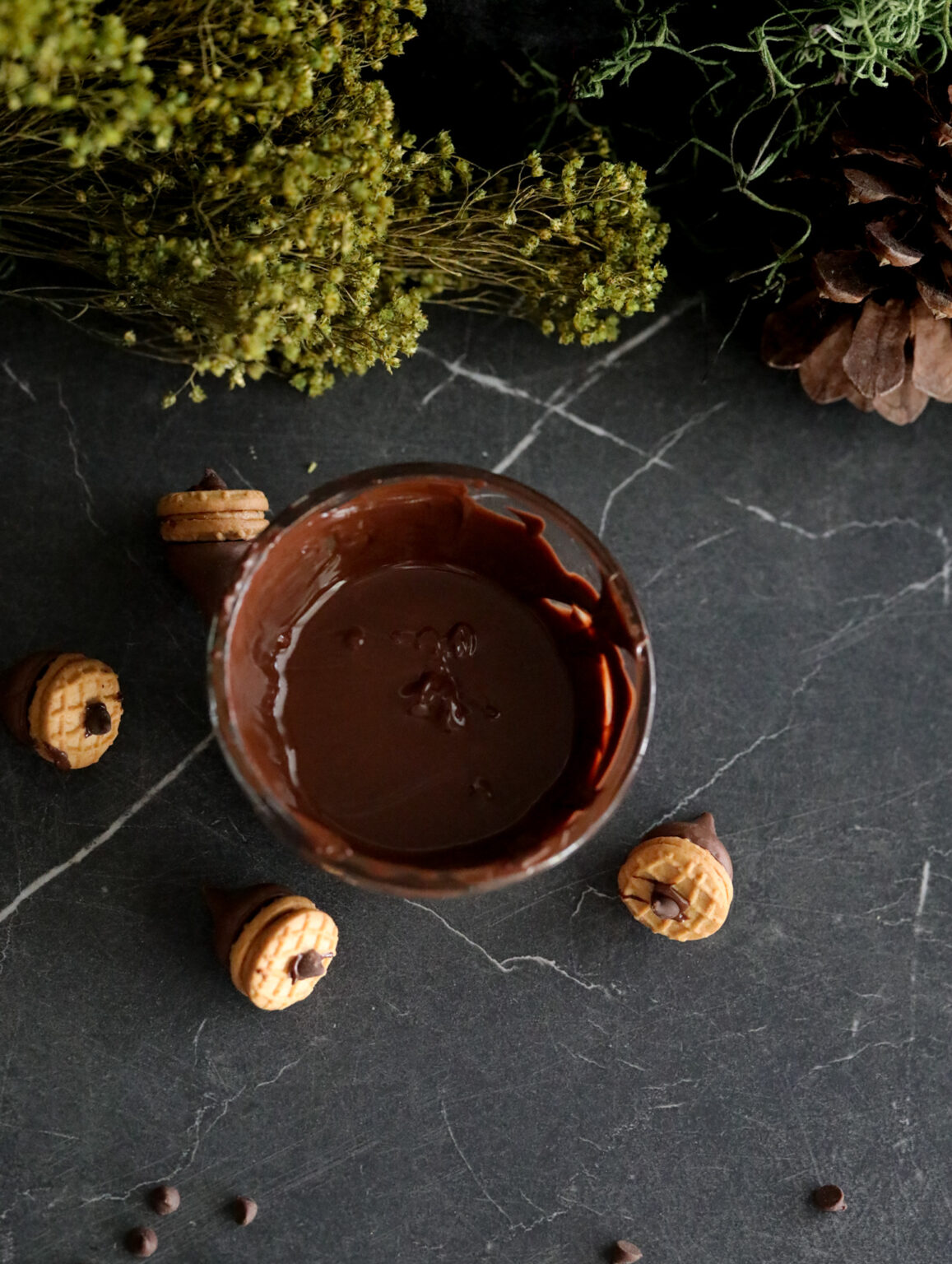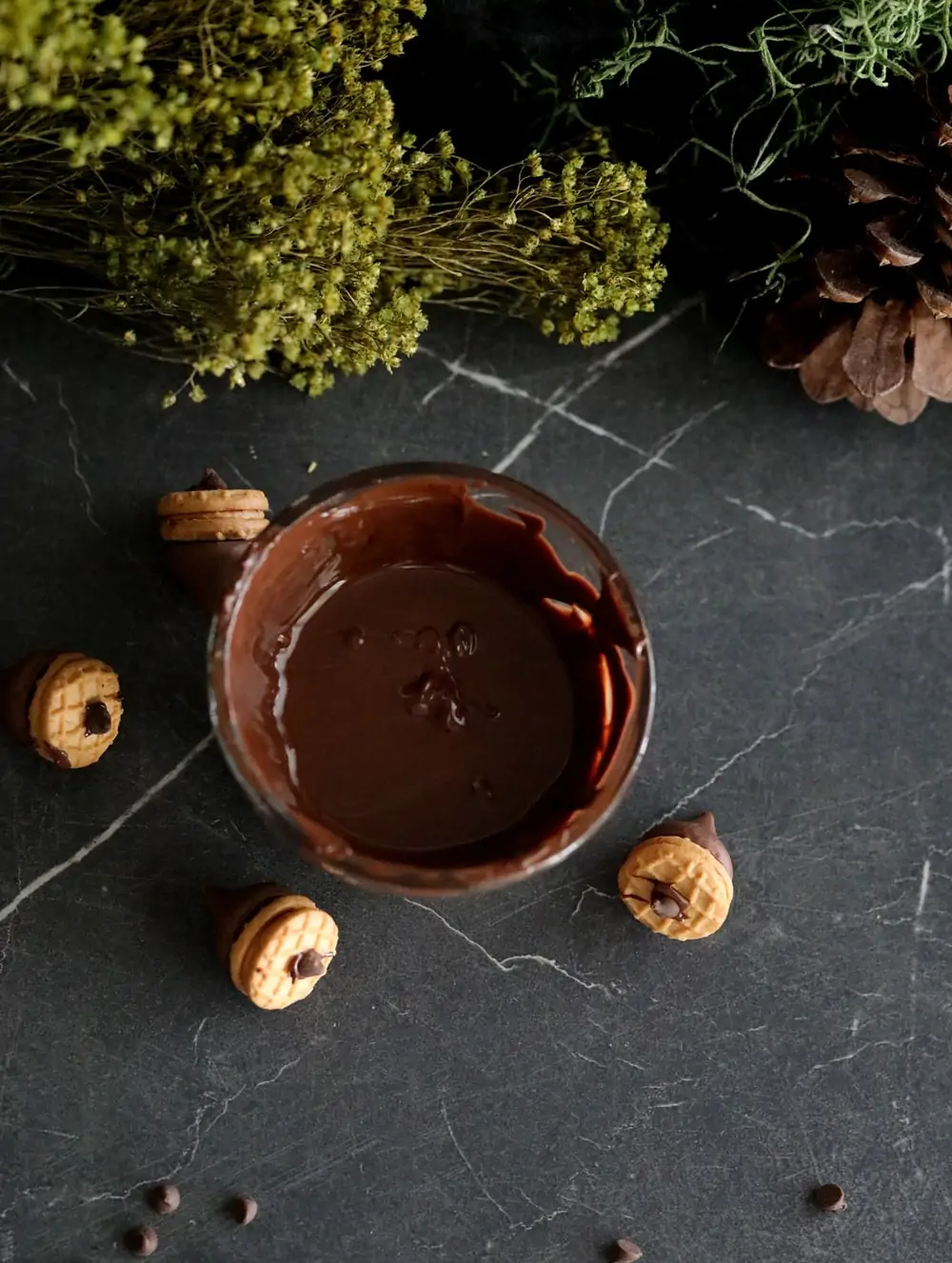 To create a chocolate "glue", melt about 1/4 cup of the mini chocolate chips in a microwave safe
bowl.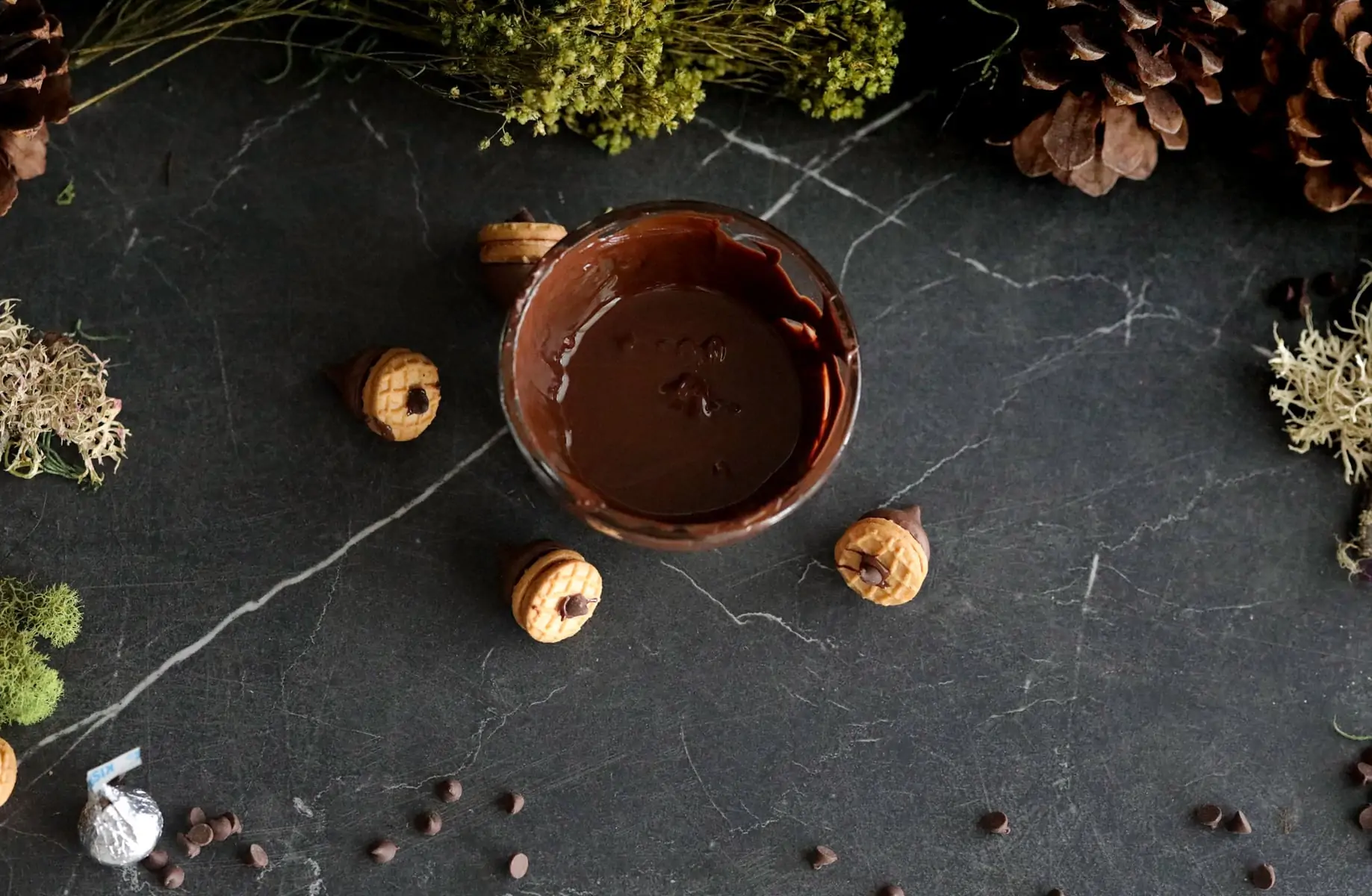 Dip each mini chip in the melted chocolate and attach them to the Nutter Butters. This will be
your acorn stem, it may be helpful to use tweezers.
Another way to accomplish this step, that some may find easier, is to take a toothpick and dab the middle of one side of the cookie with a dab of chocolate and attach the mini chocolate chip to that.
Unwrap your Hershey Kisses and dip each one into the melted chocolate and attach it to the
opposite side of the Nutter Butters.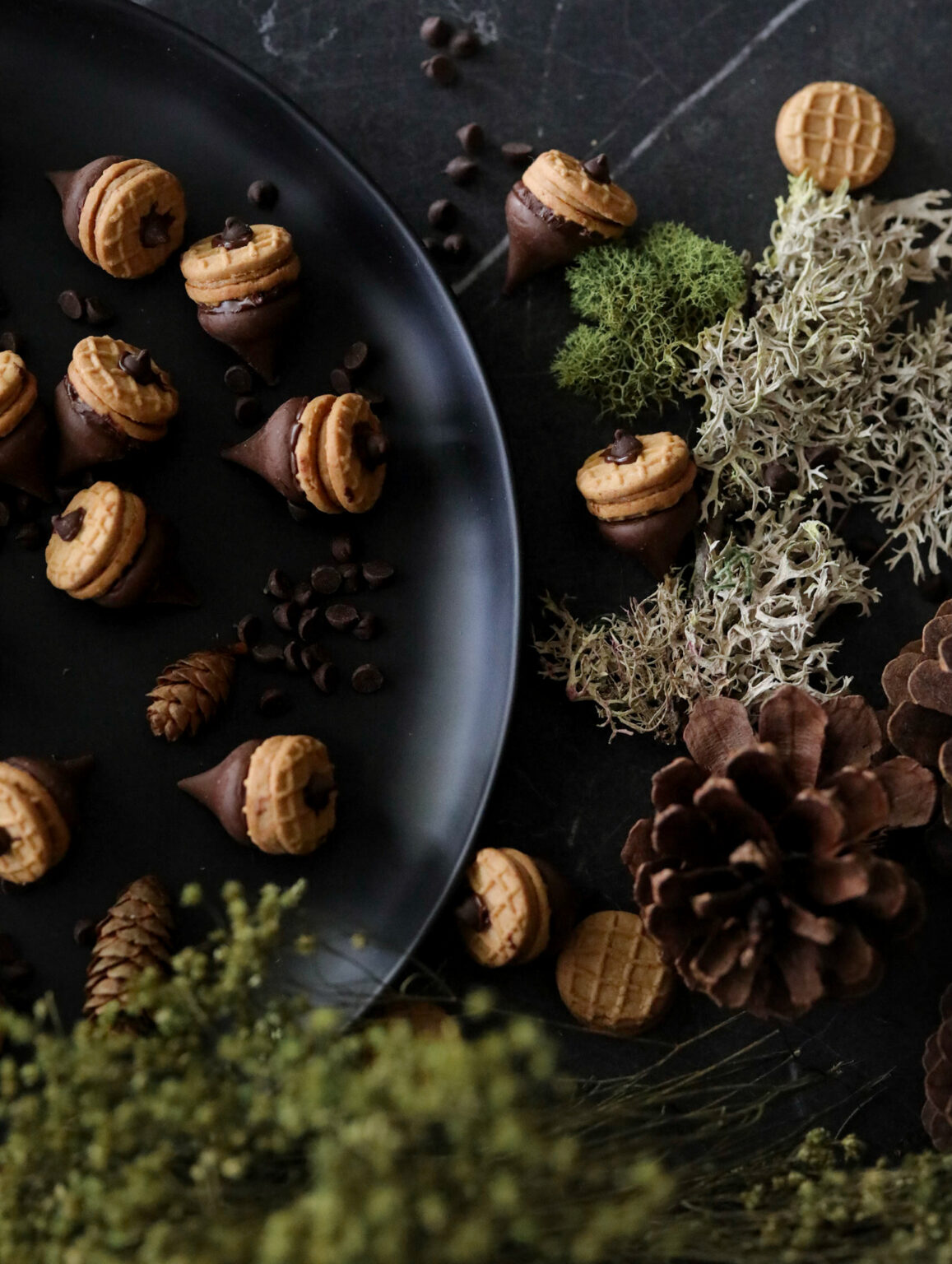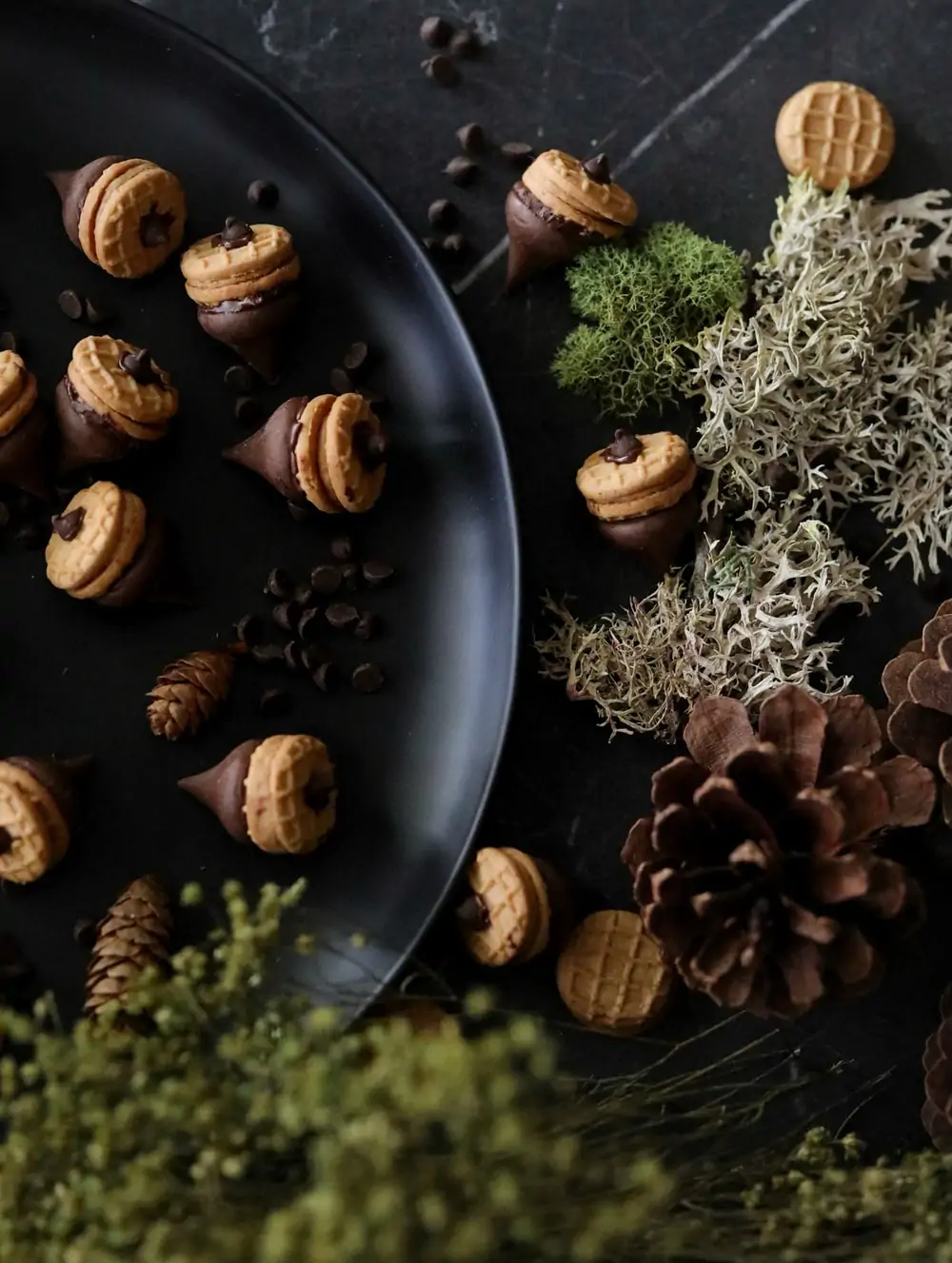 Let the chocolate harden for about 3-5 minutes and then serve!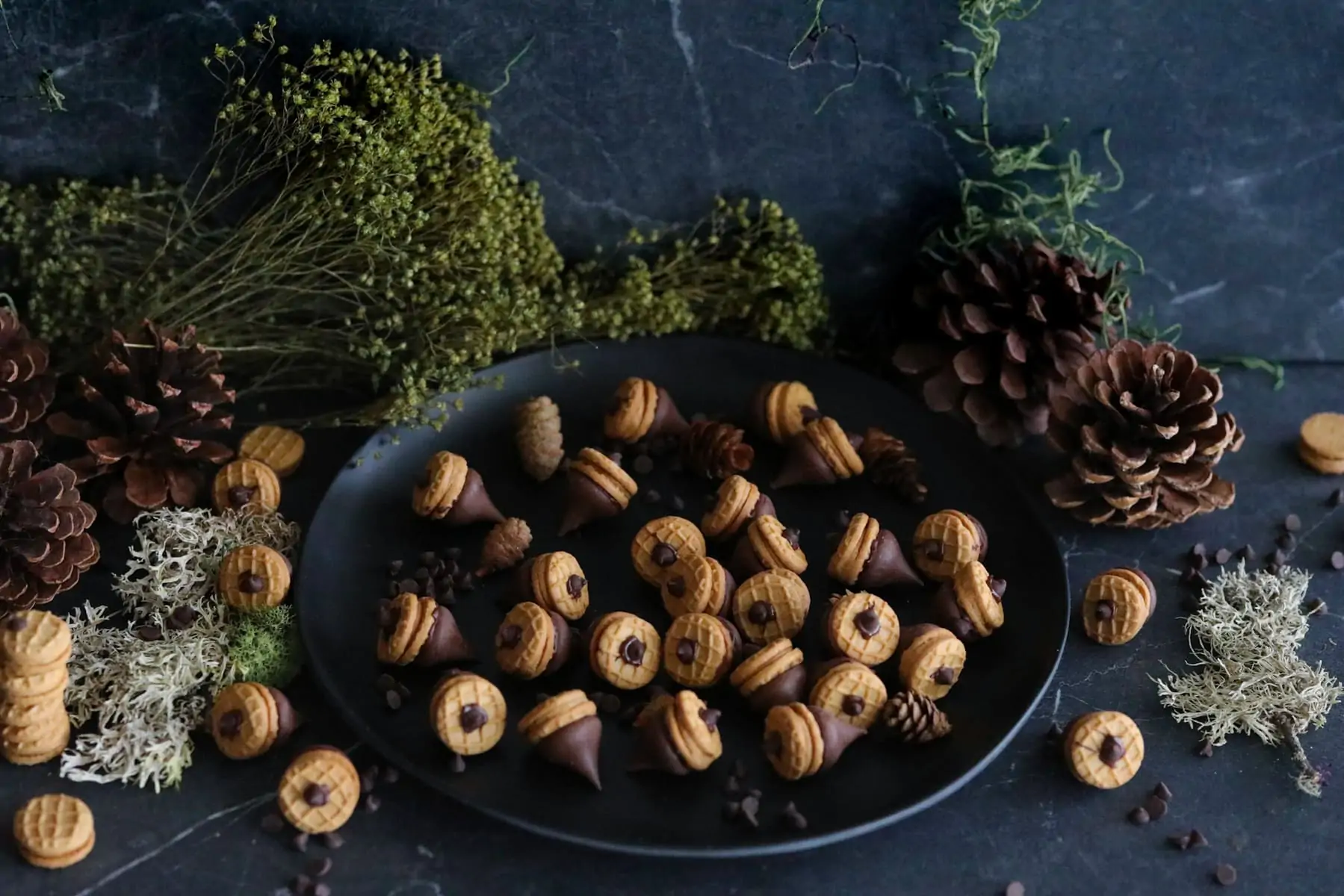 You can store these in an air tight container to keep them fresh for longer.
You might also like these No Bake Cookie recipes too: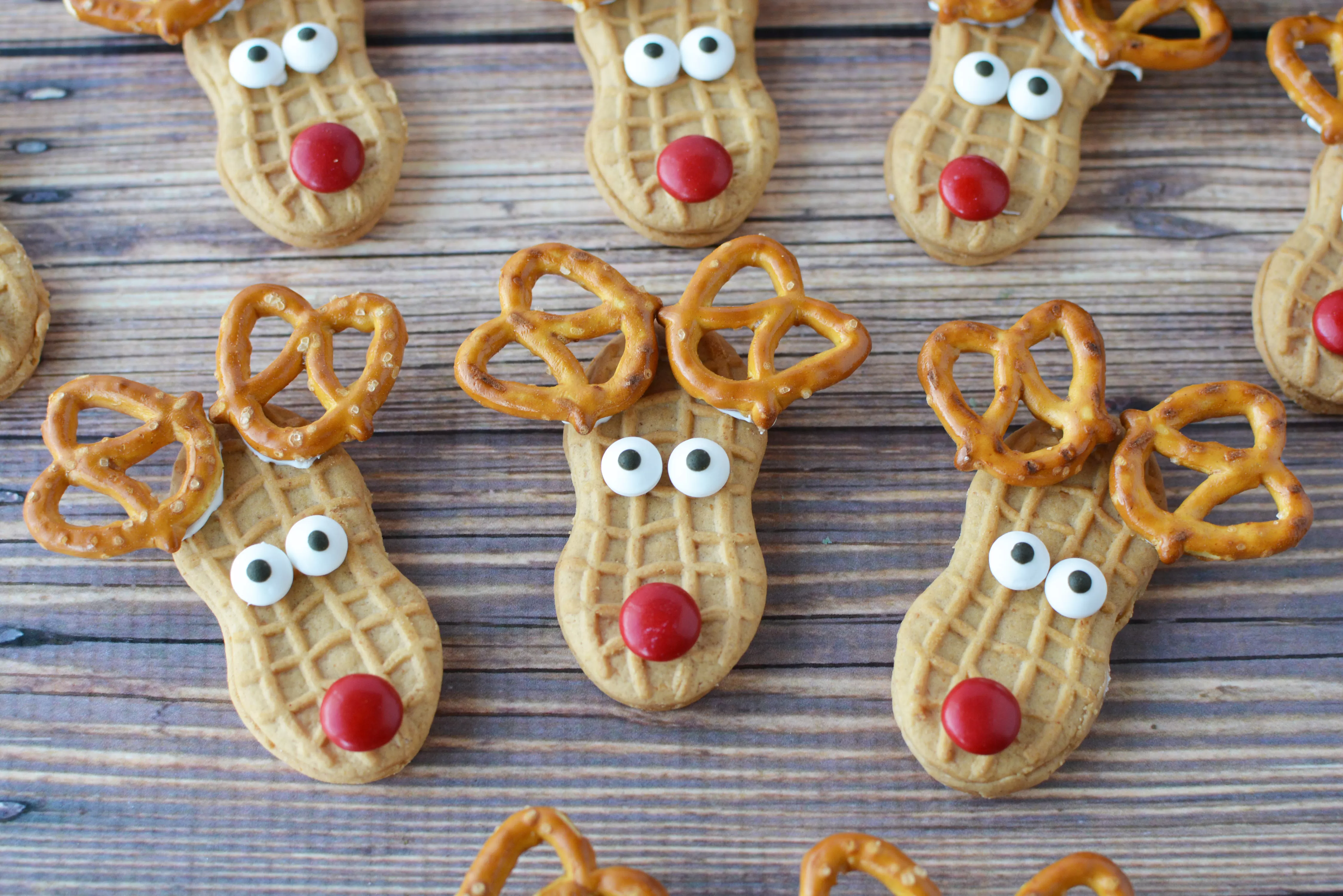 Nutter Butter Reindeer Cookies (also no bake)