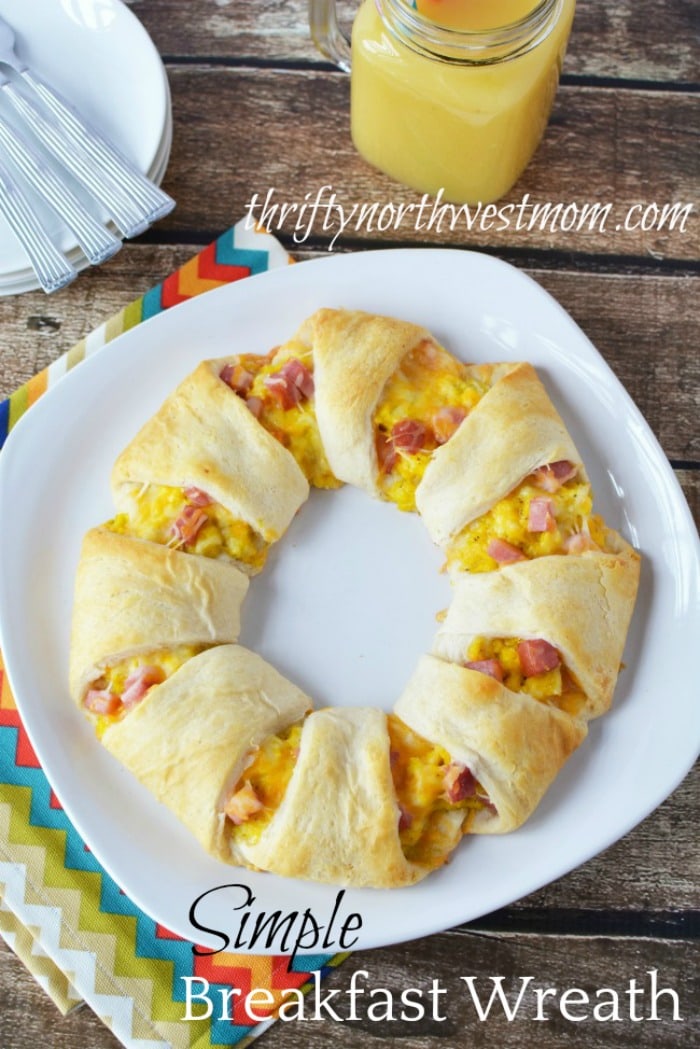 Here is a fun idea for a holiday morning, such as on Christmas morning,  that is fairly easy and affordable. Plus, you can prep these items easily ahead of time, so you (the cook) do not have to miss out on the Christmas morning fun  just to put a special breakfast on the table!
We made this Ham, Egg and Cheese Wreath for our Easter Brunch this past year, but it would be perfect for Breakfast. We served it with an assortment of food including Bacon Wrapped Sausage and it was a hit. The breakfast wreath is made with pre-made crescent dough mix, so it's not only affordable but easy to assemble.
You could cook up crumbled sausage of bacon and use in place of the ham if you prefer. You can also use your favorite cheese, too, The idea here is how to assemble it so that when it cooks it looks like a wreath, but what you put into the wreath  is up to you. This time of the year the breakfast casseroles are popular, so you could even add some fried potatoes to the mix. If the crowd you are feeding likes a bit of spice, add a few drops of hot sauce to the eggs while you are cooking them.
Ham, Egg & Cheese Wreath Recipe
Ingredients
1 package of refrigerated Crescent Rolls dough
1 cup of Mexican Cheese
2 slices of ham
4 eggs
salt and pepper to taste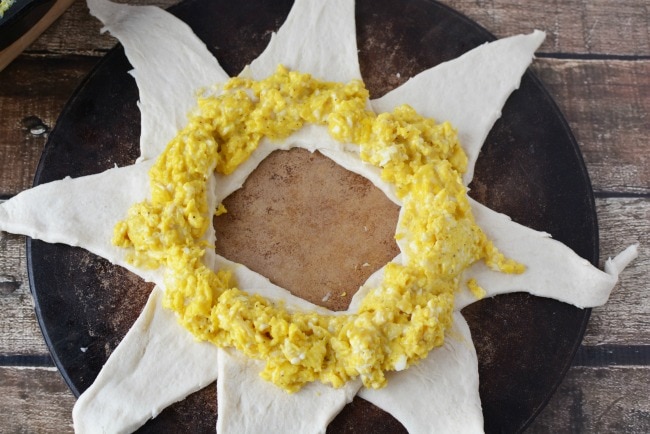 Instructions:
Keep the crescent roll dough chilled until ready to use.
Dice ham and heat it up (you can also use cooked bacon or sausage in its place)
Scramble the eggs until they are still a little runny. Salt and pepper to taste.
Lay the dough out in a star pattern with the thin side of each triangle on the outside (see step #1 in photo)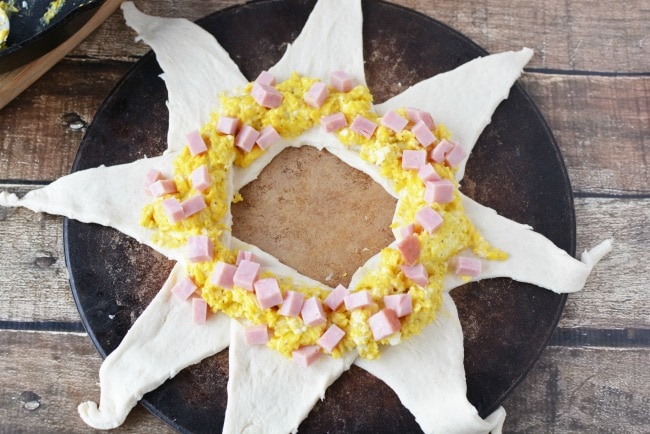 Top with the cooked ham, eggs and cheese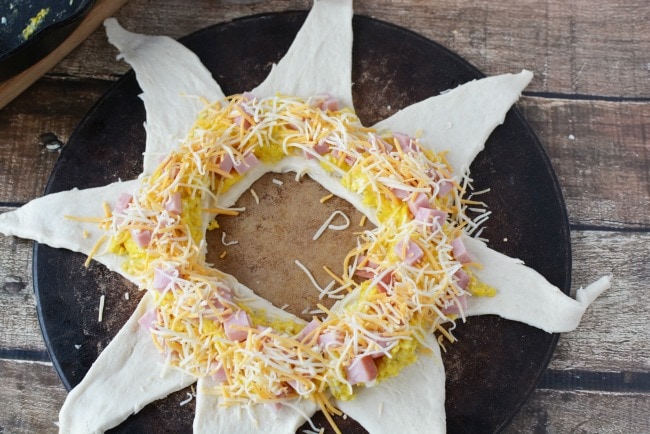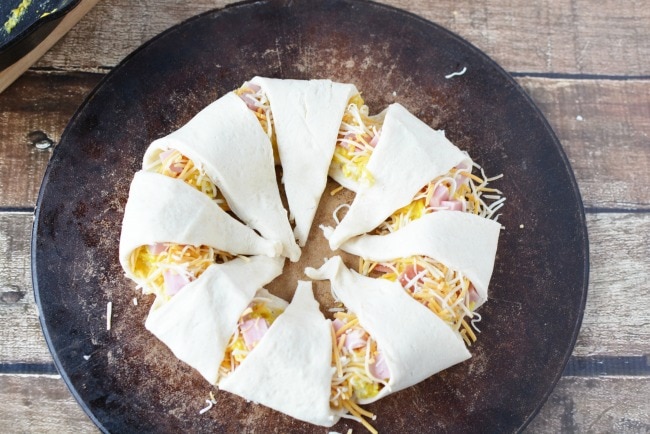 Fold the top over the ham, eggs and cheese to the center of the wreath and press in (see step #2 in diagram)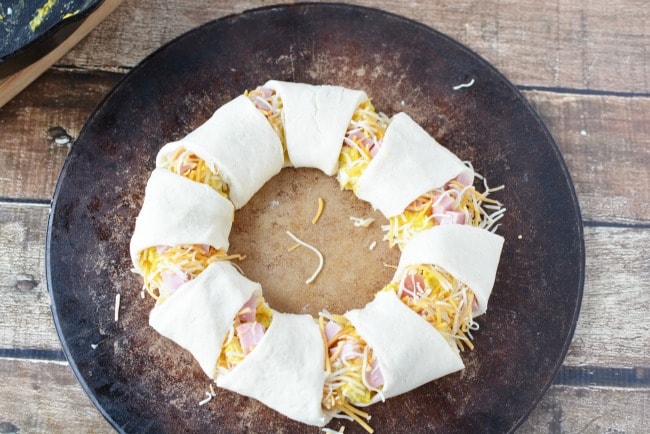 Once you have assmebled your ingredients, its a simple 1,2, 3 process! Lay out the ingredients, wrap and bake.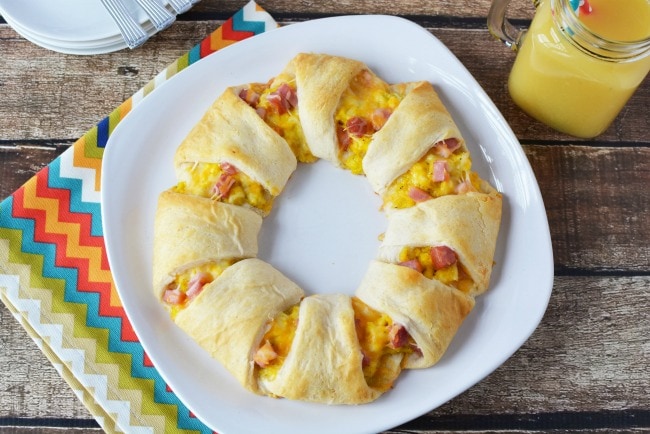 Bake at 350 for 15-20 minutes or until golden brown.
Serve warm
************************
You can serve with Christmas Tree made out of cinnamon rolls and some Espresso or lattes (no fancy machine required), for a special Christmas breakfast that will not require too much work!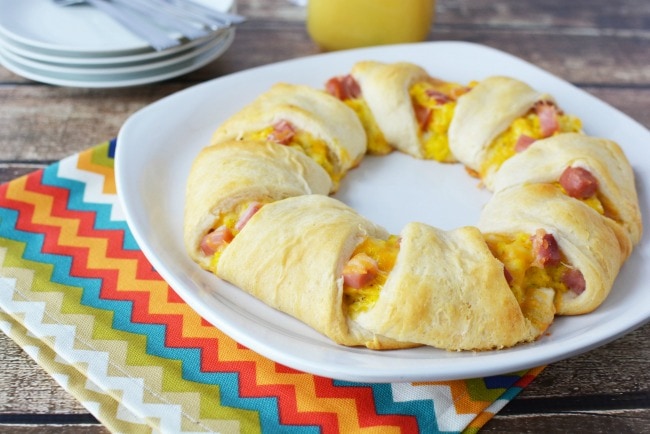 Printable Recipe for Ham, Egg & Cheese Breakfast Wreath:
Make sure to print off this recipe to put in your recipe binder or notebook so you can have it on hand for the next holiday.
Print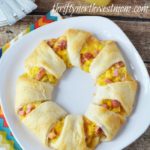 Ham, Egg & Cheese Wreath – Perfect for a Holiday Breakfast!
---
Ingredients
1

package of refrigerated Crescent Roll dough

1 cup

of Mexican Cheese

2

slices of ham

4

eggs
salt and pepper to taste
---
Instructions
Keep the crescent roll dough chilled until ready to use.
Dice ham and heat it up (you can also use cooked bacon or sausage in its place)
Scramble the eggs until they are still a little runny. Salt and pepper to taste.
Lay the dough out in a star pattern with the thin side of each triangle on the outside
Top with the cooked ham, eggs and cheese
Fold the top over the ham, eggs and cheese to the center of the wreath and press in
Once you have assmebled your ingredients, its a simple 1,2, 3 process! Lay out the ingredients, wrap and bake.
Bake at 350 for 15-20 minutes or until golden brown.
Serve warm
More Breakfast Ideas: