Easter Recipes – Easter Basket Cookies, Ham, Egg & Cheese Wreath & more
This post may contain affiliate links and I may be compensated for this post. Please read our disclosure policy here.
Easter is approaching, and its one of my families favorite holidays. Its a time of celebration and remembrance for us, and of course good eats are always a part of that process. Its also a busy month for us. My kindergardener needed some items for bake sale on Friday, and we were throwing a brunch for family on Saturday. So, I turned to Great Value products as a base for a handful of the recipes that we made. Not only are they affordable,  but they also saved me lots of time by acting as a shortcut.
We used the Great Value Sugar Refrigerated Cookie Dough for:
Easter Basket Cookies
Lemon & Cream Cheese Whip 
And we used the Great Value Refrigerated Crescent Rolls to make:
Ham, Egg and Cheese Wreath 
Bunny Sausage and Cheese Puffs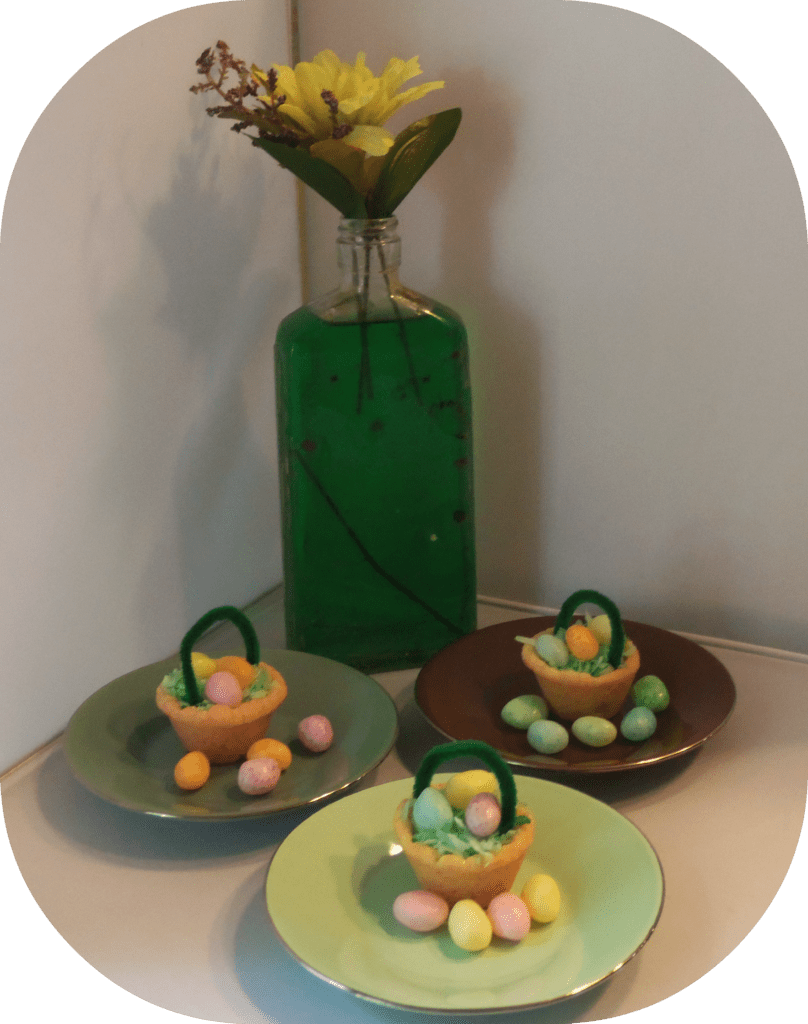 Print
1

package Great Value Refrigerated Sugar Cookie dough

1

small bag of coconut flakes

1

package jelly beans
Green food coloring
Green pipe cleaners (optional)
---
Instructions
Roll off a 1/2 inch ball of the cookie dough and press into the sides of a mini muffin pan to make a basket shape
For optimal basket shapes, do not let the dough be too thick on the sides, or go over the top of the pan
Cook the cookie dough baskets at 350 degrees for approximately 12 minutes, or until golden brown
Let them cool before removing from the mini muffin pan
Meanwhile add 4-5 drops of green food coloring to the coconut flakes and mix in a bowl until all of the coconut is green
Remove the cookie baskets and fill to the rim with some green coconut
Top with 3 jelly beans
Cut pipecleaners into 3's, and use as a basket handle if desired
Recipe Card powered by
Print
1

package Great Value Refrigerated Sugar Cookie Dough

2

packages instant lemon pudding (

3.4 oz

)

2

packages cream cheese (

8 oz

)

1 cup

of powder sugar

1

container of Cool Whip topping

2 1/2

cupos milk to make the pudding
---
Instructions
In the bottom of an 8 x 10 dish, spread the cookie dough out so that it forms an even crust all the way across the bottom
Bake the crust at 350 for approx. 15 minutes (or until golden brown)
Remove from the oven, and cool to room temperature
Once the crust is cooled mix the 2 packages of cream cheese with a half cup of powder sugar until well blended
Spread the cream cheese across the cooled cookie dough crust, to form a layer
Mix both packages of pudding with 2 1/2 cups of milk until pudding has set
Spread the set pudding across the top of the cream cheese as another layer and chill for 20 minutes
Add the container of Cool Whip to the top of the dessert as a final layer on the top
Chill until ready to serve
Recipe Card powered by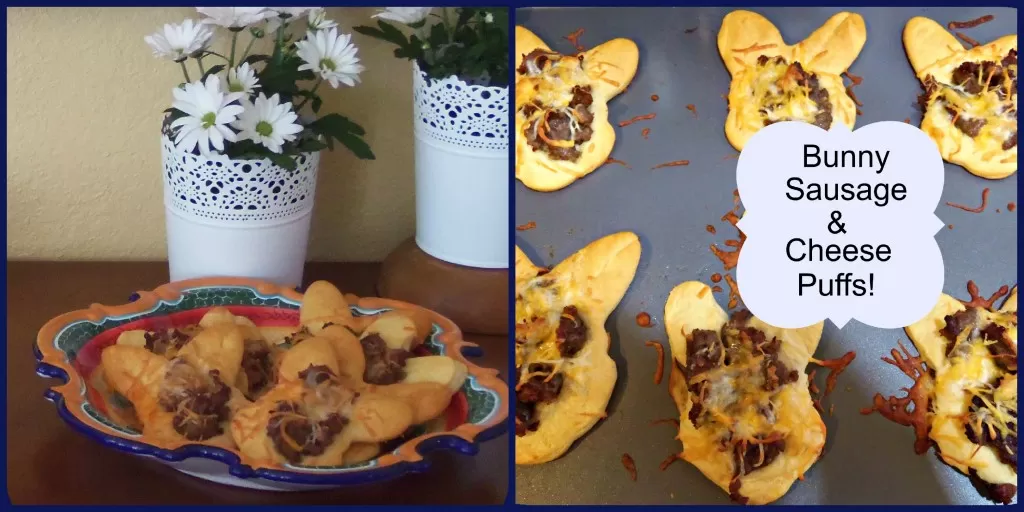 Print
Bunny Sausage & Cheese Puffs
---
1

package of Great Value refrigerated crescent rolls

1

package Jimmy Deal Maple Breakfast Sausage (or any flavor you like)

1 cup

of Mexican cheese blend

1

large bunny cookie cutter
---
Instructions
Keep crescent dough cold until ready to prepare
Cook up sausage as crumbles until cooked through
Drain on paper towel
Roll the dough out on a work surface
Gently push the seems together and roll out to a quarter inch thick
Cut out the bunny shapes from the dough, and place on a cookie sheet (1 package should yield 6 large bunnies)
Sprinkle a small handful of sausage on each bunny
Top each bunny off with some of the cheese
Bake at 350 degrees for 12 minutes, or until bunnies are golden brown
Serve warm
(these are also good reheated for a quick breakfast on the go for kids)
Recipe Card powered by

Stay tuned for more detail on our early Easter Brunch that the kids helped me throw for grandma, coming next week. We paired these recipes above with bacon wrapped sausage, deviled eggs that look like baby chicks, bunny cinnamon rolls and more!
You can also find our recipe for Little Chick Cupcakes here (so simple to make)!!
Make sure to check out all of our recipes using Great Value products including Salted Caramel Bars, Mini Caramel Apple Pie Tarts, Individual Chicken Pot Pies, Sugar Cookie Fruit Pizza and Fruit Filled Nutella Mini Pies.
You can also check out Twitter and use the hashtag #GreatValue to see more unique recipes using Great Value refrigerated dough products to create yummy Easter recipes!
Disclosure: This post is part of a campaign sponsored by Great Value and the Motherhood. All opinions are mine. You can find Great Value products at Walmart. 
Print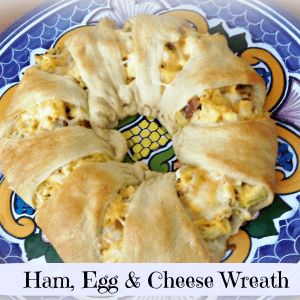 Ham, Egg & Cheese Wreath
---
1

package of Great Value Refrigerated Crescent Rolls dough

1 cup

of Mexican Cheese

2

slices of ham

4

eggs
salt and pepper to taste
---
Instructions
Keep the crescent rolls dough chilled until ready to use.
Dice ham and heat it up (you can also use cooked bacon or sausage in its place)
Scramble the eggs until they are still a little runny. Salt and pepper to taste.
Lay the dough out in a star pattern with the thin side of each triangle on the outside (see step #1 in photo)
Top with the cooked ham, eggs and cheese
Fold the top over the ham, eggs and cheese to the center of the wreath and press in (see step #2 in diagram)
Bake at 350 for 15-20 minutes or until golden brown
Serve warm
Recipe Card powered by