10 Unique Birthday Party Ideas – Unicorns, Dinosaurs & More!
This post may contain affiliate links and I may be compensated for this post. Please read our disclosure policy here.

10 Unique Birthday Party Ideas In The Puget Sound – Unicorns, Dinosaurs & More!
We recently shared some of these fun, maybe a little on the extravagant side, birthday party ideas on the Thrifty Northwest Mom Facebook page. We got a great response to them, and thought you might want us to collect them all in one place to share as a resource, in case you want to keep some of these ideas for an upcoming birthday party.
Birthday parties can add up ,it seems, no matter how you throw them these days. Sometimes it is nice to take the kids somewhere (or have someone come to you) who does all the set up and take down. If you have to pay for these parties, why not work a little less hard doing it!
Here are some fun and creative ideas for birthday parties in the Northwest that are sure to be a hit with your kids. We found most of these ideas in tips from locals, or parties our kids attended and enjoyed. Let us know if you have more great birthday ideas we missed. We would love to be inspired by your best tips.
10 Unique Birthday Parties Your Kids Will Love: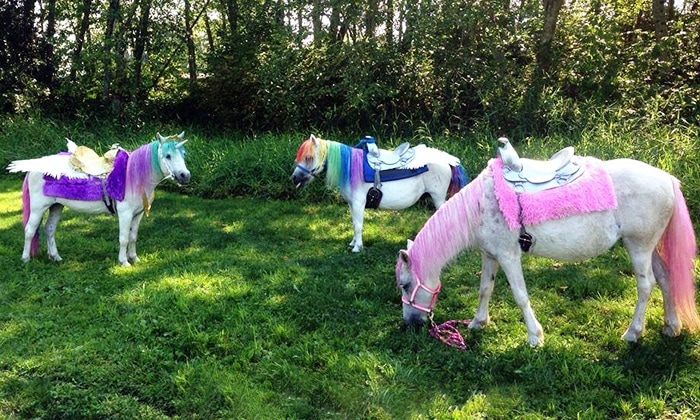 Have a Unicorn birthday party, with real unicorns (ok, not really real – but they look real!).
This is actually a company that provides ponies for parties, but they can dress them up to look like unicorns for the perfect unicorn birthday party.
These guys are actually on Groupon here right now, so if you have a Unicorn fan at your house, you can get $100 towards a Unicorn pony party for just $48!
This is what the Groupon states:
"In addition to having beautiful, immaculate, sweet, safe and well trained ponies, we can decorate our ponies to match any theme that our clients can dream of, including: Unicorns, Pegasus, My Little Pony, Frozen Themed, Blue & Green Seahawks Themed, Knights and Dragon ponies, and even Cowboys, to name a few. We use only safe, non-toxic children's finger paint to color our ponies' manes and tails, all lovingly applied by hand. Our ponies love getting the attention, and don't mind being painted. They think they are simply being brushed and petted. When the party is all over, the non-toxic colors come off with simply water or even gentle brushing."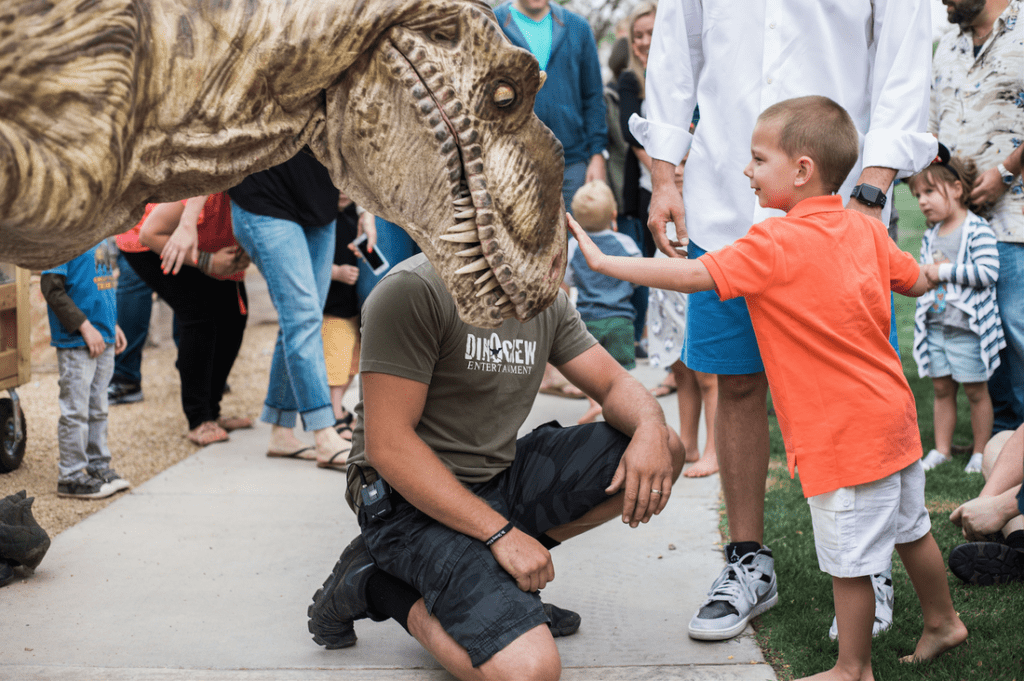 Throw a life-like Dinosaur birthday party!
This is one my son would have loved when he was younger. What dinosaur loving kiddo would not be thrilled to have these dinosaurs visit their dinosaur birthday party. Their trucks cause quite a buzz when they are traveling to events, and this is how we learned about them. I have heard a handful of folks talk about how great they thought this company did at parties they attended.
Dinosaur lovers will love the DinoCrew and their life size dinosaur replicas for your birthday celebrations, and find out all of their pricing options here.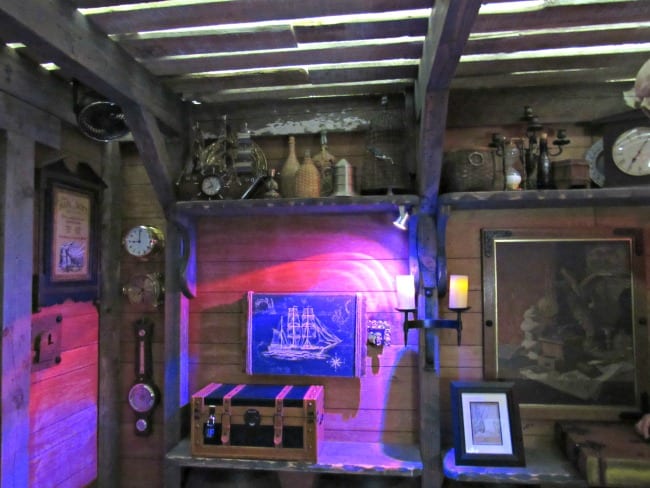 Host an Escape Room Party
You can either host it at a real escape room (there are a number throughout the NW), or you can create your own at your home!
Groupon has some deals on Escape Rooms available in the area here. Most escape rooms offer packages for groups, or birthday party specials, so find a theme your child loves and run with it. These parties are probably best for kids who are a little older and will love the idea of solving a puzzle.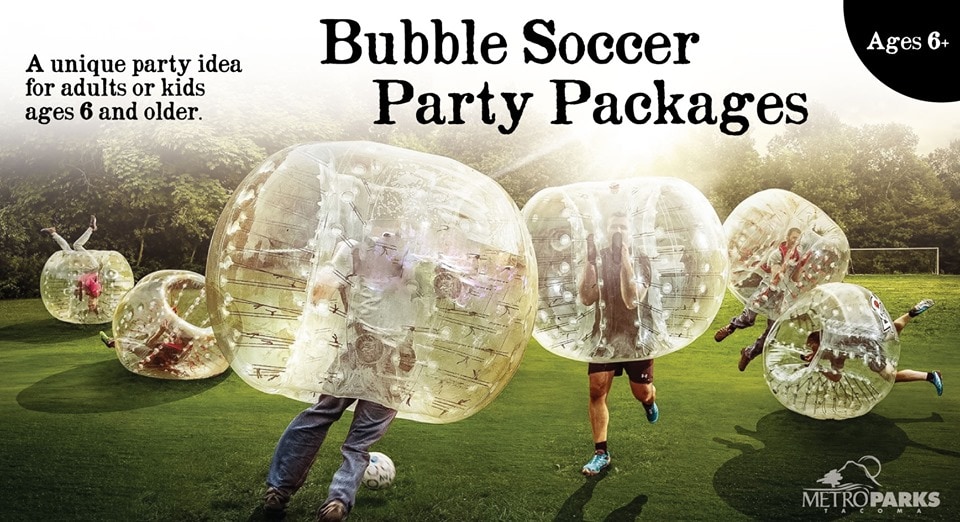 A Bubble Soccer Party!
How about a Bubble Soccer Party! I know my kids would love this one and it's a great way to keep kids active and having fun during the party. It is available through the parks and recs program, and they have a couple of options available for kids 6 and over. If you have active kids (or kids you want to get more active), this would be a really fun option.
Find more details on hosting a bubble soccer party here.

Throw A Party for the Adventurous at Heart – Zip Lines and Rope Courses!
This one is for the adventurous at heart, but the High Trek Ropes Course & Zip Line will be lots of fun if you are celebrating with someone fearless! You can book a smaller course for younger participants or something more adventurous for older kids. There is also putt putt golf on site, for an additional fee.
Right next to the High Trek Ropes Course is a park (you can park in the same parking lot), so you could extend the party time there if you have a younger crew. I do think this kind of party is best suited for tweens to teens though.
Host a City Scavenger Hunt!
Groupon has a number of them that you can choose from here, that are already put together for you. Or you can make your own. If you have older kids they will love this one. I once did a treasure hunt in a forested yard, and the kids loved it. My girls also attended a party where they did a scavenger hunt in a local mall, and that was lots of fun too. One of the great things about scavenger hunts is that they can keep a group entertained for quite awhile.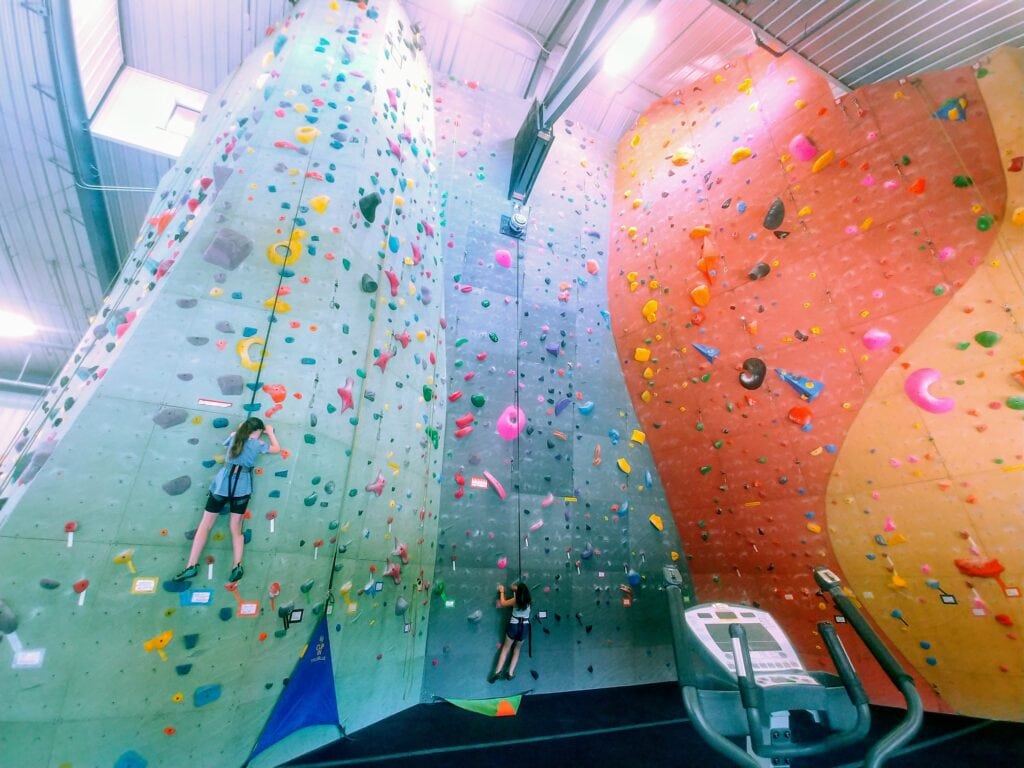 Rock Climbing Birthday Party
There are lots of Rock Climbing areas throughout the Puget Sound, and many offer birthday party packages. A great one to check out is the Seattle Bouldering Project, or TinyBeans has a nice list here too. One thing I love is that it is an activity that keeps kids active, and can challenge them, but usually have courses appropriate for all climbing levels. Birthday packages often include instruction time, and challenge games, etc. They are memorable experiences for sure!
My son went to one of these parties some years back, and it still sticks out as a really great party. They have a mobile video game truck that they will bring to you. You can also rent things like Hamster Balls, Laser Tag, Candy Cannons and more!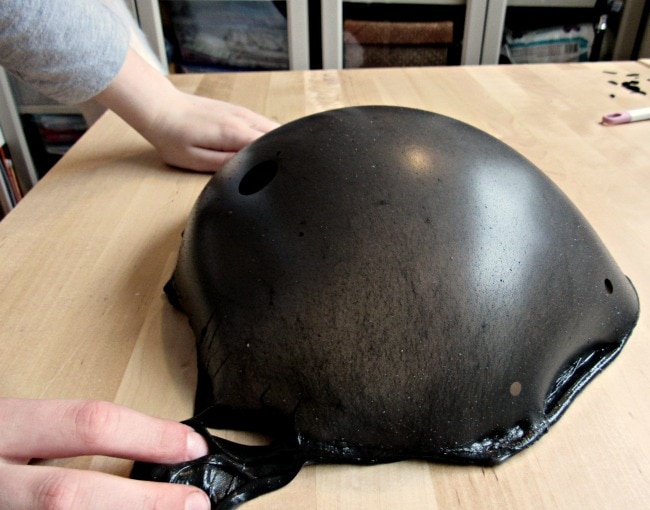 If your kids love making slime, or other hands on activities like that, check out this Science Lab party package. The best part for moms and dads is that they do all the clean up! You could also keep it simple by ordering a Kiwi Crate with all the supplies for each child that you need. They make it really simple, as you can select the best option by age group and price range on their birthday parties page here.
Pick Your Kiddos Favorite Location, and turn it into Birthday Party Magic
This mom threw her son a birthday party at Target, and it went viral! Think outside the box, and make a really unique party by celebrating someplace that may not be intended for a birthday party celebration. The key here is to theme it well, and plan lots of fun activities for the kids.
What are your best ideas for a unique birthday party for kids?
More articles you might like:
Minnie Mouse Birthday Party on a Budget!
Popcorn Bar – Perfect for Many Occasions (Easy On the Budget Too)!