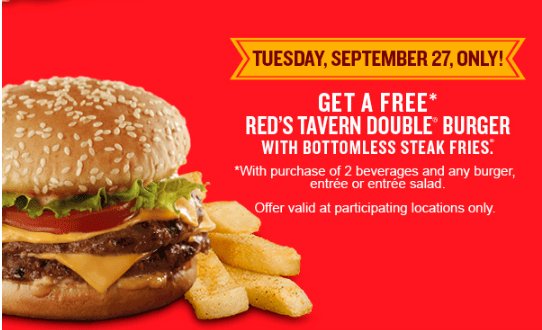 Today, Tuesday September 27,, you can get a FREE Red Robin Tavern Double Burger and Fries at Red Robin, when you purchase any burger, entree salad or entree + 2 beverages at Red Robin participating NW restaurants. Offer valid Tuesday, September 27, 2016. Offer available to everyone. Just mention "Tavern Double Tuesday" to receive the offer. Excludes Red's Big Tavern and other Red's Tavern Menu items. Free burger does not count as an item toward Red Robin Royalty .
In the past this promotion has been available each Tuesday during the regular football season, if the Seahawks score a touchdown inside the Redzone in that week's game – but this years info does not say anything about those requirements. It sounds like its just a Tuesday thing (well at least this Tuesday)
Red Robin will be offering this free burger promotion today!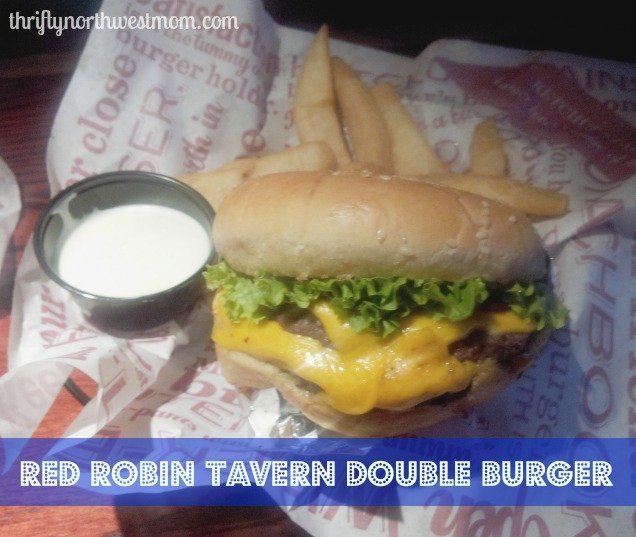 We headed into Red Robin and my husband tried out the Tavern Double burger & he most definitely approved! It is slightly smaller than the rest of their signature burgers, but with the bottomless fries, too, it's a nice size so that you don't feel like you're overeating as I can often feel like after finishing one of the larger burgers. I love the extra dipping sauces you can get with the bottomless fries for free too (buzzard sauce is my favorite)!
Make sure to sign up for the Red Robin Royalty Club to find out about awesome discounts like this in your area. And check out our list of restaurant deals and discounts available right now for more ways to save when dining out.