Red Robin Menu – Tips & Ways to Save!
This post may contain affiliate links and I may be compensated for this post. Please read our disclosure policy here.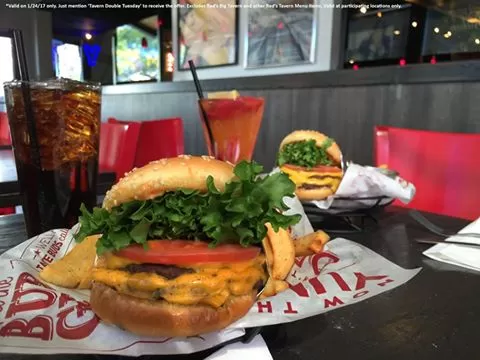 Red Robin Menu – Tips &  Ways to Save
We have always loved the Pacific Northwest based, Red Robin restaurant, as it's such a versatile restaurant to visit when you are looking for somewhere that everyone will find a menu item they like! The Red Robin Menu is full of so much variety & options if you want to eat healthy, too! You'll find everything from sandwiches, burgers, wraps, hearty salads, and so much more. My personal favorite Red Robin menu item is the BLTA Croissant sandwich, but I also love the Avo-cobb-o salad too, full of so much goodness! And the Red Robin fries, oh my, my favorite item for sure – especially with the Red Robin campfire sauce – yum!
If you are looking for ways to save on eating out, we love that Red Robin offers so many different ways to save with special promos for their Rewards members, special Happy Hour & Kids Meal promotions & more! Here are some of the best ways to save at Red Robin, as well as tips for dining at Red Robin.
Red Robin Rewards

Definitely the easiest & best way to save is to sign up for the Red Robin Loyalty program here. There are quite a few discounts available as part of the Loyalty program. Here are some of the examples of discounts available::
Red Robin Birthday burger – choose any of your favorite fire-grilled burgers for free during your birthday month
Red Robin Military Discount – While there is not a specific military discount whenever you dine, when you sign up for the loyalty program, they will offer you military discounts periodically as part of the program. So, make sure to include your military info in your sign-up info.  They do also offer Red Robin Veterans Day discounts too – typically they offer a free Tavern Double burger on Veterans Day (but make sure to check that year to see what the offer is)
Red Robin Teacher Discount – sign up for their loyalty program & they will offer surprises throughout the year for teachers
Free Items the more you spend – Every 10th item is free when you dine at Red Robin & sign in to your loyalty account. You can mix & match burgers, salads, sandwiches & entrees. (catering does not apply to the credit though)
$20 towards your 6th visit – dine 5 times in the first 5 weeks & they will give you $20 towards your 6th visit (each purchase must include a burger, entree, full-sized salad or sandwich)
Surprise Rewards – always make sure to check the email you use to sign up as they will periodically offer free surprises (discounts, etc)
Red Robin Happy Hour:
If you are wanting to save on dinner, drinks or want a lighter option, check out the Red Robin Happy Hour. Currently they are offering 50% off select appetizers, 10″ Donatos pizzas & milkshakes (chocolate, strawberry & vanilla in adult sizes). These would make great lighter options for the kids.
The appetizers include: pretzel bites, fried pickle nickels, and mozzarella sticks. The pizza options are Serious Cheese & Signature Pepperoni.
The Red Robin Happy Hour also includes bar specials ranging from $3- $5 options (including beer, seltzers, wine pours, margaritas, & more)
Red Robin Kids Menu
If you are looking to save on food for your kids, Red Robin offers 1/2 price their Red Robin kids menu on Wednesday nights.  This includes the kids' entree, side and drink. If you dine-in, that also includes unlimited free refills on bottomless sides & drinks. Find all of the information here!
If you want to order online, you can use the promo code: KIDSMEAL50 at checkout to get 50% off the kids' meals.
Red Robin Menu Tips
I love that the Red Robin menu is so comprehensive and there's something for everyone. And that includes people with special dietary needs. When my daughter was on a strict diet for medical reasons (gluten free, dairy free, etc), we loved that we could head to Red Robin as they had everything listed out on their website to make it easier to see what menu items she could order before we even got there as part of their Red Robin allergen menu.
They also use dedicated tools in the kitchen to prevent cross contamination of food. Once you alert your server of your allergy needs, they will let the kitchen know & they will use different tools when cooking your food. Then they will use a "purple pick" on the meal to identify this meal as an allergen-friendly meal for your server when they serve it & for you to know that they did take the extra precautions with the meal.
So, if you are headed to Red Robin – gluten free, dairy free, vegan, etc,  they are so great with not just food allergies, but also special customizations for keto, whole 30 diets & more – they will work hard to accommodate your request which I love. They were definitely one of the first restaurants to offer so many customizations in our experience.
Red Robin Coupons & Special Promos
Photo Credit: Red Robin
May is burger month & Red Robin is celebrating by offering Red Robin Royalty members a BOGO 50% off a burger or entree at participating locations with the purchase of another burger/entree of equal or lesser value.  This is taking place every day in May!
Make sure to sign up for the Red Robin Loyalty program to be able to receive this offer.
More articles you might like:
What are your favorite ways to save at Red Robin?