Win an American Girl Doll : Marie Grace Doll + Accessories – 24 Hour Giveaway!!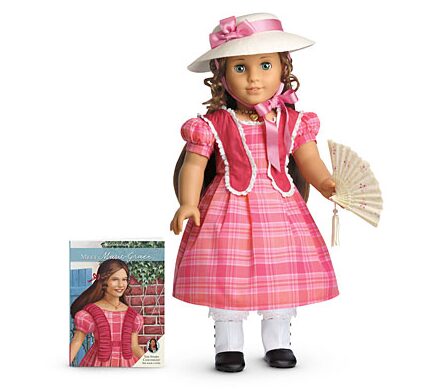 We have an exciting flash giveaway for you tonight, which will only last 24 hours – enter to win an American Girl Doll – Marie Grace, her book & accessories! We know that an American Girl doll is on the wish list of many, many little girls this Christmas.  Many of you may love the opportunity to be able to that special girl in your life an American Girl doll, but are not able to provide that gift due to the cost. So, we wanted to provide this special giveaway as a thank-you to all of you as we are so thankful for each and every one of you who follows along & belongs  to our Thrifty NW Mom community! We truly love being able to help you all save money & cut your spending whereever possible & we love that all of you readers make this such a fun community of helping each other as we all are on a journey to save more!
Enter to win a Marie Grace doll, which includes a book about her as well as her accessories. This doll & accessories is valued at $124.
Here is a little more information about the Marie Grace doll & her accessories:
Marie-Grace's inspiring stories come alive in this special collection. The Marie-Grace doll is 18″ tall, with bright aquamarine eyes that open and close. She has long, silky caramel hair that can be gathered back in braids or styled loose over her shoulders, and she arrives in a plaid taffeta dress from the 1850s. Marie-Grace is soft and huggable, and she's poseable for hundreds of playtime moments to come.
Plus, this collection includes Marie-Grace's special accessories that help her stay cool in New Orleans:
A wide-brimmed hat with ribbons that tie under her chin
A heart locket to wear around her neck
A lacy fan that opens and closes
This giveaway will end on Monday December 17th at 10pm pst.  
We are making this a flash giveaway as we hope to have this sent by mail in order to arrive by Christmas. We cannot personally guarantee that it will arrive by Christmas, but will do our very best & will send this out via  priority mail on Wednesday December 19th (in time for the priority Christmas shipping deadline of 12/21) , if we hear back from the winner by Tuesday at 9pm pst (24 hours after the giveaway ends). So make sure to use an email address that you know you will check and PLEASE check your spam folders,too, as several winners have had our emails end up in spam lately & we'd hate for you to miss out on your chance to win by not finding our email address in time in your spam folder.
The winner will be drawn using "And the Winner Is" plugin and announced on the blog. We will also email the winner.  The winners will have 24 hours to contact us, otherwise a new winner will be drawn. US residents only & you must be 18 yrs or older to enter the giveaway. This giveaway is not affiliated with Facebook in any way.
Here's how to enter this giveaway::
1st Entry (required entry): Leave a comment about who you would like to give the doll to. 
Extra Entries : (make sure these are all separate comments, with a comment for each entry)
2) Subscribe to the Thrifty NW Mom feed via a reader of your choice or email (must be verified)
3) Share this giveaway – either by Facebook, Twitter, thru an email, word of mouth, etc. We have share buttons on this post to make it even easier to share right from this post, too, just look along the left side for the "Share" buttons. Leave a comment stating how you shared this giveaway.
Disclosure: A Marie Grace Doll & Accessories set will be given to  a Thrifty NW Mom winner randomly chosen.  We did not receive any compensation for this giveaway; we wanted to offer this giveaway as a thank-you to our readers.  All opinions are 100% mine. See our disclosure policy  for more details.