Win A 2-Pack Of Worry Free Smoke Alarms – Review & Giveaway!
This post may contain affiliate links and I may be compensated for this post. Please read our disclosure policy here.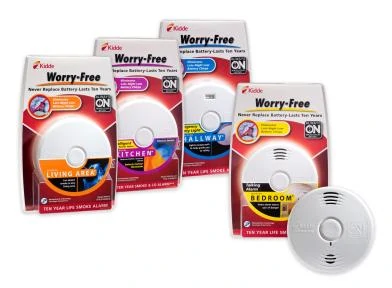 Fires hazards can become more of a concern this time of the year, with holiday lights, candles, heaters and other hazards working overtime. My family (Sia) lives in a townhouse, so it is particularly concerning, and I was intrigued when Kidde contacted me about their Worry-Free Smoke Alarms. Especially when they said they had a two-pack of Worry Free Smoke Alarms to giveaway to Thrifty Northwest Mom readers!
The reason that this giveaway hit home for me, and I wanted to share it with Thrifty NW Mom readers is this stat that Kidde sent me:
"Need proof? National Fire Protection Association (NFPA) statistics indicate that the primary reasons smoke alarms fail to operate in home structure fires is a missing/disconnected battery (50%) and dead/discharged battery (23%)."
Why did that stat hit home with me. Well, because my family would be in the 50% of folks who have a dead or disconnected battery in our current smoke alarms. Living in a multi-family unit we are aware of the extra fire hazard that exists – yet we have two smoke alarms in our home, and I am embarrassed to tell you that both batteries are disconnected. The one in the living room was too close to the kitchen, and would often go off when we were cooking. The second one, upstairs, started chirping and we got annoyed so disconnected the battery. Once it was disconnected, we kind of just forgot about it. Without the chirping to remind us, we lost the urgency to get a new battery. It will occur to me from time to time, that I need to get it taken care of, but we just let it slip (I know, shame on me – slapping my own hand for you all!).
Here is what I liked most about the Worry-Free Smoke Alarm line:
They are powered by sealed-in, long-life lithium batteries for 10 years, and sells for around $25 to $50 in the stores. That's a great value for an alarm that should last 10 years (although, you should check it regularly just to make sure it is functioning correctly, just as you would with any alarm).
There is a hush button you can push to silence the alarm if its going off due to something like kitchen smoke.
You install with an easy to install (single screw) mounting bracket.
I feel like they came to my house and peaked in to see how we were using our smoke alarms when they developed this product! It addresses all of the issues that were keeping us from having operating smoke alarms in our house (well minus my lack of responsible behavior, not sure they can do much about that!).
More Benefits of Worry Free Smoke Alarms – 
• It's Always On: 24 hr/day, 7 day/week protection from smoke and fire
• Decade of protection: sealed lithium battery provides 10 years of continuous power
• Maintenance-free, hassle-free: never replace a battery during the alarm's operating
life and no need to worry about the batteries being removed
• Goodbye late night low battery chirps: an end-of-life chirp tells you when it's time to replace the alarm
• Location-based attributes make it simple to select the right alarm for the right location in your home
• Money savings: no batteries to buy and replace every six months, save up to $40 over the life of the alarm
• Quick and easy installation: simply twist the alarm onto the mounting bracket and it activates
 
Giveaway – 2-pack of Worry-Free Smoke Alarms
Enter to win your own two pack of Worry Free Smoke Alarms (includes a hallway and bedroom alarm), valued at up to $100!
This giveaway will end on Friday, 11/9, at 9pm pst.
The winners will be drawn using "And the Winner Is" plugin and announced on the blog.  I will also email the winners. The winners will have 48 hours to contact me, otherwise a new winner will be drawn. US residents only & you must be 18 yrs or older to enter the giveaway. This giveaway is not affiliated with Facebook in any way.
Here's how to enter this giveaway::
1st Entry (required entry):Leave a comment letting us know that you "shared this post (and let us know how)" via Facebook, Twitter, or Pinterest.
Extra Entries : (make sure these are all separate comments, with a comment for each entry)
2) Subscribe to the Thrifty NW Mom via email (must be verified)
3) Leave a comment here saying you "Followed" @KiddeSafety on Twitter.
Disclosure: Kidde has supplied the products for our review, as well as those that will be given to  a Thrifty NW Mom winner randomly chosen.  The post was sponsored by Kidde, but all opinions are 100% mine. See our disclosure policy  for more details.