Wild Waves Fright Fest Discount Tickets – Save 21% With This Deal On Tickets!
This post may contain affiliate links and I may be compensated for this post. Please read our disclosure policy here.

Wild Waves Fright Fest Discount Tickets – Save 21% With This Deal On Tickets!
Wild Waves Fright Fest opens this weekend! Tonight (9/27) is opening night. 
It is open weekends through the end of October, if you are looking for some theme park fun this month! Plus, Groupon has a deal right now that will save you 21% off ticket and parking combo packages. You do have to pay for parking at Wild Waves, so it is a nice way to save overall.
Here are the two deals available through Groupon, to save on the Wild Waves Fright Fest right now:
Note that adult prices online are $28.99 and kids and seniors are $16.99 (if you buy ahead online, it is more expensive at the gate). Kids 3 and under are free. Standard parking is $12, to help you compare prices for this offer.
Many people do come in their costumes, so its a fun way to let the kids get dressed up and get out in their costumes for pre-halloween fun (they do not allow any weapon like accessories in, and there are other costume restrictions, so be sure to check out the Wild Waves Fright Fest site for those details). This fall has been beautiful, and so to wonder around the theme park on a beautiful fall evening was a great experience for the whole family.
For Frightfest this year, it will be Family by Day activities for little goblins begin at 12 noon thru 6 PM on Saturdays and Sundays.  But BEWARE it's FRIGHT BY NIGHT starting at 7 PM, Friday thru Sunday evenings, so make sure to keep this in mind when planning your visit.
Kids under 13, must be accompanied by an adult. Rides will be open, but some will run on a limited schedule, in addition to all the special Frightfest attractions.
Best ways to save on Wild Waves Fright Fest tickets:
The Groupon deal listed above will be one of the best ways to save for Fright Fest that are currently available
Military Discounts are available at the Park's Front Gate Ticket Booths, or at the JBLM MWR/ITT Rec location, for members of the Military with a valid, proper ID. They will be $22.99, so you will save a few dollars on adult tickets.
Get a group of 15+ people together and you will get a discounted rate of $14.99 to $21.99 per person, and you will get a free ticket. This is one of the best prices available, so if you have some friends and family looking to do something like this, plan it so you all go on the same night and buy your tickets together!
Tickets can be purchased at a discounted rate at Safeway & Albertsons stores across Washington
Tickets will be $28.99 online for adults and $16.99 online for kids at Wild Waves. This is a savings of $5 on each ticket over gate prices.
Season Ticket holders get in free.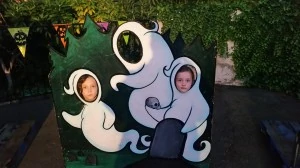 We went a few years back with our kids, and here are some of the things they enjoyed at Fright Fest:
We have shared with you about the summer fun at Wild Waves in the past, but if you are looking for some Halloween fun this October, Wild Waves has something for you too. On weekends through October, the theme park transforms into a scream park with something to do for all ages. It lights up at night, and they play festive (spooky) music to set the ambiance at the park.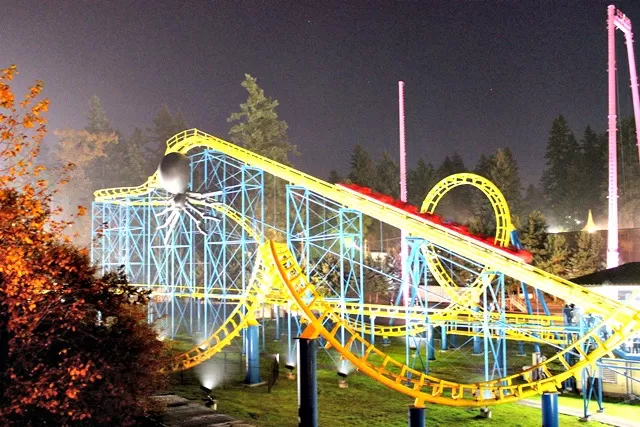 Fright Fest Overview:
More than 25 rides that operate in the dark
Haunted houses
Booville, a scare-free zone for kids that includes a craft zone, inflatable slide and obstacle course, gaming trailer + much, much more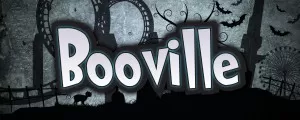 We were there as a family, and a couple of our kids are still young so we mainly enjoyed Booville and the general rides that Wild Waves offers. My kids had a great time!
There was bouncy house fun, face painting, music factory fun and more. There was also a glow in the dark tent that blew out bubbles that made the kids glow in the dark if they touched the bubbles. My girls LOVED that tent and played in there forever (well until I finally had to make them leave). I think it was exciting for them to be out late with all the lights and excitement.
After playing in the bouncy houses, and glowing with the bubbles my kids hit up the Monster Music Factory. This was a set up of buckets and pans and more that the kids could go crazy making "music" at (sounds more like noise to me – but the kids loved it)!
Kids can get complimentary face painting and balloon animals/art too in the Booville area. There was a line for the face painting, but it was not too bad the Saturday we were there.
Right outside of the Booville area there is a 3d gaming trailer if you have tweens or other kids who love video games.
In addition to the rides and other fun, the park also has themed decor throughout Wild Waves. There is a large faux graveyard, with many funny tombstones. The one above was my husbands favorite! There were hay bails and pumpkins and many photo opps as well!
We found lots of photo opps throughout the park. There were hay stacks with pumpkins and more too,
More Articles You Might Be Interested In: