Why I love Mail-In Rebates!
Guest Post by Samantha from Fabulessly Frugal Mom
How many times have you known about an available mail in rebate for a product you have bought but just ignored it because it was too much of a hassle? Cutting UPC's, filling out forms and spending money on a stamp only for a check worth a couple bucks that may never come; I know I used to be guilty of that! Not anymore! Not that now I know there is a lot of times I end up getting things for free but sometimes even make a profit for buying said things!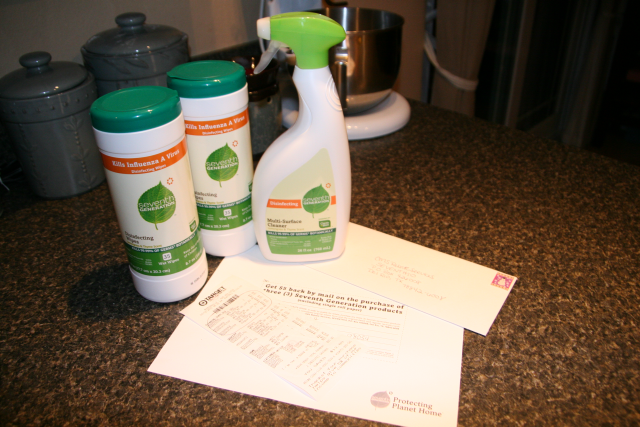 Take the example from the photo above:
Last week I found out about an available Seventh Generation rebate. It was pretty simple: buy any 3 Seventh Generation products, fill out the form and send in your receipt/s and receive a check for $5.00.
Target has Seventh Generation cleaning products available for $2.99 each, so I bought some wipes and spray cleaner. My total before coupons was $8.97. I was able to stack 3 Target store coupons with 3 printable manufacturer coupons and pay $2.97 plus tax out of pocket. I paid for my purchase, filled out the form and mailed it off with my receipt.
Now a lot of people (probably most people) would think, "Wow that is a lot of work to wait for 2 months for a $5 check!" However, if you break it down I only spent about 10 minutes total on this little project combined (printing coupons, shopping for the items and filling out the form) and while yes it will take a while for the check to come it is still money that I would otherwise be missing out on. The best part is, I just got 3 free cleaning products and an extra $2 profit in my pocket because of this rebate! I received over $100 in rebate checks in the mail over the past year and that $100 will go a long way in our house.
Companies offer rebates for many different reasons but mostly because it is a huge promotion of their brand. Consumers are going to pay attention to their products and if they get really lucky, they will forget to complete the rebate and the company gets to keep their money. So next time you see a "Try me free!" sticker on that bottle of fabric softener you just bought, save your receipt and send in the form! Trust me, it's worth it!
Samantha is a fellow bargain blogger over at Fabule$$ly Frugal Mom. She lives in Kirkland, Washington with her husband and two year old daughter. Be sure to check out her site for store deals, freebies and tips for making money online!