Whole Foods Discounts Available to Amazon Prime Members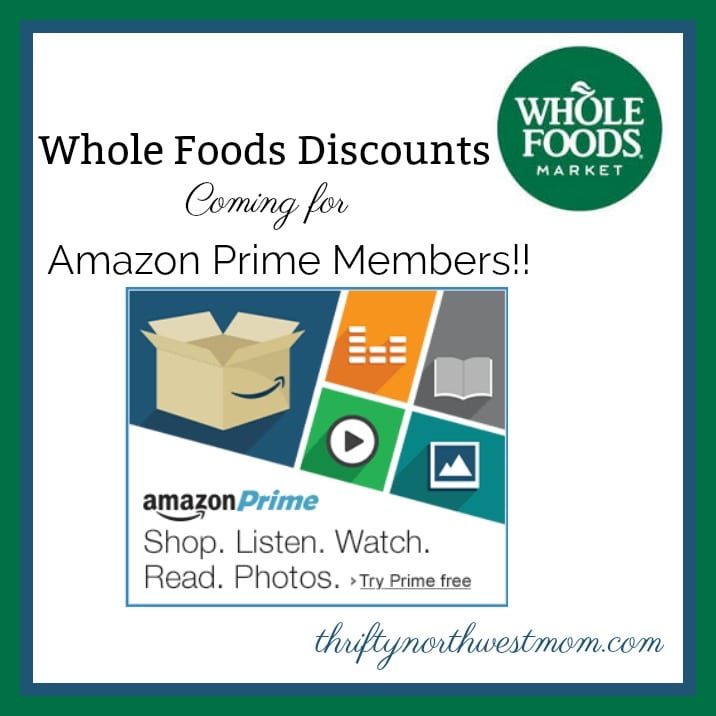 If your a Whole Foods fan, you will want to know about these discounts that are suppose to be rolling out starting this coming Monday. Whole Foods will now offer special discounts on items to Amazon Prime Members. According to CNBC you can expect:
Amazon plans to cut grocery prices at Whole Foods starting Monday.
The company says Prime members will receive additional savings and in-store benefits.
"On Thursday, Amazon said Prime members will receive additional savings and in-store benefits once Amazon and Whole Foods' technologies are fully integrated. Jeff Wilke, CEO of Amazon Worldwide Consumer, said in a statement that the discounts will make healthy and organic food affordable to "everyone.""
If you have not joined Amazon Prime yet, you might want to try the 30 day free trial offer. Amazon is offering a
FREE 1 Month Trial of Amazon Prime
.  Not only might it be a good way to try out the new Whole Foods discounts, and see if it is worth it for your family, but you will also get free shipping, and we use it like you would Netflix and stream the free movies and TV shows to our TV!
PLUS, if you want to give a membership as a gift for the Whole Foods fan you know, you can buy a 3 month Amazon Prime Membership for just $33 here too! Amazon will send your gift recipient an email on the day you choose along with redemption instructions. The gift recipient can start their Prime membership right away. If the recipient is already a Prime member, the gift can be exchanged for an Amazon.com Gift Card. The gift membership does not automatically renew and is not eligible for promotional offers. 
FREE Two-Day Shipping on over 30 million items

Watch thousands of movies and TV shows with Prime Video

Stream millions of songs and thousands of playlists

Also get free Kindle e-books, unlimited photo storage, exclusive access to deals, Twitch, and much more

And now, discounts at Whole Foods
Do you shop at Whole Foods? What are your thoughts on Prime members getting special discounts. Does it motivate you to shop there more (or sign up for Prime if you have not)?