Walmart Now Carries Natural Cleaning Products For LESS! #WMTGreen
This post may contain affiliate links and I may be compensated for this post. Please read our disclosure policy here.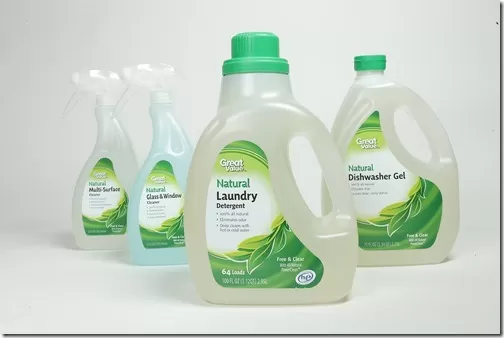 I know that many of you are like me, and prefer to use natural cleaning products whenever possible. For my family is not just about wanting to be environmentally responsible (although that's a good reason), but we have some health issues that make it necessary too. I have one kiddo with asthma and allergies, and some of the more toxic cleaners can set off an asthma attack for him. Our one big challenge has been cost. Many of the natural versions of household cleaners can be more then twice the cost.
I was excited to learn that Walmart has launched a new Great Value Naturals product line, that keeps costs down for everyone. The new line includes four products, at these price points:
If you are in the habit of buying natural cleaning products, you probably noticed very quickly that those are pretty good prices.
Great Value Naturals cleaning products are made from plant-based, all-natural Evolve® cleaning technology.The technology effectively captures and breaks down soils, grease and grime without leaving harmful residues or irritants behind on skin, surfaces or the environment.
If you have very young children, you will likely love the Natural Laundry detergent product. I use to have to buy special detergents for my kids when they were infants and toddlers, since we were dealing with Exzema, and regular detergents caused bad breakouts on their skin. Those detergents were very expensive, I sure wish I had an option like this back then.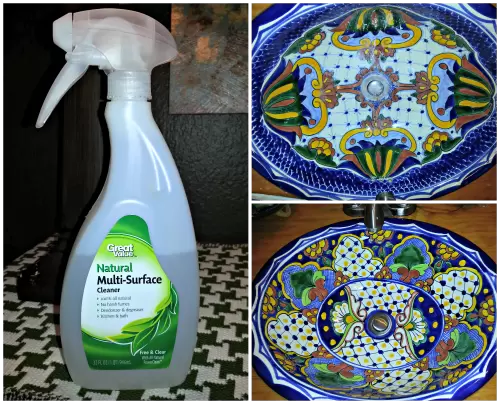 My favorite product so far is the Multi-Surface cleaner (thats why its half gone after only a week!).
The photo above is of my beloved bathroom sinks. My husband and I both carried one of these back on our laps on the flight home from our honeymoon. I adore them, but they get very dirty very quickly. The photo on top is one sink before I wiped it down with the multi-surface cleaner (don't judge, its just toothpaste…and only goes to prove we brush our teeth!). The bottom picture is our second sink, which looked just like the dirty one before I gave it a quick spray and rub down with the Multi-Surface cleaner. There was no extra scrubbing required to shine it right up!
Great Value Naturals cleaning products are sold exclusively at Walmart, and currently in more than 2,000 Walmart stores across the U.S. and online.
What is my favorite thing about the cleaners? No strong smells! I have a few other natural cleaners on hand (well know National brands) that still have such a strong smell when I spray them that I hate to use them. The strong scents give me headaches. Not only do these ones not have the strong scents. but I was told that they would actually absorb smells (so if you sprayed some of the multi-surface spray on your carpet and scrubbed it out, it would absorb the bad odors there). I did not have an opportunity to test this out, so be sure to comment below and let us know if you have tried this.
Plus I know that you will love this little extra perk in the Northwest – these products packages are recyclable!
For more information about Walmart's new Great Value Naturals cleaning line, check out The Green Room website, and be sure to follow them on Facebook and Twitter to stay up to date on the latest offerings and happenings!
Disclosure: This post was sponsored by Walmart and The Motherhood. All opinions are 100% my own, you can read our disclosure policy here.