Vitacost – Free $10 & Free Shipping for New Members (Today Only)
This post may contain affiliate links and I may be compensated for this post. Please read our disclosure policy here.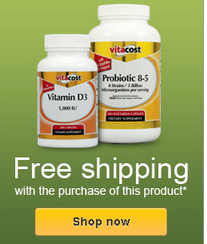 Vitacost is quickly becoming on of my favorite new spots to shop, because I love the brands they carry, and how quickly they ship the products out to you. If you have not shopped with Vitacost before, today would be a great day to try them out.
Here is why:
If you are a new member you will get a FREE $10 promo code when you sign up through this link here (they will email it to you).
Once you have your $10 promo code head back to Vitacost to start shopping.
If you add Vitamin D3 -200 capsules to your cart you will qualify for FREE Shipping today. These are priced at $4.99 ea, so you will still have $5.01 to spend, without having to pay anything out of pocket.
Some ideas:
** Get Green Cleaning Products (brands like Seventh Generation and more).
Two of my favorites:
Earth Friendly Parsley Plus All Purpose Cleaner (I always get compliments on how my house smells after this cleaning) – $2.75 plus
Seventh Generation Liquid Dish Soap, Lavendar Scent  for $2.42 (you will have to pay $.16 out of pocket for this combo – but its a good one!).
** Get 2 packs of Seventh Generations for $5 (or 3 packs of travel size wipes)
** Lots of Food Options (Organic, Gluten Free & More) for under $5. My favorite is the Gluten Free Pizza crust and Muir Glen Pizza Sauce to get ready for pizza night..
** If you are a Coconut Oil fan, you may prefer to do this deal (you will get free shipping on orders of $25 or more, when you buy qualifying Vitacost products. The Coconut oil below should be a qualifying product):
Add (1) Vitacost Extra Virgin Coconut Oil Certified Organic (54 oz) to your cart (search Coconut Oil),
and add (1) Vitacost Extra Virgin Coconut Oil Certified Organic (16 oz)
Apply your $10 off coupon code at checkout.
Your final price should be $19.48 to have 70 oz of Coconut Oil delivered to your door!
If you use Cocount oil, then you know that is a steal of a price, so be sure to let your friends who use it know about this deal too.
Thanks Coupon Connections!