Tiny Prints: 10 FREE Holiday Cards – Just Pay Shipping!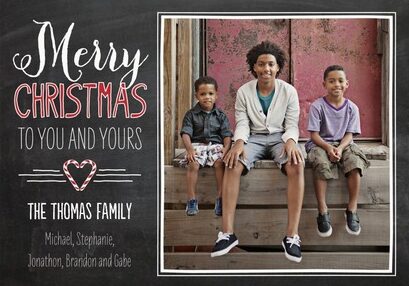 *Update: We were emailed this afternoon to let us know that the shipping has now changed from a range of $3.50 – $5.99. Still a great deal for these high-quality cards, though. 
Tiny Prints has a great deal for us this morning – they are offering 10 FREE flat, personalized Christmas Cards – all you'll need to do is pay shipping which should be around $3.50. So that works out to just $.35/ea for a personalized Christmas card. This freebie is available through Tuesday November 13th. Just use the coupon code: HOLIDAYCHEER at checkout to drop your price to $0 for the cards.
You can get your FREE holiday cards whether you're new to Tiny Prints or already an existing customer, which is what I like about this deal – it's not just limited to new customers. This deal applies to flat cards only & make sure the cards you select don't have any additional features which may cost extra (rounded corners, different envelope options, etc).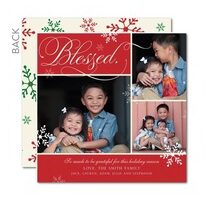 There are hundreds of cards to choose from in all different styles & you can choose cards without pictures or options to add multiple pictures to your card. Even if you're going to be buying more cards, I figure the recipients won't know that you sent them different cards than the rest of your friends. Why not get  some of your cards as low as $.35/each? What a deal!  Now I just need to figure out which pictures to use or see if we can take some family shots before this promo is up!
Here's how it works:
Head to Tiny Prints and choose a flat card (circular, tri-fold cards, etc are not included)
Personalize with pictures and text
Choose 10 pictures with square corners (no extra charge)
You can choose to have them sent to you for standard shipping charges (starting at $3.50) or have them sent to recipients for the cost of a stamp & envelope printing (extra cost)
At checkout, use the coupon code: HOLIDAYCHEER 
Your price should drop to $0 for the cards & you'll just pay shipping ($3.50)