Things To Do In Las Vegas with Kids – Family Travel Guide
This post may contain affiliate links and I may be compensated for this post. Please read our disclosure policy here.

Things To Do In Las Vegas with Kids – Family Travel Guide
If you are planning a trip, and looking for things to do in Las Vegas with kids, there are so many options for kids of all ages, to keep them entertained and having fun. You will find everything from free things to do in Las Vegas with kids to splurge events on this list. This list is the result of lots of research before our trip, then spending two weeks in Las Vegas (two separate week long trips) during the summer with tweens and teens. I am hoping to save you some time, by laying all of this information out in one place, to make planning easy for your family.
To be honest Las Vegas was not a vacation I considered for my kids, until we were gifted a hotel stay there by a family member, and once we went we really enjoyed it. Las Vegas is not a family vacation for everyone though. We do share some more information about what to expect when traveling to Las Vegas with kids here (like where to stay, and what to expect to be exposed to there) to help you determine if it might be a good fit for your family. If you decide it is, and you plan to go, here is a long list of things we thought where great for kids to enjoy.
Free Things to do in Las Vegas with kids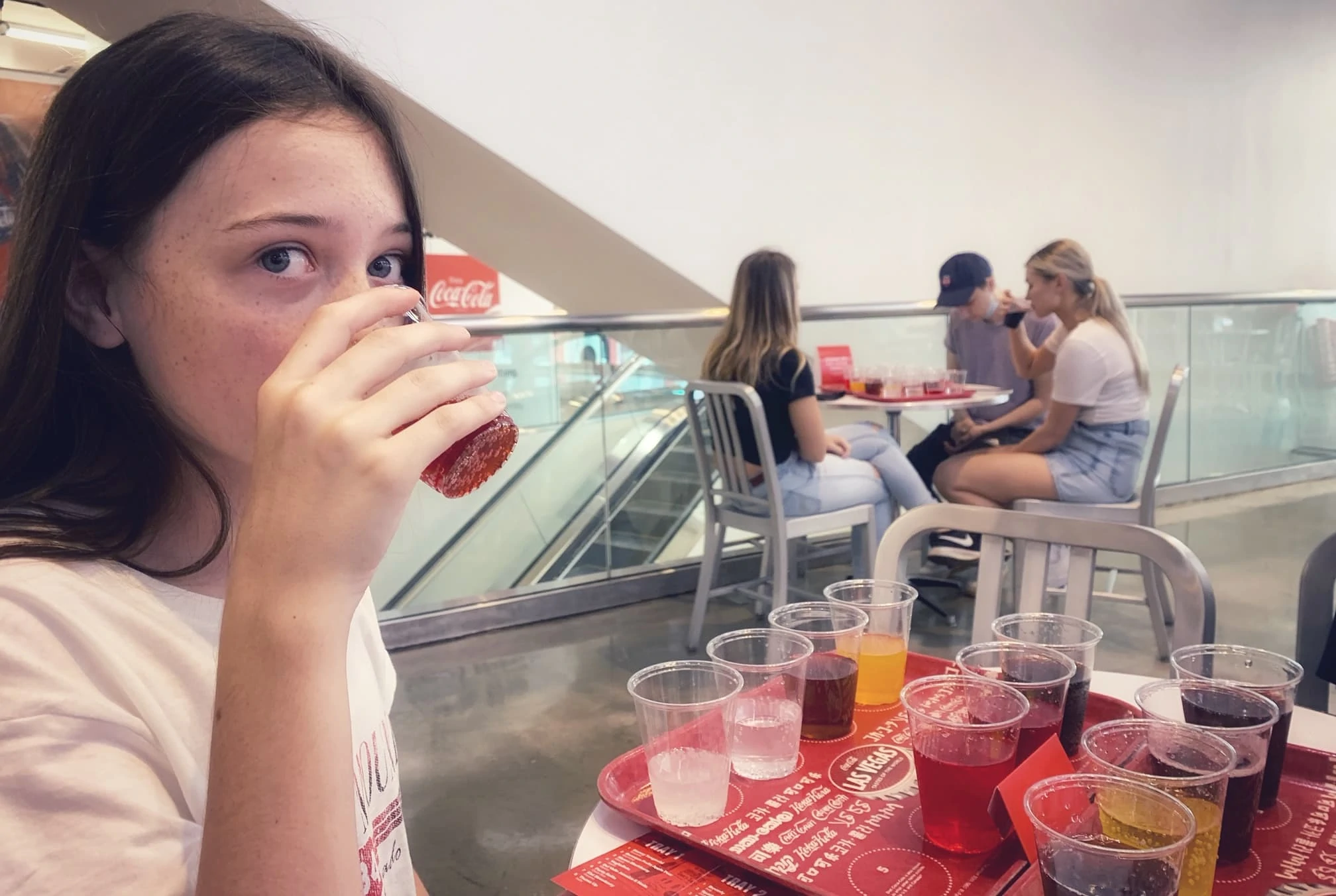 Coca Cola Factory – Sample Cokes from Around The World 
Visiting this store is free, but you can get this tasting tray for the favorite Cokes from around the world for a moderate price. We do this every time and love it.
Plus, there is the M&M Store, and Hershey's Store nearby too, so you can go through them all during one days visit. 

Tour Hotels 
The hotels in Vegas are not just beautiful, but many have some exhibits that are completely free to tour. Check out these free tours:
FREE – Bellagio gardens are free to tour, and change themes seasonally
FREE – Fountains at the Bellagio during the evenings – it is a great show for the kids to watch.
FREE – Mirage aquarium and volcanos evening shows
FREE – Flamingo Hotel outdoor Wildlife Habitat space to walk through
FREE – The Fall of Atlantis Show at Caesar's Mall (over by Cheesecake Factory, runs at the top of the hour).
FREE – Circus acts at Circus Circus, sit down and enjoy a free circus performance throughout the day.
FREE – Rainstorm in the dessert at Miracle Mile mall adjacent to Planet Hollywood, on the top of the hour Mondays, Thursdays, and every half hour on the weekends including Fridays. This was really just a mist falling – so not super impressive but bring some change to throw in and let the kids enjoy it.
Arcades & Carnival Games
Arcades for Kids on Las Vegas Strip 
Circus Circus – this spot was my kids' favorite arcade and carnival games spot, and we visited this multiple times. It is also where they won the most prizes at.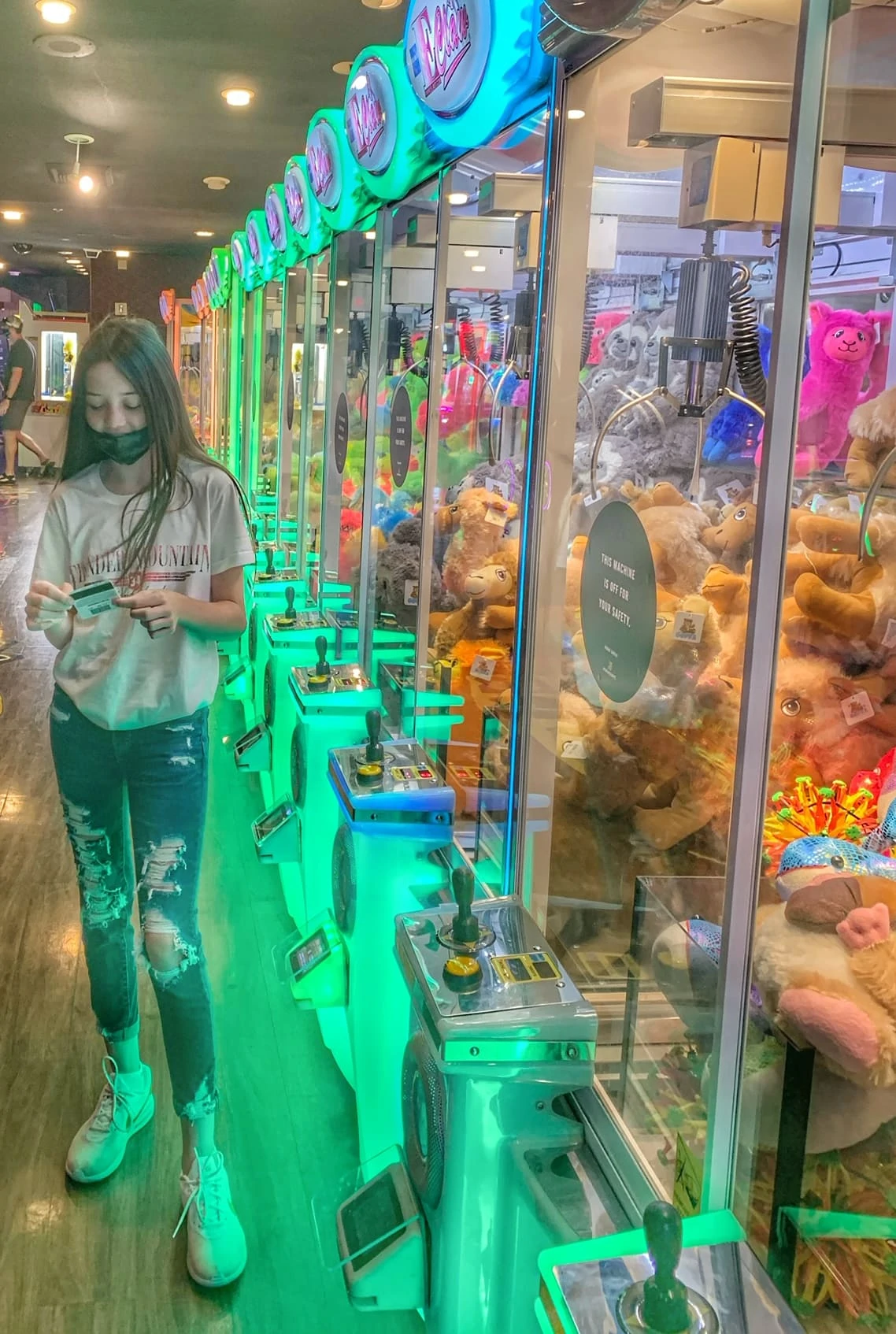 New York New York – has a great arcade (not really any carnival games, but they can win tickets from the arcade games to turn in for prizes). They also have a big roller coaster here, so if you have kids who are different ages it is a good spot.
Excalibur – has what they call the fun dungeon. It is a bottom floor with carnival games and some arcade games. The kids liked this one, but it was their least favorite of the three mentioned so far.
Luxor – we never made it out there, but I hear they have an arcade space too.

Las Vegas Attractions for Kids
Adventure Dome Amusement park in Circus Circus 
This is the largest indoor theme park, and a fun stop for families (especially if you are visiting in July or August heats). We spent one day here, and the kids had fun. It is an indoor amusement park, so is perfect year round, and has everything from kiddie rides to roller coasters. You can buy a bracelet so they can ride unlimited rides here.
More Kids Activities Las Vegas –

Gondola ride at Venetian – pay to ride indoors or outdoors.
The Eiffel Tower in Paris – you can go up to the viewing deck here. It is more affordable during the day, but I have heard it is beautiful at night.
Roller Coasters & Other Rides For Kids –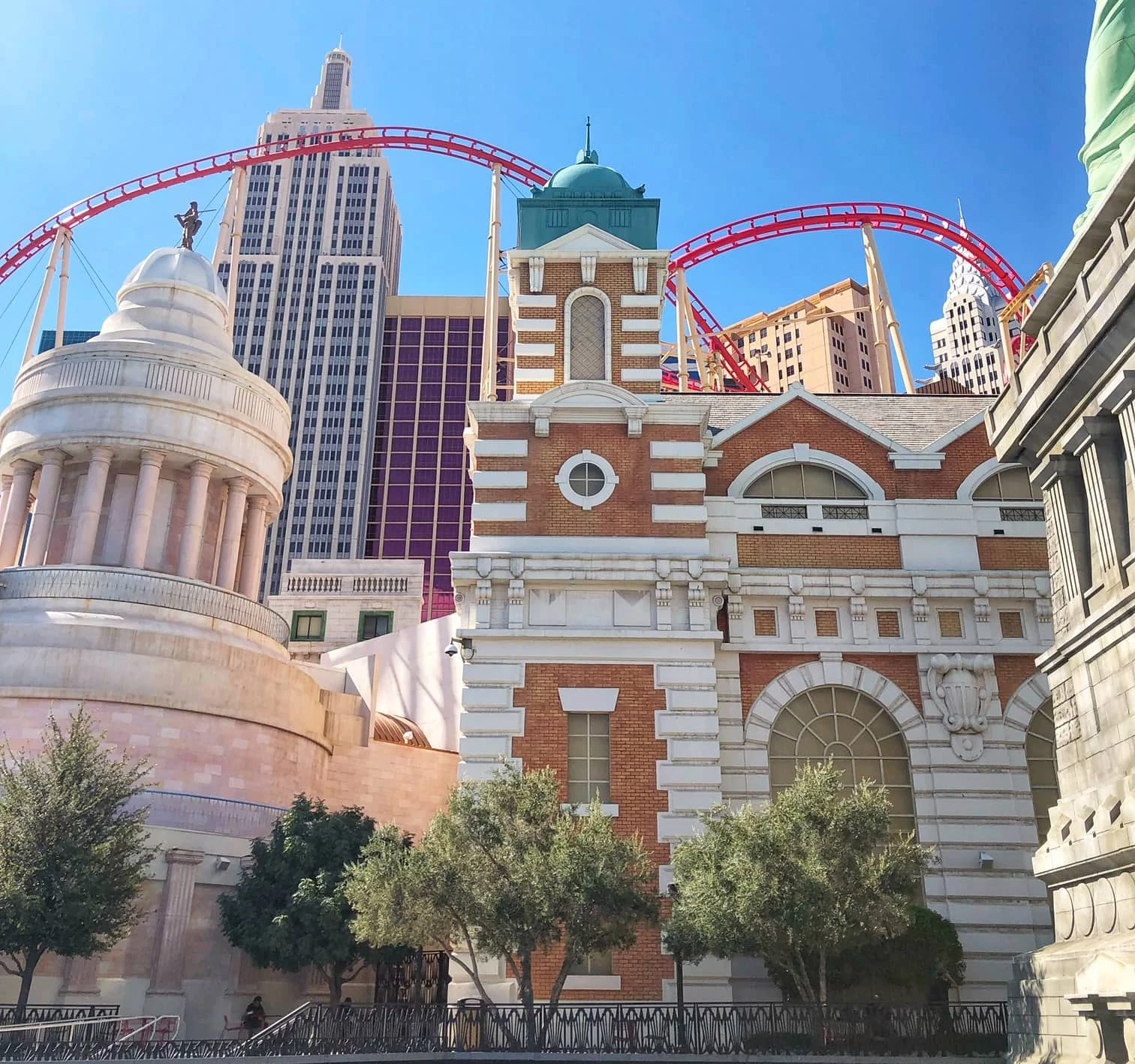 You will find roller coasters at both the New York New York hotel and in the Adventure Dome. Of these options, my kids like the New York New York one best. It starts inside, but goes outside and is a fun ride. If you are looking for something more extreme, you will find those options atop the Stratosphere.

Great Wheel ride at LINQ – this is a slow moving wheel that is really more of an observation deck and you can board it in the LINQ area.
Zip Lining at the LINQ & Old Town Vegas – The zip line at the LINQ is one of the most affordable zip line options I have found, as they offer student pricing. It goes the length of the LINQ mall, and is open limited hours, so check those ahead of your travel dates.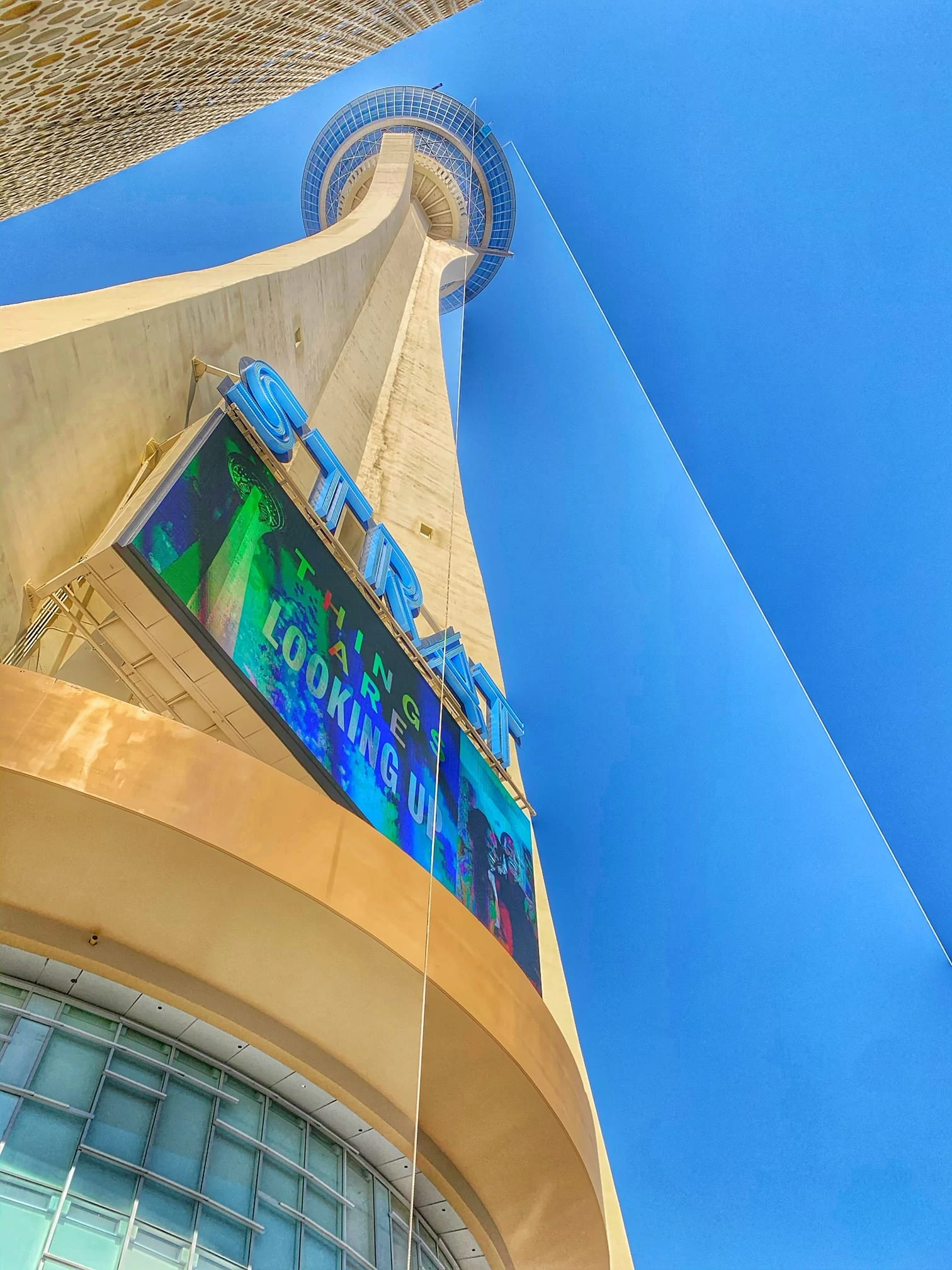 Sky Diving at the Stratosphere – in addition to the extreme rides on the Stratosphere deck, you can also ski dive off the building. You have to be 14 to do this, and my oldest daughter did it on our last trip and loved it. She has no fear, though (we were more afraid waiting for her on the ground then she was jumping…I don't think she batted an eye).
Zoos & Aquariums 
Here are a list of spots you can enjoy animal exhibits in Las Vegas:
Siegfried and Roy Secret Garden and Dolphin Habitat
Silverton Aquarium (free but off the strip)
Shark Reef at Mandalay Bay
Lion Habitat Ranch (also off the strip)
SeaQuest at the Boulevard Mall in Vegas (off the strip)
Las Vegas shows for kids
Family Friendly Shows – 
Las Vegas does not have a ton of shows that will be family friendly, but here are a couple that were recommended. We did not do any shows (although I have taken the kids to Cirque De Soleil in our city and they loved it), so I cannot personally recommend any of these. We just ran out of time to do everything.
The Variety Show (in the Miracle Mile Mall)
Blue Men (Luxor)
Cirque De Solei (Treasure Island)
Tournament of the Kings (Excalibur Hotel)
Other Attractions in the Area 
Here are some more things that we did not get a chance to do, but that I have heard are fun for kids in the area.
Top Golf
CSI Experience at MGM
Hunger Game Exhibition at MGM
Madame Tussauds Las Vegas Wax Figures in Venetian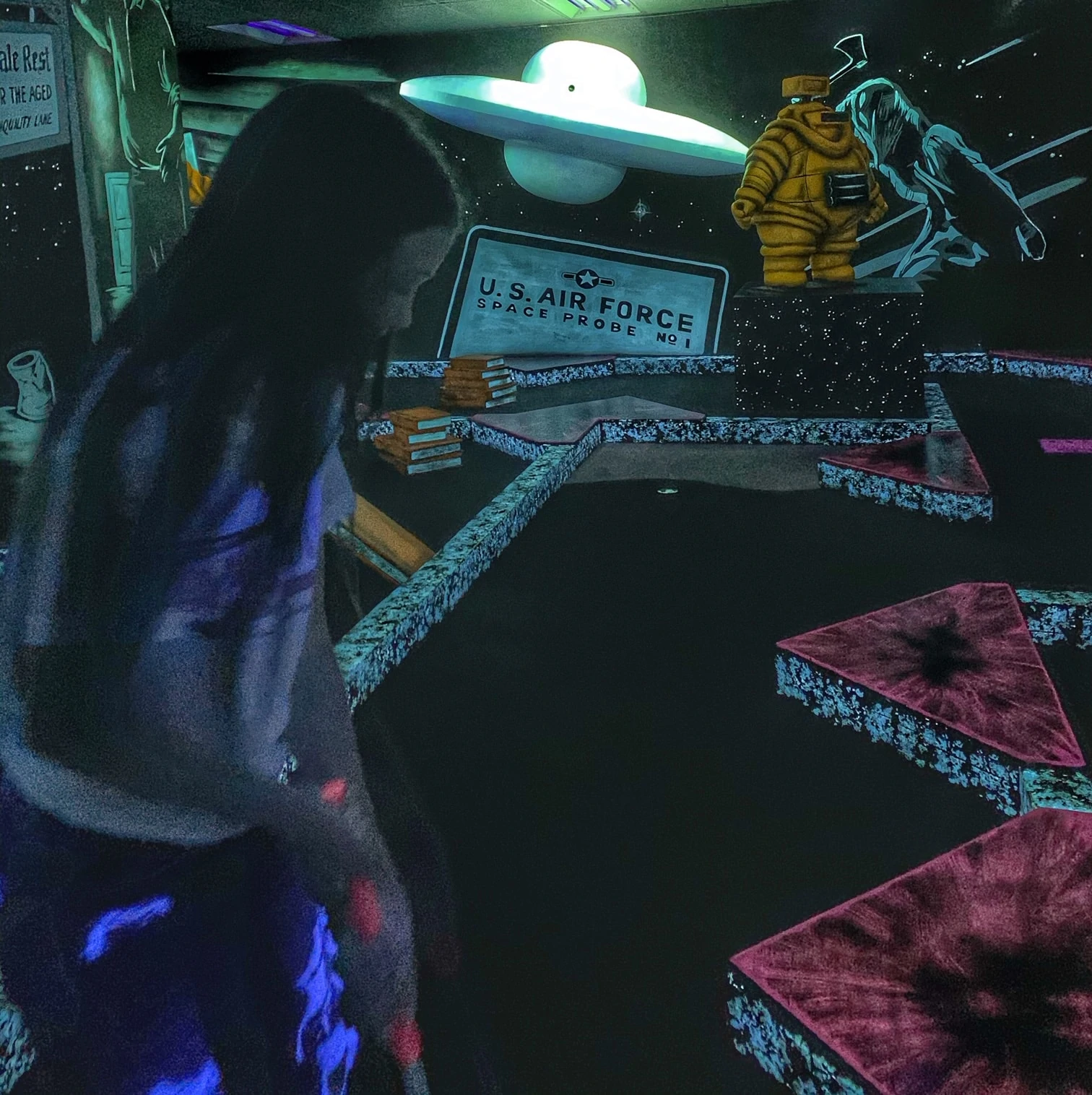 Twilight Zone Mini Golf in Ballys & Monster Golf – We got Groupons for here so did it both years. It is a nice break in an air conditioned area and was very affordable.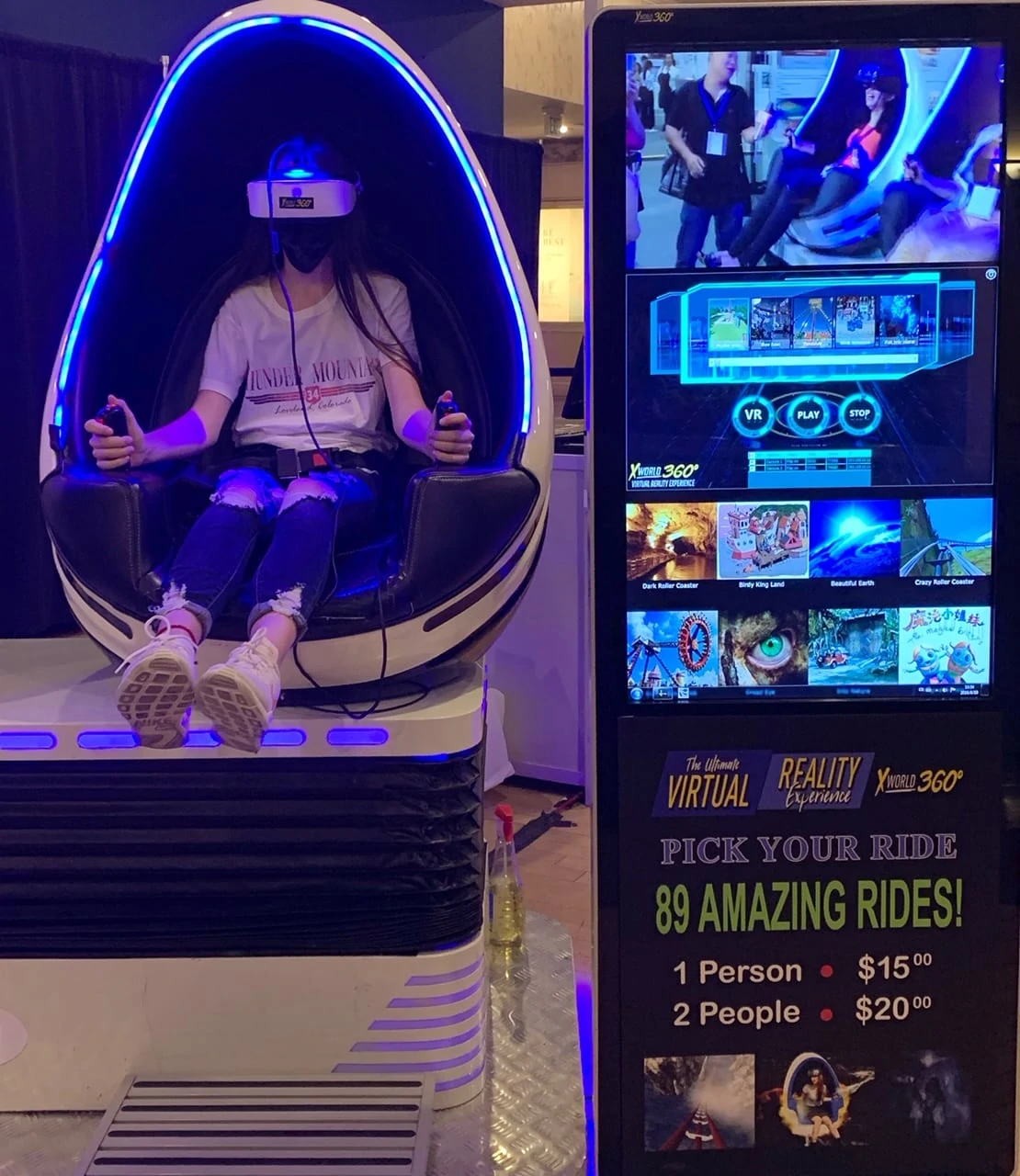 4-D Rides in Ballys and Excalibur. This picture is of the one in Balleys down by the putt putt golf area.
Titanic Exhibit at Luxor
The CBS Television City Research Center at the MGM Grand welcomes visitors to come in and view and give their feedback on proposed new shows. CBS Television City is open daily from 10 a.m. to 8:30 p.m. The center is located near the pool at the end of the Studio Walk. No advance reservations are necessary, and viewing is completely free. However, we suggest you call or stop by ahead of time to get the schedule to make sure you pick a family friendly show.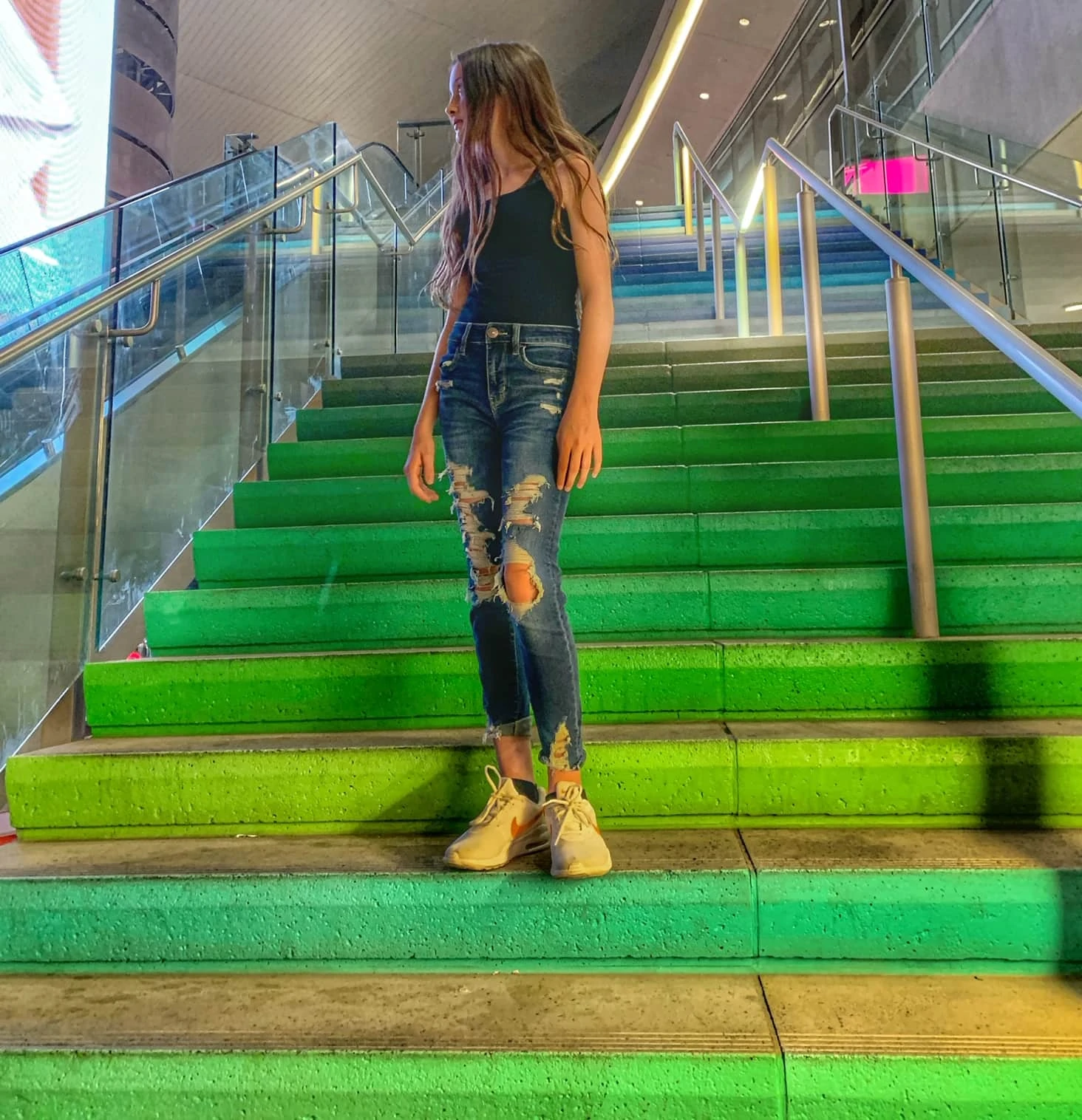 Shopping in Las Vegas 
We scheduled our trip to Las Vegas during the summer, so it could double as a school shopping trip. This way the kids could take the regular budget I spend this time of the year, anyways, and use it for their spending money in Vegas. Plus, Vegas has so many cool shopping malls that it will create memories to last them a very long time (and we found great deals on clothes in Vegas – my kids did not spend any more than they would have at the malls back home).
There are some pretty cool malls that are themed to look like you have been transported to another place in time. They make for wonderful shopping excursions for all ages. Plus, most of the malls had lots to offer in terms of candy stores and restaurants too.

Caesars Palace Forum Shops
The Forum Shops at Caesars Palace are a must-stop for shopping in Vegas. It is my favorite mall, as it is themed like you are outdoors in Rome (the ceilings look like skies, there is tons of theming throughout the mall, and even some free shows). If we only had time to shop one mall during our visit, this is the one I would pick.

There are lots of family friendly restaurants to eat at too here (and there is a separate mall entrance if you want to skip walking through the casino in Caesars Palace). There are some high end shops, but we also found plenty that my kids would shop at (like Nike, H&M, Lush, etc).
The Venetian Shops
The Venetian Shops also have beautiful theming (and you can walk along the canal with fun restaurants too). Although I love a visit here, it did not have many shops my kids actually shop for kids clothing at. So I recommend you take a stroll through here, but save more time for actual shopping in some of the other malls.
Mile High Mall at Planet Hollywood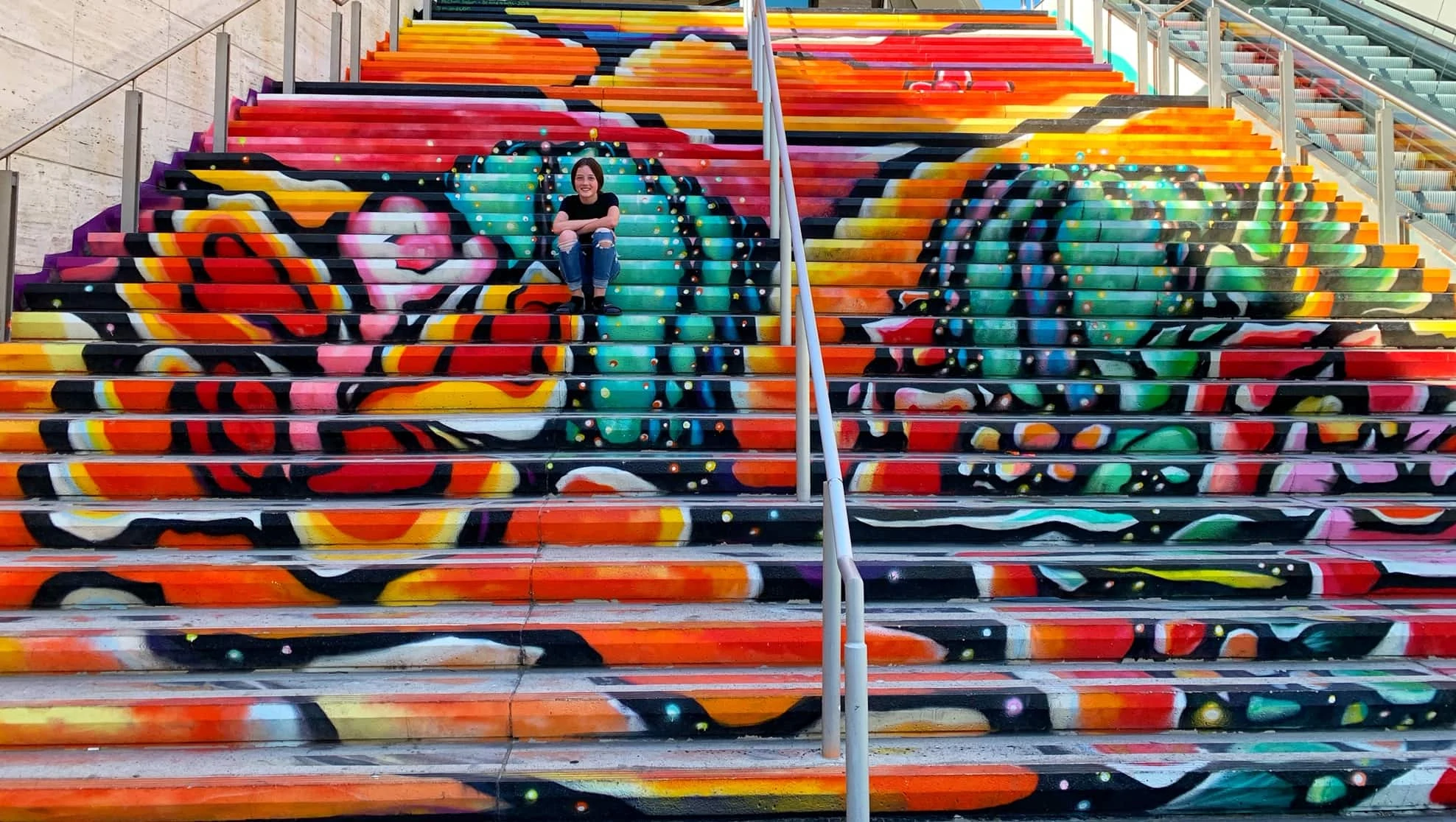 Fashion Mall
The Fashion Show Mall is an actual mall and so your kids will likely get the most shopping done here. It is three levels of stores and restaurants and had most all of the stores that my kids like to shop in at home. This and the Forum Shops are where the kids did most of their shopping.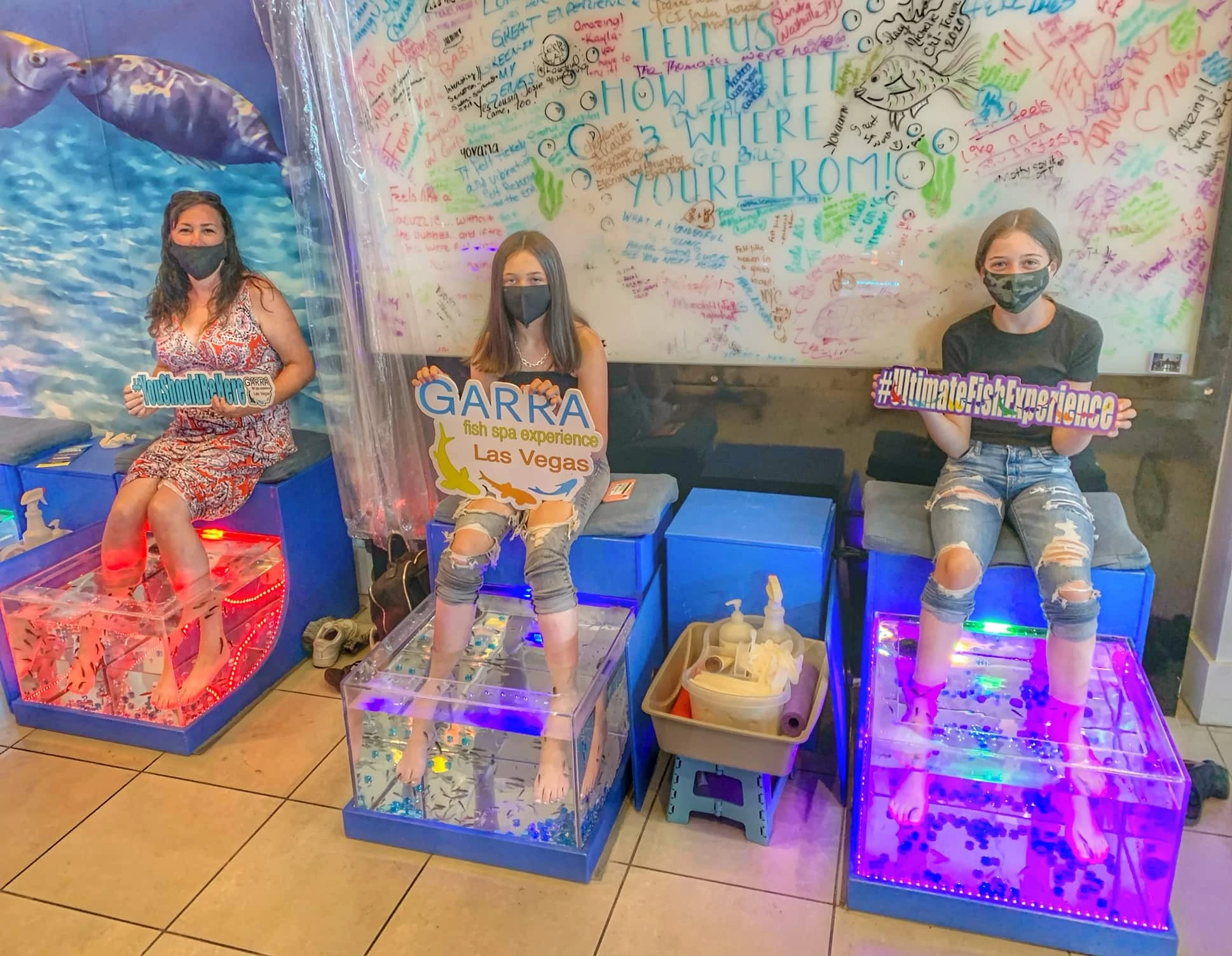 One of the highlights for me here, was the fish pedicure. I have always wanted to do this, and I liked it (wish they had them around where I live)! It felt like they were tickling our feet, but my feet came out so smooth afterwards. They have a stand down on the first floor of the mall, but look for their shop upstairs if you want a little more privacy.
LINQ Promenade
We stayed right across the street from the LINQ during one of our visits and so spent some time there. There was a bath products store I loved and a socks shop, but most of their stores are specialty stores. There are a few fun places to eat (including a fun candy store), and some attractions to enjoy, but the kids did not do a ton of shopping here.
There are also two factory or outlet malls in the area, but they are not located on the strip, so you will need transportation to get to them. These include:
Getting off the Strip 
We did not make it off the strip ourselves, just ran out of time with all there is to do. There are a couple of spots that I saw recommended off the strip, but nearby, in case you want to look into those more.
Container garden near Freemont Street
Mermaid Show at the Silverton Hotel

Getting Around
The Las Vegas strip is actually quite long, so even if you are planning things on the strip, there may be times you will want to use some kind of transportation to get from one end to the other or you want to head to the Stratosphere, etc. Here are some options available to you.
Uber / Lyft – Before Covid, this option was the best option for our family (after COVID, if you are traveling with more then 3 people we had to upgrade to the size and cost of vehicles, so you will have to look into pricing). Just download the Uber or Lyft app,and they were super easy to get just about anywhere (including from the airport).
Taxis – we were traveling as a family of 4, so before COVID Ubers were more affordable to use then taxis. After COVID, taxis were more affordable in some instances, because we had to upgrade to such a large vehicle for 4 people with Covid. Either are easy to get in Las Vegas, so just do a little research to see what is more affordable during your travel dates.
Monorail – There is a monorail that runs behind the strip and stops at major areas. If you are one or two people traveling, this is a great option to use. You can buy an all day pass and use it as much as needed. If you are traveling with more then 2 people, we found Ubers or Taxis to be more affordable. The other thing is that there is alot of added walking with the Monorail as it is set behind the hotels.
Trams – There are a few free trams that run from hotel resort to hotel resort that make it pretty easy to travel to those areas. We used them pre-COVID, but many are not offering service since COVID, so double check on what is open during your travel dates. These options include:
Mirage to Treasure Island – these hotels sit right next to each other, but this tram will save you time vs walking out to the street and back in.
Park MGM, Aria, Bellagio train

This one is a great way to head down to the end of the strip where MGM and Excalibur are, from mid-strip (Bellagio) and back.

Mandalay Bay to Treasure Island and back
Mandalay Bay, Luxor, and Excalibur route (all three stops from Mandalay Bay to Excalibur, but an express train back does not stop at Luxor).
My kids only made it as far as Excalibur before it was too much walking for them (especially in the heat) so if you want to go as far as Mandalay Bay or Luxor these are great options to do so.
Buses –  Buses will be one of the most affordable transportation options, but we never used them with the kids. After paying for all of us, it just seemed more practical to use an Uber with the added convenience of being dropped off right in front of our destination and not having to sit through all the stops. They are an option to look into, though, if you are trying to save the most money.
Tips On Eating Out For Families
Las Vegas has tons of options for dining out, from some great deals to some luxurious splurges. Food is one of the things we love to visit Las Vegas for, so we do a mix of a couple of savings options and a few splurge options. We like to let everyone in our party pick one restaurant to eat at during our stay, too, just to make it fun for us all. The best restaurant picks will depend on your personal preferences, but here are some recommendations we have after trying many restaurants in the areas.
If you are looking for a quick mid day snack, we loved grabbing a pitcher of Margaritas for the adults and nachos for the kids at the Chayo Mexican Restaurant and Tequila Bar (pictured above) in the LINQ Mall. Another great spot we found for guac and street tacos was the UNO Mas in the Sahara (if you find yourself down by Circus Circus)! Street tacos here are $6 each, and their guac and chips was delicious. This is the same hotel you will find Bazzar Meats by Jose Andres, which is also highly rated if you are looking for a splurge spot.

We loved the MON AMI GABI FRENCH RESTAURANT in the Paris hotel. You can dine indoors or out on the patio, and they offer Steak Frites, a great wine list, and some of the best freshly made bread options we could fine. One of our favorites was this tomato and feta salad. We came back for this one twice!
My kids love dumplings. We really enjoyed the Red 8 in the Wynn Hotel (a bit pricey, but the ambiance is fun, and food was delicious. If you really want a special night and like Italian food, reserve a table set around this faux lake at the Costa de Mare in the Wynn (this is on my bucket list for next time).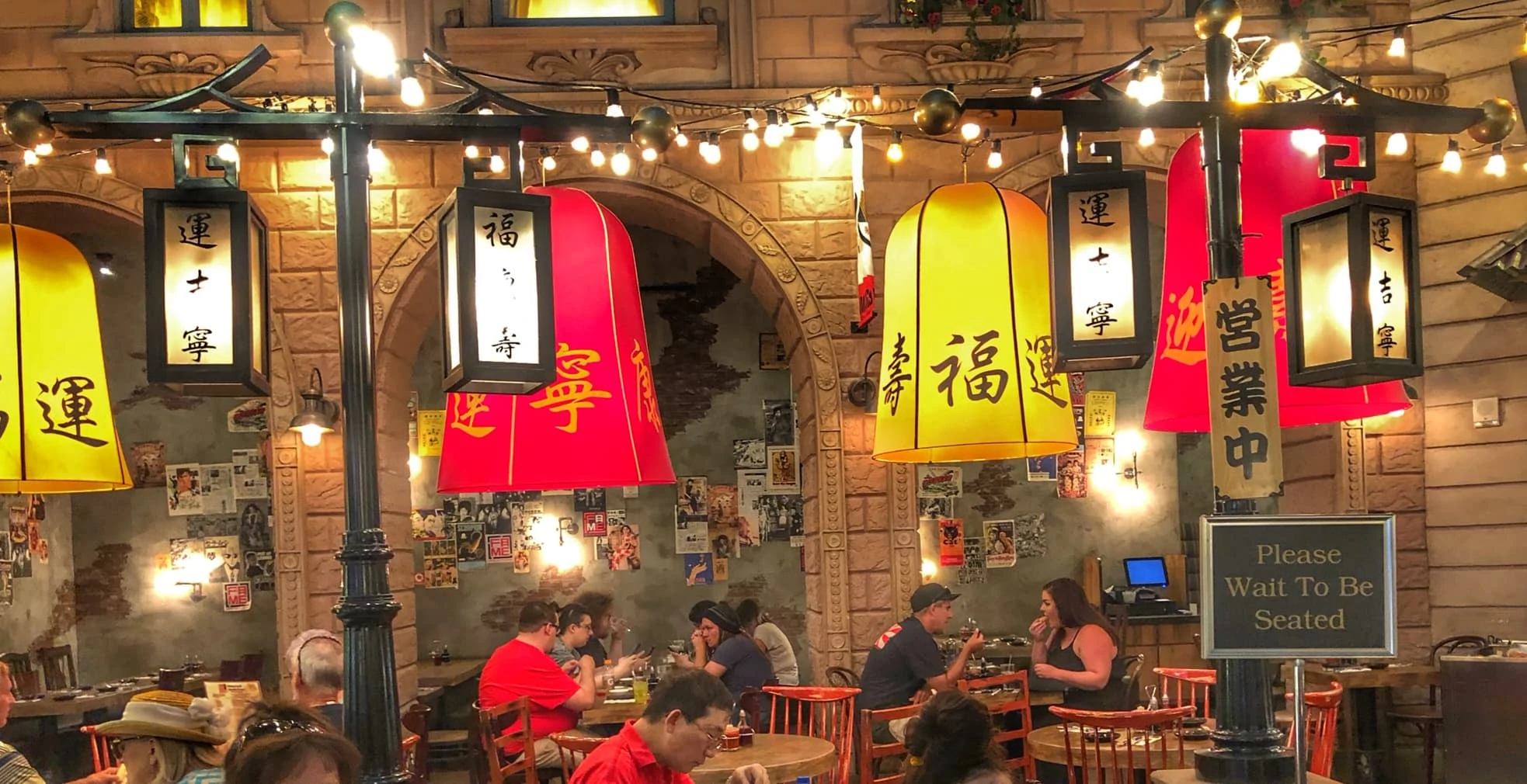 We did Dim Sum at the Lucky 8 in the Paris Hotel. It was also delicious and more affordable than the Red 8, if you are looking for something a little more moderately priced.
The Paris hotel also has a restaurant in the Eiffel Tower if you want a splurge meal, that I hear is quite nice.

We got a Groupon for Sugar Factory, so enjoyed a great meal here for a bargain.
There is also a Jousting Dinner at Excalibur, if you want to make it a night of fun and food!
You will find everything from food courts, to fine dining here, and there are more restaurants then I can possibly include here, so this is just a sampling of some of the spots we loved.

If you are looking for treats, there are tons of candy shops, ice cream stops and more for the kids to enjoy!
(be sure to check ahead to make sure these promotions are still available during your travel dates)
Here are some more specials we ran across – 
Sirrico's PizzaOpens a New Window.at New York-New York Hotel & Casino for Lunch ($7.77 for a beer and slice of pizza) or less for soda and pizza!
Ocean one at Planet Hollywood – lunch for $4.99 (everything on menu) + $3 beers. This spot always had a line when we stopped by, so get there early to get this special. 
Rockhouse at the Venetian for its weekly specials: $1.50 tacos on Tuesdays and $1 chicken wings and $1.50 hot dogs on Wednesdays.
Cupcake ATM at the LINQ – order a cupcake from an ATM machine from Sprinkles Cupcakes
In-N-out Burgers at the LINQ! (expect long lines here), but it is the same great food at lower prices then most Las Vegas spots. We always eat here once or twice during our stay (use it for a cheap meal on a day we splurge on an expensive one).
Ways to Save on Food with Kids in Las Vegas 
Here are some tips to save on dining out options in Las Vegas. We found that saving on one meal a day, allowed us to splurge on another one. Sometimes it made more sense to splurge on lunch out (as their menus can be cheaper) at a nice restaurant, then picking up some In and Out burgers for dinner.
Another great way to save is to order groceries to your room through something like Amazon Fresh, and do some meals in and some out. Here are some more savings tips:
Sign Up for Coupons Ahead of Time – 
Here are some spots we signed up for their emails to get coupons just ahead of our travel dates (so they would still be good when we traveled).
Plus, check Groupon prior to your travel dates (or while you are there) to save on restaurants in the areas. We grabbed a Groupon for the Sugar Factory during our visit, and saved big doing that for example.
Family Friendly Happy Hours in Las Vegas
Happy Hour at The Yard House (M-F 3-6pm dine in)  1/2 off pizzas & select appetizers (got coupon for free appetizer in my email from them too)
Margarittaville has a happy hour that can save you too.
You will want to search this up before your travel dates, as these can change too (and then call to confirm kids are welcome).
Kids Eat Free in Las Vegas –
While there are kids eat free opportunities in Las Vegas in general, we did not come across many on the Las Vegas Strip. This area is really geared towards adults, so there are not a ton of these options here. I would google Kids Eat Free Las Vegas ahead of your trip, to see if there are any current promotions.
What are your favorite things to do with kids in Las Vegas?