Tacoma Bike Swap – Saturday April 28th, 2018 – Sell a Bike or Buy a Bike at Reduced Prices!
This post may contain affiliate links and I may be compensated for this post. Please read our disclosure policy here.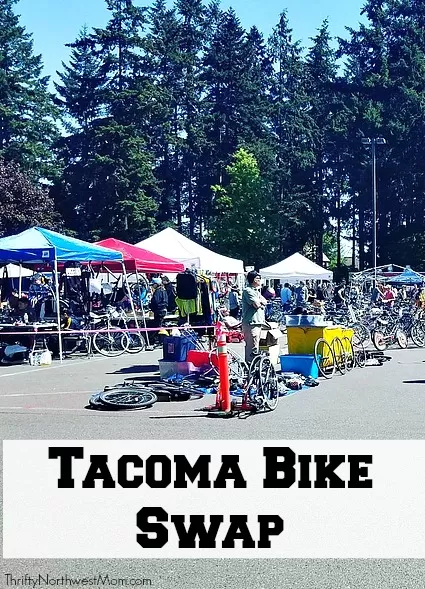 Mark your calendars now, if you're interested in participating in this event!
The annual Tacoma Bike Swap is happening Saturday, April 28, 2018. It will be held at the University of Puget Sound from 10am – 2pm The Bike Swap  is a free event for the community and you have the opportunity to buy or sell bikes and bike accessories. They also offered $10 bike helmets last year for the kids and then they had ribbons the kids could use to create free "bike streamers" for their bikes. There were a couple food trucks as well.
The cool thing is that anyone can sell a bike at the event, too. You'll need to get there early for your bike to be included in the personal sales section. There are also a number of different bike shops as vendors and you can find used books to purchase for kids and adults.
We attended the Bike Swap for the first time a few years ago and we were so thankful we went. We were on the hunt for a larger size bike (24″) for my daughter and after more than a month of looking on Craigslist and Offer-Up, I hadn't been able to find a used bike in great condition for anywhere close to our budget. We have always bought used bikes for our kids because they grow out of them so quickly, so we don't want to pay full price for a new bike. And this was definitely the best place to look instead of going around to multiple garage sales and trying to search on Craigslist & Offer Up. We ended up finding her a bike for under $50 for her 24″ bike that was in awesome shape.
Plus, I actually found a bike, too. We want to start going on family bike rides (unfortunately it took us until recently to get a bike rack for all 4 bikes) and I wanted to get a bike so I got a cool beach cruiser. They even have an area in the parking lot marked off where you can practice with the bikes to see which is the best fit, which I was grateful for as I am not as familiar with the different styles.
Tacoma Bike Swap Information:
Address: Thompson Hall Parking Lot (N Union & N 14th) on the University of Puget Sound campus
Date/Time: Sat 4/28 from 10am – 2pm
Let us know if you have been in the past & what your experience was! And we'd love to hear if you end up going on Saturday – make sure to come back & share a picture of your bikes!