#SpringIntoMealtime – Save $10 When You Spend $30 On Unilever Products at Albertsons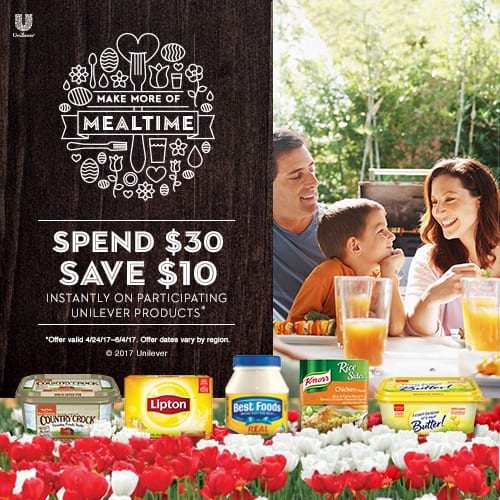 #SpringIntoMealtime
Save $10 for every $30 you spend with Unilever Products + 5 Ways To Make Meals out of this delicious Parmesan Crusted Chicken Recipe!
Sponsored post by Mirum Shopper. All opinions are my own.
There is a super sale, with some great deals going on at Albertson's right now! You can save $10 instantly when you spend $30 on participating Unilever products like Hellmann's, Knorr and Lipton. I love to stock up when these sales come around. Stockpiling is one of the ways we save the most on groceries, so my family will stock up our pantry and do some freezer cooking.
Be sure to check out the Make More of Mealtime and Springtime recipes at Albertsons, for lots of great recipe ideas you can use for the products that are currently part of this save $10 instantly sale. I love to make these Parmesan Crusted Chicken breasts, as its baked, and not fried. The other thing I love about this recipe is that its only 4 ingredients! The Hellmann's/Best Foods Real Mayonnaise keeps the chicken moist, and they are tasty on their own. Most of all though, this is a recipe I can use to make many meals with.
Spring gets busy. As the sun comes out more, our families schedule begins to pick up. I like to have some standby recipes that are easy go to's during this busy season. This is one of my go to recipes, since it not only tastes great on its own, but it operates as the base for many of our other favorite recipes.
Here are 5 Ways To Enjoy This Parmesan Crusted Chicken Breast Recipe on Your Busy Spring Nights: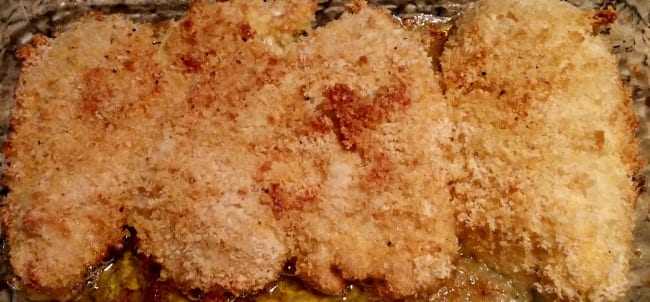 #1 – One thing I love to do is to make a big batch of this over the weekend (find the recipe here), and eat one portion with steamed vegetables the night I cook it. I will then cool off the rest, and package it in freezer bags to use for other meals during the week. I do like to leave a few of the Parmesan Crusted breasts in the fridge for lunch the next day too.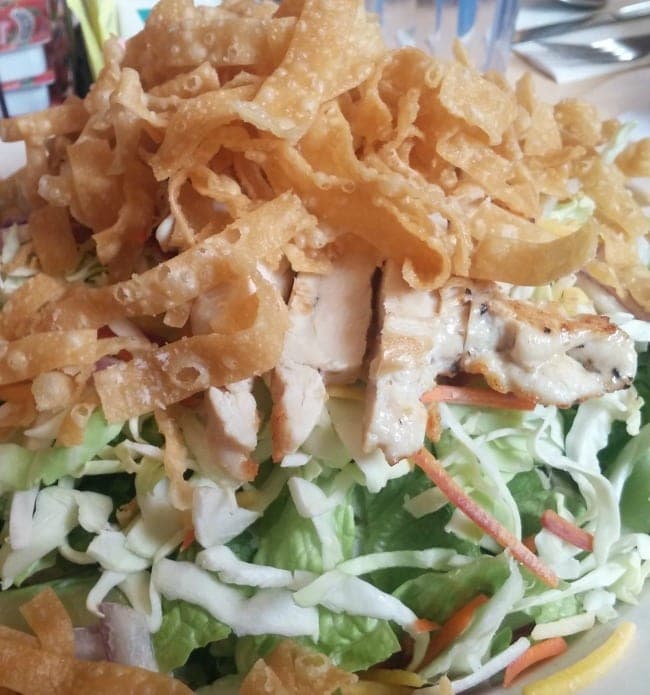 #2 – I will then slice up a chicken breast to put together a Chinese Chicken Salad, which is one of my favorite recipes to have for lunch.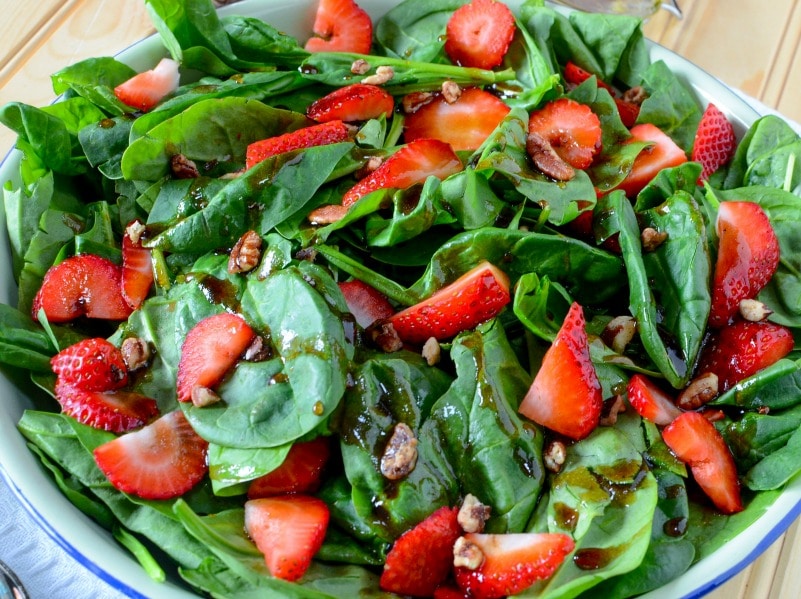 #3 – I can then either  serve it for dinner with a Strawberry Spring Salad, or make myself lunch (its even delicious if you cut it up and serve it over the salad!).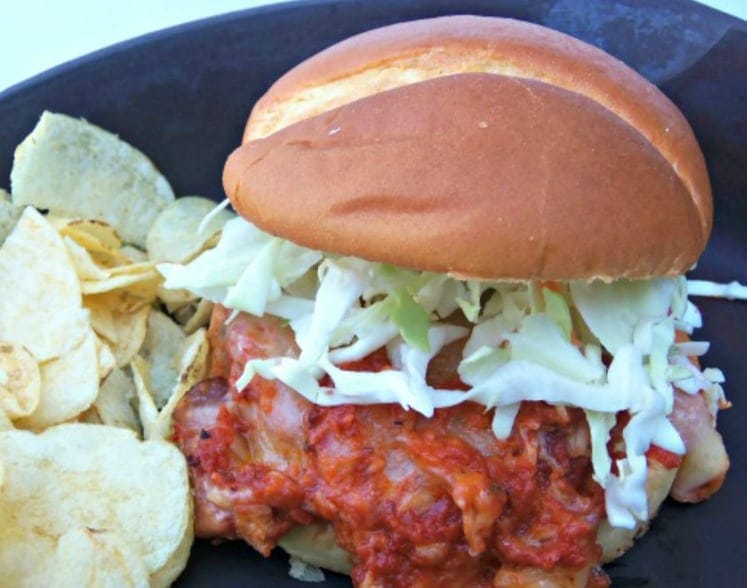 #4 – I also like to use the Parmesan Crusted Chicken as the base for Parmesan Chicken, and the Parmesan Chicken sandwiches. This recipes is so simple. Take out a few of the Parmesan Crusted Chicken breasts that you froze, and thaw them out. Add your favorite spaghetti sauce, and top off when some Italian Blend shredded cheese. Bake at 350 until its warmed through (since you are using chicken you already cooked, and froze you will just need to make sure its warm all the way through and the cheese is melted).
You can serve this recipe with a salad, or add it to your favorite brioche roll and some coleslaw to the top, for a great lunch or dinner sandwich.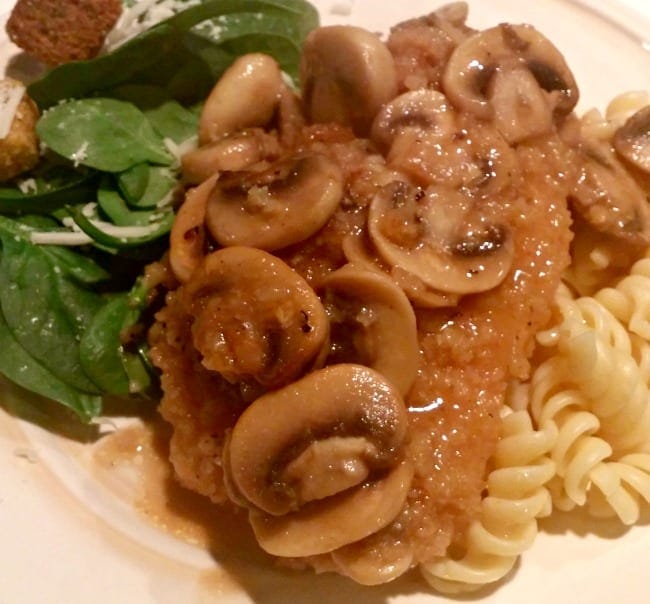 #5 – Thaw out a few of the Parmesan Crusted Chicken breasts and top off with some Chicken Marsala sauce and serve over noodles (wisk one teaspoon of flour with 1/2 a cube of melted butter over medium heat. Add one cup of Marsala cooking wine, and 2 cups of chicken stock. Add sauteed mushrooms and pour over the chicken and cook at 150 until heated through).
Make sure to check out the Make More of Mealtime and Springtime recipes at Albertsons, for more great recipe inspirations for Spring time! And do not forget to take advantage of the Spend $30, Get $10 off Unilever products sale at Albertsons right now, to save even more on meals for your family!
Save