Spring Cleaning and Organizing Ideas: Northwest Spring Cleaning Bash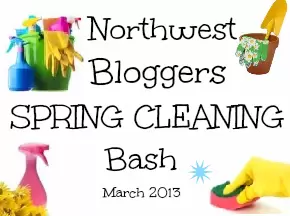 We are teaming up with a group of Northwest frugal bloggers for the month of March to bring you some creative and fun organizing ideas and inspiration as we all work to tackle different areas of our house by decluttering, organizing and cleaning to keep our households running smoothly and ready for some family fun this spring. Each blogger has picked an area of the house to work on this month and we will all be showing your our steps and progress to organize our homes.
We will update this page with specific links to the Spring Cleaning posts as they are shared, with ideas on how to organize these different rooms in the house. So, make sure to keep checking back as we follow the schedule below and share our progress.
Friday, March 1: Master Closet – The Coupon Project
Monday, March 4: Yard & Garden – Happy Money Saver
Friday, March 8: Bathroom – this post will be coming next week….
Monday, March 11: Office & Paperwork – Grays Harbor Deals
Friday, March 15: Pantry – This Beautiful Frugal Life
Monday, March 18: Garage – Coupon Savvy in Cowlitz County
Friday, March 22: Kitchen and DIY Cleaning Solutions – Sweet Deals 4 Moms
Monday, March 25: Kids Rooms –Centsible in Seattle
Wednesday, March 27: Kids Rooms – Thrifty NW Mom
Friday, March 29: Laundry & Craft Room –Thrifty & Thriving
Don't forget to check out our joint Pinterest board: Spring Cleaning: Frugal Style for more ideas and inspiration as you work to do some Spring Cleaning and organizing in your own homes!
We also have some more Pinterest boards you might find interesting: