Silverwood After Dark – Why We Like To Stay Until Closing
This post may contain affiliate links and I may be compensated for this post. Please read our disclosure policy here.

Silverwood After Dark – Why We Like To Stay Until Closing
Silverwood Theme Park makes for fun family adventures all day long, but something about being in the park after dark creates unique special memories. The park transforms into a new kind of magical land, as lanterns start to light up, and rides take on a new glow with colorful lights. The Country Carnival adopts an entirely new energy, that can only happen with neon lights, the clanging of carnival games, and the smell of funnel cakes being fried nearby.
We love to stay to enjoy this transformation, from the daylight hours, to after dark, for a number of reasons. The obvious reason is you are getting your money's worth when you stay until closing – maximizing every hour the park is open. But it is really about so much more than that for us.
There is something about the sounds and smells of this theme park, when the sun goes down. The night lights begin to bask the park in their picturesque glow, and it cools off – but you still have enough of a warm breeze to remind you that it is summer. Couple that with the sounds of kids laughing, and the smells of theme park food, and all of your senses start to wake up again, even if you have already spent a long day in the park. It creates an ambiance that is truly special.
Staying late works especially well if you have kids who are older elementary, tweens and teens! Some of our most memorable Silverwood visits for my kids, include running from ride to ride at the end of the night. Lines can be shorter, and their excitement is palpable. Night lights, the sounds of kids having fun – trying to fit in just one last ride before closing – and then hitting the Main Street Candy Shoppe for that last treat, after everything else has closed down. This is what Silverwood evenings look like for us. My kids would not let me pull them from the park early if I tried!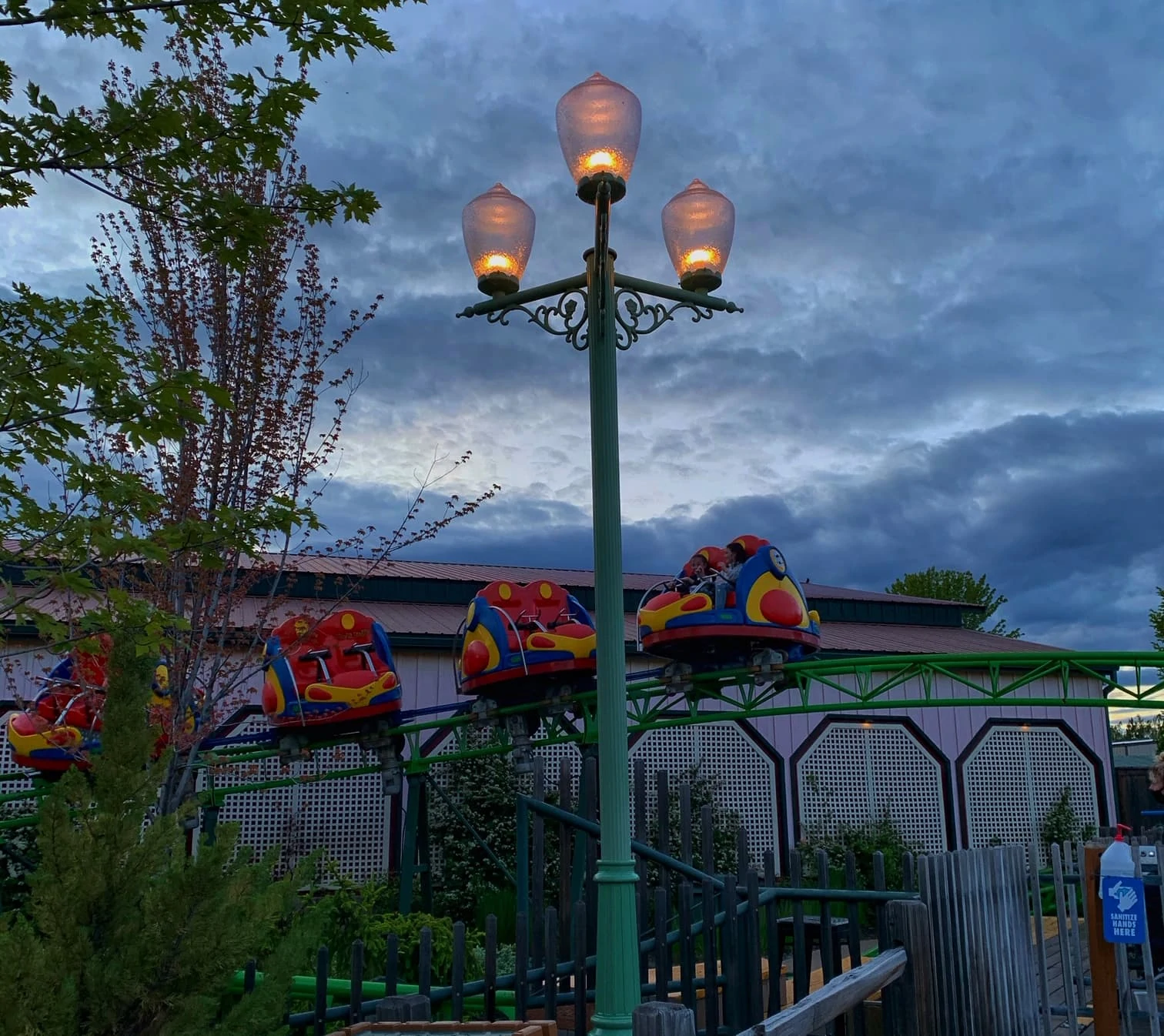 Why We Love Silverwood, After The Sun Sets (and while it is setting)!
Besides the ambiance, here are more reasons why we love to stay at Silverwood after dark.
Entrance is Discounted Big Time!
You will find big discounts on Silverwood Tickets, if you wait until 4pm to go.  They offer an afternoon entrance fee that will cost you much less than an all day entrance. And there is still time to enjoy both parks. Boulder Beach stays open until 7pm on most summer days, so hit this park first, and enjoy three hours here. Then head over to the theme park side to finish out the night. That is a big bang for your buck!
This works best if you do it on a weekend (as the park stays open an hour later, so consider a Friday or Saturday visit, to get the most out of your time).
Check the Silverwood calendar here, so you know what the hours are each day. It only makes sense to do this, if they are staying open until a decent time.
The Crowds Thin Out! 
This happens for a couple of reasons. Firstly, the waterpark area closes earlier than the theme park. Some folks will migrate over to enjoy the theme park for the evening, and others head home. You also have many families with younger kids, that will head out early to get settled back at their hotels or campsites with their littles.
The Sunsets Are Magical + Different Than Most Sunsets!
When you think of a sunset, your mind may automatically go to a beach or tropical setting. But at Silverwood you will find magical orange, pink and purple sunsets happening behind brightly colored rides, or western themed backdrops. It makes for a uniquely special way to watch the sun go down. It also creates a kind of energy in the park that will keep your kids excited to keep riding rides, and playing games.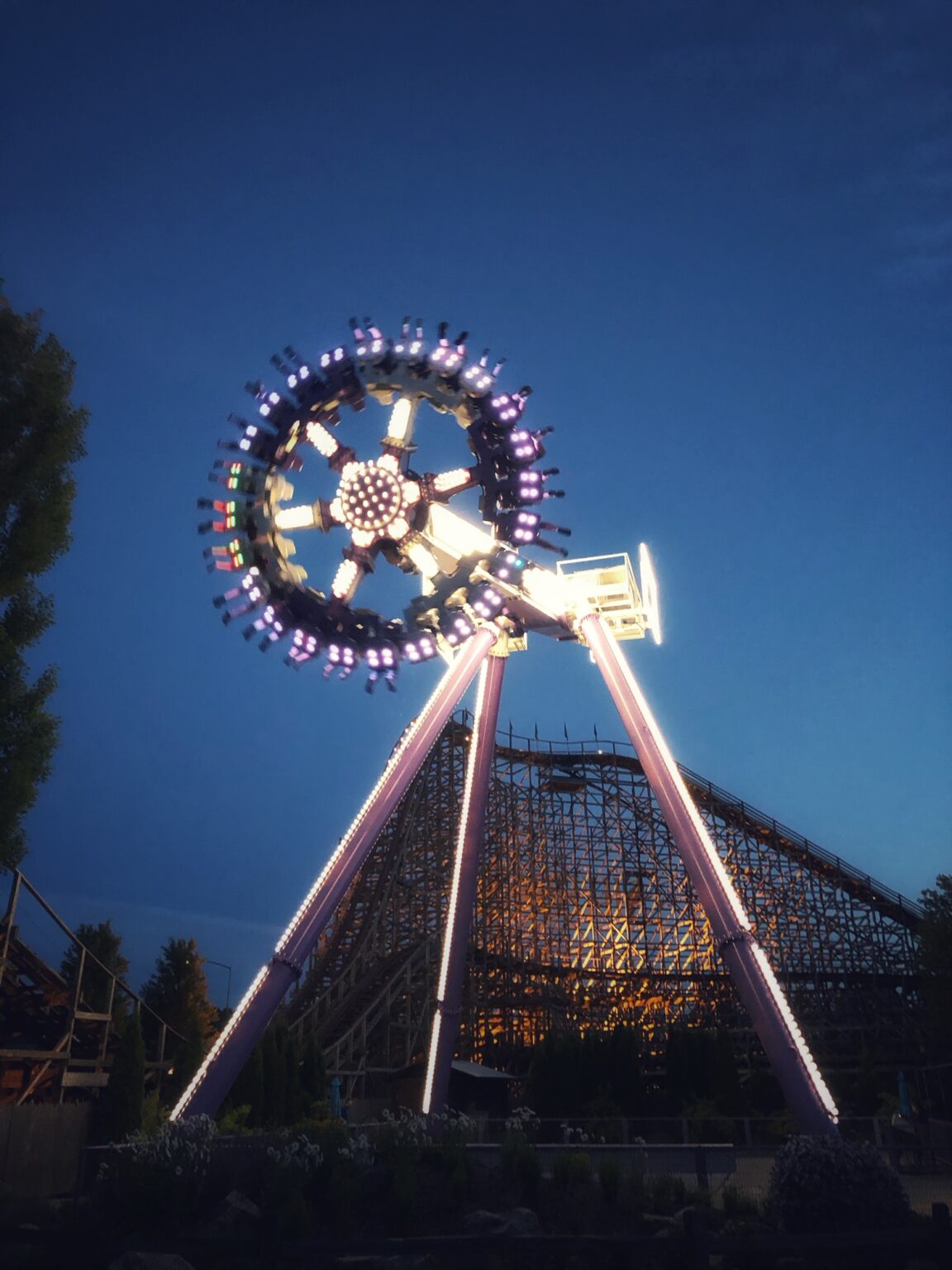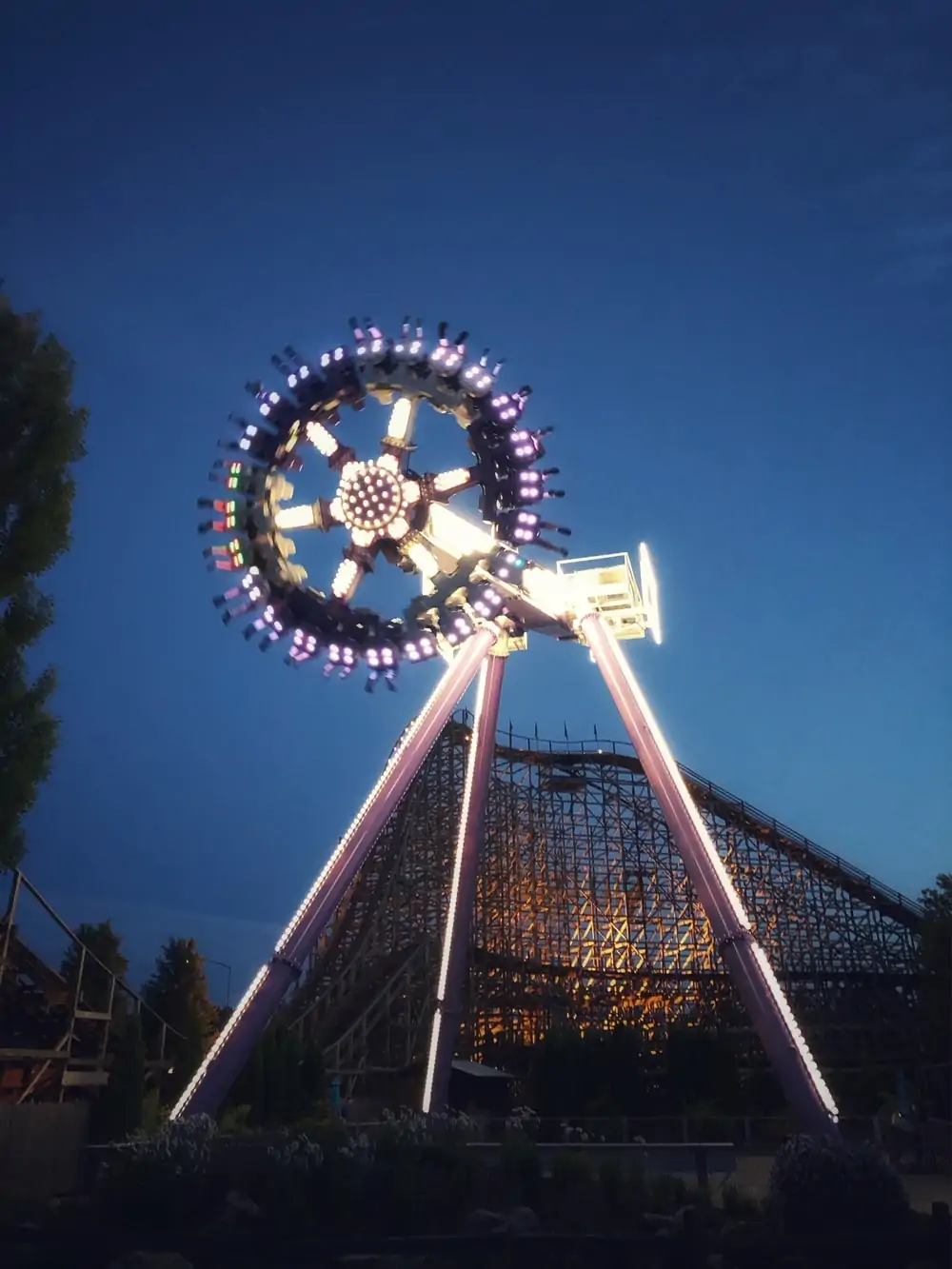 The Rides Take On A Whole New Feeling and Look
You might have already enjoyed some of these rides during daylight hours, but many of them feel like completely new rides at night. They light up to take on a new look, and sometimes they even feel faster. I know that is not the reality of it, but it feels like it sometimes.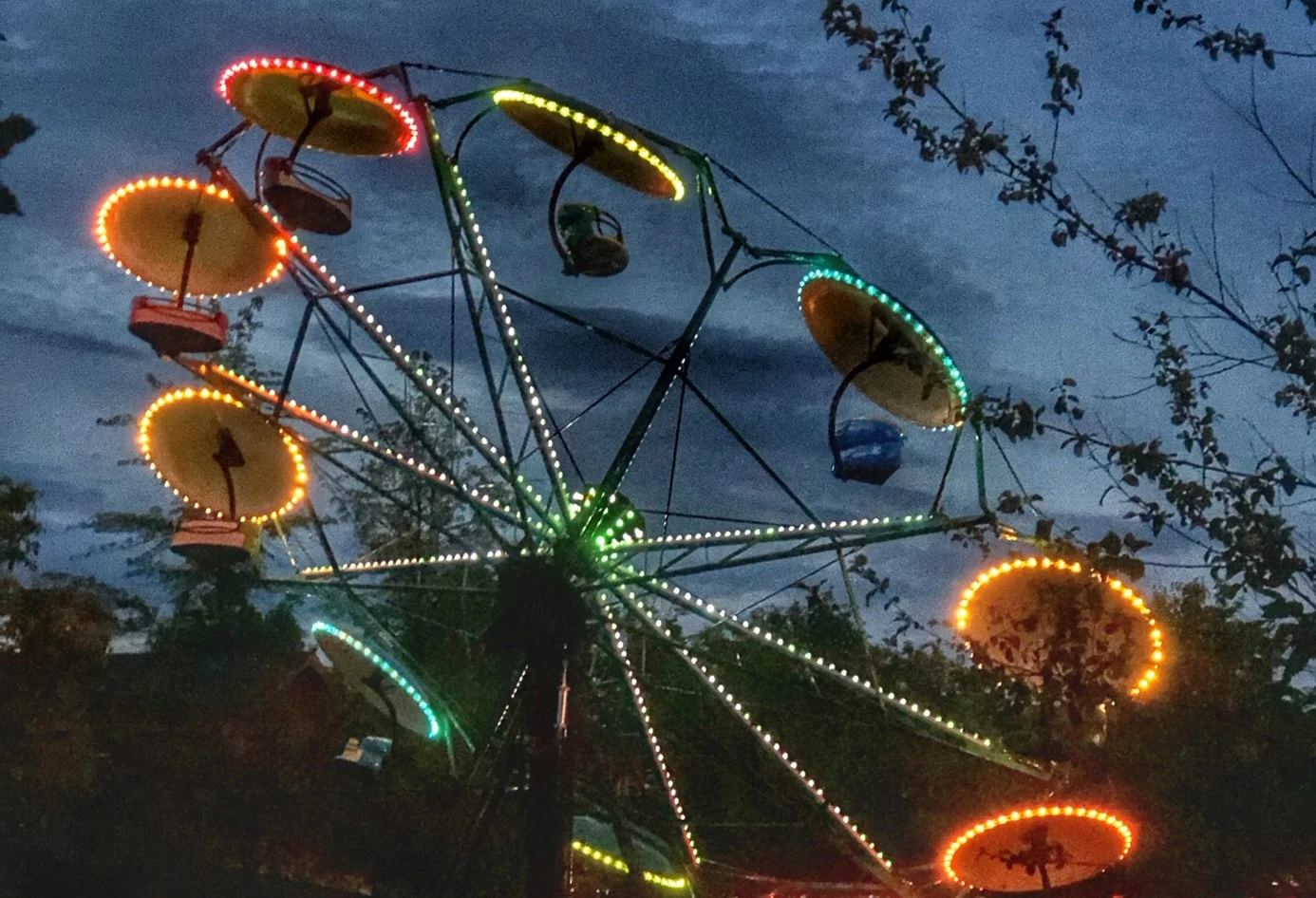 You Get To Maximize Every Hour You Paid For 
This is especially important if you are only staying one day at the park. If you bought a one day ticket, you will want to be in the parks from open until closing, to really get the full value out of it.
You Wear the Kids Out (and do not have to entertain them anywhere else)
Another way it saves us, is that I don't have to pull my wallet out to do any other activities in the area when we stay a full day. The kids go all day, and into the night, and then crash back at the hotel or campsite. I have paid for the park tickets, and some food – and that is it for the day.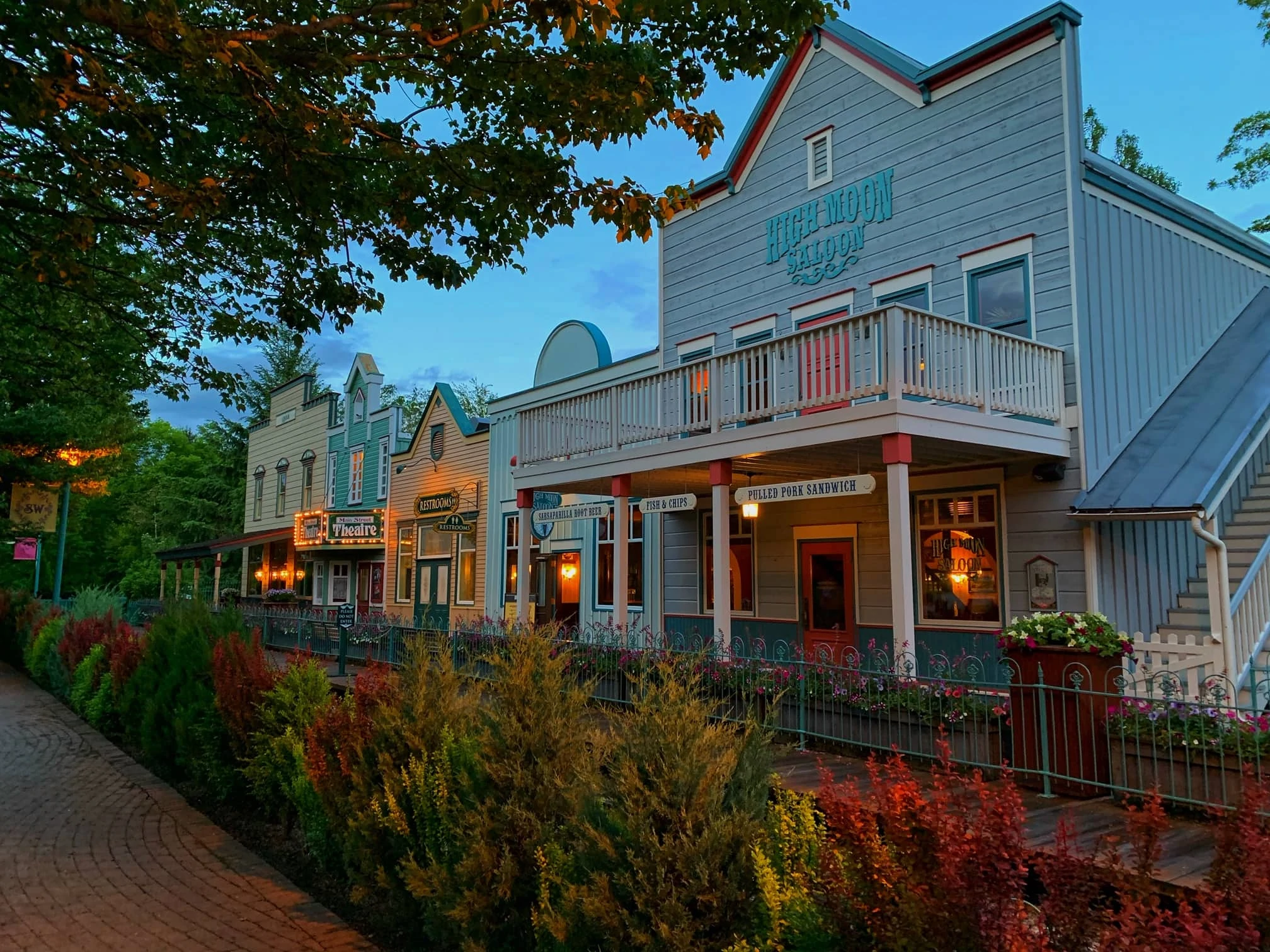 Mainstreet Stays Open Late, For a Few Last Minute Treats!
We have been to Silverwood enough times, that we have created some family traditions for our visits. One is to stop in Sweet Treats as the park is closing. Main Street stays open just a little bit longer than the rest of the park, so you can squeak a few last minutes out of your visit to grab a treat for the ride home. It does not matter how old my kids get, they don't let me skip this tradition we have created.
Now it is time to start creating your own special family traditions, by exploring Silverwood After Dark!