SC Johnson Products – Review & 2 Winners Win Package of Products
This post may contain affiliate links and I may be compensated for this post. Please read our disclosure policy here.
This is the time of year where many of us are hosting different holiday events and/or dinners in our homes and want our house looking its best. I had the opportunity to use some SC Johnson products that are definitely going to help me this holiday season. Most of these products were ones that I have never used before and I have now found some new favorites that will remain in my cleaning caddy!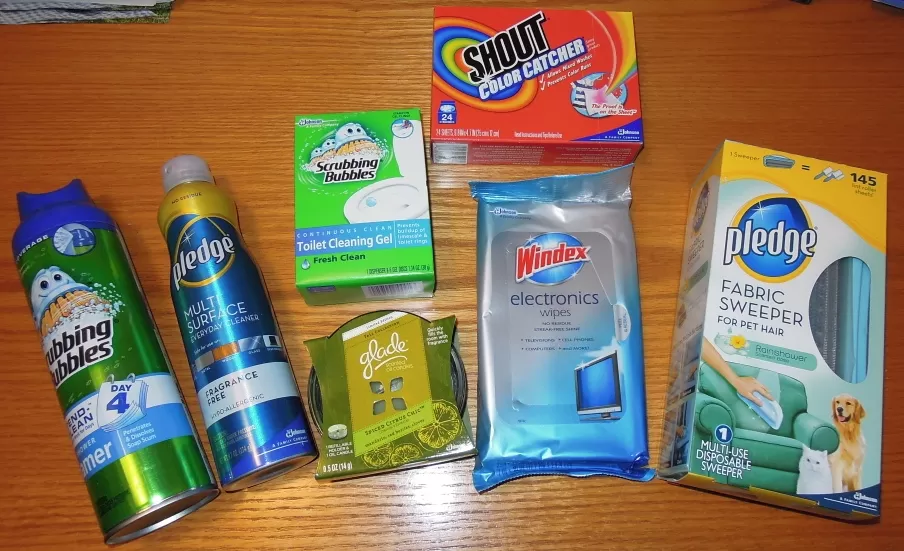 Below is a list of the different products that I was provided and my reviews of each product.
Scrubbing Bubbles Extend-a-Clean Mega Shower Foam – This product did a great job of cutting through the soap scum in my shower. With daily baths (most of them with bubbles) for my two boys, the residue builds up quickly. After spraying the product in my shower and tub (I used in my sink as well), I walked away for a while (as the directions recommend) and then came back. I was able to effortlessly take a sponge and wipe the residue away. There were a couple spots that I had to scrub a little but it was minimal. My only complaint about the product is that this is an aerosol and does give off some fumes while it was not as bad as other products I have used. Be sure to keep plenty of air circulation in the bathroom while using this product if you have asthma or are sensitive to cleaner fumes and/or smells.
Shout Color Catcher – This product works as it says. You can put together a mixed load of laundry and the sheet catches any running color. I don't normally mix the colors of my loads for my husband and I but I always mix the loads for my kids' clothes. This is going to be a laundry essential for me because my oldest loves the bright colors (especially red) and now I won't have to worry!
Scrubbing Bubbles Toilet Cleaning Gel – This has to be the most interesting of the products that I tried out and it was definitely the one that received the most comments. It says that it is supposed to last a week per application and help with the staining in the toilet. It does work that way and my toilet bowl is sparkling clean and fresh. The only thing to be aware of is that I have received many comments from company wondering what that was in my toilet. It has been a topic of many conversations after guests use my bathroom. You also need to position the gel exactly as it says in the directions. If you position it too low, it ends up sitting in the water and washes away very quickly.
Pledge Multi Surface – This was the product I was the most skeptical of because it claims to be able to be used on almost everything. I was definitely pleasantly surprised. I was able to go into my bedroom with just this one product and dusted my wood furniture, my glass table lamps, my mirror and my television. It left no streaks and no residue. It worked like a charm and can definitely save you money on products for every surface. This is a new favorite for me!
Pledge Fabric Sweeper – This has always been a favorite of mine. I have multiple cats and dogs that love to get up on our furniture and leave their hair behind. I have used this product since it came out and would recommend it to anyone with pets. It is great! It takes a little practice to learn to use because you need to make sure you get the appropriate stroke length to effectively pick up pet hair. I use this on my comforters, couches, chairs and throw pillows. It is a must have in my house.
Windex Electronics Wipes – This is also a new must have in my house. I am always so careful about what I use on my electronics because they would be so expensive to replace. I used these wipes to clean my laptop, my television, my cell phone and my digital camera and they worked great. They didn't leave large amounts of moisture behind and they left everything streak free. To me they are well worth the investment.
Glade Fall Collection Refillable Candle Holder and Oil Candle – The candle holder is beautiful and easily fit into my home décor. The candle smelled great and did an excellent job of filling up the room with subtle fragrance. I love candles and love a great smelling house so I always have things going in my home. The only complaint with this product is that I usually keep my candles burning all day and due to the size of these, they burned out after a few hours. However, they are something that I would use again for parties or gatherings in my home.
For more home care and organizing tips, be sure to check out SC Johnson's digital booklet.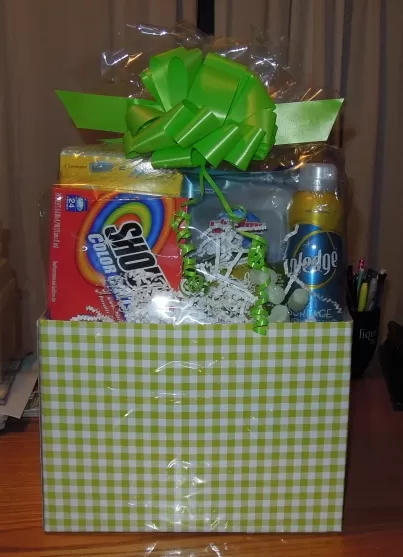 Giveaway: SC Johnson Product Pack
Two lucky Thrifty NW Mom readers will win a package of SC Johnson products (approx. $25.00 in retail value).
This giveaway will end on Thursday, October 13th at 9pm PST.
The winner will be drawn using "And the Winner Is" plug-in and announced on the blog. I will also email the winner. The winner will have 48 hours to contact me. Otherwise a new winner will be drawn. US residents only & you must be 18 yrs or older to enter the giveaway.
Here's how to enter this giveaway:
1st Entry (required entry): Tell us what your favorite SC Johnson product is to use.
Extra Entries: (make sure these are all separate comments, with a comment for each entry)
2) Subscribe to the Thrifty NW Mom feed via a reader of your choice or email (must be verified) or become a Google follower
3) Leave a comment here saying you "like" the SC Johnson Facebook page.
Disclosure: I was given the SC Johnson products to facilitate my review of this product. Select SC Johnson products will also be given to 2 winners randomly chosen. All opinions are 100% mine. See my disclosure statement for more details.