Carpinito Brothers Farms – Local Produce Supplier for Safeway Stores
This post may contain affiliate links and I may be compensated for this post. Please read our disclosure policy here.
Have you ever wondered where exactly your produce comes from in the grocery stores? I typically expect that a fair amount of of produce is coming from out-of-state, but I do know that some of the produce coming to the grocery stores is local. I don't know about you, but I have always thought that the local produce in the Northwest meant it came from central or Eastern Washington or Oregon. It wasn't until just recently that I learned that Safeway stores are using popular, well-established, local farms, much closer to their store locations to supply produce when in season. This is great news for shoppers as it means that the produce is on your local Safeway store's shelves within just a few days of being picked instead of being trucked from several states away.
Last month, I had the opportunity to head to the Kent Valley to get a tour of the Carpinito Brothers Farm. I've only been to Carpinito Brothers farmstand once before, but I've always heard wonderful things about their produce (& Sia is a huge fan!), so I was excited to check it out. Love the convenience of their farm stand right off Hwy 167 in Kent, too. Carpinito Bros is also known as a great pumpkin patch destination, with it's convenient location and fun kids activities.
Carpinito Farms has been partnering with Safeway stores all throughout western Washington to provide them with produce for over 35 years – the farm's been in business around 50 years, so they have partnered with Safeway from almost the beginning.  The  farm tour was led by one of the owners, Mike Carpinito, and his son. Mike has grown up on the farm & now his sons & his brother's sons work in the business alongside their fathers. It was very obvious what a love they have for what they do & wanting to provide the best products for their customers.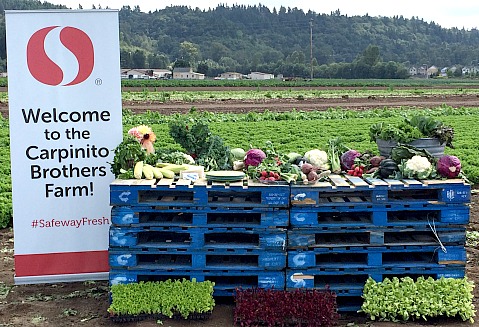 My biggest take-away from this event was the fact that by partnering with local farms close to their stores, Safeway is able to work with these farms to bring produce quickly to their stores, within a day or two of being picked in the fields. That's great news for shoppers, to know that the local produce was picked from the farm just a day or two earlier, which means longer-lasting produce once you get it home.
The Carpinito Bros Farms is one example of a long-standing relationship Safeway has with a local farm, as Carpinito Bros supplies Safeway stores throughout Western Washington with high-quality produce (from Bellingham down to Centralia & more). There are several local farms they work with right here in the Puget Sound area. I'm excited that Safeway is working recently to educate shoppers on where that local produce comes from, so you can know & expect that freshness level.
Here are some of the produce items that Carpinito Brothers Farms provides for Safeway (& which you can look for in your local Safeway store)::
Radishes
Broccoli
Cauliflower
Squash
Peppers
Celery
Cilantro, Parsley, Basil,
Kale, Chard, Spinach, Lettuce varieties,
Fennel
Turnips
Sweet Corn
and much, much more….
A few ways to tell where the produce  is from in your local store::
Ask an employee at the store, preferably someone working in the produce section
Check the twist tag or stickers on already bagged produce items   – Carpinito Bros Farms' label name is North Country Brand
Look at the packaging or the crates the produce is in – you may be able to see where the produce comes from if they keep any of their produce in the boxes/crates or packaging from the farm
Here are a few interesting facts I learned on my farm tour of Carpinito Farms: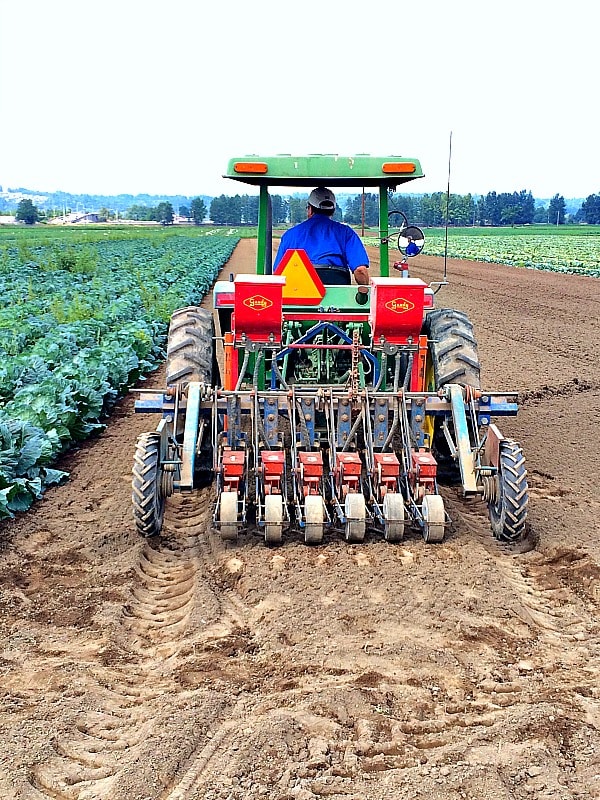 I've always wondered how farms can plant seeds so quickly – check out this cool machine which can plant hundreds of seeds in just mere minutes.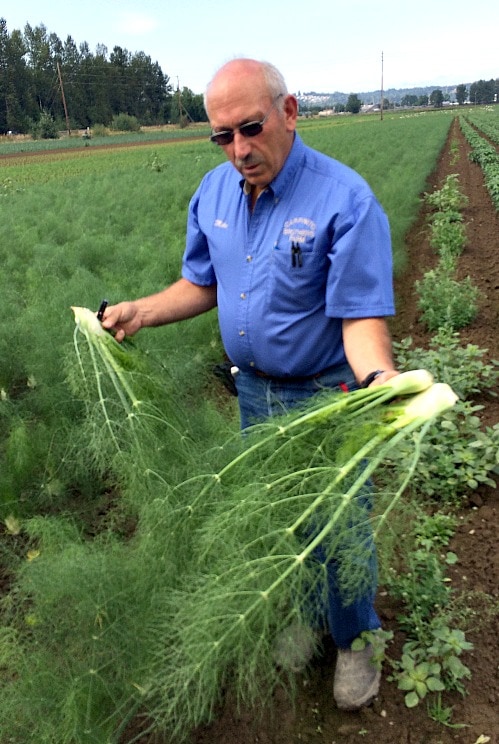 I'll admit that I'm not the most adventurous vegetable eater – I have my favorites & I don't often veer away from those except when out to eat, so this was a good experience for me to check out all the different vegetable varieties they grow. Check out fennel – I had never tried this before, but if you like black licorice, then you will like fennel.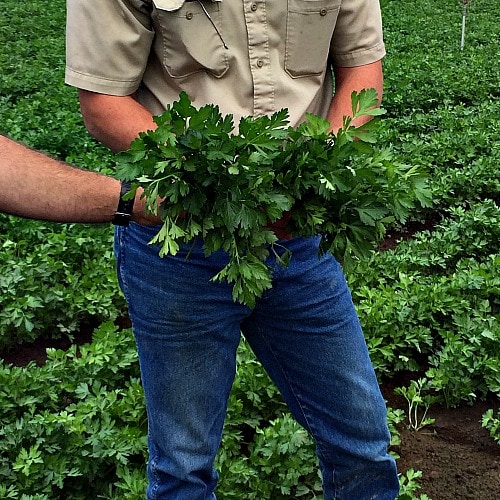 Did you know that parsley is one of the healthiest vegetables (herbs) you can eat? This was something new to me, thanks to Mike Carpinito.  Parsley is a great vegetable to grow yourself, as well as now look in the stores for it, so you can take advantage of all of it's health benefits.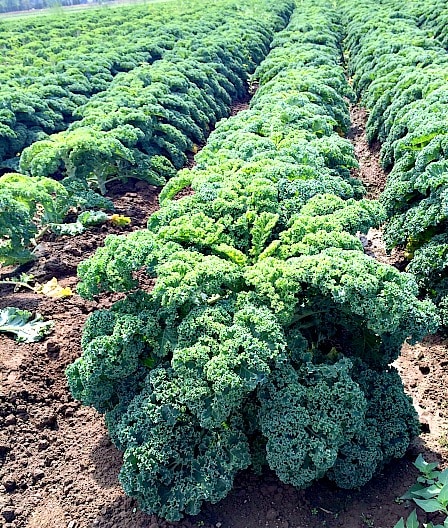 Kale has become such a hit that farmers have had a harder time finding kale seeds! Kale is a very frugal vegetable to grow as you can cut off the majority of the plant and it will grow back its leaves within a few weeks to pick again. You can get 3-4 pickings from kale, so it really does produce quite a bit in one summer (great option to grow in your garden if you're thinking of ideas).
Once the vegetables are picked from the fields, they are then washed thoroughly & packed either in the reusable plastic crates or in cardboard boxes for the more delicate vegetables. The vegetables are then packed up on trucks & driven to the nearby Safeway warehouse, where they then get distributed to the local stores. All of this happens in one day, so they will arrive to the warehouse by the end of the day it was picked & be distributed to local stores within another day.
Those are just a few fun facts for you that I learned about growing vegetables at the farm & the process of how they provide Safeway stores with the produce. Definitely be on the lookout the next time you're in Safeway & see which produce you can find that is coming from local NW farms. Once I left the event, I headed to a larg Safeway store  and what do you know?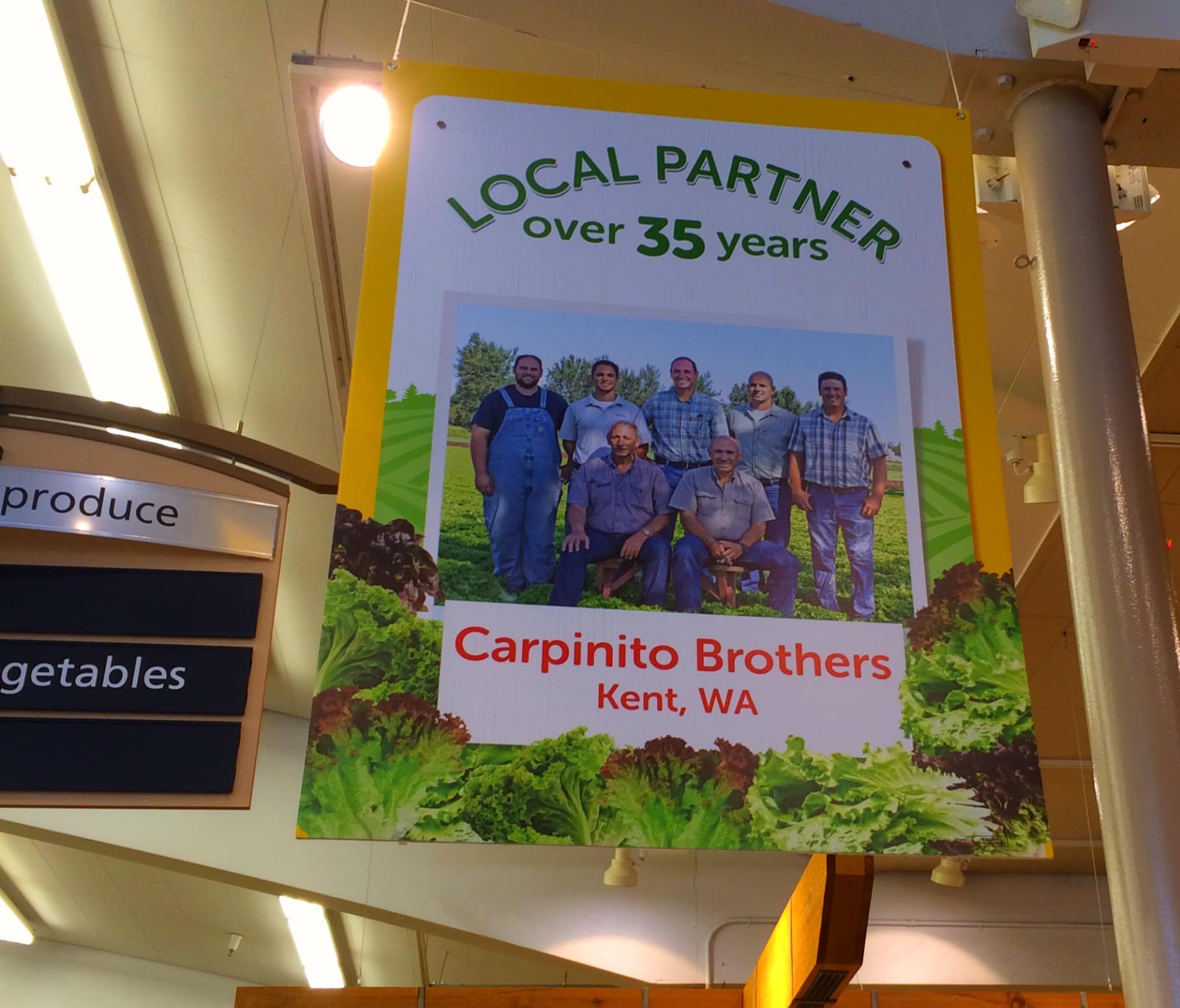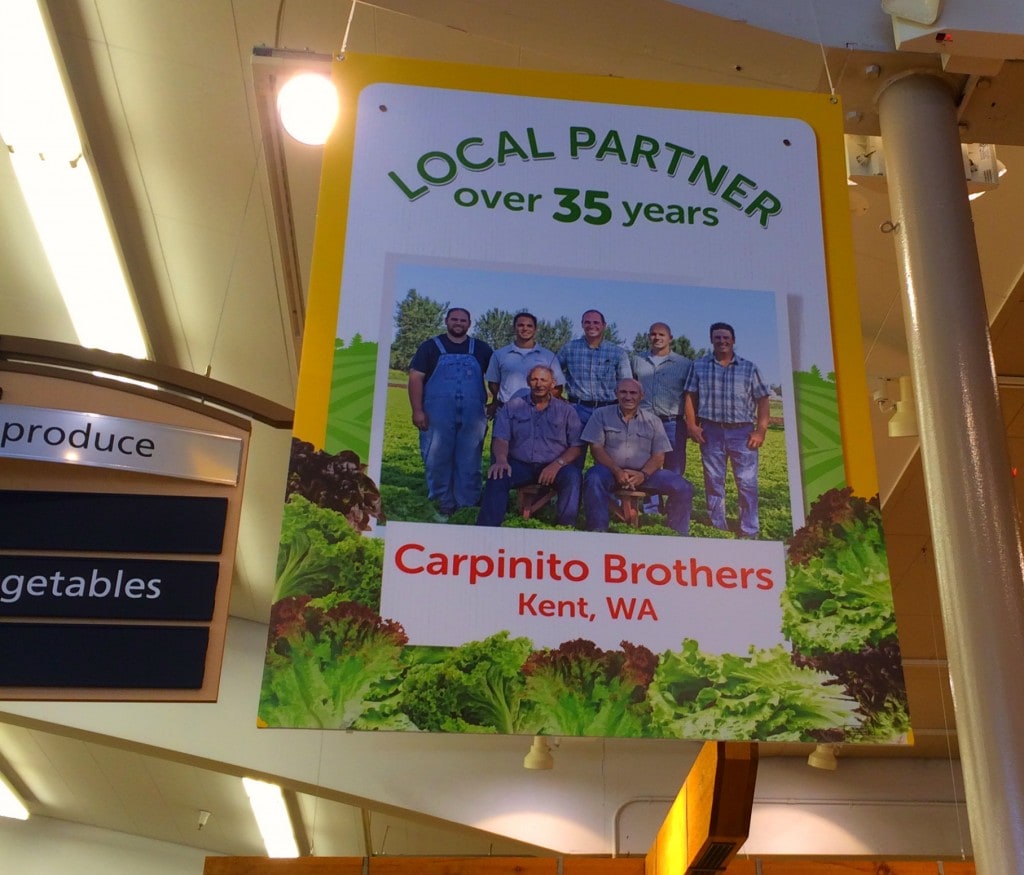 I spotted this sign in the produce area, where they had posted several signs with the different farms they work with in Western Washington. This is very helpful as you can know that what you're buying is direct from the most local & trusted farms in the Puget Sound area.
Make sure to look around your local Safeway & see which signs you spot, showing the farms that Safeway has partnered with for years. 
And don't forget to follow Carpinito Farms on Facebook as they'll share details about their upcoming pumpkin patch, as well as any specials on veggies & more!