Royal BC Museum with Kids – Tips & What to Expect
This post may contain affiliate links and I may be compensated for this post. Please read our disclosure policy here.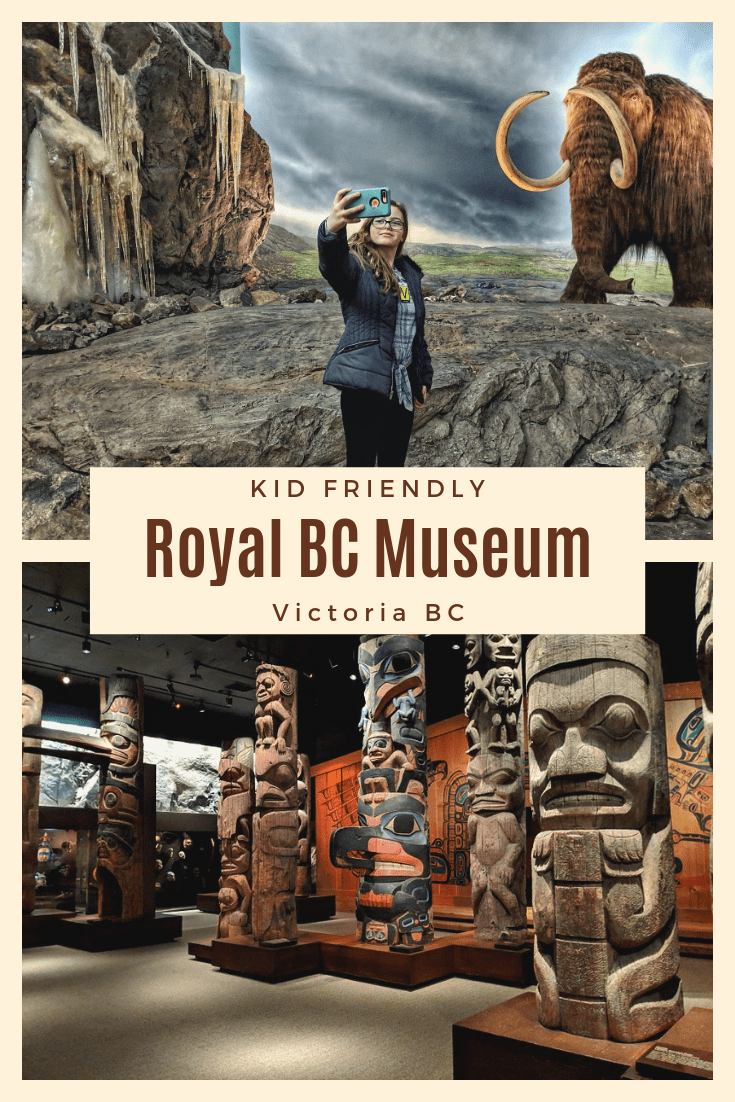 Royal BC Museum with Kids
It's hard to believe that I've been to Victoria, BC a few times over the years, yet have never had the opportunity to check out the Royal BC Museum. I have heard rave reviews from friends & family and knew that this was somewhere we must go on our next visit to Victoria. Last week, my girls and I had the opportunity to head up to Victoria & this was high on our list of things to do.
And let me tell you, this museum did not disappoint – it absolutely lived up to the rave reviews. My 12 year old shared that this is one of her top favorite museums now and both of my girls could have stayed longer than the several hours we were there. For elementary age kids & older, I'd say you could easily spend 3+ hours at the museum, especially if you take in an IMAX movie as well.
Here are some of our favorite aspects of the Royal BC Museum! We had a cold, snowy day in Victoria, so it was so nice to hang out at the museum all afternoon, keeping my girls entertained for hours.
And make sure to check out the Wildlife Photographer of the Year exhibit, an exhibit that comes back every year from London's Natural History museum, to feature the top 100 photos chosen from photographers around the world. It is an incredible exhibit to view & an exhibit that kids would enjoy as well.
Natural History Exhibit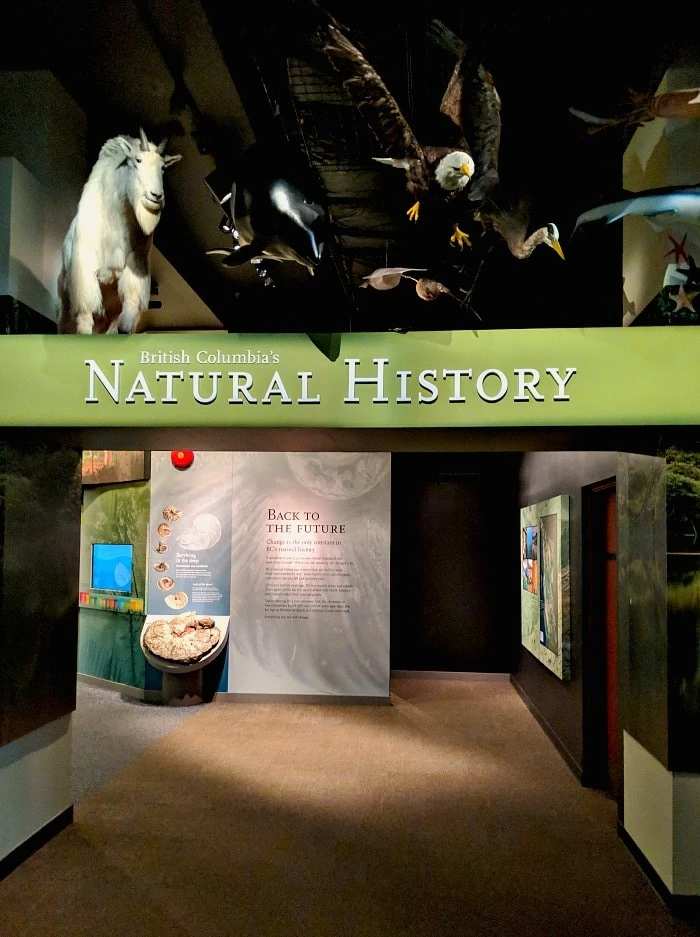 On the 2nd floor, we started with the Natural History section of the museum. This is a great place to start as it definitely has the "wow" factor for kids with life-size animals in their natural "habitats" throughout this area, showcasing both ancient & current animals you'd find in British Columbia through realistic dioramas.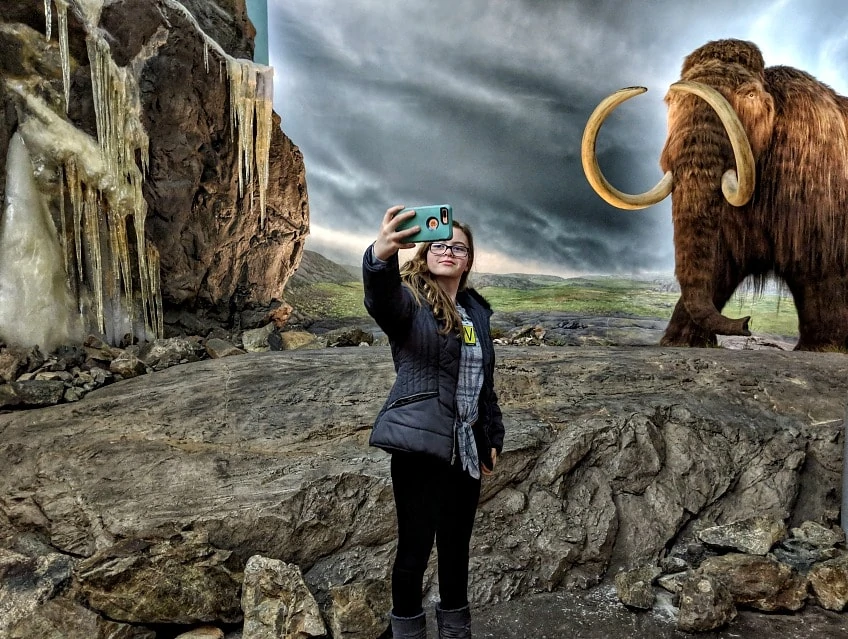 The favorite exhibit both of my girls talked about was the Ice Age exhibit, where there is a huge Woolly Mammoth set in a life-size diorama – perfect for taking selfie pictures as you can see!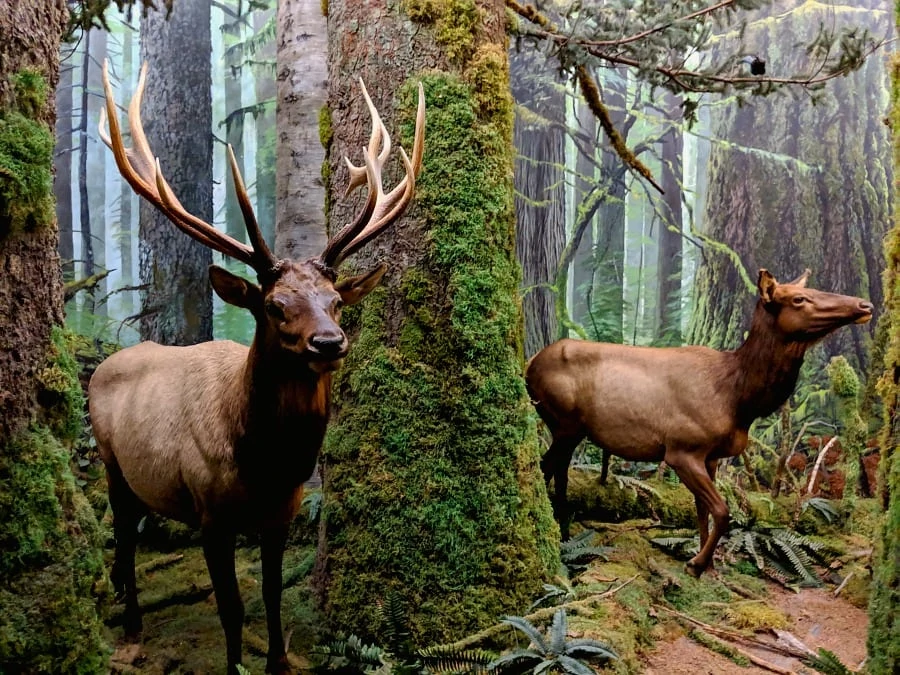 These animal displays definitely made you feel like you were right in the forest with the animals & that they were ready to move at any minute.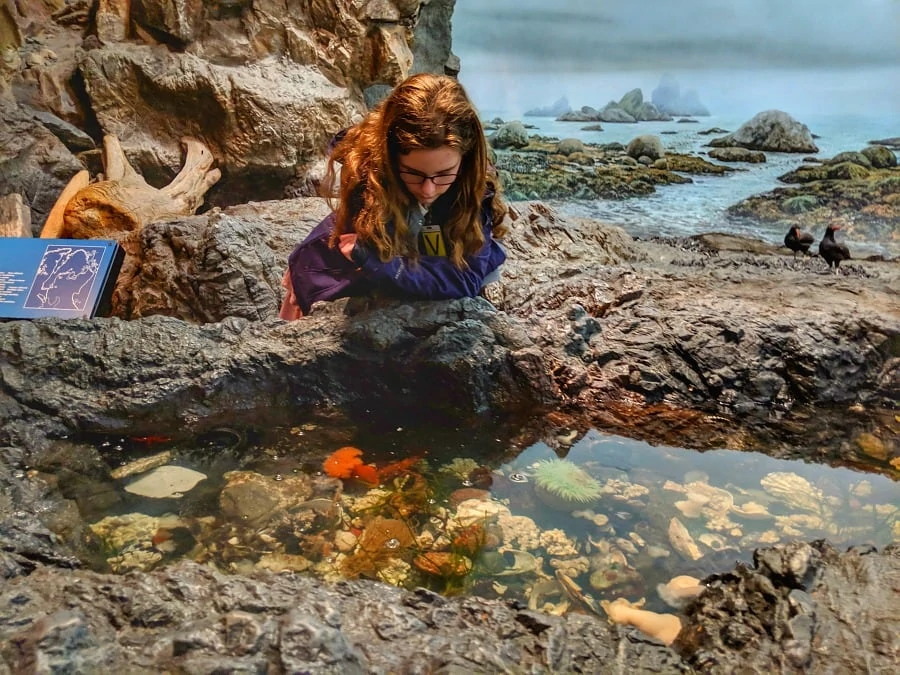 In the sea life area, there was a tide pool with living creatures including crabs, sea anemones & more.
There are quite a few interactive & hands-on activities in the Natural History area as well, so my girls spent quite a bit of time going from exhibit to exhibit in this area. They had fun playing this Two Truths & a Lie game, learning facts about the Ice Age at the same time as they got to be a little competitive with each other.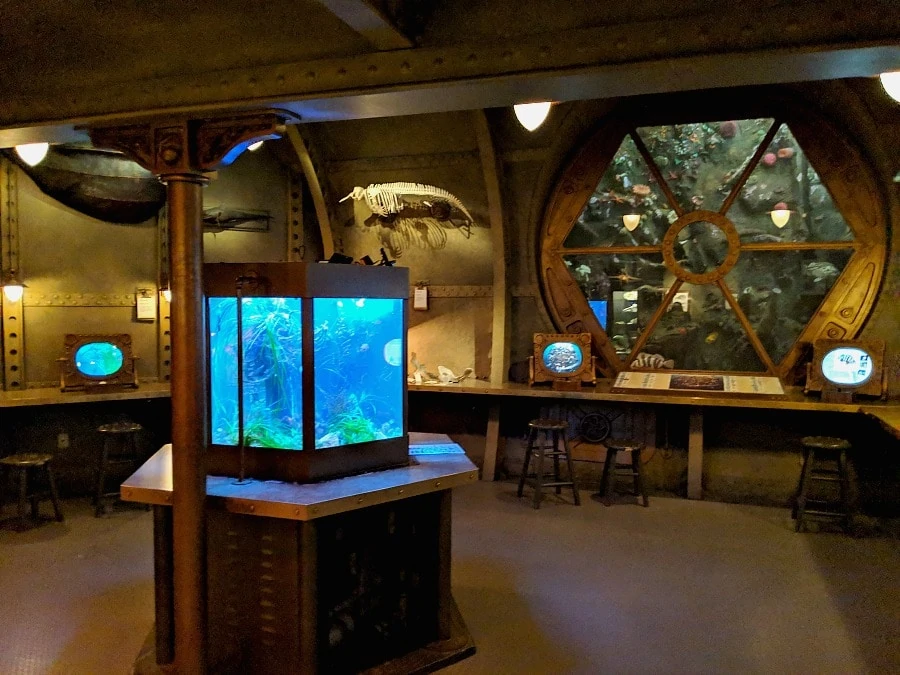 We loved the look of this underwater area, complete with an aquarium & interactive displays throughout the exhibit.
Modern History Exhibit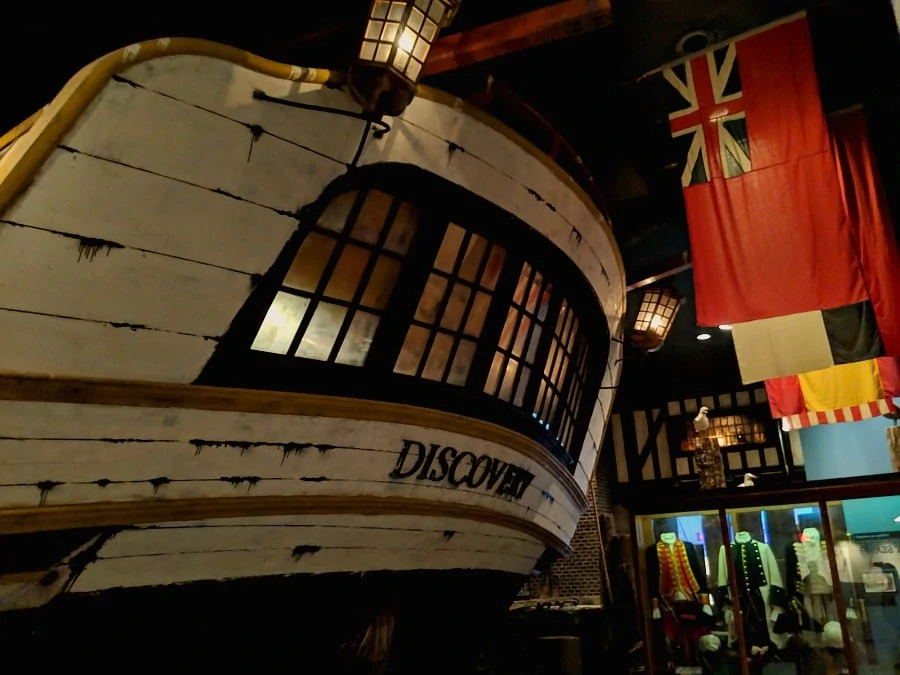 This exhibit focused on the history & beginnings of British Columbia up until the present time. The exhibits began with the exploration of British Columbia by explorers from other countries, by sea & by land. I loved that you weren't just looking at pictures, but actually climbing into the boat to get a sense of the size of it (this was just a small section of a boat). They also showed a wagon headed on its way through the mountains to reach BC.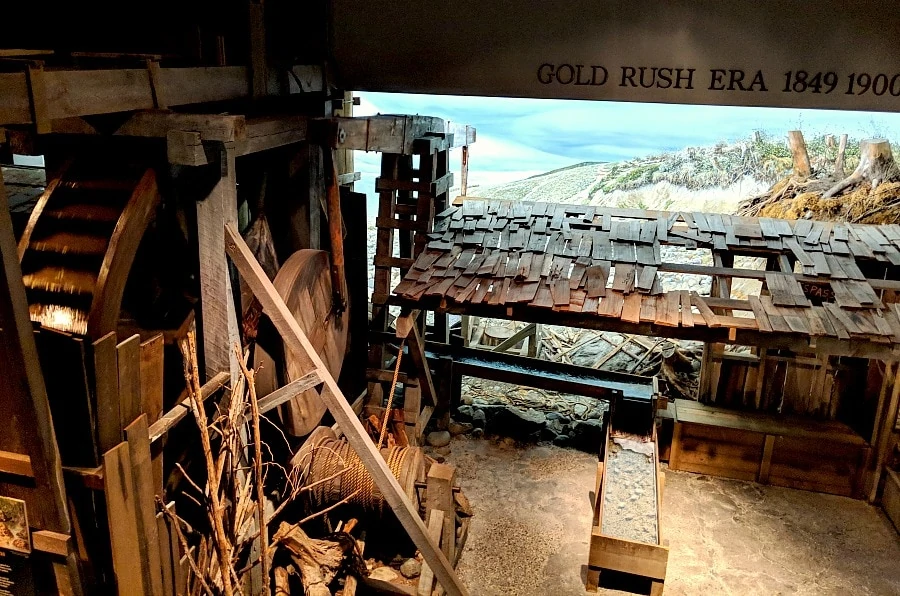 This was a working mill that was pumping water and you could see the process they went thru to search for gold in the rocks & debris during the Gold Rush times.
The best way to learn is to experience something yourself & the Old Town exhibit made history come alive for my girls. This was a recreation of an entire life-sized town,  set up to show you what life would have been like in the early 1900's in a typical city in British Columbia.
You could go into the hotel & sit on the sofas, peek into the hotel room & get a glimpse of the tools they would use in the kitchen. There was also an old-fashioned theater with a movie playing.
First Peoples Gallery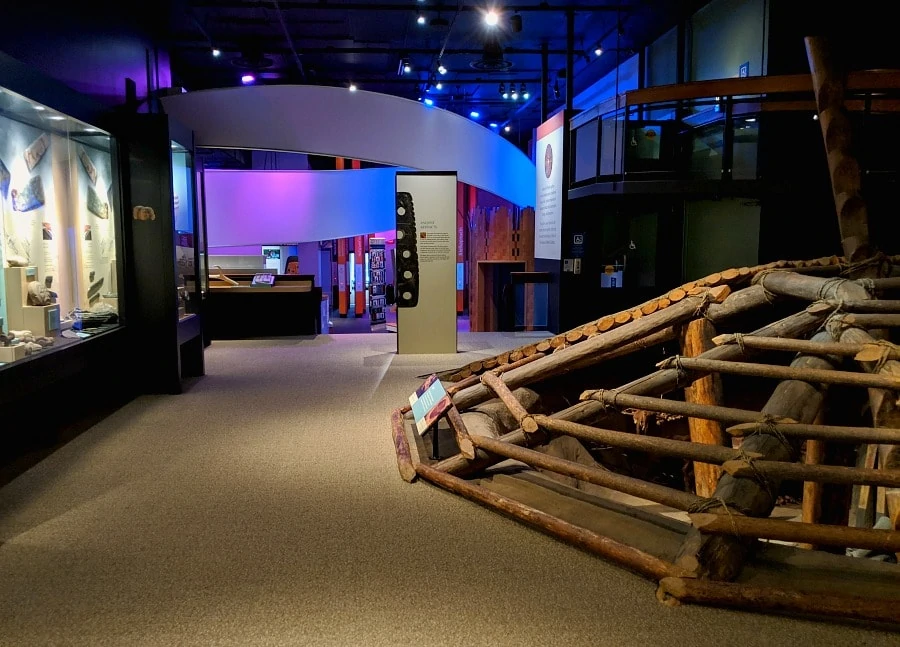 The First Peoples of British Columbia gallery is very moving & powerful in the way they presented the information. The exhibits share about the culture, art & languages of the first people of British Columbia, both in the past & in our future as they preserve this information for generations to come.
When you enter, you can listen to a large variety of greetings & sayings in different First Nation languages, just to notice the similarities & difference between them. There is also a life-size pit house to see how they are constructed & set up inside for the families.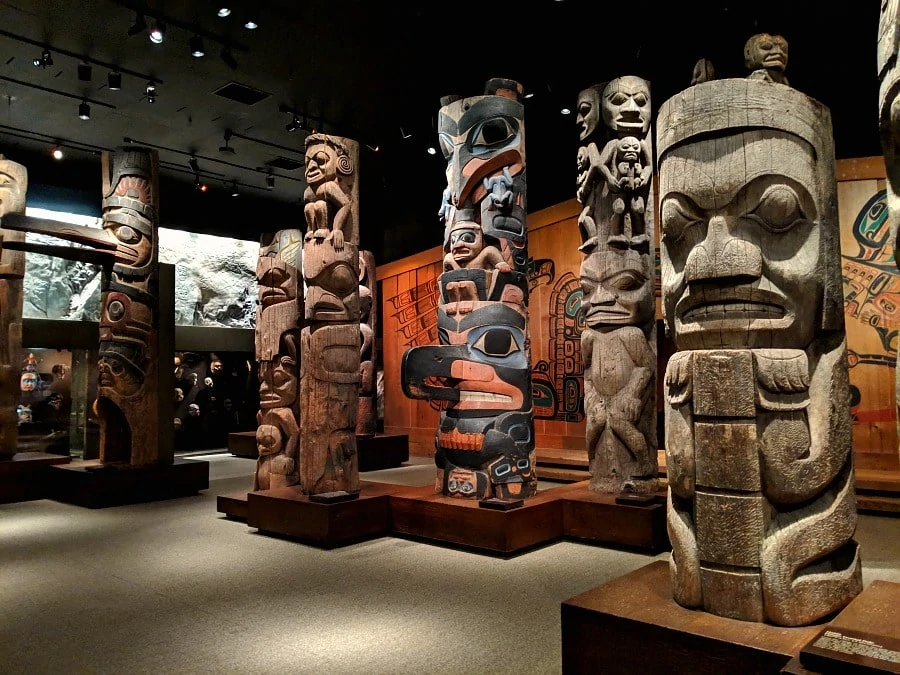 Totem Hall is so impressive & fascinating to examine the totem poles & try to decipher the stories behind them.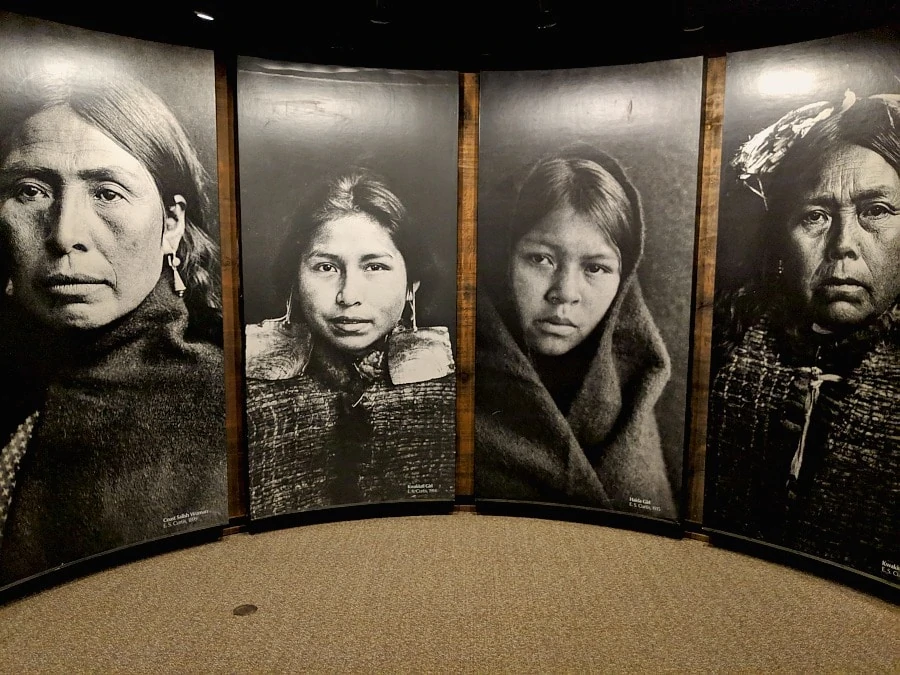 These black & white images of the First People of British Columbia were powerful & needed little explanation, but made a strong impact as you learned about their lives after the Europeans discovered BC.  Such an important exhibit to understand the lives of the people who first lived in British Columbia & to learn more about their cultures to preserve them still today.
IMAX
On the first floor of the Royal BC Museum, there is an IMAX theater you can purchase tickets to watch both 2D & 3D shows. We didn't have a chance to watch a movie this visit, but I did actually come just to the IMAX a few years ago & my younger daughter & I watched a movie about sea animals & it was so entertaining.
Tickets are an additional cost beyond the cost of admission to the Royal BC museum (check current prices here), but they have a variety of movies they offer, so make sure to check out the movie schedule for when you are visiting to see if there are any that interest you. I love watching movies in an IMAX theater as they just make everything seem so much more realistic as you are surrounded by the action on all sides. The movies can be so well-done, too.
Additional Exhibits:
Not only does the Royal BC museum have the 3 main areas of their museum, but they also have traveling exhibits. Right now they have the Wildlife Photographer of the Year exhibit going on thru March 24, 2019. And from May 17th – December 2019, there will be a special exhibit called Maya: The Great Jaguar Rises exhibit. This is a chance to learn more about the Mayan culture from ancient times to present day times.
Tips for Visiting with Kids:
Location – The Royal BC museum is in an excellent location, centrally located in the heart of Victoria. It is on the corner, across the street from both the Parliament building & the Empress Hotel. It is right across the street from the Inner Harbor as well.  If you are visiting from the Northwest & taking a ferry (from Port Angeles) or the Victoria Clipper, the museum is just a couple minutes walk from both terminals. If you are taking the Anacortes or BC ferries, then you'll just drive from Sydney into the Inner Harbor area of Victoria & there is parking located in the back of the museum.
Food – There are 2 cafes inside the museum – a coffeeshop that serves soups, sandwiches, baked items & specialty coffees. And the IMAX also has a concession area for snacks as well. During summer months, there is also a food truck festival with food trucks from around Victoria positioned behind the museum, which sounds like a great lunch option.
Storage – I was so thankful to discover that they have a coat & bag storage on the main floor.  I had been carrying my heavy coat & backpack all day, so this was a welcome sight. Since Victoria is such a walkable city, you may also carry a backpack around, along with your coats, so you can check it in at the front desk. Kids can check their coats too, so they don't have to worry about holding them.
More Information about Victoria BC:
Victoria BC Accommodations – Where to Stay & How to Save
Travel to Victoria BC – Tips & Ways to Save on Getting to Victoria
Disclosure: We were provided tickets to review the museum; however, all opinions & thoughts are mine.