Reader Survey & Giveaways – $10 Starbucks Card & $25 Amazon Gift Card {Ended}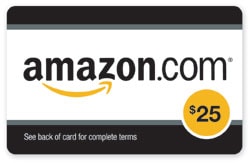 {Giveaway Ended}
I have an exciting week full of great giveaways planned for you every day this week! The giveaways will include a big Safeway gift card, restaurant gift cards, and much more!! So, tune in every day to make sure you don't miss one of these fantastic giveaways!!
I'm starting a bit late on this giveaway tonight, but I was busy creating a reader survey for you to fill out.  This is just a quick survey to get some feedback from you, so I can work on providing content which is the most relevant and useful for you, my readers.   Your survey responses will also give me basic demographic information so I can better partner with businesses and brands that may be of interest to you.
The survey questions are completely anonymous, so I encourage you to be honest in your feedback about Thrifty NW Mom.  I really value your input and suggestions, so I can work to provide content & information that will be the most useful for you and your family.
Giveaway – $25 Amazon Gift Card & $10 Starbucks Gift Card – 2 Winners
As a thank you for taking the time to fill out my short survey, I have a $25 Amazon gift card & $10 Starbucks gift card to offer to two Thrifty NW Mom reader (one reader will win the Amazon G.C. & one reader will win the Starbucks G.C.).
Here's how to enter the giveaway for one of two gift cards:
1. Fill out the Thrifty NW Mom Reader Survey
2. Leave a comment on this post saying that you filled out the survey (since this is an anonymous survey, we are going by the honor system for the entries).  There should only be one entry per person for this giveaway.
This giveaway will close on Friday August 6th at 9pm pst.    Thank you for taking the time to fill out the survey!