QFC 101 – How To Save The Most When Shopping At QFC
This post may contain affiliate links and I may be compensated for this post. Please read our disclosure policy here.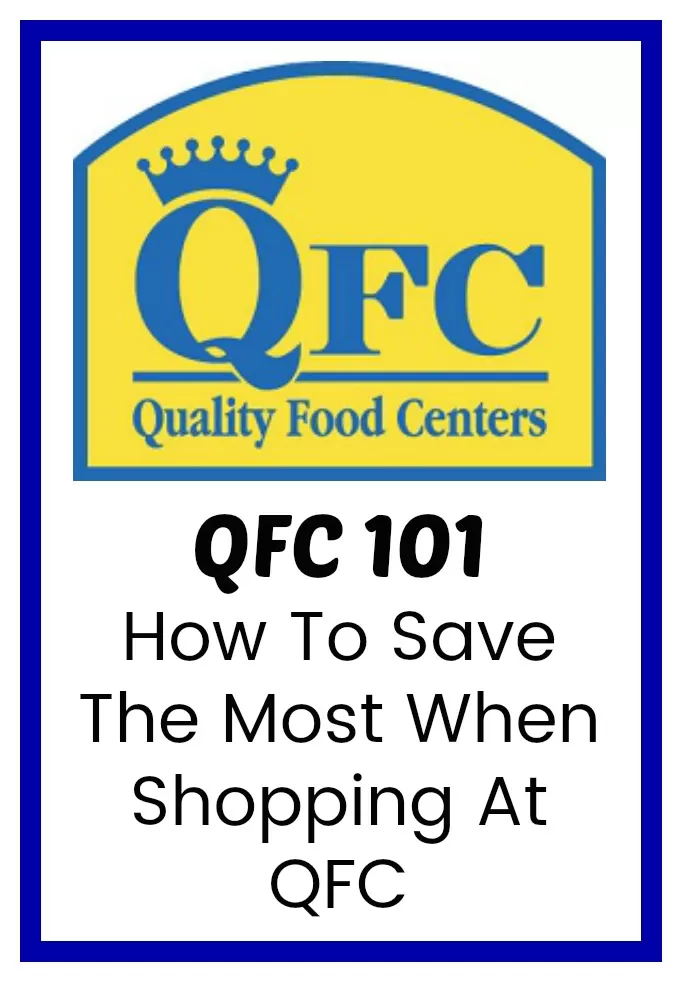 QFC is a Kroger store, and although in the past they seemed to cater to more affluent neighborhoods, these days you can find some great savings opportunities at local QFC stores.
You will need a QFC Shopper's Card to get the advertised prices. Another good reason to use those cards – QFC often sends out high-value coupons for those who have registered Shopper's Cards (a combination of manufacturer or store coupons). These coupon booklets usually have a free item coupon or two included in them.
Coupon Policy:
Summary – 
You can use manufactures coupons paired with QFC store coupons (sometimes called "stacking"). The manufacture coupon can be a paper coupon, or an E-coupon (digital coupon) So, make sure to load E-coupons from these sites to your QFC card before you go: QFC.com, and Ibotta.com (if you have a Smartphone). You can't pair E-coupons with paper manufacturer coupons, though.
QFC only has a published coupon policy for their digital coupons. QFC does not have a published coupon policy in general. Their coupon policy varies by division, so make sure to check with your individual store on their specific coupon policy. I can tell you that my local QFC is very coupon friendly, and when in doubt check with the store manager.
Here is what their current digital policy states (Feb. 2013):
>> Limit one use per digital coupon per transaction
>> Digital offers cannot be combined with manufacturer paper coupons on the purchase of a single item
>> Digital offers do not double
>> A limit of 150 coupons can be loaded per household at one time
>> Digital reproductions of offers will not be accepted (such as using a mobile application to reproduce an image of an offer/coupon)
The store manager has the right to accept, decline, or limit the use of ANY digital coupon or offer.
Currently, QFC offers a FREE item coupon each Friday. These coupons must be loaded onto your card the day they are available, but will include a expiration date, giving you longer to use them.
Other Savings Opportunities at QFC:
QFC is known for great manager markdowns so it is important to get to know your individual store to know when they mark down items in each department (meat, dairy, refrigerated, etc). Many stores mark their products down prior to the expiration date (sometimes a week or more prior), so they can be a great value.
Many QFC's will cut your meat for you free of charge, and even offer various complimentary seasoning options.  This comes in handy when there is one cut of meat on sale and you want to make it stretch. For example, if a pork loin is on sale, you can ask your meat department to cut your loin in half, and then cut chops out of the second half. Now you have pork chops at the same low price you got your loin on sale for.  Again, get to know the experts in your meat department, and they can help guide you to the best deal.
Get to know your store. Most QFC's have a specific mark down area (for example, mine is located back by the doors into their back storage area). This is where you will find many holiday markdowns, sale items and manager markdowns.
Save 10% off your wine if you purchase it in quantities of 6. Check that bottom shelf, or clearance carts to for additional markdowns.