Pro.com – Free Quotes & $50 off Home Projects + Win $200 for Home Services!
This post may contain affiliate links and I may be compensated for this post. Please read our disclosure policy here.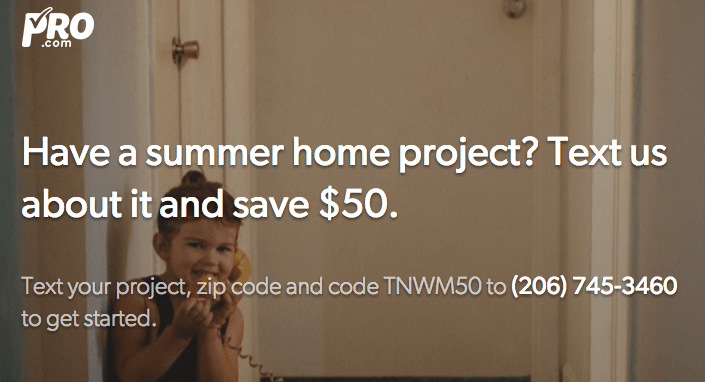 Pro.com – Get $50 off, Free Quotes + Enter to Win $200 for Home Services!
Do you have a home project you have been wanting to get started on, but your not sure where to start. Things like installing new flooring, painting a room, fixing some drywall, leaky faucets, etc.? We have a really convenient option for you to find out more about what that project will cost you, as well as make it easy to find a professional AND provide you a discount on getting started on that project. Try out Pro.com!
Pro.com is a service that allows people to text them for quotes on how much your home project work will cost. Its much easier then hitting sites like Craigslist or going through the Yellow Pages, and not knowing anything about the folks you contact for work.
My husband is in construction, and now handles all of the work around our house, but I get emails from family and friends often asking for referrals on different projects that they need done around the house. It can be overwhelming to figure out where to start when you are looking for work to be done, and so I thought Pro.com was a great reference for folks. Before I got married, I remember having no idea who to call when my washer leaked and I needed the water damage fixed, or wanted to add a faucet to the house, etc. I would google and have to just start making phone calls down the list. I had no idea where to find out if they were licensed or bonded, I just had to go on their word when booking their services. I really did not enjoy that process, and would have loved to have had the option to just text someone to at least get an idea of what kind of budget I would need. Especially for those kinds of projects that were on my wish list (versus must get done right now). If I would have known about this service then it would have made it so much easier to save up for those, and find someone to do the work in that budget criteria!
The way that this service works is that you submit for a quote, and the Pro.com's job managers match you with the trusted and experienced local professionals that best fit your jobs needs and budget. Pro.com interviews every Pro that they allow in their system, verifies their license, bonding, and insurance according to local laws, scrutinizes public records and online reviews, surveys past customers, and conducts background checks on each of their crews. That saves you a lot of work in trying to find someone to get work done around your house. Unlike other market place services, Pro.com focuses on job creation for home service professionals versus selling them leads.
Finally, Pro.com acts as the customer's advocate – if there is an issue with the contractor that they hired through the site, Pro.com will ensure that the job gets completed properly and that service provider is rated accordingly.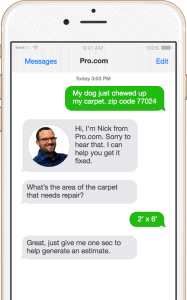 Right now you can get a quick and easy quote on your project simply by texting TNWM50 to the folks at Pro.com at (206) 745-3460 with your project needs and zip code. Not only will this provide you a quick and easy quote, but if you are sure to include the TNWM50 you will get $50 off your service of $100 or more if you choose to move forward with the work.
This is a no obligation quote you will get from Pro.com too. Here is what they say on their website about this "If all you want is a pricing estimate and nothing else, no problem. Nobody will pressure you into anything, and you can quit using our service any time you want."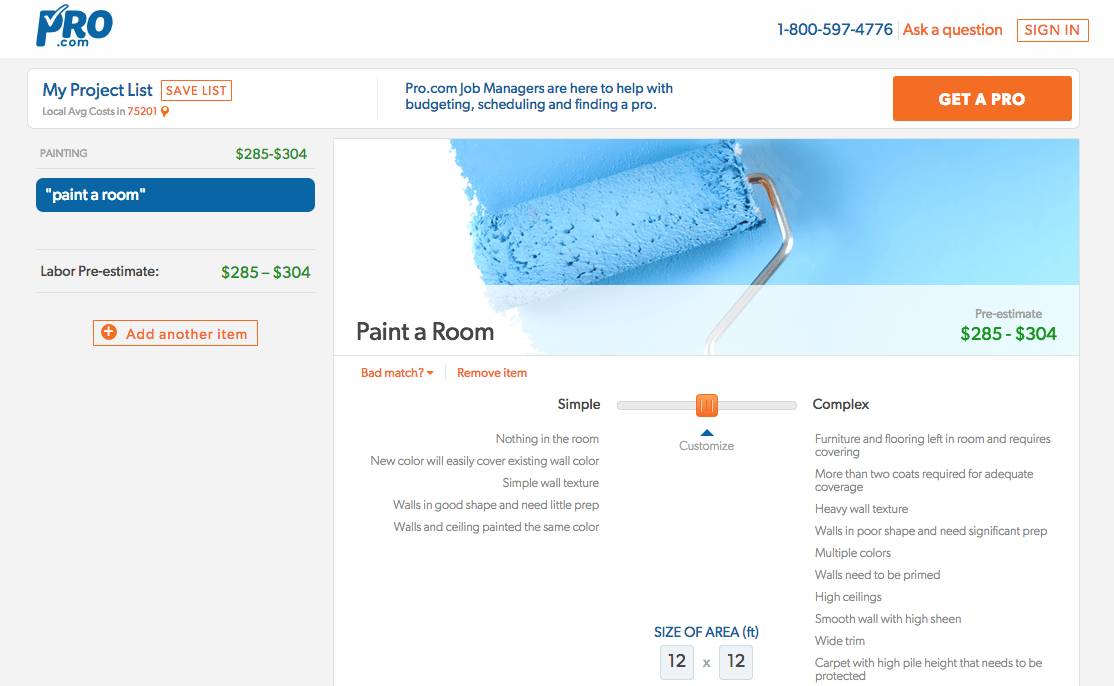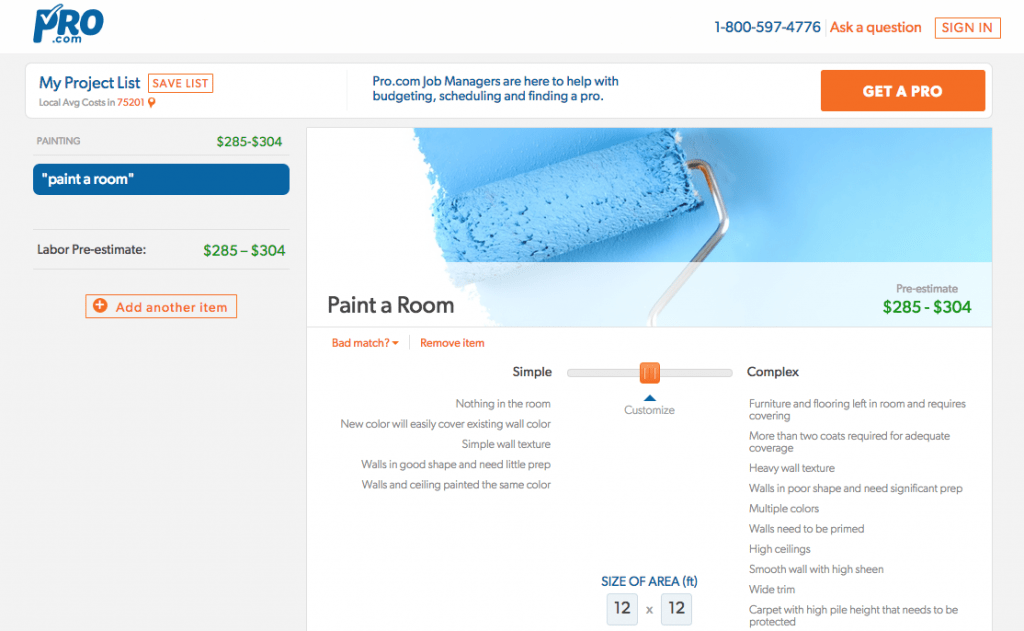 In addition to texting them for a quote on work you want done, you can get quotes online and create a project list. This would be very helpful if you are looking to do more then one project, or wanted to remodel a room etc. (use the text offer if you want the $50 discount this first time though)!
Pro.com is currently expanding and taking job requests from 5,500+ cities across the US. You can find them in Washington in cities from Everett to Olympia, and throughout the Puget Sound!
To get started simply:
Text  TNWM50 to (206) 745-3460
Include your with your project detail
Include your zip code
Wait for your free, no obligation quote
Get $50 off work of $100 or more if you choose to move forward with quote!
($50 off offer is valid for 1st time customers only. One redemption per household. Discount will be applied at the completion of your project as a credit issued by Pro.com. Minimum service value of $100 or greater to qualify for discount. Offer expires 08/15/15 must be redeemed within 30 days of issuance.)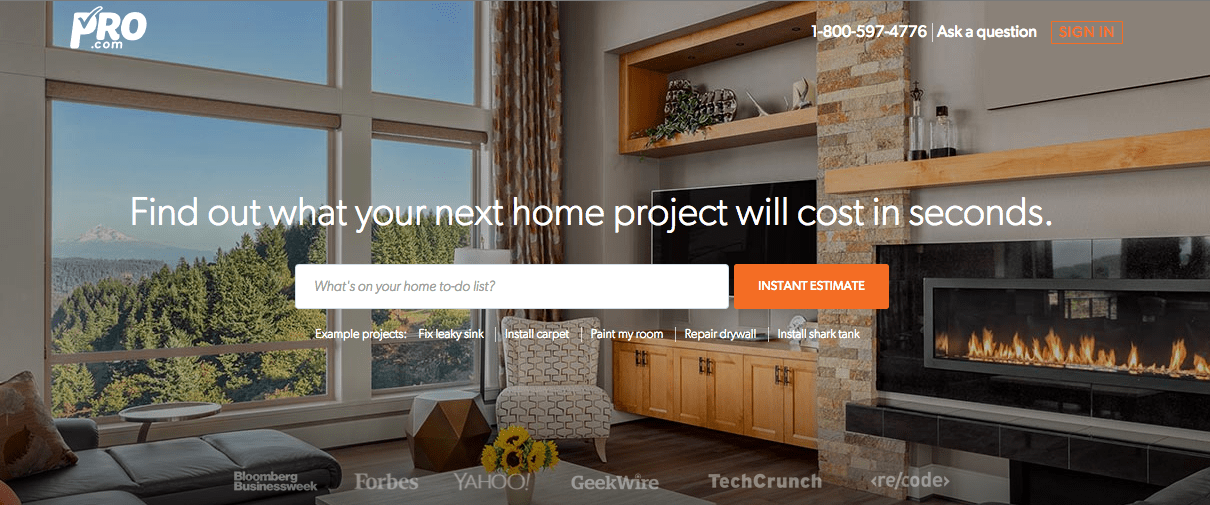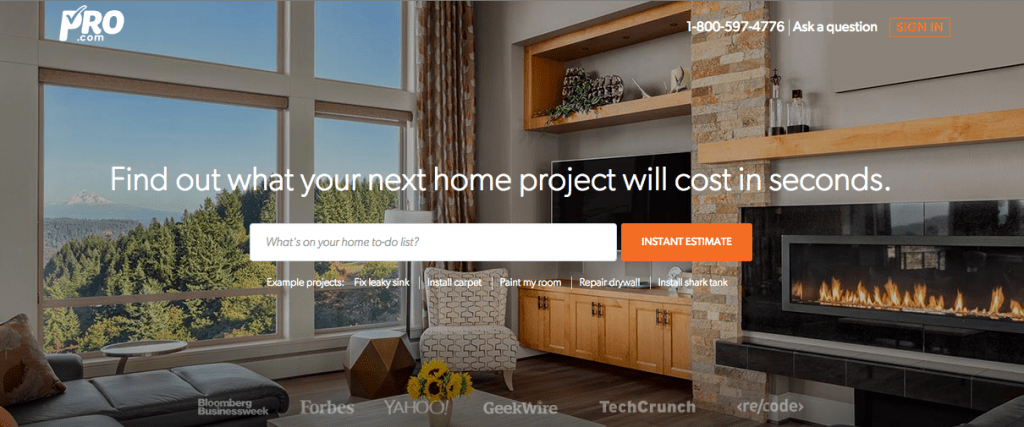 Giveaway:
Win $200 to Use at Pro.com!
Pro.com wants to give one Thrifty NW Mom reader $200 to use on Pro.com for services on the home project you want to get done. This is a great way to try out the service and see if its something you would recommend to your family and friends.
This giveaway will end on Tuesday, 7/28  at 9pm pst.
The winners will be drawn using "And the Winner Is" plugin and announced on the blog.  I will also email the winners. The winners will have 48 hours to contact me, otherwise a new winner will be drawn. US residents only & you must be 18 yrs or older to enter the giveaway. This giveaway is not affiliated with Facebook in any way.
Here's how to enter this giveaway::
1st Entry (required entry): Comment below and let us know what kind of project you are hoping to get work done on!
Extra Entries : (make sure these are all separate comments, with a comment for each entry)
2) Subscribe to the Thrifty NW Mom email (must be verified)
3) Share this giveaway using one of the share buttons below (and comment to let us know you did that)
4) Leave a comment here saying you "like" the Pro.com Facebook page.
Disclosure: Pro.com has sponsored this post, and is providing the giveaway price that will be given to  a Thrifty NW Mom winner randomly chosen.  All opinions are 100% mine. See our disclosure policy  for more details.