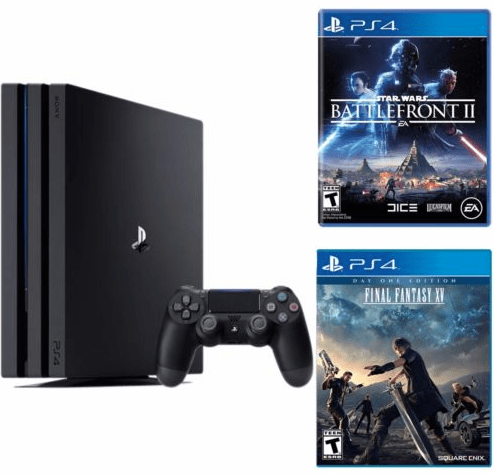 Playstation 4 Pro 1TB Console + Star War BattleFront II + Final Fantasy XV Games – $399.99
Ebay.com has a *hot* deal on the Playstation 4 Pro Console + 2 Games Bundle for just $399.99.  This is definitely a Black Friday price, as GameStop is offering the Playstation 4 Pro 1TB Console alone for $349.99 as their Black Friday price, and this deal also includes the Star Wars Battlefront II and Final Fantasy XV games in that price.
The seller of this product on Ebay has a rating of 4.9 out of 5, but I always recommend reading reviews on sites on any site.
The Sony PlayStation 4 Pro is a gaming console. The console contains a storage capacity of 1TB and a RAM capacity of 8 GB. It is powered by an AMD Jaguar 1.6 GHz CPU und comes with built-in Wi-Fi and Bluetooth. To compete with other players and share your greatest successes, you can use the SHARE button on the wireless controller. A wireless internet connection makes it easy to share data with the gaming community. Saved games can be continued immediately thanks to suspend mode. Via PS Vita you can also play your games on the 5-inch display over Wi-Fi. Weight and measures are 9.2 pounds, and 18.8 x 13.3 x 4.2 inches