Old Navy Black Friday Deals 2015
This post may contain affiliate links and I may be compensated for this post. Please read our disclosure policy here.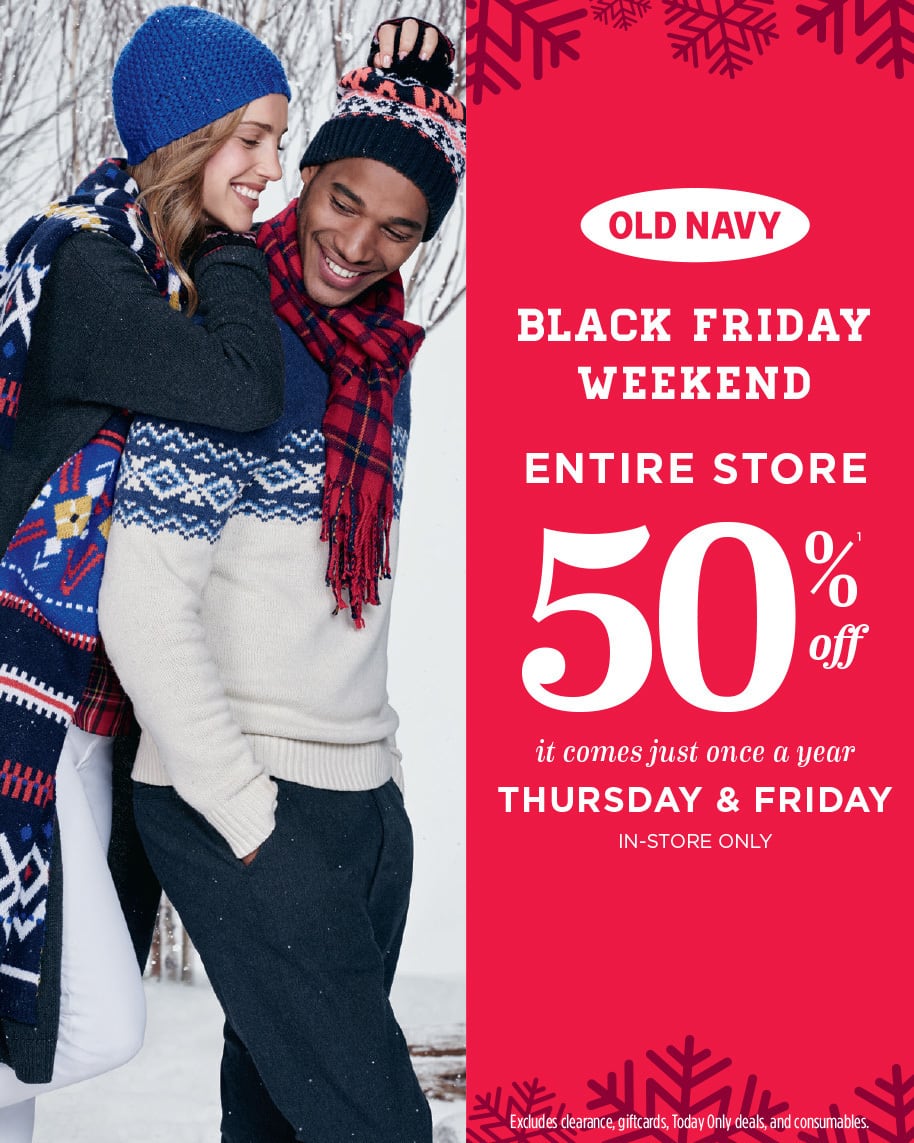 Old Navy Black Friday Deals 2015


The Old Navy Black Friday sale begins at 4 p.m. on Thursday, Nov. 26 (Thanksgiving Day).
Promotions:
50% off the entire store on Thanksgiving Day and Black Friday
Be one of the first 50 shoppers at your Old Navy store and you'll be entered for a chance to win $1,000,000.  Ask your store for details.
Check out the full Old Navy Black Friday ad scan.
Don't forget to check out our Black Friday deals page where we'll keep you up to date on all the latest Black Friday deals as they become available.
Make sure to check out the deals online at OldNavy.com, too on Thanksgiving and Black Friday, as many deals are often found online as well and that will save you a trip to the store in the rush on Thanksgiving & Black Friday.
Thanks to Couponing for 4 for bringing us the Old Navy Black Friday Ad 2015.
Women's Clothing
Sleep Bottoms – $8.47-$9.97
Long-Sleeve Waffle-Knit Shirts – $6.47
Sweaters – $17.47-$18.47
Plaid Bomber Jacket – $29.97
Mid-Rise Rockstar Jeans – $17.47
Suede Lace-Up Pointed Flats – $13.47
Girls Clothing
Microfleece Tops & Hoodies – $7.47-$9.97
Winter Accessories – $6.47-$7.47
Frost-Free Vests – $14.97
Beanies – $6.47
Fashion Leggings – $4.97
Toddler Girls Clothing
Sweaters – $11.47-$12.47
Sleep Sets – $7.47-$8.47
Knit Beanies – $9.47
Sherpa Moto Jackets – $19.97
Men's Clothing
Crew-Neck Shirts – $6.47-$12.47
Sleep Bottoms – $9.97-$11.47
Thermal Shirts – $8.97
Quilted Vests – $24.97
Wool Jackets – $39.97
Flannel Scarves – $8.97
Boys Clothing
Sleep Bottoms – $9.97
Cold Weather Accessories – $3.97-$6.47
Flannel Shirts – $11.47
Super-Skinny Stretch Jeans – $13.47
Toddler Boys
Cardigans – $12.47-$13.47
Sleep Sets – $7.47-$8.47
Wool Toggle Coats – $22.47
Skinny Jeans – $8.25
Rugged Boots – $14.97