New "40 Simple Ways to Use 40 Pounds of Chicken" E-Book – Preparation, Freezer Meal Recipes & more
This post may contain affiliate links and I may be compensated for this post. Please read our disclosure policy here.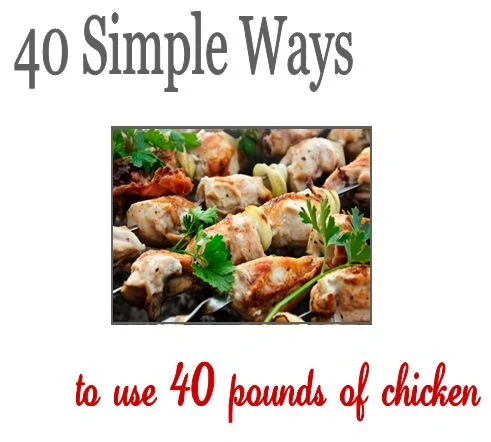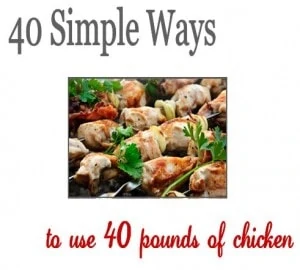 As I've been mentioning for several weeks, Zaycon Foods will be delivering fresh boneless, skinless chicken breasts to many areas in the Northwest for just $1.48/lb. Deliveries will start at the end of this week & continue thru the middle of November.  If you live in central WA, Portland & western OR or Longview, WA – you'll need to make your order by Tuesday October 26th.  All other areas of western Washington will have until Monday, November 1st to order your chicken from Zaycon Foods.
Now that you've ordered your chicken…you're probably wondering what you're going to do with all that chicken?  If you're like me, 40 lbs of chicken sounds a bit overwhelming.  Well, my friend Angela at Frugal Living NW has paired up with her friend Kate (an experienced, professional, personal chef) to bring you an e-Book entitled "40 Simple Ways to use 40 Pounds of Chicken". In this e-Book, they not only discuss how to prepare all of that chicken once it arrives, but 40 different ways to turn all of that chicken into affordable freezer meals for your family!
This e-Book is not just for those who will be ordering the 40 pounds of chicken from Zaycon – this is a great resource for anyone who is looking for tasty yet simple chicken recipes to add to your recipe collection. It is also a great resource if you're wanting to start trying out freezer meal cooking, with tips & tricks for how to manage your time as well as freezer meal recipes to get you started.
Here's a sampling of the information you'll find inside this e-Book:
A plan for how to get ready to make your freezer meals – shopping lists, menu plan lists, & more; detailed instructions on how to prepare the chicken for the freezer (flash-freezing chicken, shredding, boiling & baking chicken)
Meals using whole, frozen chicken
Marinades to use with fresh or frozen chicken
Meals using cooked chicken
Meals using fresh chicken, which is then frozen to provide a complete dish
I appreciate that all of the recipes look to be very flavorful, but also fairly simple with ingredients that you would typically have on hand or that would be economical to purchase.  The design of the e-Book makes it very easy-to-use & a wonderful resource to have in the chicken, not only for freezer meal cooking but also just for new recipes to add to your cooking rotation.
The "40 Simple Ways to use 40 Pounds of Chicken" e-Book is on sale right now for $5.95 – just head on over to Frugal Living NW to read more about it & buy a copy of the e-Book.  You can then download the e-Book, which can be saved to your computer or printed off to put into a recipe binder (which is what I did with my copy this morning). I can't wait to try out some of these new recipes.  Let me know if you try any of the recipes & which are your favorites – I'll be sharing my experience with the recipes!
And if you're in the Northwest, don't forget to head to Zaycon Foods & order some super-cheap boneless, skinless chicken breasts!
Disclosure – I was provided a complimentary copy of this E-Book to review & share my opinions.  All opinions are 100% mine. Thank you for supporting this site by using the affiliate link for the e-Book.