Mt. Rainier Scenic Railroad & Mt Hood Railroad – Discount Tickets!
This post may contain affiliate links and I may be compensated for this post. Please read our disclosure policy here.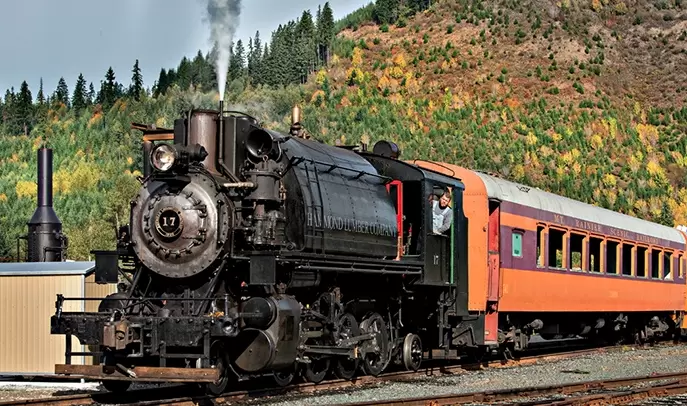 Mt Rainier Scenic Railroad – 2 Tickets for $42
The Mt Rainier Scenic Railroad is currently on Get My Perks with discount tickets to ride the train & admission into the train museum.  You will pay $42 for two tickets for a regular train ride + a museum visit (this is up to a $78 value). That's just $21/per person! Regular price of tickets for the summer are $39/person, $30 for senior/military/AAA or $19/youth (ages 5-12) or $10 for ages 4 & under. So this is a great deal for this train ride if you have been wanting to ride it to Mt Rainier.  This is now a 2 hour train trip!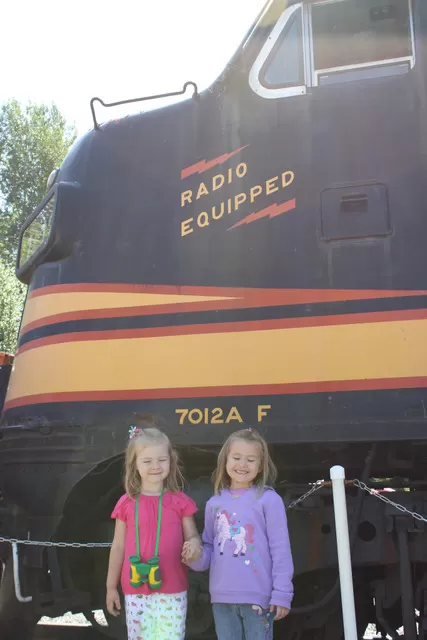 My daughter & niece in front of the train  a few years ago
This would be a fun trip on your way up to Mt Rainier as it's right on the way to the Longmire/Paradise area of Mt Rainier. If you have a train enthusiast, they would love this trip, along with the trip to the museum as well!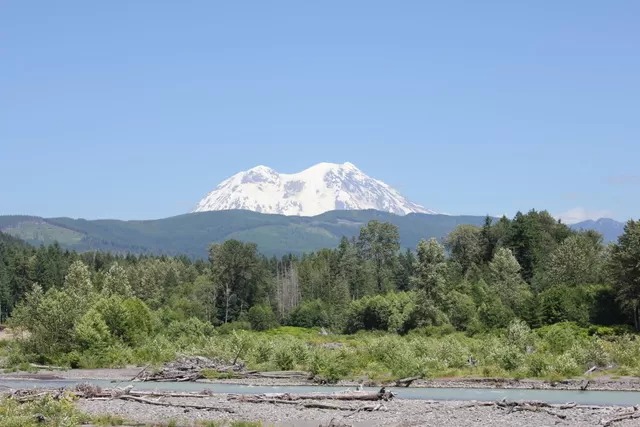 View of Mt Rainier & the river on our train ride
Our family took a trip a few years ago and here is a review of our experience:
I took my brother, SIL, niece & mom on the Mt. Rainier Scenic Railroad last summer using a previous discount deal & we all had a great time! It was a great way for them to see some beautiful views of Mt Rainier as well as for the kids to enjoy the old steam locomotive train ride. We also made a short little stop at a lake for about 30 minutes & walked around for a bit & then got back on the train for the ride back. I think the whole trip was around 1 1/2 – 2 hours (edited – it looks like this is now a full 2 hour train ride). For this discounted price, it was a great deal for us & something fun to take our out-of-town guests to show them the area & Mt Rainier.
(This did not include the train museum at the time, though – so that is a nice addition! We haven't checked it out but it sounds like it's a fun visit)
View of the eating area (if you choose to upgrade to the BBQ) & the start of our little hike during our train stop
Fine Print:
Expires October 30, 2016
Excursions can be reserved immediately.
Valid for the standard-class option only.
Ticket cannot be upgraded to first class.
Rides begin May 21, 2016; valid for the 10 a.m. and 3:30 p.m. departures only, plus 6:15 p.m. departure on Fridays July 1, 15, 22 and 29.
Rides offered Saturday and Sunday in May; Friday-Sunday in June; Thursday-Sunday in July and August; and Saturday and Sunday in September and October.
Advanced booking recommended and reservations required; subject to availability.