More Freezer Meal Recipes
This post may contain affiliate links and I may be compensated for this post. Please read our disclosure policy here.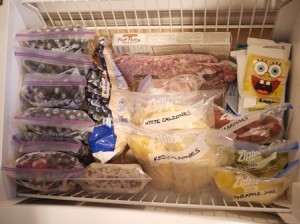 Reader Kristi wrote a fabulous guest post for us yesterday with her tips for making freezer meals & today she brings us the recipes &  items she used to make her freezer meals.
Freezer Meal Recipes & Ingredients:
3 ravioli dinners – Kirkland 3 Cheese Ravioli bag split into 3 meal portions
3 taco meat – 1 lb. hamburger, 1 lb. ground turkey, 2 packets taco seasoning
3 spaghetti meat sauce – Brown 1/2 lb. hamburger, 1/2 lb. ground turkey, 1/2 diced white onion.  Drain fat and simmer with 1 jar favorite spaghetti sauce (ours is Trader Joe's Organic Marinara) and 1 teaspoon dried oregano.
4 shredded chicken – Kirkland rotisserie chicken, shredded
4 BBQ pulled pork –

McCormicks slow cooker recipe

but I cook it overnight, then pour the sauce into a container to let the fat rise while I shred the pork.  Then I skim the fat and toss it, put the pulled pork and remaining sauce back into the slow cooker, add vinegar to taste and let it cook for another hour.  I tripled this recipe simply because my husband brought home a 13 pound pork shoulder which made 6 1.5 lb. bags.  We froze 4 and ate the other 2 over the week.
9 T marinara – whatever you have on hand from making the calzones
18 T pesto – 1 cup fresh basil, 1/2 cup grated Romano or Parmesan cheese, 1/4 cup olive oil, 4-6 fresh garlic cloves, 1/4 cup pine nuts.  Using blender or food processor – grate cheese, add basil and blend until smooth.  Add olive oil, garlic, and pine nuts.  Blend until smooth, let sit for 1 hour at room temperature before freezing.  I trippled this recipe to get 18 tablespoons because I had a huge basil plant to use up.
1 batch

chocolate chip cookie dough

, split into 2 bags and frozen flat.  I only had 1 bag to freeze (1/2 batch) because I sent the other baked 1/2 to work with my husband.
1 loaf (split) banana bread – 3 eggs, 1 cup vegetable oil, 2 cups sugar, 2 cups mashed banana, 1 teaspoon vanilla, 3 cups sifted flour, 1 teaspoon salt, 1 teaspoon baking soda, 2 teaspoons cinnamon, 1/2 teaspoon baking powder, 3/4 cup chopped walnuts (optional).  Beat eggs until foamy, add oil, sugar, vanilla, and banana and mix well.  Mix remaining ingredients in a separate bowl before adding to wet in mix.  Combine two mixes, pour into 2 greased and floured loaf pans.  Bake in 325* pre-heated oven for one hour or until done.  We always eat 1 right out of the oven and freeze the other.
Make sure to check out the full post with all of Kristi's tips for preparing freezer meals.