Lowes Black Friday Deals for 2018 – Artificial Christmas Trees as low as $59 & more!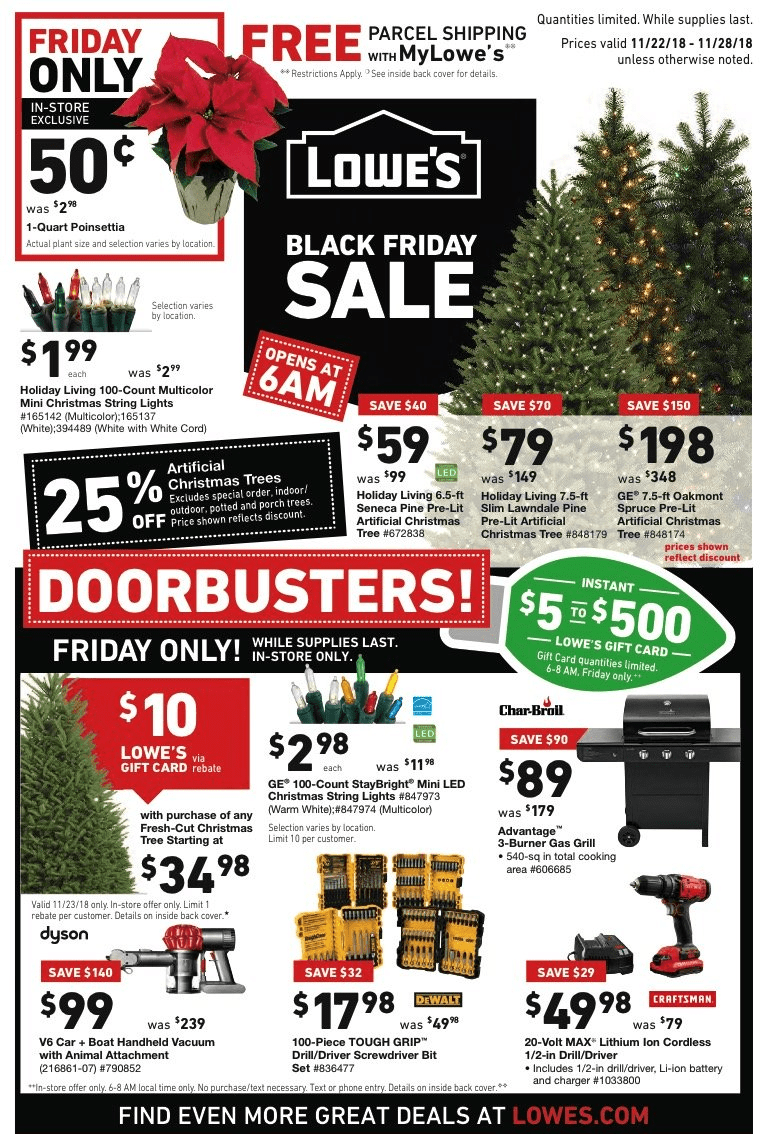 Lowe's Black Friday Deals for 2018
Lowe's Black Friday deals ad it out!  They will be open starting at 6am on Black Friday. However online shopping should start on Thanksgiving. Quantities are Limited.  Check with your local store for store hours and details. They are offering free parcel shipping with MyLowe's. Prices are valid from Thurs 11/22 – 11/28 unless otherwise noted.
Check out the 2018 Lowe's Black Friday Ad Preview, Deals and Store Hours! You can see the full Lowe's Black Friday ad here.
Don't forget to check out our Black Friday deals page where we'll keep you up to date on all the latest Black Friday deals as they become available.
Shop Online:
Make sure to shop online at Lowes.com for the Black Friday deals too, to save yourself a trip to the store! Some of the deals are live now online!
Lowe's Black Friday Deals:
Appliances:
Whirlpool 4.3 cu ft Stainless Steel Compact Refrigerator – $119
Samsung 4.5 cu ft Washer – $629
Samsung 7.5 cu ft Electric Dryer – $629
Frigidaire 60 Decibel Dishwasher – $279
LG 4.5 cu ft Washer – $499
LG 7.3 cu ft Electric Dryer – $499
GE 4.5 cu ft Washer – $599
GE 7.5 cu ft Electric Dryer – $599
Up To 40% Appliance Specials
Up To $600 Lowe's Gift Card via Rebate With Purchase of 2 or More Major Appliances
Roper 3.5 cu ft Washer – $399
Roper 6.5 cu ft Electric Dryer – $399
Samsung 25.5 cu ft French Door Refrigerator – $999
Electronics:
Google Home Hub – $99
Nest Cam Outdoor Security Camera With Night Vision – $149
Nest Cam Wireless Indoor Security Camera With Night Vision – $129
Nest Learning Thermostat 3rd Generation – $179
Nest Hello Doorbell – $179
Ring Video Doorbell 2 – $139
Ring Wireless Outdoor Security Camera Floodlight With Night Vision – $189
Power Tools:
Dewalt 20 Volt Max Lithium-Ion 1/4 in Brushless Cordless Impact Driver with Soft Case – $99
Dewalt 4 Tool 20 Volt Max Lithium-Ion Cordless Combo Kit With Soft Case – $299 (Get  A Free Cordless Bare Tool or Battery)
Dewalt 2 Tool 20 Volt Max XR Lithium Ion Brushless Cordless Combo Kit With Soft Case – $299 (Get  A Free Cordless Bare Tool or Battery)
Kobolt 4 Tool 24 Volt Max Lithium-Ion Brushless Cordless Combo Kit with Soft Case – (Get A Free 24 Volt Max Brushless Cordless Bare Tool)
Bosch 2 Tool 18 Volt Lithium-Ion Cordless Combo Kit With Soft Case – (Get Free 18 Volt Cordless Bare Tool)
Dewalt 20 Volt Max XR Lithium Ion Brushless Cordless Oscillating Tool Kit With Soft Case – $99
Dewalt 12 in 15 AMP Compound Miter Saw – $199
Dewalt 2 Tool 20 Volt Max Lithium-Ion Cordless Combo Kit With Soft Case – $199 (Get Free 20 Volt Max XR Lithium Ion Brushless Cordless Oscillating Multi-Tool Kit)
Hitachi 10 in 15 AMP Compound Miter Saw – $89
Dewalt 12 in 15 AMP Dual Bevel Sliding Compound Miter Saw – $399 (Get Free Adjustable Miter Saw Stad)
Hitachi 18 Gauge 2 in Brad Pneumatic Nailer – $39.98
Kobalt 1.8 HP 8 Gallon Electric Air Compressor – $99
Irwin 5 Piece Speedbor Spade Bit Set – $3.98
Irwin Marathon Circular Saw Blade – $3.98
Dewalt Precision Framing Circular Saw Blade – $3.98
62 Piece Screwdriver Bit Set – $9.98
Bosch 41 Piece Drill and Drive Bit Set – $12.98
Kobalt 210 Piece Screwdriver Bit Set – $18.98
Dremel 28 Piece 300 Series Variable Speed Multipurpose Rotary Tool Kit – $49
Dewalt 20 Volt Max Lithium-Ion Compact Brushless Cordless Combo Kit With Soft Case – $149
Craftsman 6 Gallon Electric Air Compressor – $99
Craftsman 121 Piece Mechanic's Tool Set – $99
Craftsman 2 Took 20 Volt Max Lithium-Ion Compact Cordless Combo Kit With Soft Case – $99
Dewalt 100 Piece Tough Grip Drill/Driver Screwdriver Bit Set – $17.98 (Friday Only)
Craftsman 20 Volt Max Lithium-Ion Cordless 1/2 in Drill/Driver – $49.98 (Friday Only)
Hand Tools: 
Dewalt 14 Piece Black Oxide Twist Drill Bit Set – $7.98
Dewalt 27 Piece Tough Grip Screwdriver Bit Set – $7.98
Holiday Items: 
25% OFF Artifical Christmas Trees
Holiday Living 6 ft Snowman Christmas Decoration – $69
Holiday Living 9 ft Ellston Pine Pre Lit Artifical Christmas Garland – $4.98
Poinsettia 1 qt – $0.50 (Friday Only)
Holiday Living 6.5 ft Seneca Pine Pre Lit Artificial  Tree – $59
Holiday Living 7.5 ft Slim Lawndale Pine Pre Lit Artifical Tree – $79
GE 7.5 Oakmont Spruce Pre Lit Artificial Tree – $198
$10 Lowe's Gift Card via Rebate With Purchase Of Any Fresh Cut Christmas Tree – $34.98 (Limit 1 Friday Only)
Household: 
Shark Rocket Ultra-Light Bagless Vacuum – $89
Dyson V8 Absolute Cordless Bagless Stick Vacuum – $379
iRobot Roomba 675 Vacuum with Wifi – $199
iRobot Roomba 690 Robotic Vacuum With Wifi – $229
Bella 2.6 qt Air Fryer – $49
Bella 8 qt 10 in 1 Multi Cooker – $69
Bissell SpotClean ProHeat Portable Carpet Cleaner – $49.99
Shark Navigator Lift-Away Bagless Vacuum – $89
Dyson Slim Ball Multi Floor Vacuum – $189
Duraflame Infrared Electric Stove – $59
John McLemore Signature Series 1,500 Watt Electric Vertical Smoker – $89
Shop-Vac 12 Gallon Vacuum – $39.98
Craftsman 16 Gallon Tank Vacuum – $39.98
Advantage 3 Burner Gas Grill – $89 (Friday Only)
Dyson V5 Car + Boat Handheld Vacuum With Animal Attachment – $99 (Friday Only)
Lawn, Garden & Patio:
Kobalt 40 Volt Max Cordless Leaf Blower – $99
Garden Treasures Deep Bowl Steel Fire Pit – $49
Garden Treasures Gas Patio Heater – $99
Other: 
Werner 5 ft Fiberglass Step Ladder – $22.97
Little Gianveler Ladders 17 ft Leveler Aluminum Telescoping Multi-Position Ladder – $89
Kids Craftsman Toy Workbench and Tool Set – $39.98
LabelManager Hand Held Label Maker – $16.98
Werber 3 Step Steel Folding Step Stool – $12.99
Rayovac 36 Pack Alkaline Batteries – $6.97
Brushed Nickel Pull Down Kitchen Faucet – $49
Style Selections 25 in Euro Gray Bathroom Vanity With Top – $79
52 in Armitage Ceiling Fan – $39.98
Craftsman 26.5 in 5 Drewer Steel Rolling Tool Cabinet Combo – $99