5 Ways To Enjoy LALA Yogurt Smoothies + Savings! #LALAyogurt
This post is sponsored by LALA Foods. All comments and opinions are my own.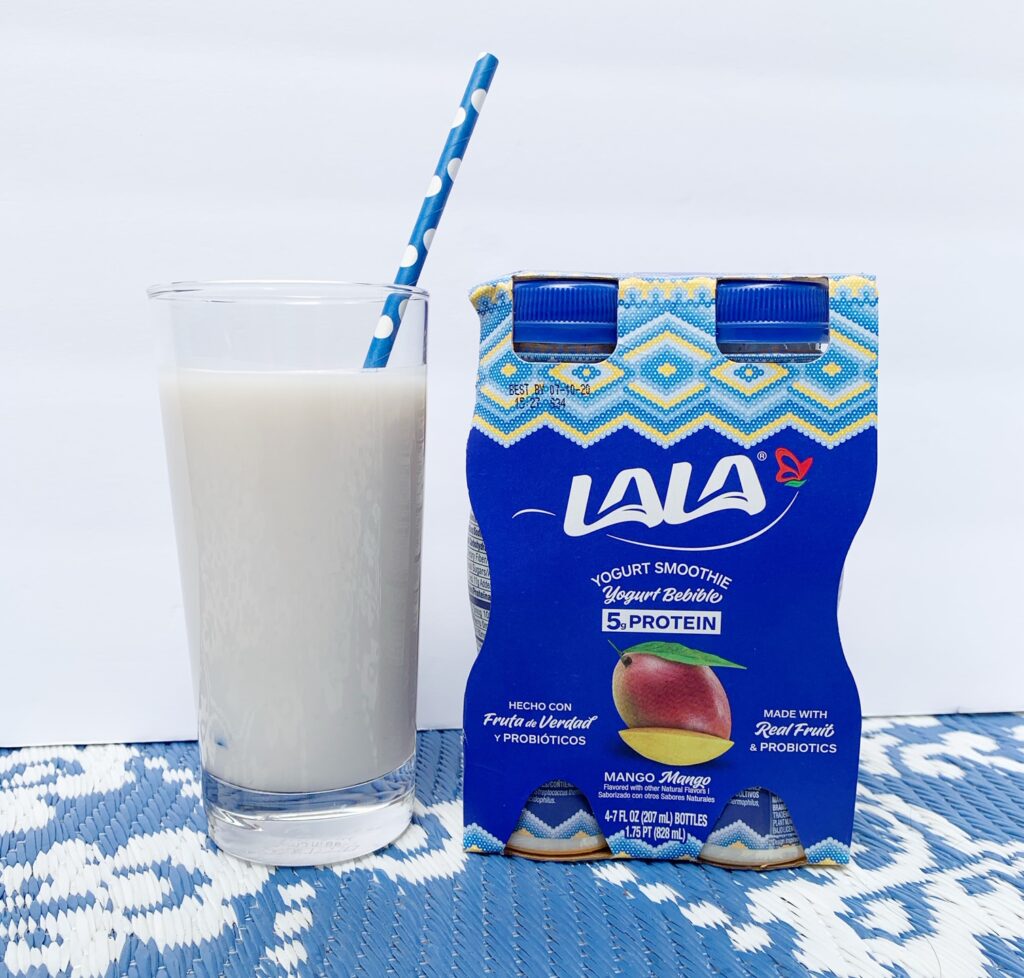 5 Ways To Enjoy LALA Yogurt Smoothies
+ Savings Offer! #LALAyogurt
LALA® Yogurt Smoothies have a new look, and right now you can save on your purchases at Walmart, when you use ibotta. My family loves the LALA Yogurt Smoothies, and I keep them stocked in our fridge as an easy grab and go option. I love the new packaging, because not only do they taste great, but they look great too. 
My family's favorite way to enjoy these smoothies is to grab them and drink them, but I also have a few other ways my family likes to enjoy them, that we share with you here.
There are a variety of flavors to choose from when purchasing LALA Yogurt Smoothies. My crew's favorites are the Strawberry and Mango flavors (they go very quickly in my household). I just went to Walmart and loaded my fridge up on them, and they are already going fast.
10pk flavor options include:
4pk flavor options include:
Strawberry

Pina colada 

Mango

Strawberry Banana

Mixed Berry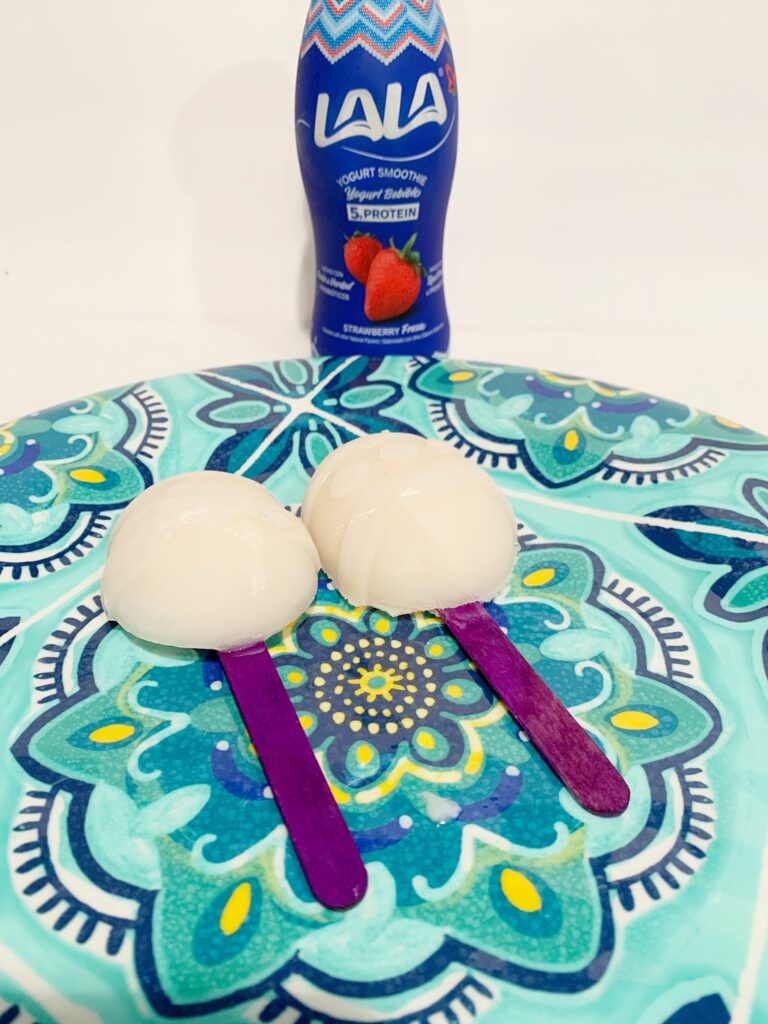 Get Big Savings on LALA Yogurt Smoothies Right Now:
Check out these  LALA® Yogurt Smoothies savings with this current Ibotta offer!
The LALA Smoothies are already very affordable at Walmart, so these extra savings will get you a super deal on them!
You will also want to keep your eye out for the next Valpak envelope  as well, to find more information about LALA® Yogurt Smoothies in there as well.
4 Ways To Enjoy LALA Yogurt Smoothies: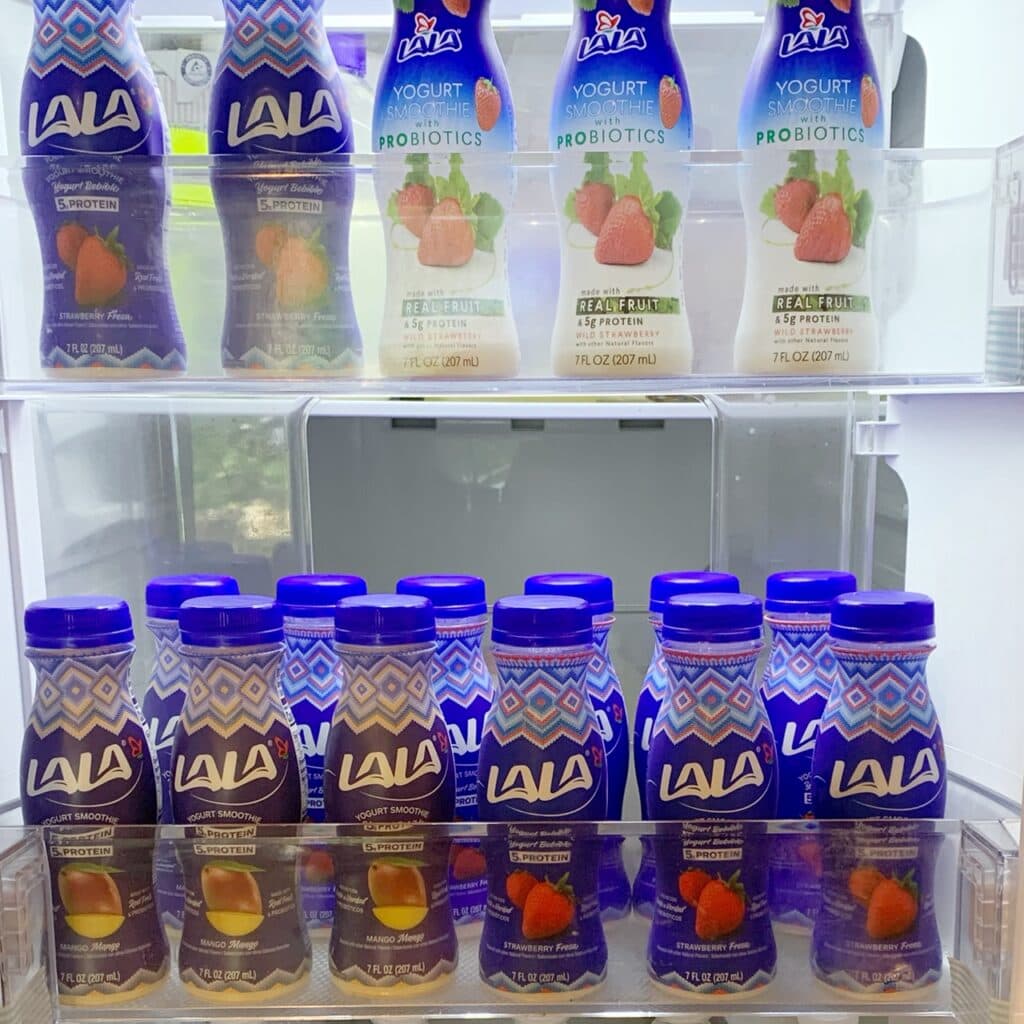 1) Keep the beverage area off your fridge stocked with the LALA Yogurt Smoothies in different flavors for quick meals/snacks on the go!
This is a great way to keep them ready for a quick breakfast, or snack. Since they are made with real fruit & probiotics and they also have 5g of protein per bottle, it is a great way to keep your family's energy up on busy days.
I had two shelves stocked yesterday, and after the kids came home with a group of friends I am down to one shelf. The kids (and adults) love these.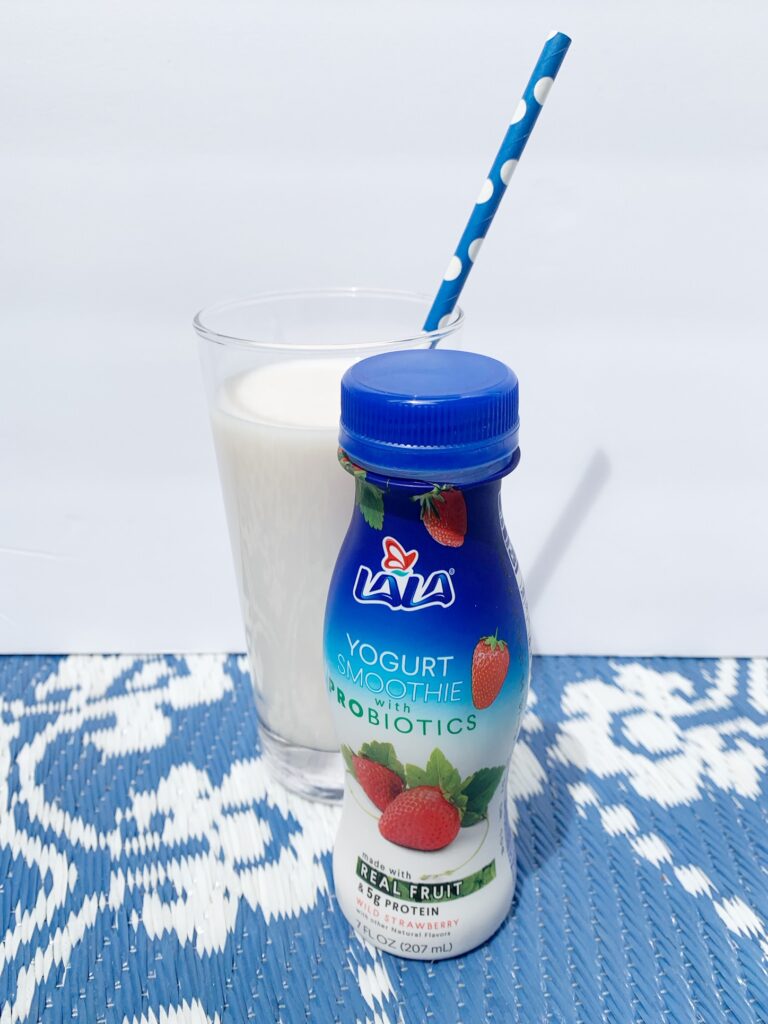 #2) Use it for the liquid in other smoothie recipes that your family loves. Its like a double smoothie drink!
One of my kiddos loves strawberry banana smoothies, made with frozen bananas (so they are kind of icy). I used to add juice to blend it, but now I like to blend up the frozen bananas with the strawberry probiotic smoothie shown above. This way they get the extra protein and probiotics, and it is a super easy smoothie to blend up.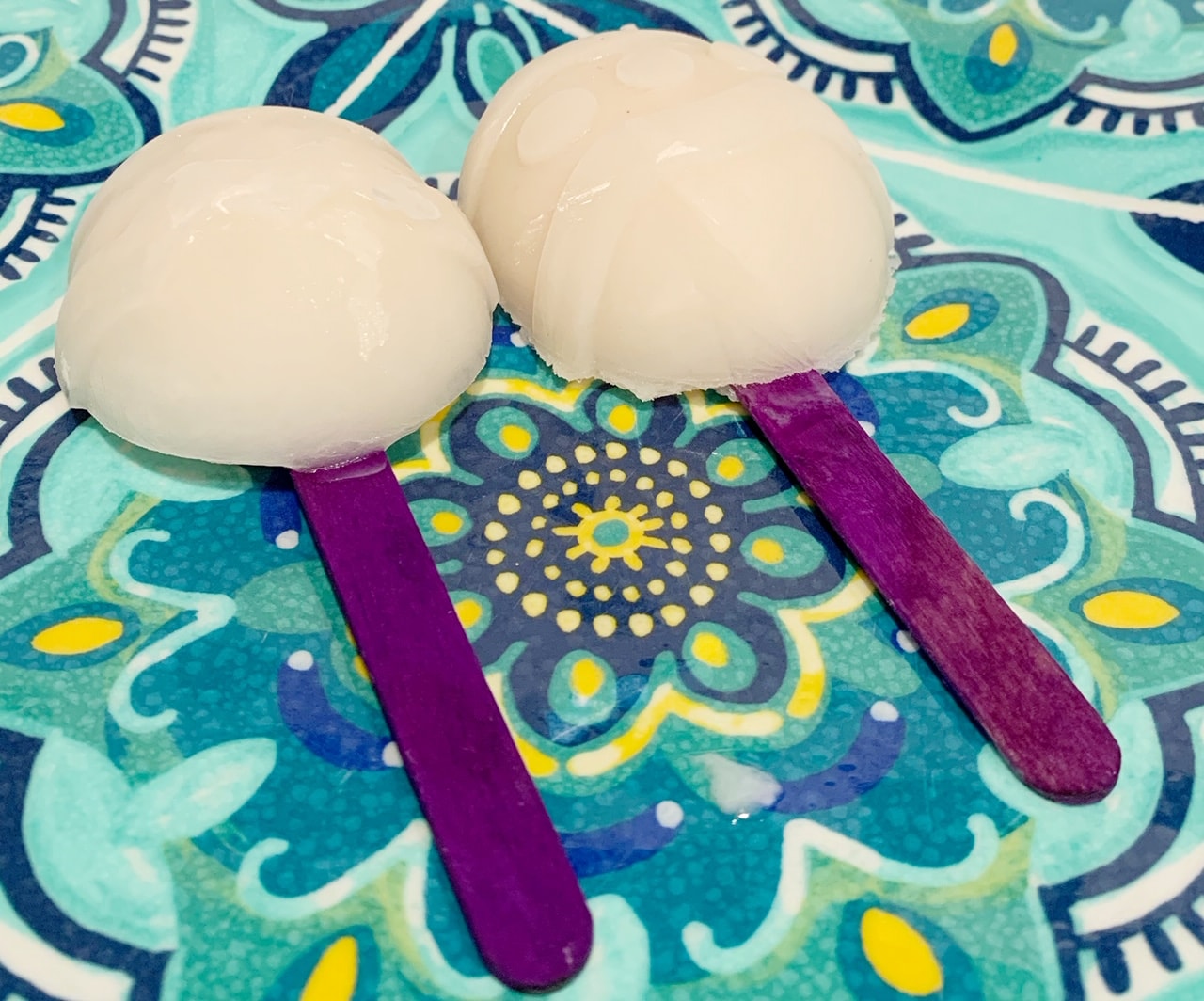 3) Freeze it in molds to make yogurt pops. 
These are perfect for a hot day, or afternoon treat for the kids. My kids love when I freeze these, and seem to eat them quickly this way, especially in warm summer weather. Simply add the smoothie mixture to a silicone mold, and add sticks to hold them with after. Pop in the freezer overnight, and then pop the yogurt pops out of the mold and store in a freezer bag for up to a couple of weeks. The kids are getting a fun frozen treat, but with the added protein and probiotic benefits.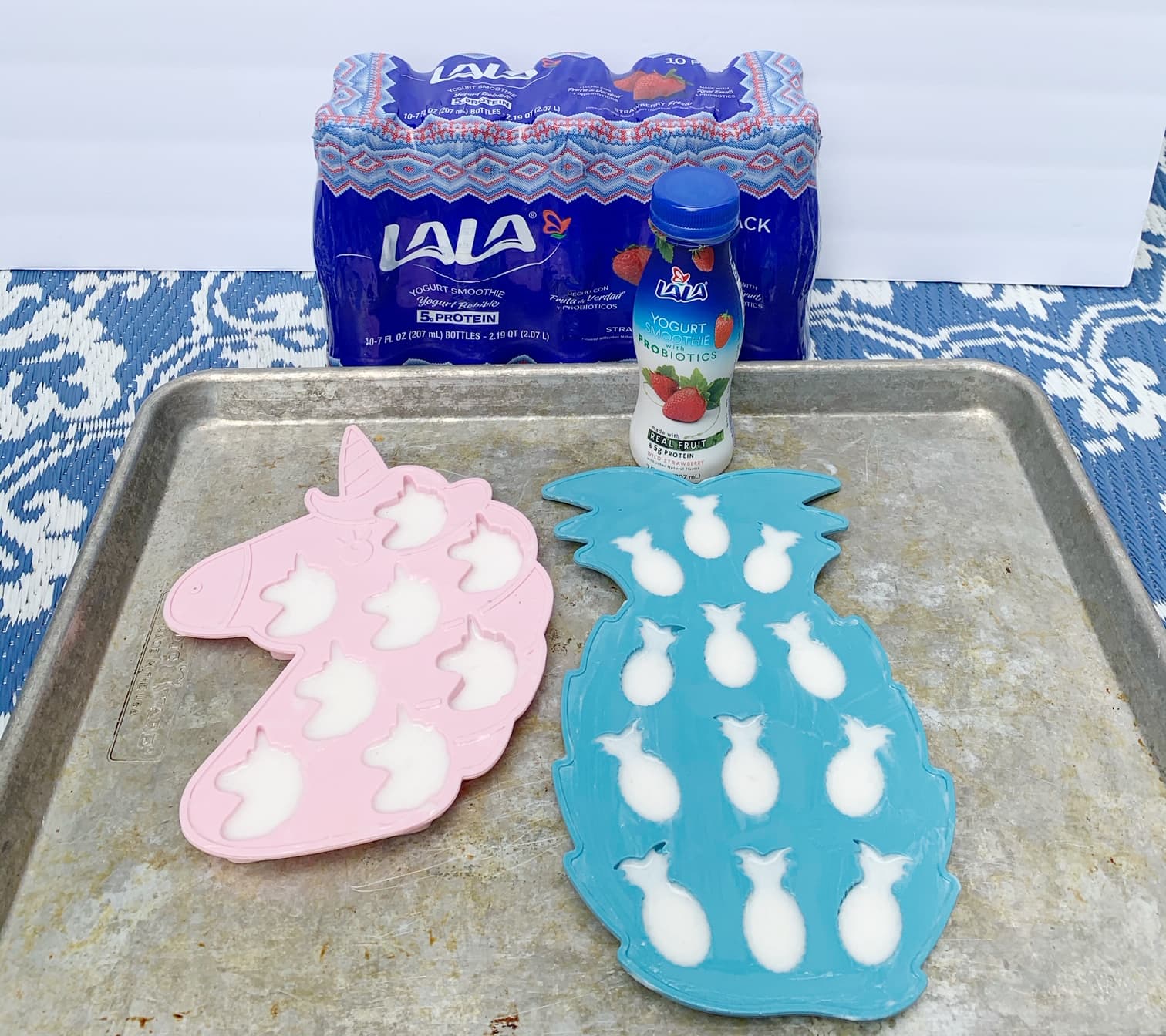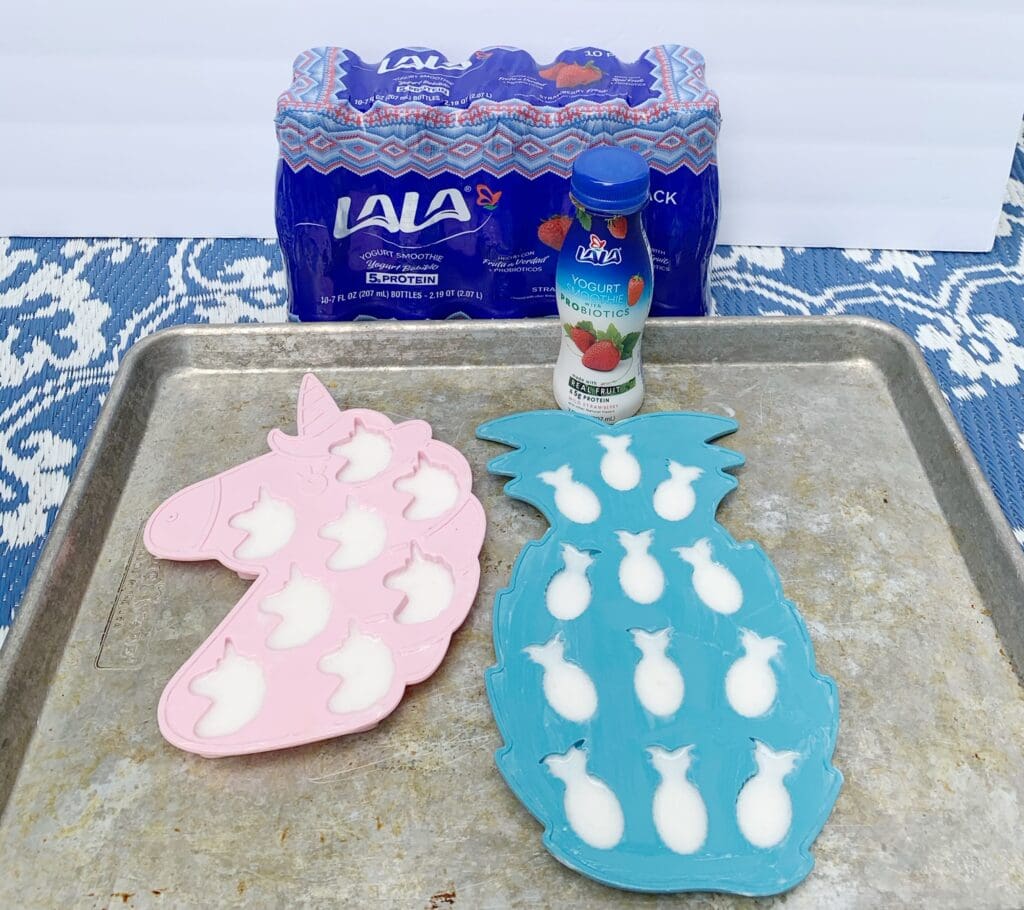 4) Make ice cubes out of them! 
My kids love when I do the ice cubes too. I simply use an ice cube mold, add the smoothie, freeze, and then store in a freezer bag. The kids can pop them in their mouths when they want a treat, or add them to their juices or milk, for a fun flavor (and the added benefits).

5) Perfect to Freeze and Pack for Road Trips! 
I also love to freeze them, and then pack them in a cooler for road trips. If you take them out of the packaging it has two benefits. They can act as an ice pack for other items you might have in your cooler. They also are nice and cold when they defrost, and make the perfect on the go breakfast or snack while traveling. This tip will save you lots of money over running through drive-throughs for breakfast, or stopping at convenience stores for snacks.