How to Sell Childrens Clothes Online with Thred Up
This post may contain affiliate links and I may be compensated for this post. Please read our disclosure policy here.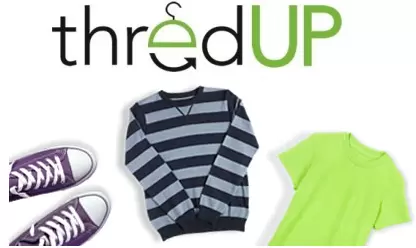 If you are looking for some ways to earn extra money for school shopping or thinking about early Christmas shopping, Thred Up is a super easy way to earn a little extra cash or credit.  Not only can you buy gently used or new children's & women's clothing items from Thred Up (learn all about how it works to buy items from Thred Up as well as use coupon codes to save), you can also sell your own items through an online consignment system.
Don't forget to enter our giveaway for a $50 Thred Up credit, too – this giveaway ends on Fri 8/23 at 9pm pst!
Why Sell Clothes thru Thred Up:
Selling your clothes online via Thred Up is super simple & perfect for the busy person who really wants to make a little extra cash or earn credit for clothes on Thred Up & doesn't have time to sell thru other sources. I will tell you that if you sell thru a regular consignment sale or consignment store in your area, you will most likely make more money on your clothing items. However, it does mean more work such as having to tag all of your clothes for the sale, driving to the store to drop off your items & waiting for them to sell before you earn the money, etc.
The beauty of selling online with Thred Up is that you can sell your items so quickly – you order a bag, stuff the clothes you want to sell into the bag & send it off in the mail. You don't have to wait for your items to sell before you receive your money. They will pay you right away – you can use the money you earn as credit on the site for the first 14 days & after that period, you can then cash out thru Paypal.  If you don't have the option of looking at a local place to sell your clothes but still want to get some cash back for them, then this is a great option for you to consider.
I have sold my girls' clothes twice thru Thred Up & I averaged around $1.30 – $1.40/item when selling those items online, so the payout is not as high as other places – but in the busy season of life I'm in, it was a great option for me to be able to earn some extra cash for school clothes for my girls with very little effort on my part.
How to Sell Your Items on Thred Up: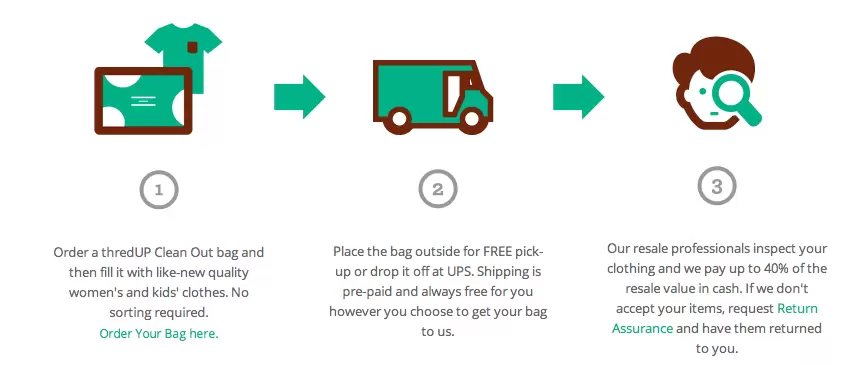 1) Order a bag from Thred Up – typically it costs $4.95 for a deposit for a bag to be sent  to you(you'd get the money back once you send the bag back in). However, they are waiving the deposit fee for bags right now. (It does say that there is a backup of bags so could take as much as 30 days, so order your bag as soon as possible)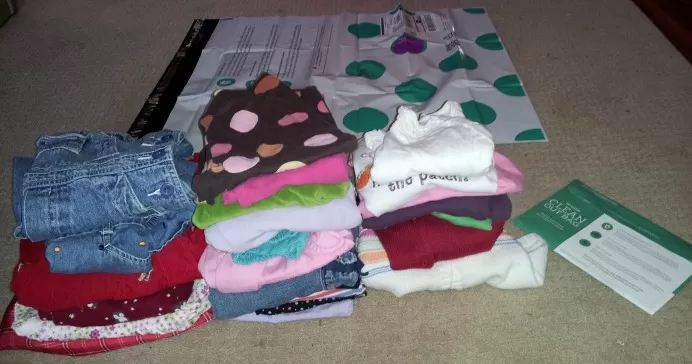 2) Sort clothes & pick out items in the best condition to send in – As you are going thru clothes that no longer fit, make sure to read the instructions on the type of clothes that Thred Up accepts. They now accept only clothes that they can start selling at $6.49 & up, so this means that they are looking for higher quality items (they no longer sell items from large, discount brands like from Target, Walmart, Old Navy, etc). Items must be either new or very gently used without stains, holes, etc, as they won't accept those items.
3) Look up value on Thred Up – right now on Thred Up, you can list the type of item you want to sell & they will give you a percentage estimate based on how much they think they can sell the item for (this estimate calculator is found near the bottom of the page). So, the higher the quality & condition of the item & how popular it might be, the more you will make. Items that are new with tags will sell for even more. Remember that they may not accept all items, depending on the condition & if it meets all their criteria. If you want them to return the items that do not sell, you will need to pay a fee thru the Return Assurance program ; otherwise they will donate the items they cannot accept.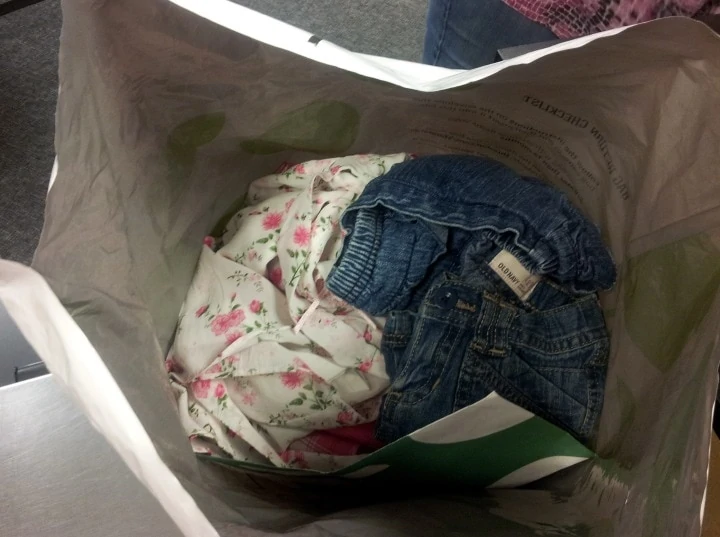 4) Place clothing items in bag & it's ready to send! All you need to do is fill the Thred Up bag with the clothes you want to send in, along  with the envelope they include with your account information so it will be tracked to the correct account & it's ready to go.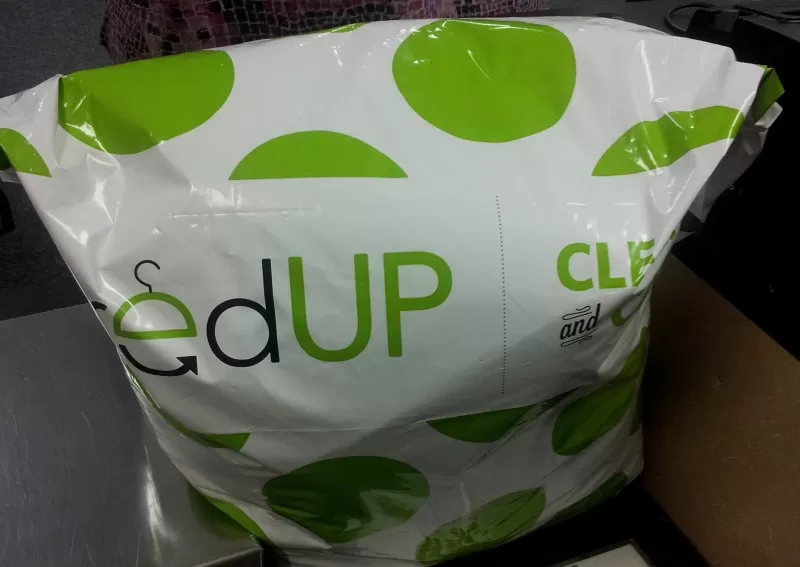 5) Drop off at your bag to be shipped – the bag they send includes a prepaid label, so it's all ready to be sent.  I have found the easiest thing to do is to drop off the bag at my local UPS affiliate store, so I just pay $1 for the store fee to ship the bag (your local store may not charge). Otherwise, you can hand the bag to a UPS person if they deliver something to your house or you can pay a small fee to have them come & pick up the item.
 6) Receive email & payout from Thred Up – once your bag has arrived at Thred Up, you'll get an email letting you know it's arrived & then another email telling you it's been processed & how much money you have earned to either get cashed out thru Paypal or to use at credit on the site.
As you can see, it is a very simple & easy process to sell items through Thred Up. The most important aspect is to make sure that you're sending in items that they will accept (otherwise those items will be donated or you can pay to have them returned) & to make sure that the estimated value is worth it to you to sell your items.  It's a great way to earn some extra cash to help pay for all those back to school expenses, though!