Great Value Refrigerated Cinnamon Rolls & Cookie Dough – Time-Savers during the Holidays!
This post may contain affiliate links and I may be compensated for this post. Please read our disclosure policy here.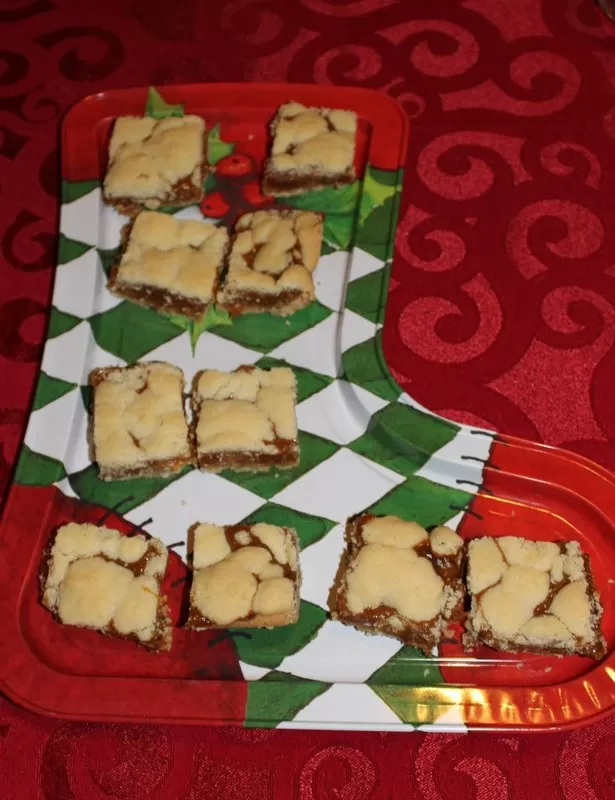 We are getting close to Christmas, and if you are looking for some short cuts on baking ideas, here are a couple of fun ones we did last year using pre-made Cookie dough and pre-made cinnamon rolls. Make a cinnamon roll Christmas tree for the kids to enjoy for breakfast (you could even make the frosting green if you want), or Salted Caramel bars for entertaining!
Last week I shared with you a yummy recipe for Salted Caramel Bars using Great Value refrigerated cookie dough (you can find the recipe & directions in last week's post).  The holiday season is so busy and I have been enjoying finding ways to shorten the steps & save time in preparing for holiday get-togethers by using pre-made, refrigerated dough products. We have so many different get-togethers this month & they all involve bringing a dish or dessert and as a busy work-at-home mom, I need to find those shortcuts to decrease the time & still be able to provide yummy recipes for these various events. This is where Great Value products have really come in handy as I've been realizing how many possibilities you can come up with using the different, Great Value refrigerated dough products as the base for many recipes.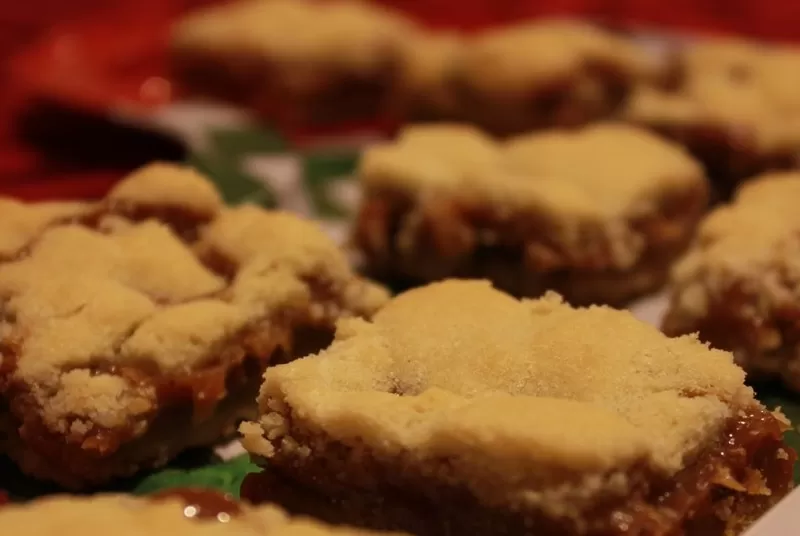 I experimented with making Salted Caramel Bars last week to see if they would be a good option to provide for a get-together with our neighbors as well as to bring to some holiday gatherings. They turned out to be a hit with my family and I loved how simple & easy they were with only 5 ingredients when you use the Great Value refrigerated cookie dough as your base instead of homemade cookie dough. We had planned on having our neighbors over this weekend for some holiday treats, but unfortunately our family was hit with the nasty cold bug all last week. It made its rounds through the whole family for the long week & unfortunately my little gal is still not on the mend & had to stay home again today, so we weren't able to invite them over to our house last night.
Since we had a rough week this past week with illness & couldn't get together with friends to enjoy the treats, we decided to have a little mini cookie decorating party with just our family.  Our 25 Days of Christmas advent activities have been much more low-key the past week with everyone being sick, so the girls enjoyed having some yummy treats after dinner for our activity tonight.  It also gave me the opportunity to quickly bake 2 dozen cookies for a Gingerbread Decorating Party that I'm hoping my daughter will be well enough to attend tomorrow! Definitely have not had time for homemade cookie baking, so the Great Value refrigerated cookie dough is coming to the rescue so I can get all these cookies made in time.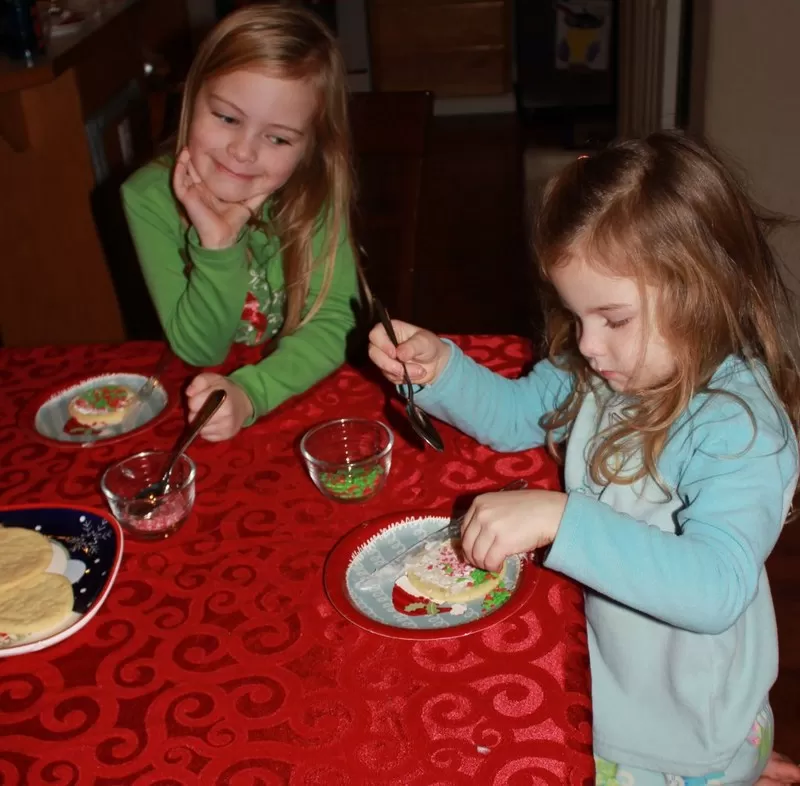 Of course the girls loved putting the sprinkles on the best! The more the better! 
 My husband was having fun decorating his, too, as you can tell! 
We also decided to try out the Great Value cinnamon rolls as another treat for our little mini party. I was hoping to try out a variation of a Cinnamon Roll Monkey Bread or Cinnamon Roll Apple Coffee Cake,  but we just ran out of time. My husband ended up cooking them and then shaping them as a Christmas tree for some holiday fun.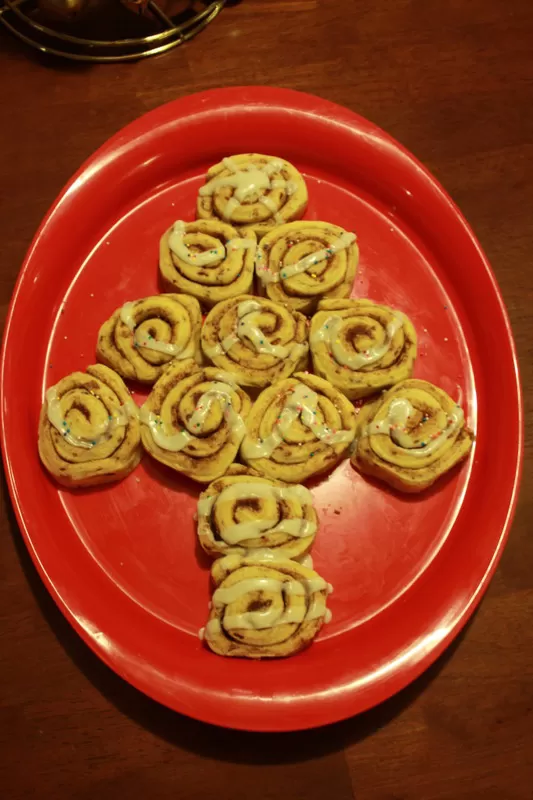 Eating cinnamon rolls is a rare treat for our kids and I think this would make a great option for Christmas morning when you're in the midst of opening gifts and you want something super simple to just pop in the oven & stop to eat briefly before returning to opening gifts. The kids will love if you spruce them up by putting them in a fun shape like the Christmas tree or maybe in a wreath shape with raspberries or strawberries as the berries in the Christmas wreath.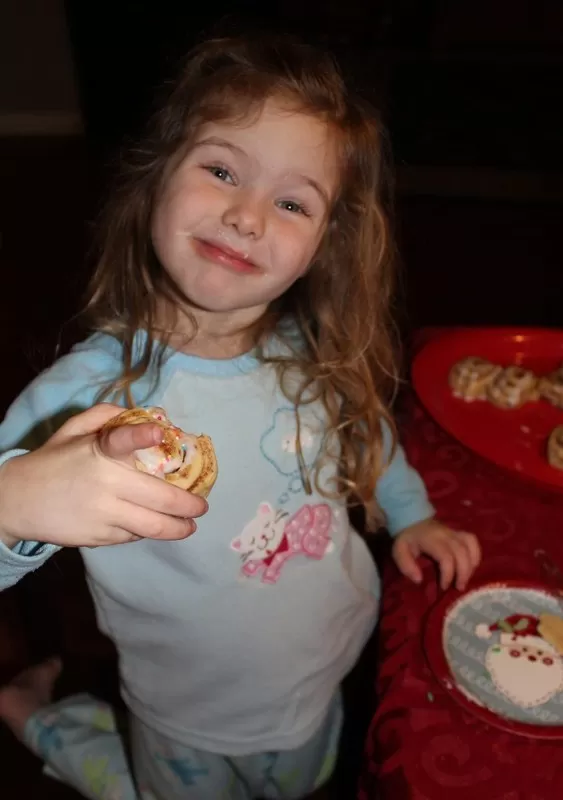 Pure enjoyment!!
Do you have any unique or fun recipes using refrigerated cookie dough or cinnamon rolls? Leave a comment – we'd love to hear!
Disclosure: This post is part of a campaign sponsored by Great Value and the Motherhood. All opinions are mine. You can find Great Value products at Walmart.