Giveaway – $50 off $100 Coupon for Old Navy Weekly
This post may contain affiliate links and I may be compensated for this post. Please read our disclosure policy here.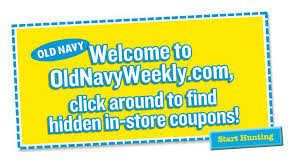 I have a surprise for you all – I am giving away one $50 off $100 coupon for Old Navy!!! For those of you who were in the chat room with me yesterday, you know my husband found the $50 off $100 in less than a minute or two (Go Ben!!) so we were able to snag a coupon!! I think most everyone who was in the chat room at the time was able to get it, too–but I know there were a number of you who weren't able to be on at that time or just missed it, or may not have realized Old Navy would update last night. I honestly wasn't sure it would update either–which is why I didn't send out a Facebook group message, which I usually do on the days when it's scheduled to update (kicking myself for that one! :( ).
So, I thought it would be very fun to be able to share the coupon with one of my loyal readers, especially if you're someone who hasn't gotten a high-value coupon yet!! Of course, I have no idea whether you've gotten one or not, but I'm hoping that the people who enter will be those who have yet to get a good coupon during the Old Navy Weekly coupon hunt and could really use one!!! And just remember that you will have to spend $50 to get $100 worth of clothes!!
It's a GREAT time to use it, though, as this coupon is good thru Father's Day, June 21st!!!! AND….a number of men's items are 50% off right now–so you could score some great deals on Father's day gifts!!!
This is going to be a short giveaway, so you have plenty of time to use your coupon—and I will be able to email the coupon to the winner!! It will end on Monday night 9/15 at 9pm PST! You will then have all week until Sunday the 21st to use your coupon!! Here's how you can enter::
Required Entry::
1) Tell us what your favorite item is at Old Navy or what you're hoping to buy with the coupon.
Extra Entries:: (leave a separate comment for each entry)
** Subscribe to the Thrifty NW Mom feed via
RSS
or Email (must be verified).
**Blog about this giveaway and post a link to your blog entry in a comment.
**Follow
Thrifty NW Mom
on Twitter and "tweet" about this giveaway. Leave the link to your tweet or your twitter name in a separate comment. You can copy and paste this into your "tweet" if you'd like::
Win a $50 off $100 Old Navy Coupon – Ends Mon night at 9pm PST
https://bit.ly/7NNjW
(If you've already done these things, just leave that in separate comments)
This giveaway will end at 9pm PST on Monday, June 15th . The winner will be selected by Random.org and will be posted on this blog as well as emailed or contacted on your blog. You will have 24 hours to contact me, otherwise a new winner will need to be selected!
**I also have another fantastic giveaway coming up – this was just a bonus one!! I'm sure you guys will love the next one -it's to another popular store!! I will be gone over the weekend, but you can still submit your entries during that time.