Garage Sale Pricing Guide & Tips for a Successful Garage Sale
This post may contain affiliate links and I may be compensated for this post. Please read our disclosure policy here.
Garage Sale Pricing Guide + Tips for a Successful Garage Sale
Looking for some tips on how to figure out garage sale pricing? We provide some details on that with the Ultimate Garage Sale Pricing Guide, and more! We also have many more tips that will help you run successful garage sale (like where to advertise and how, and many more).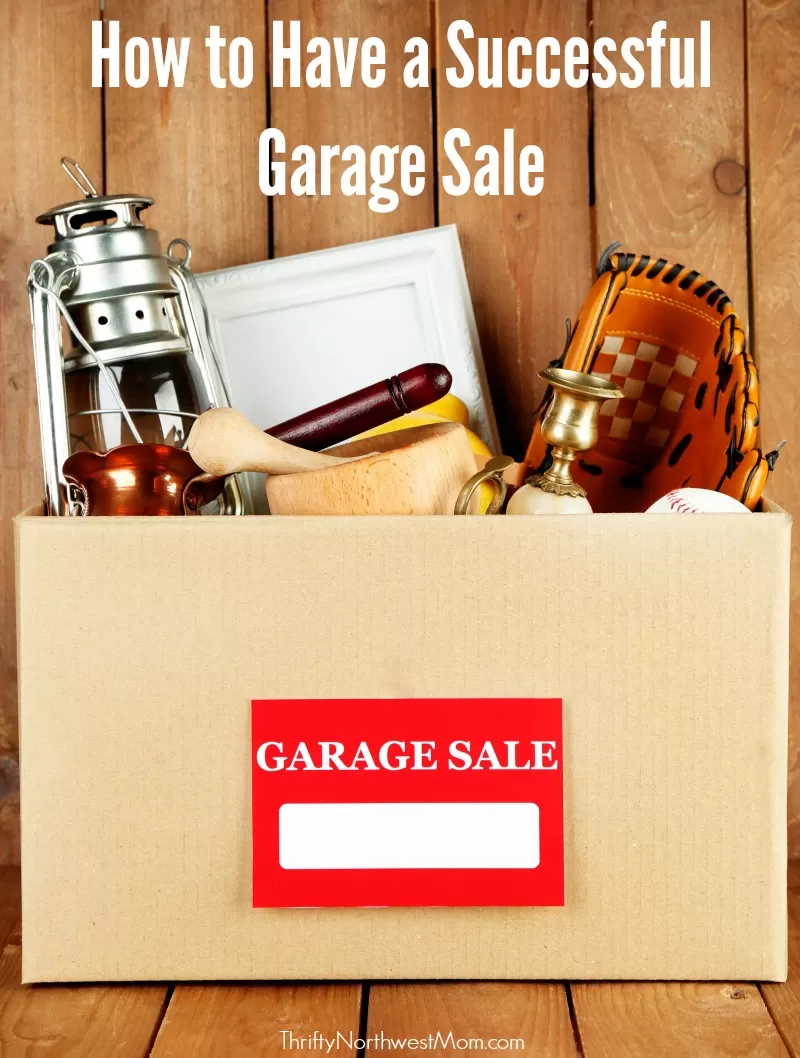 One of my favorite ways to spend a spring or summer day is to hit up a garage sale on a Friday or Saturday morning  – if it's a big neighborhood sale, even better – I could spend hours at those!  My husband jokes that it actually pains me to drive by a sale when we don't have time to stop as I just love the thrill of finding a good deal or a unique find.
Over the years, I have also held many garage sales with my family and now with my husband for our own family. When I was growing up as a military kid moving every two years, garage sales were an effective way for us to keep the clutter from getting out of control.  Now, with my own family, we try to regularly have garage sales to get rid of the clutter & extra items that we always seem to have, as well as a way to make some extra money, especially during times that we've struggled more financially or as ways to save up for vacations or other important things in our budget.
With my experience of going to many garage sales over the years as well as holding many garage sales, I thought I'd put together some helpful tips for having a successful garage sale.
Tips for Having a Successful Garage Sale::
1 – Advertise Well — 
The more ways you can advertise your sale beforehand, the better to get the word out about your sale & get a solid stream of people coming to shop your sale. This is key to having a successful sale to make sure that you have enough traffic with people coming thru your sale.
Ways to advertise your sale::
Advertise on free sites like YardSales.Net & GSalr.com – List your garage/yard sale on these two FREE websites, they will also share your garage sale listing on the GarageSaleTracker.com, GarageSaleFinder.com, and YardSaleSearch.com websites. This means that by listing on two sites, your garage sale will end up being listed on a total of 5 sites, which means a lot of exposure for your sale in your area.
Not only that, but your garage sale listing will also get emailed out to people who are looking for garage sales in your local area & have signed up to receive emails when there are sales in their local areas. These are the people who are serious about garage sales & know a great deal when they see it! If you have antiques, collectibles, and other unusual items at your garage sale, this will be a definite hit with garage sale enthusiasts.
If you want to make sure your garage sale is seen on the listings, the YardSales.net site also offers an upgrade to Featured Listings. You can pay $7.99 to upgrade your listing so that it's seen by more viewers.
Here's what is included with the featured listing:
 Listing is promoted as a featured sale and stays at the top of the list.
Larger photo thumbnail to attract more attention.
Title is larger in size than regular listings.
Stand out on the map with a star map icon.
Sale listed at the top of our daily email the day it is listed and the day before the sale
2 – Bright & Bold Signs
To have a successful garage/yard sale, good signs are a must! Not only should you advertise in advance of the sale on the websites we shared above, but you also want to reach those folks who are out driving around & may not be looking to go to garage sales, but your signs catch their eyes. If you have bold colors, easy to read signs, this will greatly improve the traffic coming to your sale (we have heard this from numerous folks who have found our sale – how our signs were the reason they stopped on their way home)
Here's what I'd recommend for signs::
Use Bright Colored Signs.  Neon colors work best (hot pink or yellow or green). Make sure to use all the same color between your signs so it's consistent so they know they are following the same signs for the sale. I often get my poster board at the dollar store.
Use few words, thick bold lettering & large arrows – The problem with many garage sale signs is that people try to put too much information on the signs.  All you really need is to let them know it's a Garage/yard Sale, the address of the sale (if it's further away & they need to follow signs for awhile) & possibly the times of the sale. You want big & bold lettering (block style – so it's easy to read) so people can see them while they drive quickly by. Also, a big black arrow (you can make this with black tape or markers) works really well to show them the direction to go.
Add balloons to the signs – you can head to the dollar store & get mylar balloons to make your sign stand out even more. It would be good to use balloons at key intersections or locations that are close to you to get people to turn down your road.
Use sandwich boards to be able to place them in the best locations for people to see them. By using sandwich boards, you don't have to worry about  signs blowing away or not being able to place the signs where you want them. They are very easy to read as you can put them right up close by the road on the grass between the sidewalk and road. Once you make your signs, you can then use these year after year & just replace the poster board on them if needed.
Here's how to make a sandwich board for garage sales::*Head to a home improvement store & look for inexpensive plywood. You can ask them to cut it down for you to make a  2′ x 2′ square (or cut this at home) – 2 pieces per sign. They will cut this for you for free (or a small fee).
*Buy 2 drawer hinges (per sign). You will put the two hinges at the top of the two boards to hold them together & then you can stand them up.
*If you'd like to be able to carry them easier, buy some flat nylon strapping (webbing) & cut it down into pieces to make a handle. You will need enough to fit your hand to hold them & place it between the top of the two boards. You can staple or screw this in to the top
3 – Spread the word to neighbors and friends
Make sure to let your friends & neighbors know you are having a sale ahead of time – chances are they might be willing to gather some of their own items and have a little sale of their own or add items to your sale. This is a big benefit to you as the more sales in one area, the more chance you will get people to stay & not just drive by to check out the sale. It's always so much easier as a customer to find those sales with multiple sales all within a close proximity to each other. If they stop to look at the sales, there is more chance they might find a hidden deal they might not have seen from driving by.
During our garage sale last summer, our neighbors ended up bringing out several big-ticket items that not only helped to draw people in when they drove by (as our bigger items were starting to get more picked over) but I also was able to add it to my website pictures & listings for people who were searching for specific items.
Be Organized & Prepared
Clean & fix up your items –
Make sure that the items you are selling are looking their best. Wipe down kitchen items, wash clothes so there aren't stains, dust off furniture, add batteries to items so that folks can see it works and fix anything that can be easily fixed.
By giving your items a little TLC, you will be able to sell more items and people will see that you have nice, quality items to sell and more willing to stick around & peruse all your items for sale.
Organize your items –
The better organized your items are, the easier it will be to sell those items. If you try to group like items together (put all kitchen gadgets, dishes, utensils on the same table; decor & picture frames together, etc), it will be easier for people to look thru your items, especially if they are looking for something specific.
For clothes (especially kids clothes), try to put similar sizes together – the less that people have to sort thru your items, the more you will sell. You want to make it as easy as possible for them to find what they are looking for, as often folks are passing by & see your signs, so they just want to stop for a few minutes to see if you have anything they want. The better organized you are, the faster they can browse everything you are selling & find things they want to buy.
Have a variety of ways to display items
The more ways you have to display items, the better! Put out a request on Facebook or to friends & family asking if you can borrow tables and/or racks. The more tables & racks you have, the bigger the sale will appear when people drive by, deciding whether to stop. Plus, you need as much room as possible to display your items. This is especially true of clothes – when people have clothes in large stacks or even boxes, a lot of people don't have the patience to go searching thru to find what they like (especially with used clothes). Clothing racks or even hanging a pole between two ladders (get creative) to hang dresses, skirts, coats are the best ways for people to see what you have. The only time that I use boxes or containers is for displaying books (if I don't have a shelf) – you can put the spine up so people can see the titles to read quickly. If you have a shelf you are selling, use that to display books, decor & knick-knacks & more.
Price everything 
One of the biggest mistakes I think you can make is to not price anything at your garage sale but to leave it up to people to "make an offer". If I know it's a sale where you have to make an offer, I'm more apt to leave & not even look as I don't like to guess on what people are wanting to charge. Garage sales do take some work ahead of time with organizing items & then pricing them, but you will have much more success if you make sure to price items or at least categories of items. You don't need to price all individual items, but you can group items by category (softcover books $.50, hardcover books $1, kids clothes $1, etc ) but make sure that people will know the prices of items that they are looking at.
Fast Ways to Price items: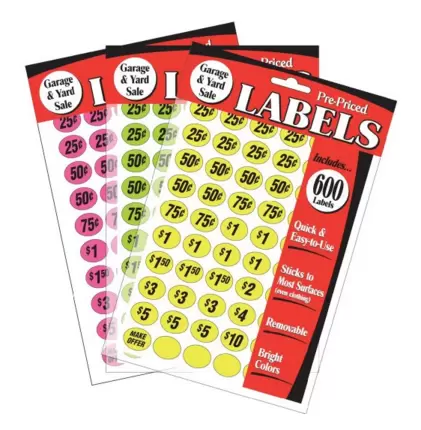 -Color Coded stickers – Buy some small circular stickers or other sized stickers at the store with several different colors. By using colors, you can separate prices between items (green = $1, red = $.25, blue = $.50, etc). Just make sure to have the code by your cash box so you remember all the prices. This is a very fast way to price items but still have them organized & priced for the shoppers to easily know how much something costs. Make sure to have the code for the colors posted close to the tables of items so people don't have to ask for every color.
-Use Pre-Priced Stickers – Another easy way to price items is to buy the pre-priced stickers – so simple to use!
-Arrange on tables with set prices–  You can make it a lot easier to price as well if you have set tables set up with one price. For example, if you have $.50, $1, $5 , $10 tables & then you put everything that is that price on the same table. Make sure you still use color-coded stickers, though, as you won't remember which items you placed on which tables or people might accidentally move items when they are looking at it & walking around with it.
Pricing Guide::
One of the hardest parts of holding a garage sale is knowing how to price your items so that you can sell as many items as possible while still making some money off your items, too. Even after years of holding garage sales & attending sales, I still struggle with good prices to make sure I'm recognizing the value but also pricing it to sell.
Check out the infographic below from Gsalr.com, which is the Ultimate Yard Sale Pricing Guide. It is so helpful as it goes thru each of the categories of items you might sell & approximate amounts to try to sell them. The prices may differ, for example, depending on the condition of the item, so keep that in mind, but overall, it is a great guide with reasonable prices to ask for various household items.I love having a guide like this so that I know that I am in the right ballpark for what I am wanting to price my items.
It's also very helpful even if you are not holding a sale but you love to attend garage sales – to see if people are asking a reasonable amount or if you could try bargaining the price down a little bit with them.

Timing is Everything:
Most garage/yard sales tend to do the best on Fridays & Saturdays. If there is a 3 day weekend coming up, those are even better as people feel they have more time to spend walking around garage sales. Friday mornings are typically your busiest times, when you will find the serious garage sale folks, who do their research & search the websites ahead of time to map out a plan of action of where they will go.
Obviously summer is one of the most popular times to have a sale, but many folks are also looking heavily in the spring as they want to enjoy those summer mornings & spring cleaning is often where they are clearing out their items & maybe looking to refresh some things in their house with new decor and more.
Spring is also when you will find the most neighborhood garage sales. This is ultimately the BEST time to have a sale! If your neighborhood has a yearly sale, make sure to be prepared & ready to go as this will be when you get the largest number of visitors to your sale. You won't have to work nearly as hard at advertising (although I still recommend putting your own ads & signs out so you will stand out & people will make sure to head to your house during the sale). Plus, as I mentioned before, people love being able to browse more than 1 sale at a time & make a morning of their shopping.
If your neighborhood doesn't have a regular sale time, think about starting one up or at least talking to those folks on your street & surrounding streets to see if they would be interested in holding one together.
Tips for Day of Sale::
Have a variety of change – Stop at the bank the night before & get both dollars & coins so you won't be stuck when people bring cash to the sale. You want to make it as easy as possible for them to shop your sale.
Have a designated person sit with the cash box – or wear a fanny pack –  One of the things you have to be careful of (especially if you get a big crowd in the mornings when you open) is not leaving your cash box alone while you're talking to customers. You either need to have one person who will sit there the whole time at a table with the cash box. Or the other option is to wear a fanny pack. I know they are definitely not in style, but when you are moving so much during a sale & people want to pay you as you're helping another customer, these can really come in handy to make sure the money doesn't get left alone. I have a fanny pack that I solely use for garage sales (in fact, it's in my garage sale box with color coded stickers, etc).
Offer food /drinks  – Offering food & drinks is a nice addition to a garage sale for several reasons. If it's a warm, sunny day, folks may get hot & thirsty & you don't want them to leave the sale to go get food or drinks. Also, if they are shopping a neighborhood sale, they may have been shopping for awhile. This is a great time for your kids to man the refreshment table – people love seeing kids being little entrepreneurs & gives kids great experience in learning how to deal with money & talking with people, too.
If you don't have time to make homemade goodies, head to Costco & buy a couple water packs & some of their baked goods. Package them up individually in baggies and then you can even make a little profit by selling them.
You can also check out our article on Best Items To Buy at a Garage Sale, to get a better idea of things folks are looking for.
We'd love to hear your tips for having a successful garage sale and what has worked best for you!! Happy Selling! 
Disclosure: This post is sponsored by GSalr.com and YardSales.net.  All opinions are 100% mine. See our disclosure policy for more details.
Save