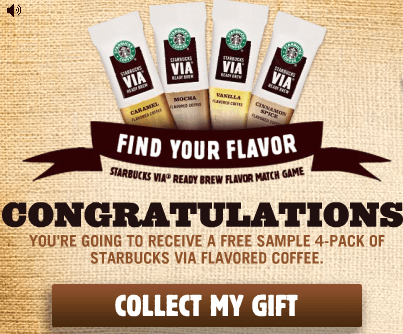 Update: The free sample offer is gone, but if you play the memory game, you can get a $1 off 1 Starbucks Via coupon.
Starbucks is offering a new FREE sample of their new flavored Starbucks Via Natural Infusions.  All you need to do is play the Starbucks Memory Game (it's actually pretty fun! :) ) – and at the end, you'll be able to claim your prize (you do need to be registered at Starbucks.com, too).  The prize is a a FREE 4 pack sample of the new Starbucks Via Natural Infusions Flavored instant coffee. This is a great way to try out the new flavors to see if you like them.
So, I'm curious who has the fastest time…who's the expert memory player??   I was pretty darn slow – let's blame it on it being a Monday morning.  1 minute & 10 seconds! Eek! I'm sure many of you will be faster than me! ;)
Thanks The Thrifty Couple!