FREE Netflix Trial – Save On Your Cable Bill
This post may contain affiliate links and I may be compensated for this post. Please read our disclosure policy here.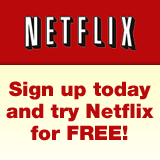 Just a reminder that this deal is still available. 
In my house the cable bill is one of those bills that I always go back and forth on. Do we need to have cable TV? Well, no of course, but we enjoy it. Its pricey though, even with basic packages. So I was excited when some of you had shared how you have cut your cable TV bill altogether , and replaced it with two much more affordable services:
I had previously posted on the Netflix free trial deal, and many of you commented that you have already replaced your cable bill with these services and had great things to say about it, so I had to investigate a little more. I was excited about what I learned.
You can get streaming Netflix for $7.99 a month. The upside is that its full of TV shows and movies, many of which are very family friendly, that you can watch on demand. The price is a huge plus too! The cons are that many of the movies are older, and it is limited on what TV series are available.  The solution that many of you are using was to pair it with Hulu to increase your selection.
The best part of all of this is this: You can try it for free – to see if its something that will work out for your family, before deciding to cut the cable bill out altogether.
Here is how:
(there is also a free limited version of  Hulu you can get).
That means that for anywhere from $7.99 to $14.99 a month you can replace much of what you watch on cable with streaming movies and TV shows when you want to watch them.  The way it works is that you stream these services through a variety of different mediums (smart TVs, Wii, PS3 and more).  You then select what you want to watch, when you want to watch it from their inventory (both movies and TV).
Whats the downside? Well, not every show will  be available (thats why its great to start with the free trial programs, to make sure it works for you). It sounds like sports are limited as well as a few channels like The Food Network. If you are not a huge TV watcher, or sports fan, this may be a great option for you to save.
Have you used either of these services? How have they compared to cable for you?