Fred Meyer Halloween Sale – 50% off Costumes, Decor, Trick or Treat Items & more!
This post may contain affiliate links and I may be compensated for this post. Please read our disclosure policy here.

Fred Meyer Halloween Sale – 50% off Costumes, Decor, Trick or Treat & more!
Starting today through October 31, 2016, Fred Meyer is having a big sale on their Halloween items with 50% off  Halloween Costumes, Halloween Decor, Trick or Treat Items, Halloween Party Items, Halloween Makeup & Jewelry & more!  I headed into Fred Meyer this morning to check out what they had on sale and found some awesome deals I wanted to share with you! I bet that the items will go fast with the 50% off sale, so head into the store soon if you want to find the best selection.
Halloween Costume Deals: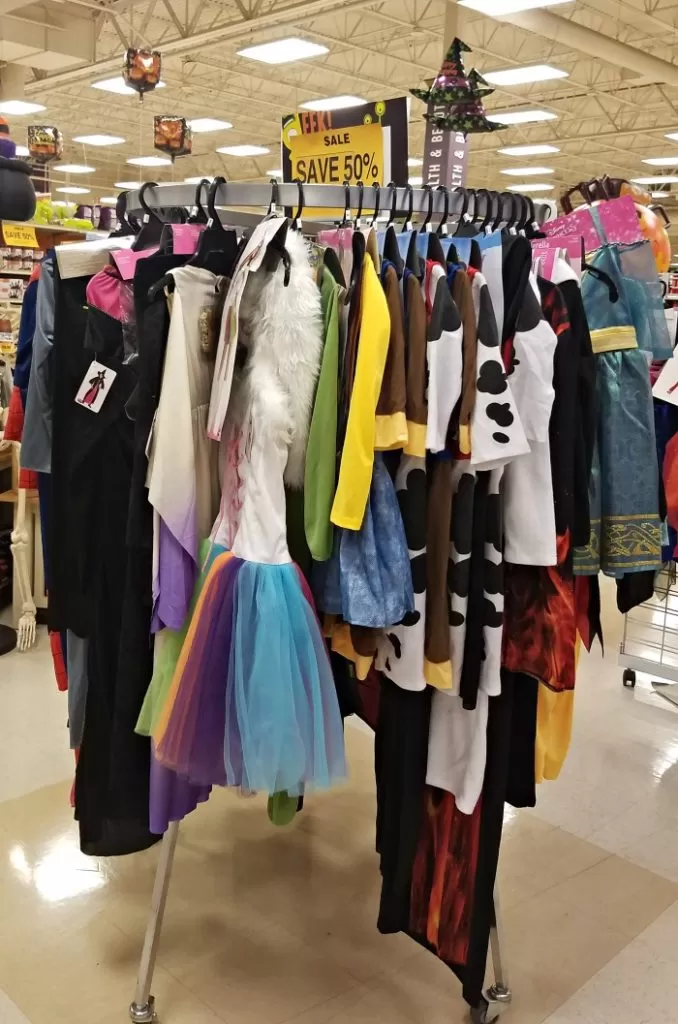 If you still need to find a costume, I found 3 racks of kids costumes as well as 2 racks of adult costumes at my store (every store will vary depending on selection).  But even if you have Halloween costumes for your kids for this year, the Halloween costume clearance sales are some of my favorite to shop because my girls love dress-up, even now my 8 year old is still obsessed.
So, these make the perfect birthday or Christmas presents! It takes thinking out of the box to save on gifts throughout the year by taking advantage of these kind of sales. I often will shop the sales right after Halloween to load up on Dress-Up items for gifts, but this sale is perfect as you are shopping when there is still a great selection and taking advantage of fantastic prices. I found costumes for as low as $9.99 (regularly $19.99) including Spiderman, Unicorn costumes & more.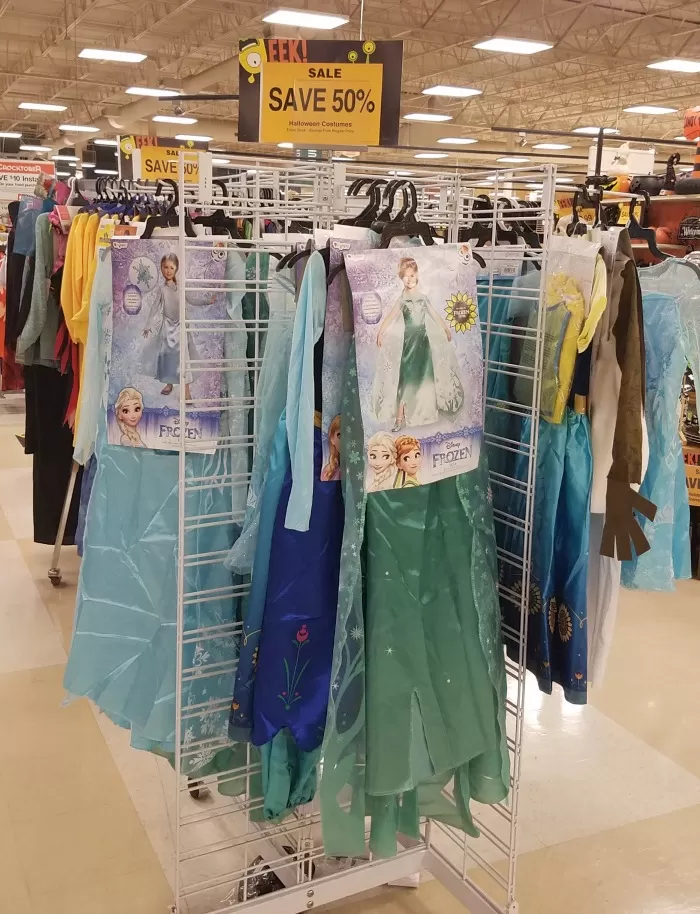 If you have kids who love Frozen, there were about 4 different Frozen type of costumes including Frozen Fever & Olaf at 50% off (most of these were around $17.50 after the 50% off). We just gave my daughter the Frozen Fever dress for her birthday & she loves it!
There were also Spider Man, Minions & more costumes perfect for dress-up throughout the year! I also found some great costume accessories that would be perfect to finish off your costume for this year.  Or a fun Christmas gift that my aunt gave my girls one year as a joint gift was a little box with some random dress-up items so they could use their imagination to come up with some fun costume ideas. Even now, my girls love to have friends over & have dress-up parades showing off all their funny creations using dress-up items.
Some of the fun costume accessories I found at Fred Meyer for 50% off were pirate hats, butterfly wings, fun, sparkly masks, bright striped tights & more! The masks were $5.99, so after 50% off, would just be $2.99! The Darth Vader mask was $9.99 so $4.99 after sale!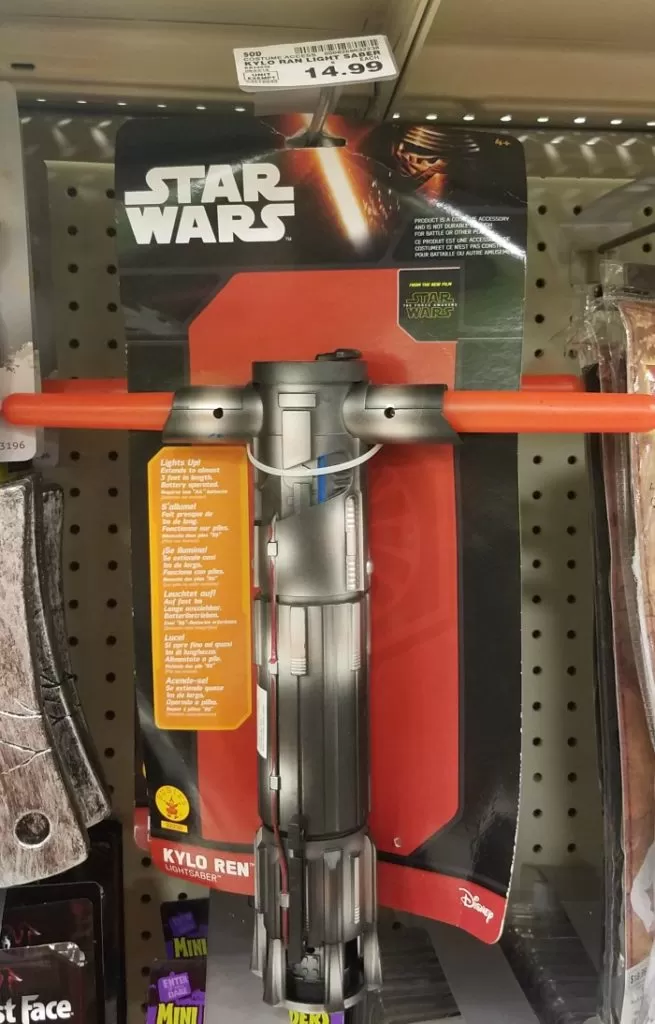 I also found a Star Wars Kylo Ren Lightsaber (that extends to almost 3 ft) for $14.99 – so after sale that makes it just $7.49! (The lowest I've found these on Amazon are for $9.49, so you're saving $2 with the Fred Meyer sale)
Halloween Decor::
If you are having a Halloween party or get-together or just want to complete your Halloween look inside your house, make sure to check out all the fun decor items on sale for 50% off at Fred Meyer.  The large platters which are perfect for serving food at your house or bringing to a Halloween party are just $6.49 (reg $12.99).  The Halloween bowls in the back (for holding candy for trick or treaters) is also $6.49 after the 50% off (reg $12.99).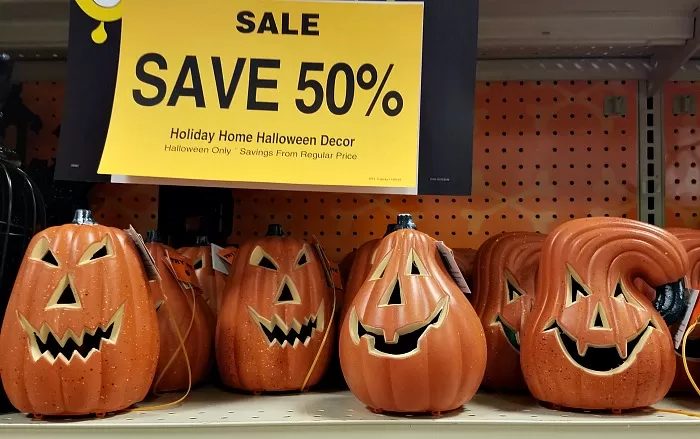 I thought these Light Up Pumpkins were cute to add to your decorations on your porch for trick or treaters or just to add to your decorations for a party or get-together! They are just $3.99 (reg $7.99)
Halloween Trick or Treat Deals: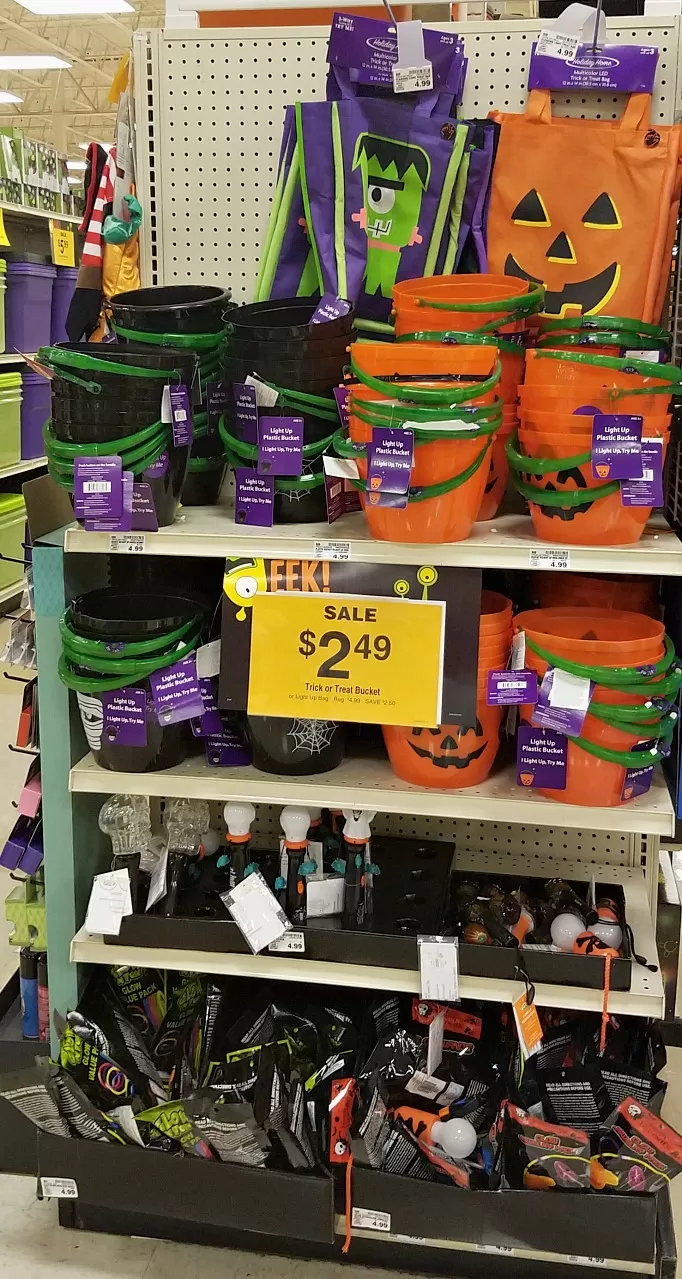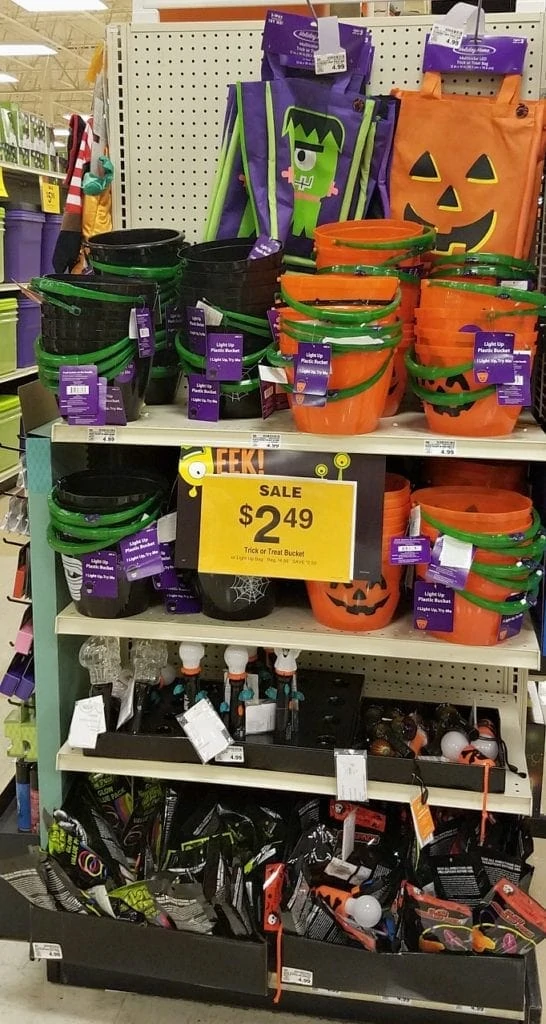 If your child is in need of a new trick or treat bag or some light-up accessories to carry as they trick or treat in the dark, Fred Meyer has a big selection of items to use.  I found these Light-Up Trick or Treat buckets on sale for just $2.49 (reg $4.99) – you press the button on the handle & the handle lights up! They also had two different designs for Halloween fabric treat bags for $2.49. There were a lot of fun light-up items to hold as well for $2.49!
 Halloween Party Deals:
If you are hosting a Halloween party or if you are helping with Halloween parties at your child's school, you can find some fun items for parties on sale for 50% off, too!
I found this  Halloween Bingo Game (with 16 boards, 192 markers for the game & a calling card) for just $2.99 (Reg $5.99).
Halloween Makeup & Jewelry: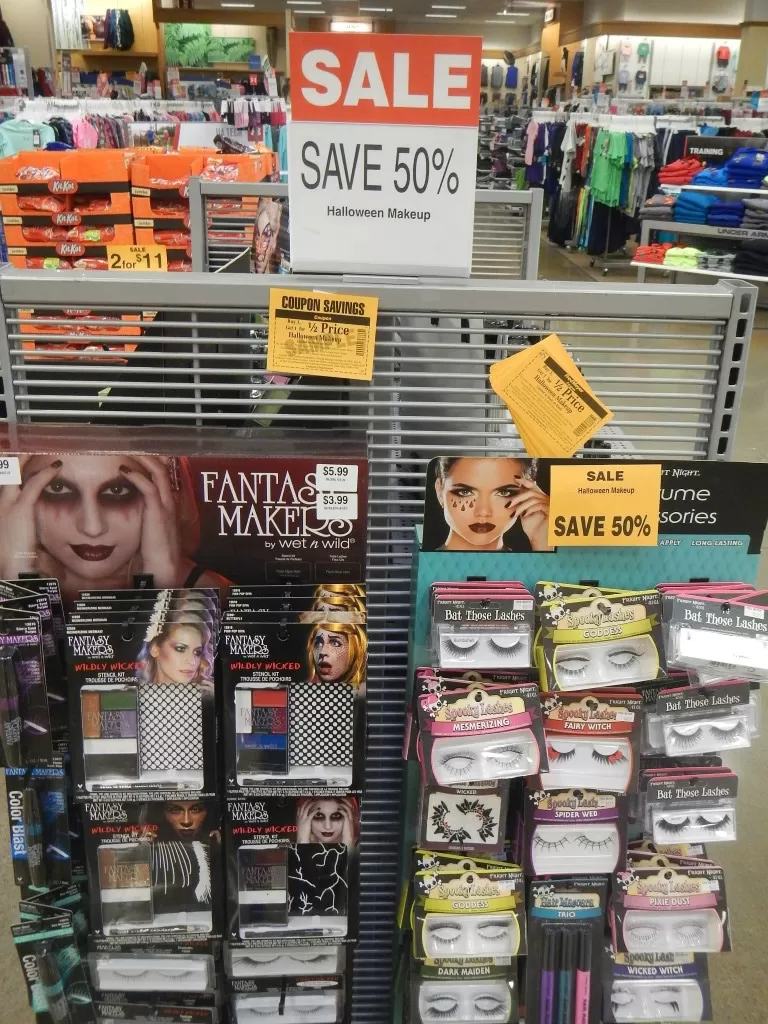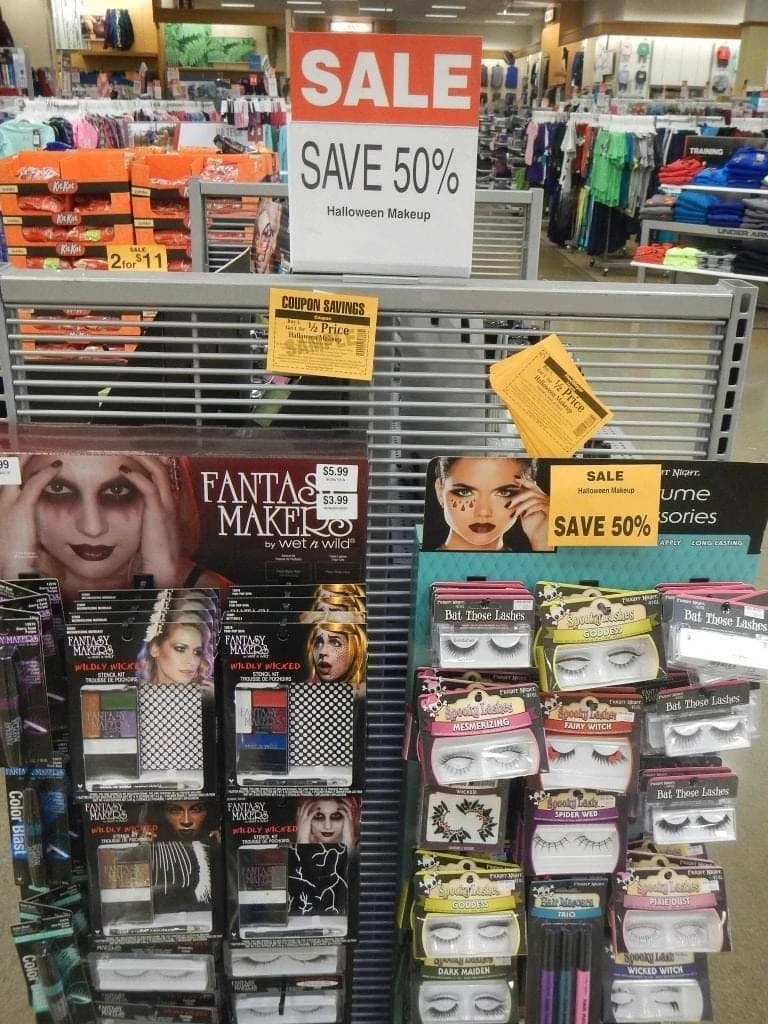 Halloween makeup & jewelry is also on sale for 50% off to complete your costume.  Even better, Fred Meyer is having a sale on Halloween makeup with an in-store coupon for Buy 1 Get 1 50% off Halloween makeup. You can combine this coupon with the 50% off sale, for some awesome finds (your store may have some items that could be used regularly as well for makeup, not just for costume makeup).  These could make for some fun stocking stuffers for your teen girls, too!
Check out how Angela from The Coupon Project used the sale & in-store coupon to find Purple mascara for $.74 & Glittery Eyeshadow for $1.99! (Thanks to Angela for the picture of the makeup sales)
Let us know what fun Halloween items you find at the 50% off Halloween sale at Fred Meyer!
This is a sponsored conversation written by me on behalf of Fred Meyer. The opinions and text are all mine.