This post is sponsored by Savings.com
Finish Line Shoes at Macys – Great Prices Right Now #FinishLineAtMacys
My family loves to shop at Finish Line for shoes, and I just recently learned that there are Finish Line stores inside of many Macys stores (and online at Macys.com too). I love this, as I am able to find some great sales on the pricey name brand shoes my kids love, by shopping through Macys.  It can be tough to find affordable shoes when kids get to that age that they like certain brands, so shopping the Finish Line Sales in Macys make for a nice compromise for us (they get the brands they want and I get the savings I want)!
Save 40-60% on Select Women's, Men's and Kids' Styles at the Finish Line Sale at Macy's – Shoes Start at UNDER $40!
Be sure to check out this Finish Line Shoe Sale with up to 60% off shoes, at Macys going on right now, for super deals for your family too. This is a great sale for all kinds of shoppers. If you are looking for really low prices you can find name brand shoes as low as $20 (search by price: low to high to find the biggest mark downs)! If you like sneakers, there is something for everyone in this sale. We found steals on shoes for women, kids and men, and across many of the most popular brands like Nike, Adidas, Converse, Sketchers and more!
This sale is a great opportunity to pick up a couple of your kids favorite brands at steep discounts for Spring sports too. The sale goes from today through 3/4. I love to buy their sporting shoes ahead of time during these sales, as if I wait until the season they need to play in, it seems to be a lot tougher to find the deals.
Finish Line Shoes in this Macy's Sale That We Loved!
There are some super deals for Finish Line Kids shoes right now. We found shoes starting as low as $20. here are a couple we loved.
Slides for $20
We found a handful of different slide options, like Nike, Champion, Adiddas and more for just $20. My kids live in slides for much of the summer, so now is a great time to grab these at a nice savings.
Finish Line Nike Shoes
My kids love Nikes, so it is hard to go wrong if I can find a great deal on this brand. Right now they have some great prices on Nike shoes in this Finish Line sale, for the entire family. We found Nike Sneakers starting as low as $30 here, with a handful of options at $40 and under.

Find lots of kids styles for under $30 here too, if you are shopping specifically for kids shoes. We found some great prices on Adidas, Nike Renewal Revival running shoes for boys, and so many more styles for great prices.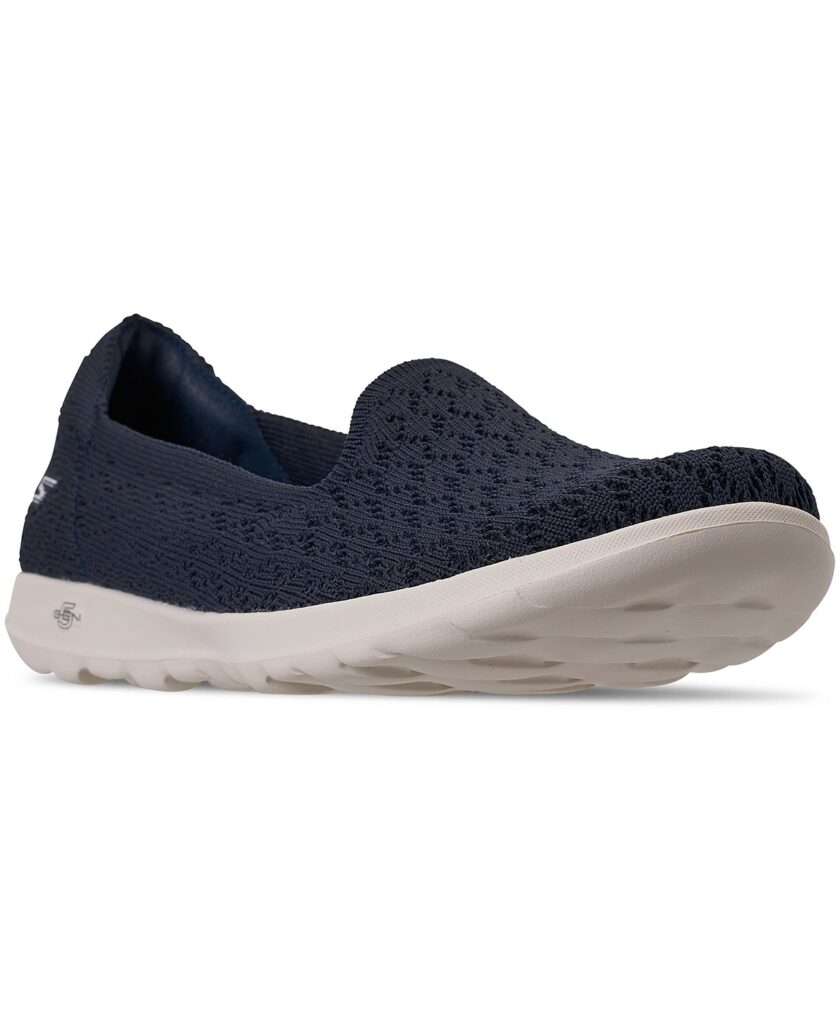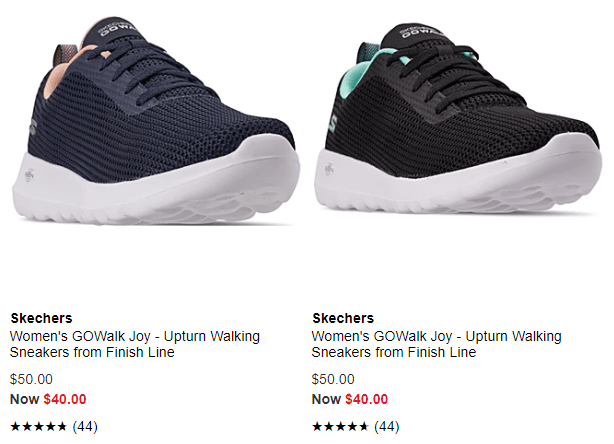 If you ladies are looking for a great value on some super comfortable walking shoes, there are Sketchers GoWalk Joy Shoes marked down to just $40 (reg $50). I have these in another color, and they are so comfortable (I use them as my travel shoes, so I can explore all day and stay comfortable).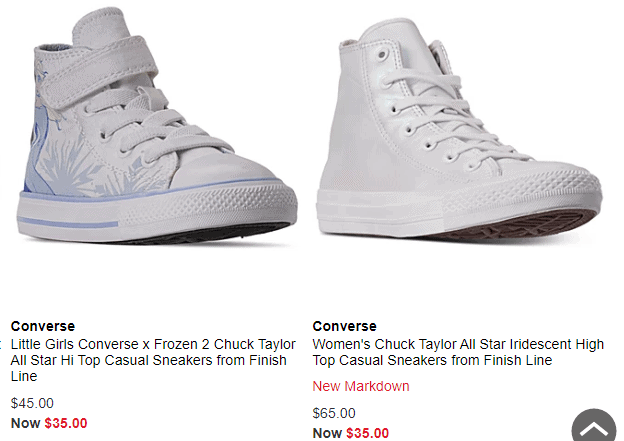 Here are some great prices on the Converse Chuck Taylors if your looking for a casual tennis shoe. They are as low as $20 for toddlers, $25 for kids and $35 for adult shoes right now (they have Frozen 2 Chuck Taylors if one of your kiddos is a fan)!
Kids BearPaw Boots starting at $20!
There are a number of great deals on the popular BearPaw boots for kids sizes here (many in the $20 – $30 range)!
There are so many great prices on shoes right now. Shop the full Finish Line end of season sale at Macy's online here now.

A Couple of Tips for Shopping this Finish Line Sale::
When shopping the sales, sizes can be limited (especially for some of the lowest priced shoes) so choose your shoe sizes that you are looking for on the left, and then search. You can then sort by price (low to high) to find some of the best deals in the size of shoes you are looking for.
If there is a favorite brand you are shopping for, you can filter the shoes by specific brands on the left hand side too.
If you are shopping for someone who can fit both kids and women's sizes, try checking in kids sizes first. They are often a little bit less then the adult prices.
Select In Store Pick Up where available to save shipping costs. In store pick up is not always available though, so pay attention to that up front.
Both Macys gift cards and Finish Line Gift cards can be redeemed at Macys Finish Line Locations (as long as you are purchasing Finish Line Merchandise to use the Finish Line Card).
You cannot use Macys Extra Savings passes at the Finish Line stores in Macys locations.
Finish Line Return Policy
Shop the Finish Line Sale Here Now!