Find out how to Stay Connected this Holiday Season + Enter to win an American Girl Doll for Cyber Monday
This post may contain affiliate links and I may be compensated for this post. Please read our disclosure policy here.

**Giveaway is now over – congratulations to Kristen E as the winner of the American Girl doll!! We have sent an email to let you know you won!
******************
Cyber Monday is here and to celebrate we are having a Flash One Day Giveaway! We are giving away a new American Girl Truly Me Doll + Extras! Included with the American Girl doll is also an extra outfit + 2 packages of "Doll Do's" – cute little hair clip-ons.  The value of the Truly Me Doll alone is $115 + the extra outfit & hair items, the price is definitely over $130.
Don't forget to stay tuned in when we share all the Cyber Monday deals during the day today.  We will be sharing all of the best Cyber Monday deals on the blog as well as our special email lists, Facebook, and Twitter!
We wanted to take this opportunity to make sure you know the best ways to stay connected and stay on top of all these deals.  We have a variety of ways to make sure you don't miss a deal!
Newsletter for Thrifty NW Mom:
This is the single best way to make sure you don't miss any information by signing up for one of our newsletters. That way you can get the information directly to your inbox!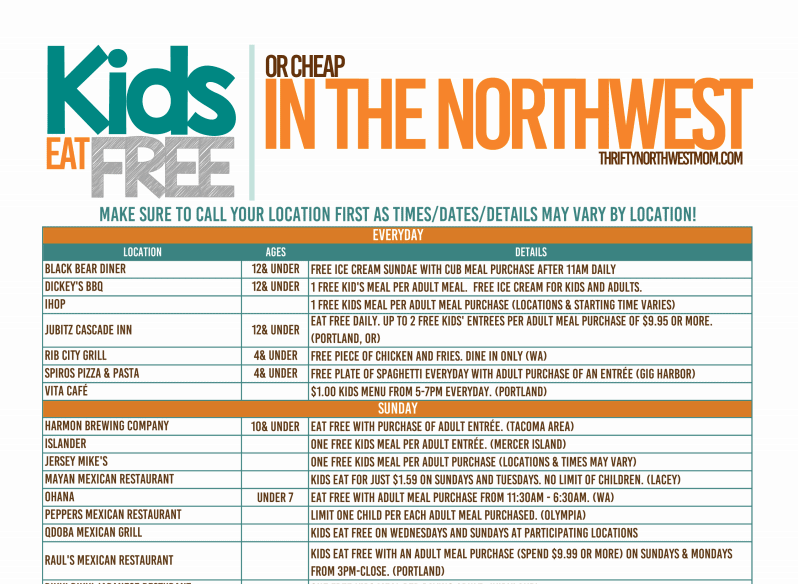 Plus, when you sign up for any of our newsletters, you will receive a FREE Kids Eat Free Printable direct to your email (see preview above) to print off & keep it handy so you know which restaurants offer a free kids meal as well as the days they are available. This is a great printable to keep handy in your car or put on your fridge to remember the dates for the kids eat free nights.
*This FREE Kids Eat Free printable is a special bonus JUST for our email subscribers!
Email Newsletter Options:
Daily Newsletter – Will arrive in your inbox once a day around 4pm pst with all of the information we have posted on the site within the last 24 hours
Express Newsletter – Will send a new email every half hour if there is a new post – if you want to make sure you don't miss a *hot* Black Friday or Christmas deal, this is the best email to sign up for as you will be notified quickly for all new deals
Northwest Newsletter – This is a daily newsletter, which will arrive in your inbox around 4 pm pst, featuring only events and activities around the Northwest (WA, OR or ID) which we have posted in the last 24 hours
Thrifty Northwest Mom Facebook Deals Group::
For those of you who use Facebook, you will want to make sure you are signed up for our TNWM Facebook Deals Group where we will be sharing all of the deals that we share on our blog, plus *HOT* deals that may not last long enough for us to write it up, that we want to make sure you don't miss direct from the websites!
We offer this option as Facebook pages have changed quite a bit in the past few years and they are only showing our Facebook posts to less than 1% of the number of fans who "like" our page. This means that even though you like our page & want to get updates, you will see a very limited number of our posts in your news feed.
With the TNWM Facebook Group, you can set up the notifications to either see all the notifications or just watch your left sidebar for notifications & check in occasionally. You will learn of the deals the fastest with this group, so this is definitely your best bet for social media! It's also an awesome community where you can ask questions about what you're looking for & where to find the  best deals & everyone in the group is so helpful to each other.
More Ways to Stay Connected:
Hopefully this has given you some different ways you can stay connected and keep up-to-date on the latest information here at Thrifty NW Mom. We welcome your feedback if you have any suggestions on how to make it easier for you to navigate our site or any other feedback for us on the types of information you like to see shared on the site.
Enter to win an American Girl "Truly Me" doll with brown hair & brown eyes. The American Girl doll will also include an outfit as well as 2 Hair Accessories

The American Girl "Truly Me" doll with outfit costs $115 on the American Girl website. Plus this includes a new outfit as well, which makes this at least a $130 value We will send the doll to arrive before Christmas, so it would make for a great gift idea!
This giveaway will end on Cyber Monday at 10 pm PT.

The winner will be drawn using a random number generator. We will  email the winner.  The winner will have 48 hours to contact us, otherwise a new winner will be drawn. US residents only & you must be 18 yrs or older to enter the giveaway. This giveaway is not affiliated with Facebook in any way.
Here's how to enter this giveaway::
1st Entry (required entry): Leave a comment about who you would like to give the doll to. 
Extra Entries : (make sure these are all separate comments, with a comment for each entry)
2) Subscribe to a Thrifty NW Mom newsletter – you can find all of our newsletter options HERE.  .
3) Join our Thrifty NW Mom Christmas Deals Facebook Group – this is the best place to stay up to date
4) Share this giveaway – either by Facebook, Twitter, thru  email, word of mouth, etc. We have share buttons on the top and bottom of this post to make it even easier to share. Leave a comment stating how you shared this giveaway.
Disclosure: The Truly Me American Girl Doll will be given to  a Thrifty NW Mom winner randomly chosen.  We did not receive any compensation for this giveaway; we wanted to offer this giveaway as a thank-you to our readers.  All opinions are 100% mine. See our disclosure policy  for more details.
Save
Save
Save