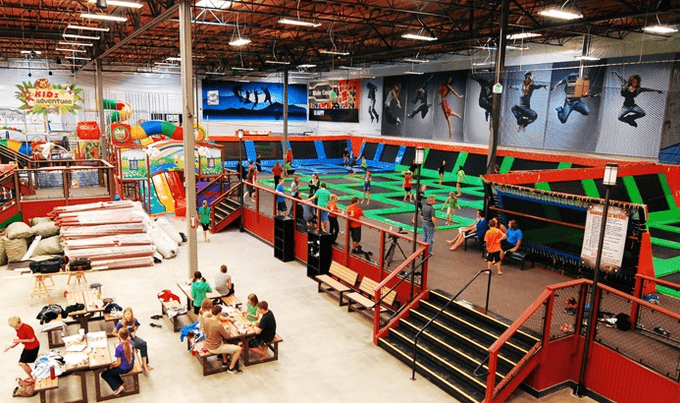 Elevated Sportz
Elevated Sportz is an indoor trampoline park located in Bothel, Wa. It is a one stop entertainment spot, offering fun for the whole family, including things to do for all ages.  Right now, they are on Groupon, with discount tickets to visit & take advantage of the activities. {make sure to read fine print for ages, etc}
Here's what they are offering:
More information about Elevated Sportz:
Elevated Sportz combines the gravity-defying fun of a trampoline center with the enchantment of indoor playground in one all-encompassing entertainment arena. Inside the two-sectioned play center, bouncers can hurtle into the air and play games of dodgeball and basketball on wall-to-wall trampolines equipped with protective pads. On the other side of the building, a multi-tiered jungle gym with hiding spaces, twisting slides, and ball pits entices younger visitors to expunge pent-up energy or practice stealth maneuvers for upcoming cookie-jar raids. Visitors watching their family and friends defy gravity can relax in the cafe with a sandwich and a smoothie while surfing free WiFi.
Fine Print for the Groupon Deal:
Promotional value expires 90 days after purchase. Amount paid never expires. No exchanges or upgrades. Not valid with other discounts or special programs including 4 Hours of Freedom, or other discounted program. Must be used all at once. Recommended to come in before 7pm on weekdays in order to use for full 2 hours. We close at 9pm on weekdays. Groupon purchase does not guarantee immediate entry. Admission is subject to availability. Please call or check our calendar online for availability and closures. Promotional value expires 90 days after purchase. Jump tickets are for ages 3+ years old, Play tickets are for ages walking to 8 years old and Combo tickets are for ages 3-8 years. Must be 48â or taller to participate in the ninja course. All participants must have a valid waiver. Participants under the age of 18 must have a waiver signed by a parent or legal guardian. Not valid on federal holidays. Limit 1 per person, may buy 1 additional as gift(s). Merchant is solely responsible to purchasers for the care and quality of the advertised goods and services.
Check out Sia's Review::
(Sia & her family visited this trampoline park a few years ago, but it will give you more information about what it's like)
My husband and I have kids ranging in age from 4 to 15. It gets challenging to find a spot to head to that will entertain everyone from preschool to highschool kids, so we were looking forward to taking the kids to Elevated Sportz for a day of recreation for all!
Some highlights from our visit to Elevated Sportz: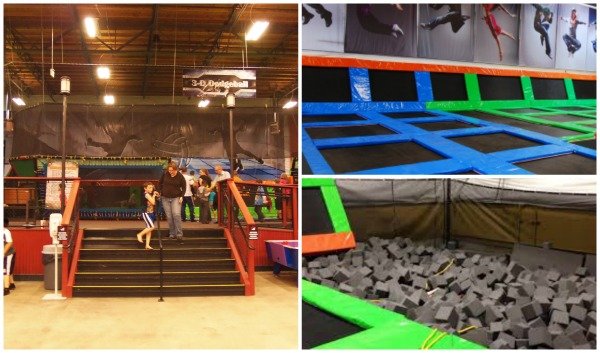 When you walk in to the facility the trampolines are straight ahead. The entire back wall is made up of different trampoline areas. The far left has a foam pit that you can run, jump on a trampoline and fly, flip or dive into that foam pit shown above. All of my kids loved this spot (but note, we did see one visitor end up injured from getting too wild – so be careful!). Next to the foam pit are two large trampoline areas that are separated into square jumping areas with padded areas in between. The walls are also trampolines! These were another place that we could all play together as a family, from you my youngest to oldest, and have a great time.
Next to the general trampoline areas are a dodge ball area (on trampolines) and basketball courts (again on trampolines). Both of these spots were great for my teen (and dad), but not for my younger kids.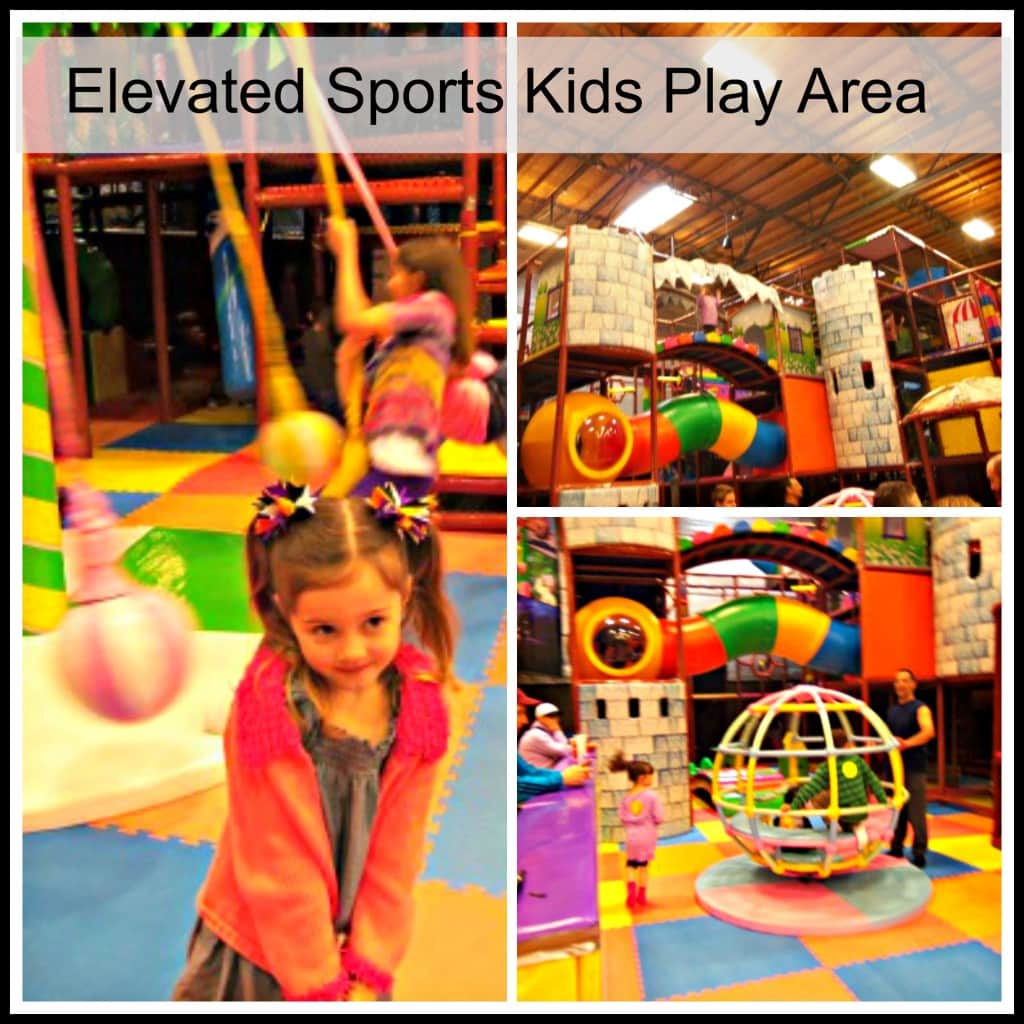 While their big brother got wild in the Dodgeball arena, my 4 and 6 year old enjoyed some time in the Kids Play area. It has a ball area for smaller toddlers, three large slides,  a merry go round, swings and plenty of climbing fun for kiddos. There is a bar-height sitting area in front of the play area for parents to keep and eye on their kiddos. There is just one entrance, so it makes keeping an eye on them fairly easy.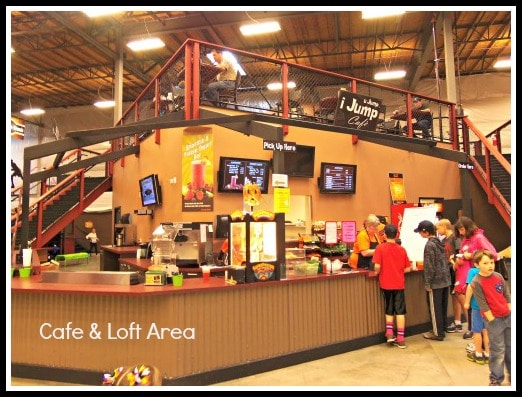 If your crew gets hungry there is a cafe and loft area to take a break. If your kids are older, and you are comfortable letting them roam on their own, they have free wifi up on the loft area for your convenience.
Jump or play tickets are $11 for 60 minutes (combo tickets, which provide access to both for kids 3-10 are $15 for 90 minutes). I recommend checking their promotions page though, as they offer various specials throughout the week that can really help you save. My personal favorite is the friends and family night, where you can get a one hour pass for 4  and a large pizza and 4 drinks for $40!
Things to know:
If you don't want to risk wait times I would suggest going during the week. The weekend (especially Saturdays) often have many larger parties that have reserved time. We went on a Sunday and there were 4 large groups, and we had to wait over 30 minutes to even get in to jump – so if waiting is not fun for you, try heading out on a weekday (or evening). Elevated Sportz did tell me that Sundays are generally better then Saturdays (crowd-wise) if you want to go on the weekend.

If it's your first visit, fill out the required Waiver online before heading out. It will save you lot of time.
You can also purchase your tickets online, which may save you even more time. When you purchase your tickets online, you are buying  a specific time slot. When they get to capacity at that time, they add a wait sign in the lobby and if you do not already have tickets you have to wait until there is capacity available to buy a ticket. Our check in time ended up taking us over 30 minutes to fill out waiver, plus we then had to wait an extra 30 minutes to jump because by the time we were done filling out our waivers too many people had entered – so these two steps alone could save you more than an hour!

You must wear grip socks or bare feet (they will ask you to remove your socks if you attempt to jump in regular socks). You can purchase grip socks there, but there is a fee if you choose to do that.

If you have little kids you will have to choose between the kids play area listed above or the trampolines. If you want them to have access to both areas, you will need to purchase a combo ticket (it's $4 more, but includes 30 minutes of extra time).

Adults that are not jumping do not have to pay to get in. Ticket holders get a sticker to wear that states what your ticket is and the time that you are done jumping.
Disclosure: Elevated Sportz provided us complimentary admission to review their Trampoline Park.   All opinions are 100% mine. See our disclosure policy  for more details.