Cake Mix Cookies – A Box of Cake Mix Makes Different Kinds of Cookies!
This post may contain affiliate links and I may be compensated for this post. Please read our disclosure policy here.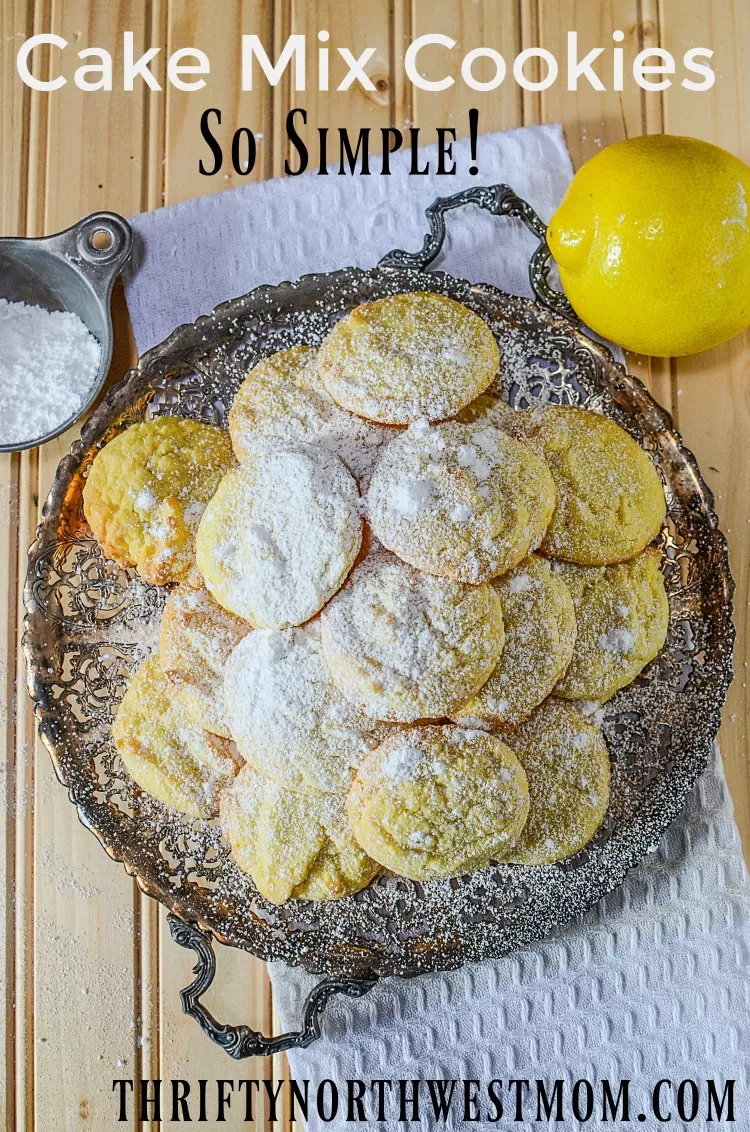 Cake Mix Cookies – So Simple!
I love to use cake mix, as a short cut cookie recipe, for those times that I get tasked with bringing something to a school event, picnic, or any other celebration last minute. Or when I am just too tired to put together an elaborate dessert but my family is craving something sweet. They are so easy to make, plus if you coupon you know you can get cake mix for under $1, so that makes them super frugal too!
Another thing I love is how versatile this recipe is. You can keep a box of cake mix in the pantry and the other ingredients are ones that I always have on hand, so that means I have a dessert on hand that I can change up depending on what other ingredients I have on hand. I can make lemon cookies, mint cookies, snicker-doodles and more. I keep essential oils on hand too, so I can use a drop or two of lemon, or peppermint to flavor them too.  I use the base recipe, and then adapt it to make all different type of cookies.
Step 1: Dump all ingredients in mixing bowl together
Step 2: Mix just until blended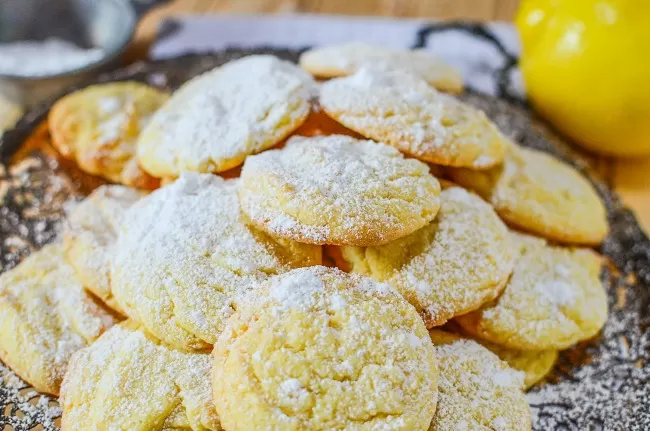 Step 3: Bake & Enjoy. It's that easy!
Printable Recipe for Cake Mix Cookies:
Here's a printable version of the Cake Mix cookies recipe for you to print off to put in your recipe binder or notebook.
Print
Cookies Made With Cake Mix
---
One Box of Cake Mix
One Cube of Butter or Margarine
One Egg

1/4 Cup

of Vegetable Oil
---
Instructions
Mix all ingredients together until blended.
Drop tablespoon size of dough onto cookie sheet.
Bake at 350 degrees for 12 minutes, or until golden brown.
Let cool for 5 minutes.
Recipe Card powered by
Cake Mix Cookie Recipes:
Now is the fun part. Deciding what kind of cookies to make! Here are some of our favorites:
Lemon Cake Mix Cookies Recipe
For this recipe use a lemon cake mix. Once your cookies have slightly cooled, sprinkle them with powder sugar. If you do not have Lemon Cake mix, add in 2 drops of lemon essential oils to a white or yellow cake mix.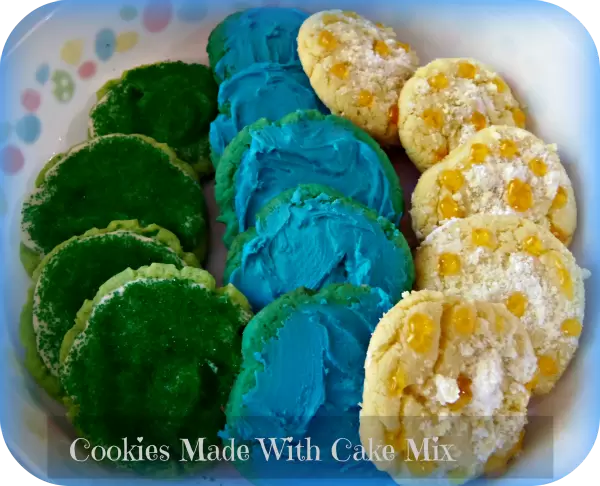 The Rainbow Cookie
These are fun for kids events. Divide your dough into three parts and add three different food colorings (one to each part of the dough). Cook up, and frost and add sprinkles for added fun. The kids love these ones! This will work with white, yellow or lemon cake mixes.
Snickerdoodles
For this recipe you will want to omit the oil (you want a denser dough). Use white cake mix. Once your dough is made, roll the dough into small balls. Dip the balls into a mixture of cinnamon and sugar and coat well. (Note – this is the easiest way I have ever made Snickerdoodles – but they do not taste quite as good as the real deal….but a great way to make them quickly).
Chocolate Chip Cookies
Start with a yellow cake mix. Add a package of chocolate chips to the dough and fold in.
Spice Cookies Or Pumpkin Spice Cookies
Use a spice cake mix or pumpkin spice cake mix, and once they are cooled frost with cream cheese frosting.
Almond Butter Cookies
Use a white cake mix for this recipe, and add a tsp. of Almond extract. You will want to use real butter for this recipe for the best result. Add almond extract to your frosting too for added flavor!
Chocolate Mint Cookies
Use a chocolate cake mix as your base for this recipe. Add a tsp. of mint extract or 2 drops peppermint essential oils and chocolate chips. Another variation of this recipe uses a yellow cake mix, 1 tsp of mint extract, green food coloring and chocolate chips.