Discount Tickets to Ringling Bros. & Barnum & Bailey Circus Coming to Seattle & Portland Areas
This post may contain affiliate links and I may be compensated for this post. Please read our disclosure policy here.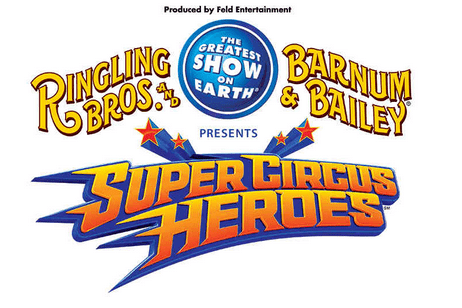 The Ringling Bros, and Barnum & Bailey all new Super Circus Heroes show is coming to Portland in early September, to Everett's Comcast Arena from September 18 – 21 and to Kent's ShoWare Center from September 25 – 28. The news release is embedded below.
Here are a couple of discounts available for this years show: 
Tickets start at $12.00 plus $4 handling fee on Goldstar.com for the Portland Show, and $14 for Puget Sound area shows. There are also discounts for some of the higher priced seats. Details here. (Be sure to select your city as either Seattle or Portland to find these prices)
General tickets start at $20 each. You can get $5 off per $20 Level tickets; valid only on the Saturday 3:30pm and Sunday 1:00pm performances. LIMIT 4 DISCOUNT TICKETS.  Discount code is MOMBLOG

valid for both Kent and Everett

Kids tickets (ages 2-11) available for only $10 each (valid for select seating on Friday 7pm, Saturday 11:30am & 7pm and Sunday 5pm shows; limit 4 kids tickets per full price ticket purchase). You can purchase these at Comcast Arenas site, or Showare site.
Opening Night tickets discount priced at $14 each (on select seating; not valid for VIP or Floor Seats)
More detail on this years Ringling Bros Circus:
Ringmaster David Shipman introduces an international cast who perform seemingly impossible displays of strength, speed and precision.   Award-winning, Italian clown Davis Vassallo makes his American debut as "Mr. Boredom" who takes audiences on a journey to find a super power of his own while witnessing high-flying action and surprises along the way. From the power and concentration of the Shaolin Warriors of China to the whirling energy of the high-flying Cuban Comets and thegraceful flexibility of the Russian super-vixen Lightning Rods,audiences will see feats they never dreamed were possible! And what Ringling Bros. show would be complete without a menagerie of exotic animals such as dogs, ponies, camels and of course the world famous Ringling Bros. performing pachyderms.
Be sure to arrive one hour early before show time to experience the All Access Pre-Show "Super Circus Hero Training Camp" where families can step onto the arena floor to meet our performers, try on costumes, get an up-close look at our exotic performing animals, learn super human circus skills such as juggling, wire walking, martial arts and much more!