Dining Room Makeover Inspiration with Olympic Paints + $50 Lowe's Gift Card #BringOnTheColor
This post may contain affiliate links and I may be compensated for this post. Please read our disclosure policy here.
Disclosure: This post is a sponsored conversation by The Motherhood and Olympic Paints. All thoughts are 100% my own. 

Dining Room Makeover Inspiration with Olympic Paints
+ $50 Lowe's Gift Card Giveaway (Giveaway over)
*Giveaway is now over! Winner has been emailed – thanks to all who entered!
*****************
Do you remember this summer when Sia shared this amazing transformation of an old bookshelf and a candelabra from her wedding into a gorgeous hutch (pictured above).  She was able to seamlessly turn these pieces (an old shelf & a decor piece that has special meaning) into an amazing piece of furniture using Olympic Paint to tie it all together and make it look like it was one piece of furniture instead of multiple pieces. She also used two paint colors, the Coffee Bean color & the Crystal Oasis, to give it an added element of vintage with the distressing techniques she used.
I loved Sia's creativity in using these design elements together & the transformation that happened when she used the paint to tie all together.  In fact, seeing her creativity with the paint & checking out the design tools on Olympic Paint myself has inspired me to finally start painting some different rooms in our house. We have lived in our house for 2 years, but still have white walls as I have been waiting for inspiration to hit me with paint colors to choose. I grew up as a military kid, so we moved every 2 years until I was in college, so we were never could paint as we either were renting the house or had to think of the resale value if we would sell our house after a few years. Even though I've now been married for a number of years, we also have moved a fair amount, so we have only painted a few rooms in our houses. But, we now have a house that we would like to be in for years and we are so ready to start painting. Our number one priority for a painting project for 2017 is to paint our dining room.
As I shared, though, I don't have a lot of experience in painting rooms, so I've been holding off as I wasn't sure which colors to choose & how those colors would look in the room. I am honestly a little gun-shy when it comes to painting as I want to love the color & not be disappointed.   However, I have been using the design tools on the Olympic Paint website to try different color combinations & see what looks best together, as well as look at the color combinations they have put together. I also have checked out the Olympic Paints Pinterest page for more inspiration as you can search boards for specific colors like Blue Paint, Grey paint, etc.
We have pretty off-white wainscoting on the bottom of our dining room wall, so wanted a pop of color for the top of the walls.  We will go with more neutral grays in the majority of the rooms (possibly the Free Reign color as shown below), but there are a few rooms like the dining room that I am excited to have that pop of color.

The colors that I am leaning towards are the Colonial Aqua as the main color & then using these other colors (Free Reign, Gypsum & Little Bear) as the coordinating colors for the furniture & decor pieces. We have a hutch that we picked up off Craigslist that I would love to paint with Little Bear & Gypsum & create the distressed look similar to how Sia distressed her hutch with 2 colors.
Mood Board::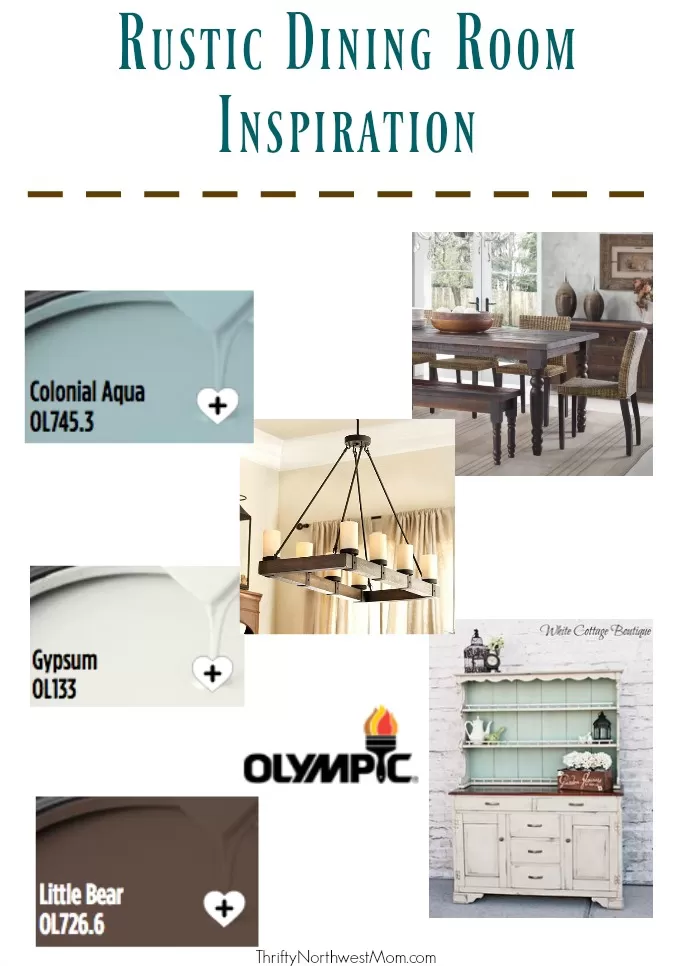 I am someone who needs to see how everything will coordinate & pull it all together, so I created a mood board for inspiration for our dining room to get us excited about painting & start shopping the sales or garage sales to find the decor items to match this color scheme.  I'm excited to have more direction & get started on this new project after the holidays in 2017. Paint can make such a difference to make a house feel more like a home, giving it that warm, comfortable feeling and it's such a cost-effective way to make a difference in a home as well.
Olympic Paints & Stains: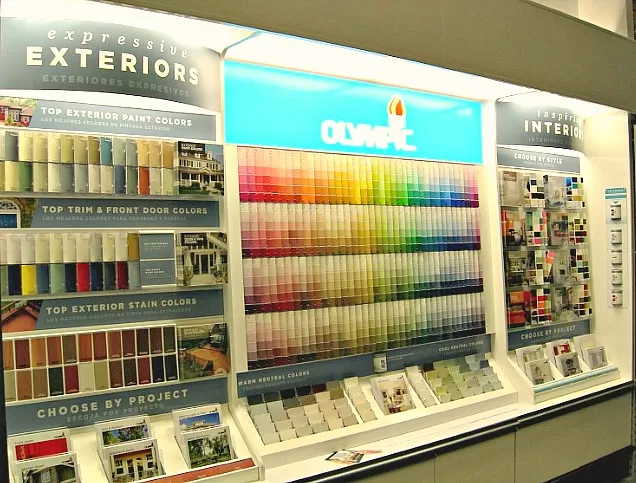 Olympic Paints and Stain colors are sold exclusively at Lowe's stores. You can head to the Lowe's Olympic Paints & Stains Color Center to see the array of colors & stains they offer, as well as affordable paint samples. They offer so many choices, from light pastels to dark accent notes.  It's an opportunity to look at the paint colors & stains all in one place and organized easily so you can compare shades easier.
The Olympic Paints & Stains Color Center also offers a variety of brochures that you can browse & take home.  You can browse the brochures as organized by Lifestyle, Project (set up by room or specific projects) or traditional paint chips to find the options of colors. These are organized in a way to make your paint selection easier based on the way you like to work on your projects.
You can also use the Olympic Paint design tools online.  For someone like me that can be  undecided & not as comfortable using paint in my house, I really like being able to browse the popular colors and use the color wheels, as well as even upload a picture of my room using their Paint Visualizer Tool. This way I can test out different paint colors to see which color would work best for my dining room.  I struggle with knowing the right combination of colors, so Olympic Paints makes it easier for me to know which color combinations work well together so I can be confident in choosing a paint color that we will love.
Follow Olympic Paints for more home makeover project inspiration::
Giveaway –  $50 Lowe's Gift Card 
We are offering a special giveaway so that you can tackle a home improvement project at your house! One Thrifty Northwest Mom reader will win a $50 Lowe's gift card!  This will give you a chance to head to Lowe's Olympic Paints & Stains Color center to check out all the colors of paint & compare shades for that home project you want to work on this year.
This giveaway will end on Monday, October 17th, at 9pm pst.
The winner will be drawn using "And the Winner Is" plugin and announced on the blog.  I will also email the winner. The winner will have 48 hours to contact me, otherwise a new winner will be drawn. US residents only & you must be 18 yrs or older to enter the giveaway. This giveaway is not affiliated with Facebook in any way.
Here's how to enter this giveaway::
1st Entry (required entry): Comment below and let us know what home improvement project you would do using Olympic Paints or Stains (paint a room, a piece of furniture, etc). Or share what is your favorite Olympic Paint or Stain color.
Extra Entries : (make sure these are all separate comments, with a comment for each entry)
2) Subscribe to the Thrifty NW Mom emails (must be verified)
3) Leave a comment here saying you "shared" this post using one of the share buttons at the bottom (on this post – not on Facebook! )