Coach Handbag Clearance Sale – Semi Annual Sale
This sale is over now, but you can still find great deal on Coach products in our Coach Factory Outlet Sales post!
Coach.com is in their final days of their Semi-Annual sale going on now, according to their Facebook page! This is the time to check out their website if you are interested in buying any new Coach products as they have updated it with even more items in the final sale days. Plus they have DROPPED many of the prices from the first half of the sale -significant price drops, so check back & see if an item you were interested in has dropped in price during these final sale days!
We know this sale won't be for everyone as the prices are definitely at a higher price point, but it's rare to find discounts on new Coach products (which aren't at the outlet stores) so this is a very rare sale for them to offer!  Items start as low as $25.
Shipping will be $10 or FREE if you spend $150 or more.
To see the best deals in the sale, I always choose to sort "Price – lowest to highest".
Here are some of the deals we found::
Coach Wristlets starting at $35 – these have now dropped in price to $25 from when the sale started
Embossed Small Wallet in Leather – $49 (reg $98)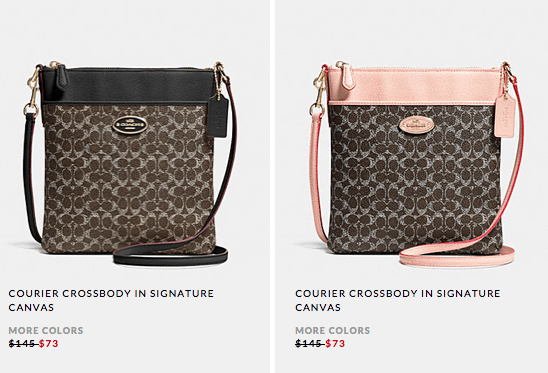 Coach Cross Body Bags – $102  These have now dropped even further in the sale to $73
Coach Signature Bag $137 – now $98 – price has dropped from beginning of sale to end!
More Coach Sales::
Make sure to check out the other Coach sales which will be happening soon online as well!