Back to School Lunch Idea: Honeycomb's for the "Bee"st Lunch!
This post may contain affiliate links and I may be compensated for this post. Please read our disclosure policy here.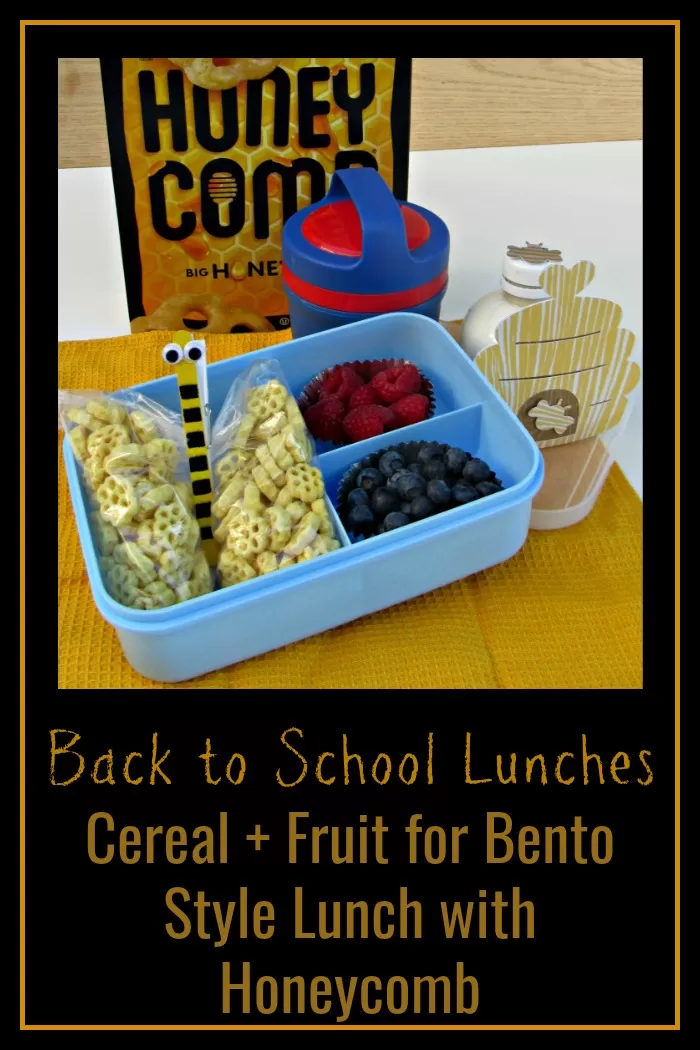 As we get closer to sending our kids back to school for the coming school year, one question I often hear from other parents is "do you have lunch ideas for school lunches?".  When possible I like to make my kids school lunches that are balanced, simple, affordable and fun. Most importantly though, I want them to eat their lunches! There have been many mornings I open up one of my kids lunch boxes only to find yesterdays lunch still in there, and have to ask them "did you eat anything for lunch"! So packing lunches I can get the kids to eat is key at my house.
My kids have loved eating Honeycomb cereal for breakfast for many years. Our entire family loves Honeycomb's – the classics never go out of style. Honeycomb's big honey flavor and big crunch make it the perfect breakfast or snack that will fill you up. Each spoonful of classic Honeycomb cereal is bursting with honey flavor for a "biggerer" breakfast option, and we like to turn it into a "biggerer" back to school lunch option too!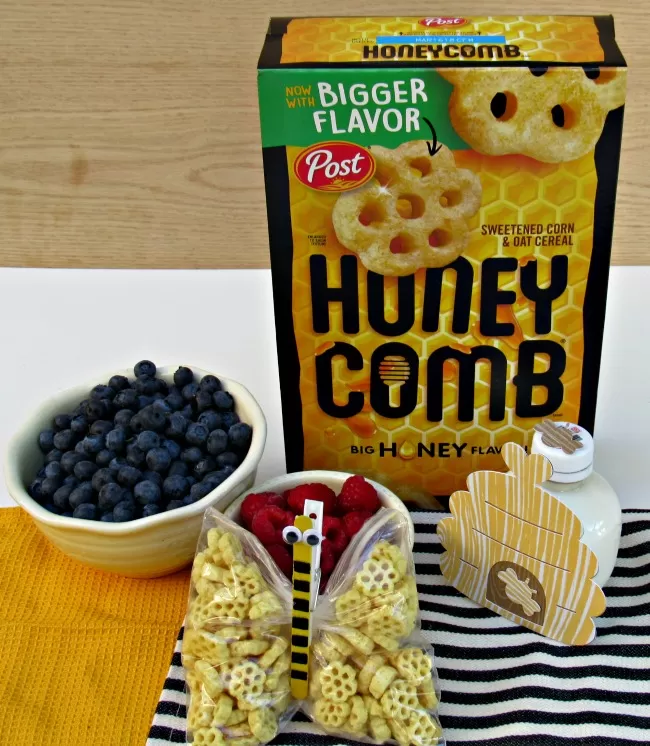 I am always looking for fun and simple ways to theme my kids lunches. I don't do this everyday, but if there is a big test, or special event day, or just a day I feel like my kids need a pick my up, then I love to make their lunches a little bit more exciting. Mornings can be busy though, so I need to keep it as simple as possible. This Bento style bee lunch, using Honeycomb cereal, is one of the easiest, and my youngest said it was one of the "bee"st lunches she has had. She loves cereal, so I like to add it with fruit and some other snacks, as a special lunch for her.
You could have your kids just buy milk at school, and that makes this lunch idea even easier. Plus, it is a budget friendly lunch if you need to stretch your money.
The Honeycomb Cereal Bee is really easy to make. I loosely filled a sandwich bag with Honeycomb Cereal. Then I separated the cereal bag in half by pinching it in the middle and adding a clothes pin to hold it like that.
To make it look like a bee, I added a couple of black stripes to a yellow wood stick with a sharpie, and hot glued on some googly eyes. It took me just a couple of minutes. Then I glued the bee stick onto the clothes pin. You could make the clothes pins ahead of time so they are ready when you are packing lunches in the morning.
These are also fun snack packs to have on hand for when the kids come home and want a quick after school snack.
To make the beehive milk, I used my Cricut machine to cut out the hive. You could hand draw something simple instead and attach to your individual sized milk with a dab of hot glue.
If you are having your kids buy milk at school, you could draw the beehive on a napkin you put in their lunch, with a personalized message for your child too. My kids love when I send them napkins with notes.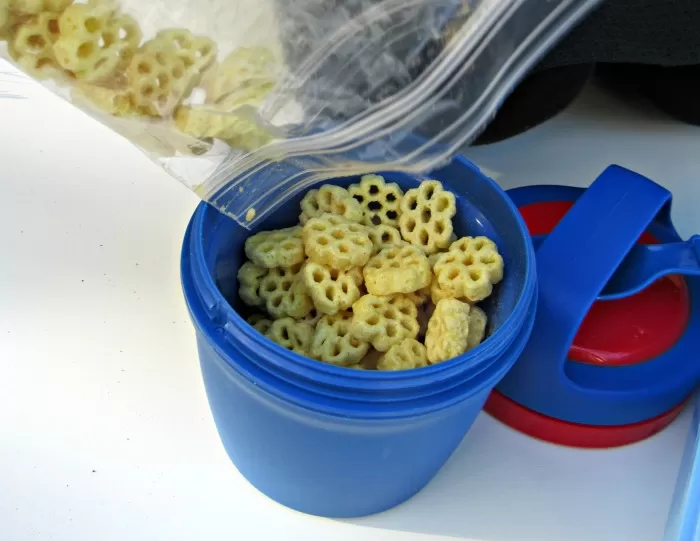 You can send them with a disposable bowl and spoon. We like to keep these reusable bowls on hand. It comes with a spoon and is perfect for kid sized meals.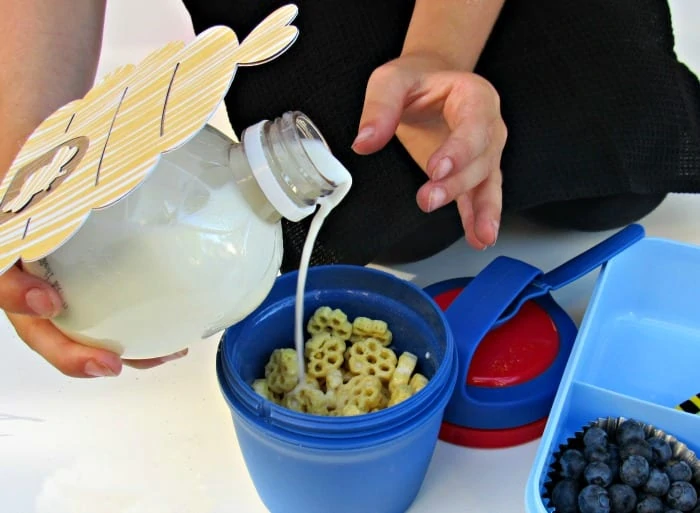 If you cannot find the individual sized milk cartons, and want to send your kids with milk, use any small clean, seal-able container you have on hand.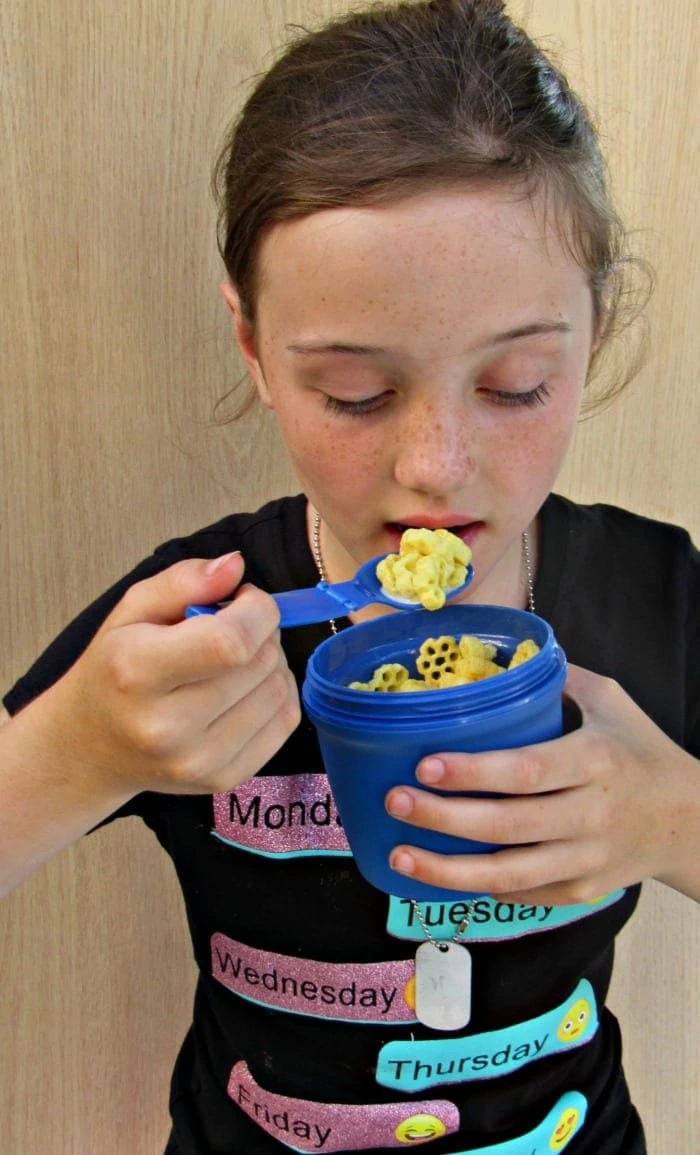 This is my youngest child. She loves cereal, and thinks it's a treat when she gets it for lunch at school.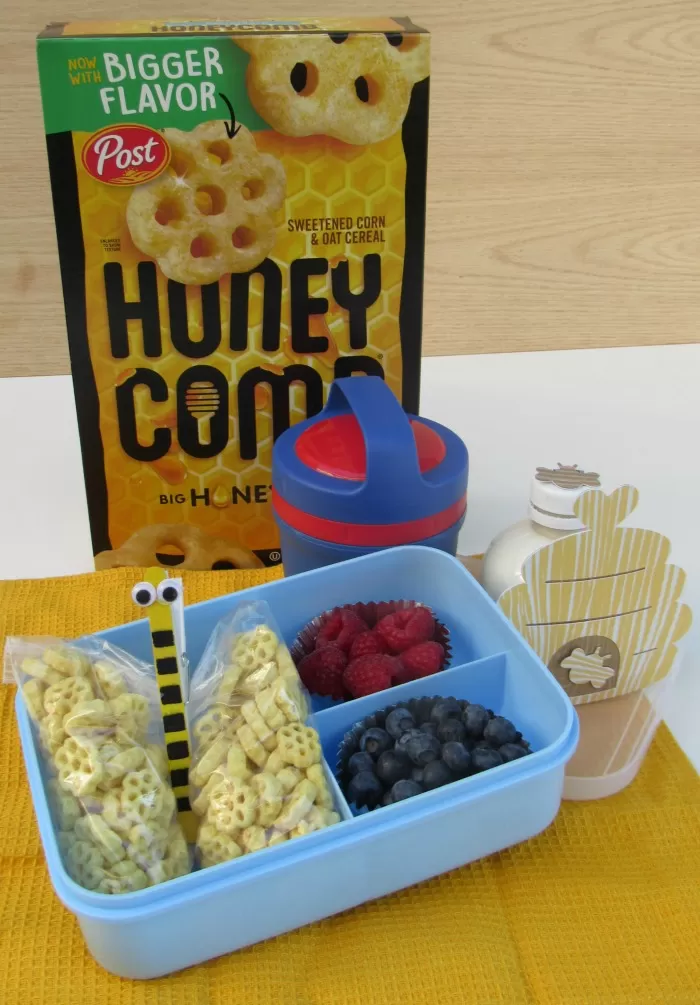 Balance it out with some fruit or nuts, etc. to fill your kiddo up. Honeycomb's one-of-a-kind big shape and big honey flavor are sure to brighten up any breakfast or after school snack.
It's such a simple, yet fun lunch to pack for the kids, and easy on the parents too. Be sure to enter to win a $25 gift card, plus a box of Honeycomb cereal sent to you, to help you kick off Back to School breakfasts, lunches or snacks in your house!
Giveaway – $25 Gift Card + Box of Honeycomb Cereal
Enter to win one $25 gift card, plus a box of Honeycomb cereal sent to you.
This giveaway will end on August 14th  at 9pm pst.
The winners will be drawn using "And the Winner Is" plugin and announced on the blog.  I will also email the winners. The winners will have 48 hours to contact me, otherwise a new winner will be drawn. US residents only & you must be 18 yrs or older to enter the giveaway. This giveaway is not affiliated with Facebook in any way.
Here's how to enter this giveaway::
1st Entry (required entry): Let us know your families favorite way to enjoy Honeycomb Cereal
Extra Entries : (make sure these are all separate comments, with a comment for each entry)
2) Subscribe to the Thrifty NW Mom feed via email (must be verified)
3) Leave a comment here saying you "like" the Honeycomb  Facebook page.
Disclosure: Honeycombs has sponsored this post, and provided the prize that will be given to  a Thrifty NW Mom winner randomly chosen.  All opinions are 100% mine. See our disclosure policy  for more details.