Air Fryer Review – Fried Foods with Up To 80% Less Oil – Game Changer At My House!
This post may contain affiliate links and I may be compensated for this post. Please read our disclosure policy here.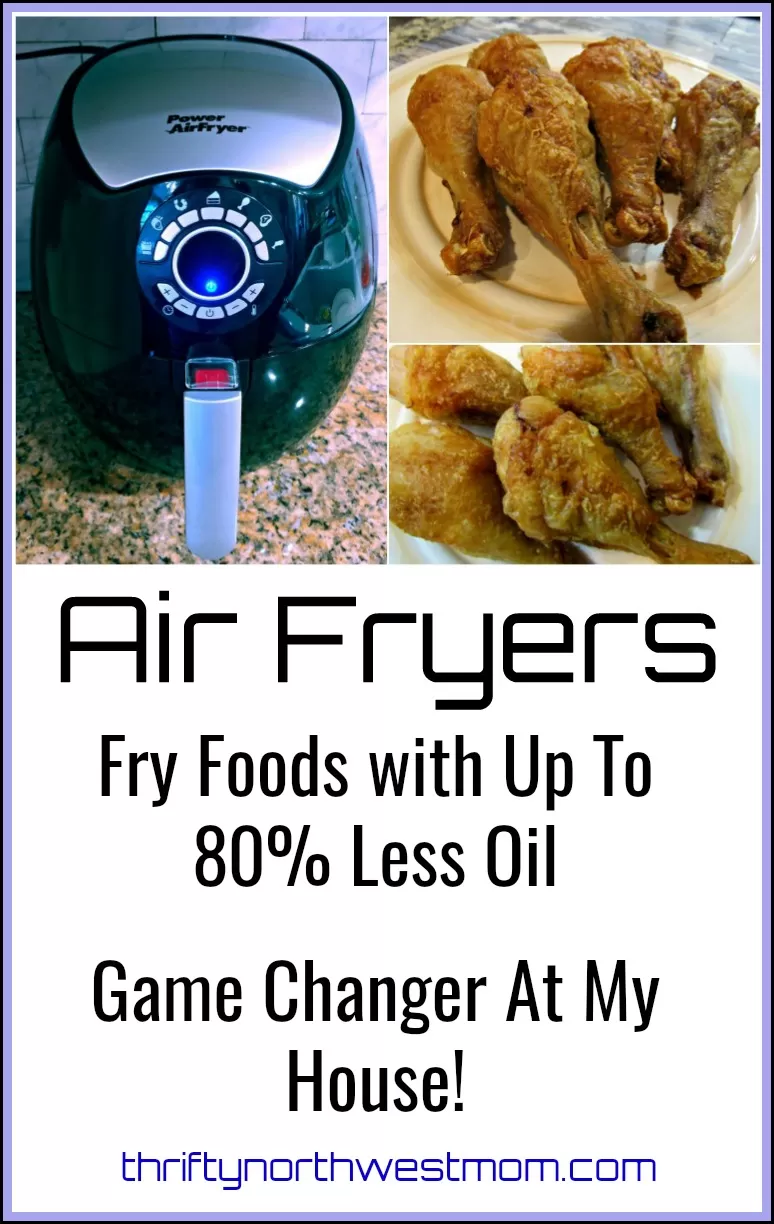 Air Fryer Review – Fried Foods with Up To 80% Less Oil
We finally took the plunge and bought an air fryer, and I love it! It has really changed things around my house in terms of making my husband happy too. He has always liked more fried food than I have. More then that, I did not like to cook by deep frying things. It has always felt so messy and time consuming to me. I have to stand watch over the food the entire time it's in the oil, and I get nervous about kids running in the kitchen, etc. Well my favorite thing about this air fryer, beyond the fact that the food is healthier for you, is that it takes so much of the work out of cooking fried food for me.
I hesitated to buy one for a while now,  as I was just not sure how it would work. Would it would really make food we liked to eat, or if I would just end up with another appliance that needed counter space? I had a number of friends raving about their air fryers so I decided to take the plunge.  Basically, it uses really high heat to cook your food and provide the "fried" texture without the use of oil (or with a light oil coating). I wanted to share how it works, and what a couple of batches of fried chicken came out looking like, so if you had some of the same questions I did, you could have some first hand info on how it works. So far we have made fried chicken (so easy), homemade french fries (cut into fries and coated lightly with oil and salt – we loved these too), chicken wings (my kids cannot get enough of them) and egg rolls (we made these from a frozen box, and they were not my favorites. I will try homemade next time).
All of the recipes that I have cooked in the Air Fryer have come out with a nice crispy coating. I do find that there is a little extra crunch when using a deep fryer, but my whole family agrees that we have liked everything we have made in the air fryer so far. Even though it might be slightly less crispy, the pro's of the air fryer far exceed any small loss in crispiness for me.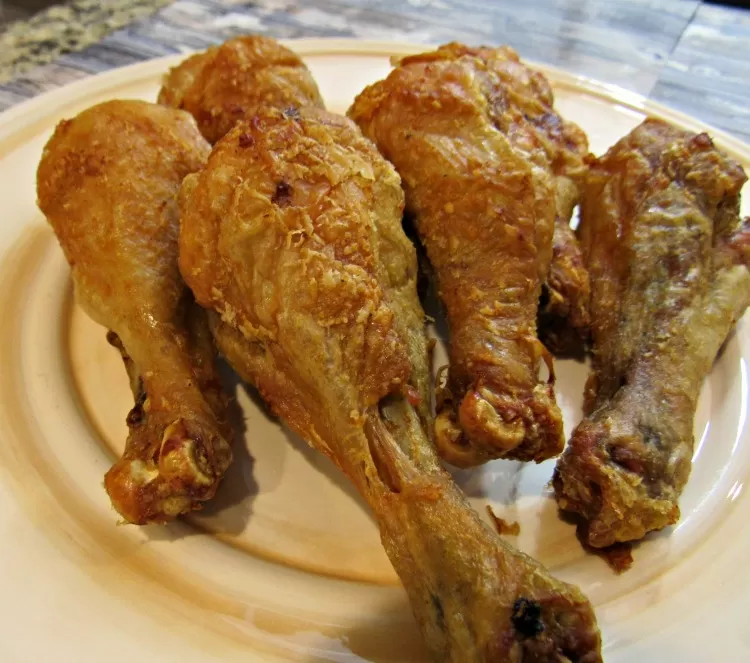 This batch of chicken was made by just seasoning, adding to the air fryer and turning every 15 minutes or so.
It took me a little while to try out an air fryer, as truthfully, it seemed like one of those too good to be true kind of things. As they have gained in popularity though, I saw more people I knew using them, and loving them, and so I took the plunge. I knew after our first effort to cook with it, that I loved it. Here are some pictures of the latest batch of fried chicken I made in the air fryer, so you can see that it really does come out crispy. I dipped this second batch in some seasoned buttermilk, but if you wanted a heavier coating you could do that too. I just wanted to show you picture of a real meal I cooked simply for my family, so you can see the fried result you get in it.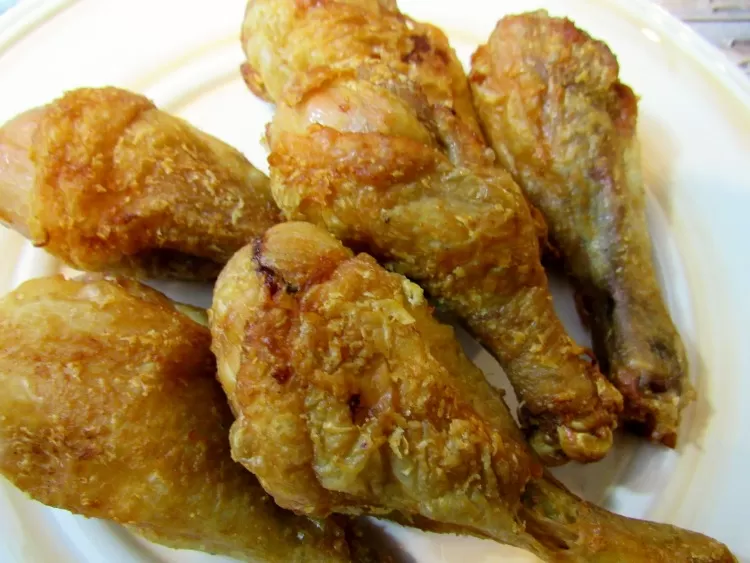 Here is a close up of the chicken. When cooking raw chicken, there is no additional oil required. I have simply seasoned the chicken or dipped it in seasoned buttermilk, and this is the crispy texture it came out with. You can coat it with a batter if you wanted something heavier. It will be a bit less crispy then some of the deep fried batter options, but I loved it. It also drips the fat from the chicken while cooking, so it is a healthier way to make it.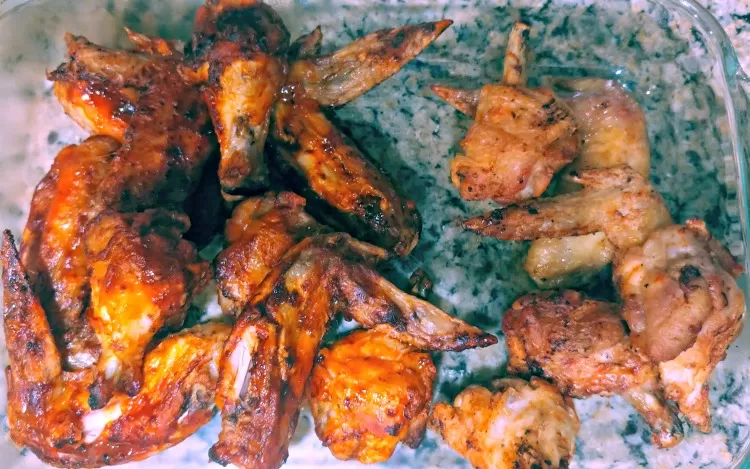 Here are the Chicken Wings we made in the air fryer. I fried them in air fryer, coated with seasoning and put them back in for 5 minutes.
The air fryer cooks with hot air versus hot oil. There are some recipes that require that you add a light coating of oil, but its not cooking by immersing in oil. The hot air is circulated around the food with a fan, and that so it is able to give the outer texture that crispiness, while cooking the inside too. My air fryers basket has wholes, so excess grease falls to the bottom of the pan, verses sitting on your food, and thus it provides many of the benefits of baking verses frying, but gives the food that outer crispiness as well.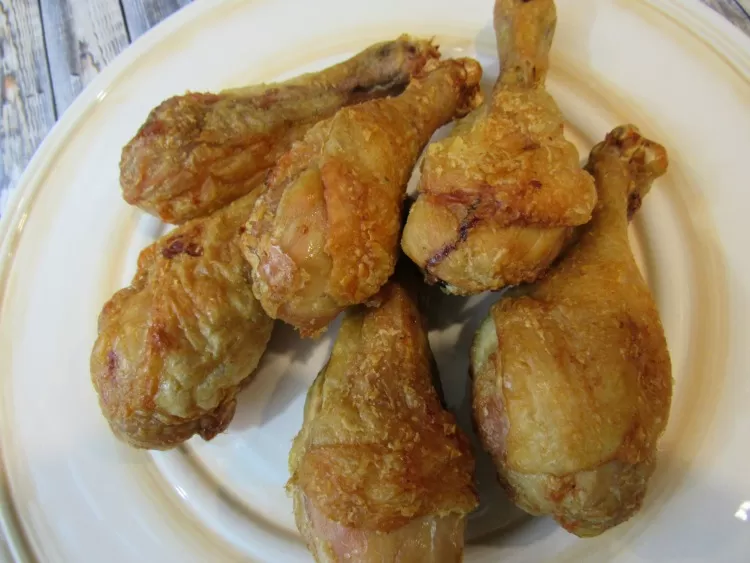 What I love about cooking with an air fryer:
Most people cite the health benefits as the biggest perk of the air fryer. Yes, it is great to be cooking in less or no oil. I used no oil when cooking this fried chicken above.
However, my favorite perk is the ease of cooking. Normally if I fry chicken I must hover over it while its frying in the oil. I also find its a messy way to cook (have to get rid of the oil, it splatters all over the stove, I am nervous about kids moving around the kitchen, etc). This time I simply coated my chicken, and put it in the air fryer, and got busy making the rest of dinner (just like I would if I was baking it). I do check on it ever 15 minutes to rotate it, but that is a simple process. No oil all over my kitchen, and the rest of dinner can be done while the chicken is in the air fryer.
Differences in cooking with air fryer versus traditional deep frying:
Much less messy & easier clean up
Do not need to buy all of the extra oil it requires for deep frying
Do not have to monitor the cooking process the entire time – no oil splatter
Less oil in the foods, so they are healthier
Food is crispy, but it may be a bit of a different texture vs. traditional deep frying
Safer (don't have to worry about oil spills or fires)
I have had to learn to adjust my recipes slightly to cook in the air fryer. Once you have those adjustments down though, we have really enjoyed all of the foods we have cooked.
I have the Power Air Fryer (around $99)
As air fryers have grown in popularity, we have seen a number of them pop up on the market. During Black Friday and Cyber Monday, we saw some of these drop down into the $40 range. In the stores I generally see them sell from between around $69 to $150 (but they can go lower with a good deal, and up to the high end which is generally around $250). I would budget to pay $100 for one, in general.
The GoWise is Amazons choice, and generally sells at a nice price point.  This one gets a 4 star rating out of well over 1000 reviews.
NuWave tends to be a popular mid range brand in this space. I have friends who bought this one, because they liked its basket size, and they highly recommend it.
Power Air Fryer – this is the one I bought. I paid $99 at a local Walmart for mine. They have a larger size on Amazon too.  To be honest, I bought this one because during the holiday season these became hard find in store. I went to three stores, and got impatient. We wanted to make chicken wings that night, and it seemed like it had very good reviews and the price was reasonable when I bought it. I bought it on more of a whim then I usual do with these kinds of products, but have no regrets yet. It has worked great for us!
The Phillips Air Fryer XL, is considered to be one of the top on the market. This is actually the first one I bought, because of the high ratings it gets. It cost me $250. This is the appliance I bought, and when I got it home I realized it was a return and had been used already, so I took it back to the store. It was the last one they had in stock, and so I changed my mind and went with a model that was less then half the price. This one does get great reviews, if your looking at one of the higher end options though.
Do you have a different Air Fryer that you love? If so, let folks know what it is and why you love it below.
Tips:
Shopping online can be easier with these products, as you can easily check out reviews etc.
If you plan to shop in store like I did, I suggest bringing your phone with you and checking reviews there.
If the package looks like it was returned (like it has been retaped), don't buy it. I bought one earlier (splurged on a more expensive version), and when I unwrapped it at home it was clear someone used it and returned it. Although they tried to clean it, there was some grease residue, and you could smell immediately it had been used.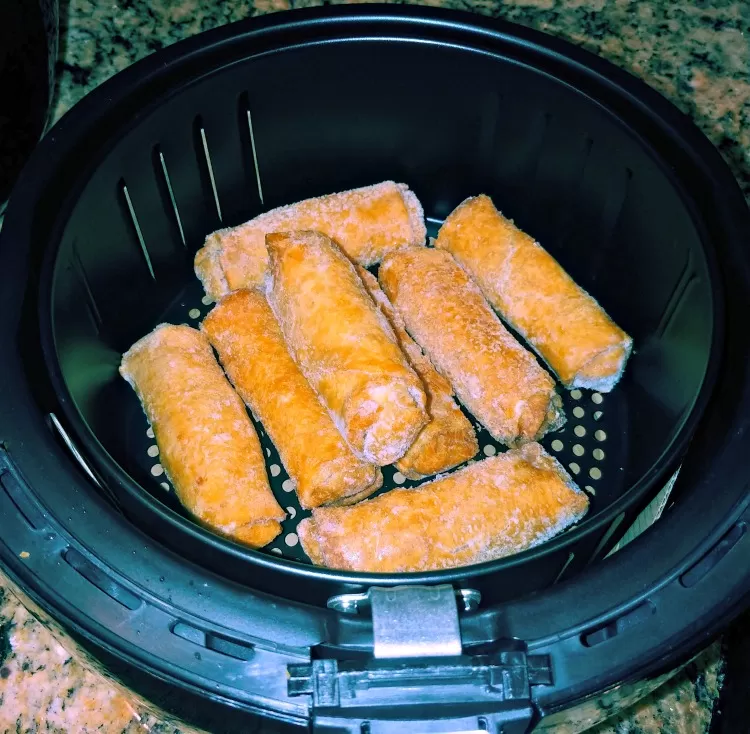 Here is the size of my Air Fryer basket (3.4). It fits a package of frozen egg rolls for example. I brush those with oil to get a nice crispiness to the outer coating.
Things to consider when looking at Air Fryers:
Some things you are going to want to consider if your looking at buying an air fryer, beyond just the price, include:
The size of the appliance
Some of these can be very large, and take up a nice chunk of your counter top space. You are probably going to pay more some of the new sleeker designs. Make sure to consider if you plan to keep it on the counter, or store it away between uses, and what kind of space you have to do that before selecting your style.
The size of the basket
In addition to the overall size of the air fryer, you will want to pay attention to the size of the frying basket that holds and cooks the food. This is important if you will be cooking for more then one or two people. You will want to make sure you have a basket that can accommodate the size of meals you may cook at any given time. While you can make multiple batches, some recipes can take 20 to 30 minutes, so you really want to make sure you get a basket that will fit your families cooking style.
Modes and Settings
How will you use your air fryer. You will want to consider what kinds of fried foods do you like to cook, and make sure that the modes and settings support that. For example, does it support cooking both dry and wet recipes. Can you use multiple temperature settings, so you can cook a variety of foods.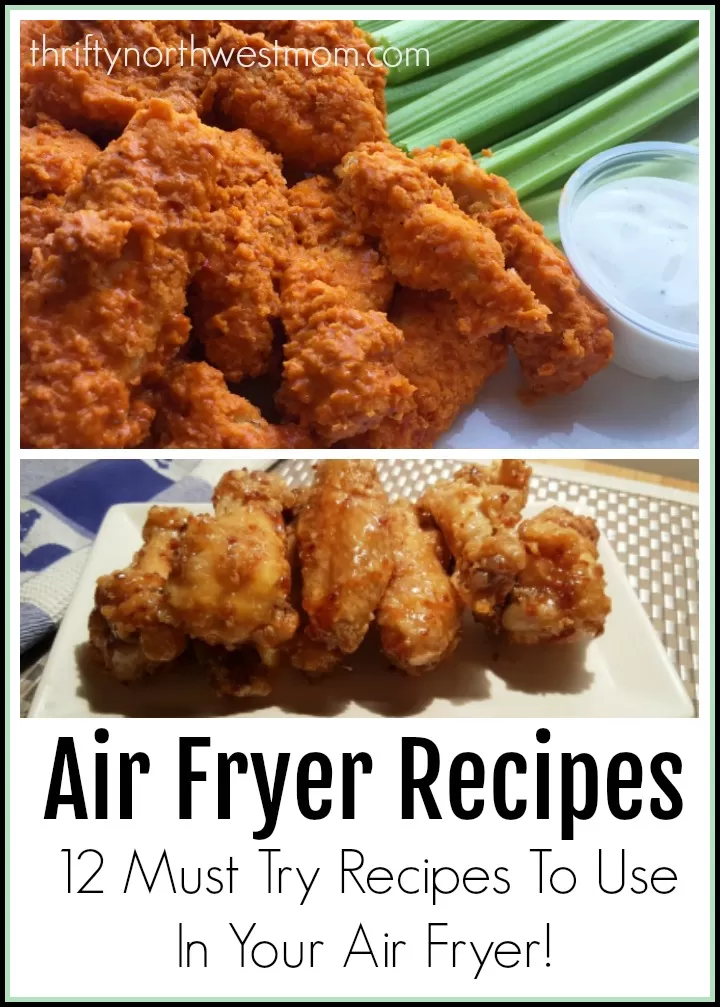 And be sure to check out these 12 Air Fryer Recipes you can try out once you have an air fryer!