4th Of July Festival Round-Up
This post may contain affiliate links and I may be compensated for this post. Please read our disclosure policy here.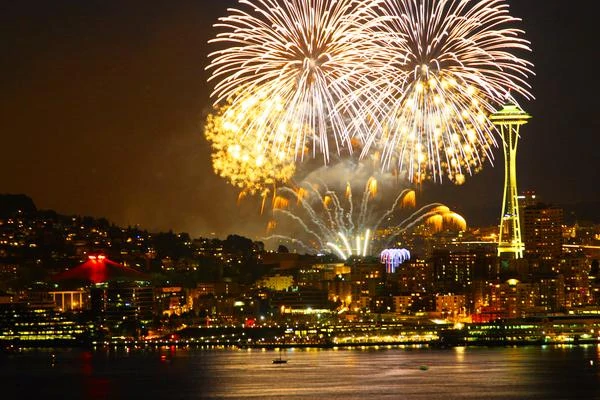 If you are not on your way out of town and still looking for something fun to do for the 4th of July, here is a list of festivals you might enjoy.  This is just a highlight of whats going on. Check your local city website to see if there is a 4th of July celebration in your town (and leave your favorite celebrations in the comments below if they are not on the list below!).
Here are some highlights from local festivals going on for the 4th of July:
Seattle
This celebration includes food, playfield, hands-on activities, bungee trampolines, climbing walls, inflatables, kickball, entertainment and fireworks.
See gorgeous wooden vessels, go on a free boat ride, join a scavenger hunt, or see craft and skill demonstrations by regional boat builders. Food vendors, live music, exhibits and a pub all add to the excitement throughout the weekend. On July 4th, limited Festival activities will run until the evening Fireworks show. Join them at the NEW Lake Union Park for terrific fireworks viewing while enjoying access to music and family-friendly activities.
North Sound –
This festival includes a  Pancake breakfast, Pedal, Paddle Puff Triathlon, Kiddie parade  and grand parade, Stilly Duck Dash and fireworks.  Its a free event open to all ages. Various locations around Arlington WA.  and times. See website for details.
This celebration will include Yankee Doodle Dash, Fire on Ice: discounted public skate at Comcast Community Ice Rink, BOGO entrance to Imagine Children's Museum(military families free),Downtown Parade, meet & greet with Everett Police Department, Fun in the Sun Street Fair: family activities and entertainment and more. There are costs associated with some of these festivities. See website for times, locations and cost details.
Enjoy a Fun run, parades, firefighters waterball competition, entertainment and fireworks. Event is free.
This festival includes parades, runs, pancake breakfast, Hot Rods & Harleys, arts and crafts, Strawberry Shortcake Feast,  and fireworks. Most of the activities are free (cost associated with a few). Visit  for more details.
Come see a mini parade and ice cream social with entertainment and fireworks. Event is free for all ages. More info can be found at.
South Sound
Renton is offering tons of kid fun with inflatables, face painting, family entertainment, food and fireworks. Event is free. Check out for time and location details.
Entertainment includes pie eating contests, wooden toy boat building, bounce houses, the airforce band of Golden West performs, old-fashioned games and fireworks. Event is free (food and vendors will cost).  Parking lot is closed, so check out website for shuttle details. (find our Lake Meridian Park review here for more details on the park).
Watch a kids' bike parade, entertainment on two stages, inflatable rides, climbing wall, trampolines, food and craft vendors, car show and more. The event is free but there is a cost for rides. $5 will get you a bracelet for unlimited rides. (Fins our Les Gove park review here for more details on the park).
Enjoy arts and crafts, food, family activities, seven music areas, pole-vaulting, stand up paddle board races, car show, Tacoma Freedom Air Show and fireworks.  Entry is on a donation basis ($10 donation suggested for families).
Celebrate the 4th with parades  and fireworks at this free event in Enumclaw.
Come for the day & enjoy the races (only adults will pay admission) or just come after the races to enjoy the fireworks for free (July 3rd)!
Come and swim for free at the outdoor pools at Stewart Heights or Kandle on the 4th of July (see website for times).
Eastside
July 4, 2012 at Downtown Park in Bellevue, WA. Family Fun Zone is open from 2-8:30pm and features jugglers, stilt walkers, mascot characters, storytellers, face painting, free interactive games, inflatable rides, and a Mini Mountain climbing wall.
Festival includes parade, old-fashioned music, games, races, activities and prizes. Event is free in Issaquah. For more info visit .
Festival  with Children's parade followed by Community Parade, food and music, Duck Dash and fireworks. Free festival.
The Islands & Penninsula
Participate in a pancake breakfast, street fair, foot races, parade, classic car show, historical baseball game, music, food, entertainment and fireworks on Bainbridge Island.
Take the kids to "Tiny Town" kids' area with games, entertainment, pony rides, food and craft vendors and tot play area, parade, music festival and fireworks.  Free event on Kingston with donations accepted.
Portland Area
For a list of Portland Area festivals check out PDX Kids 4th of July round up for Portland here.