2011 Reader Survey & $25 Amazon Gift Card Giveaway
This post may contain affiliate links and I may be compensated for this post. Please read our disclosure policy here.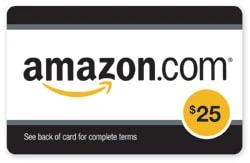 *This post will remain at the top of the blog for the length of the giveaway! 
I want to hear from you about what you would like to see on Thrifty NW Mom, so I have a short reader survey for you to fill out. I like to do a reader survey each year so that I can provide you with relevant content to help you reduce your spending & save your family money. Your feedback will help me to decide future features & projects here at Thrifty NW Mom.
This confidential, anonymous reader survey also will provide basic demographic information about the Thrifty NW Mom readers so I can better partner with businesses and brands to bring you even more exciting giveaways & promotions.
Giveaway: $25 Amazon Gift Card
As a thank you for taking the time to fill out my reader survey, I am offering a $25 Amazon gift card to 1 lucky Thrifty NW Mom reader.
Here's how to enter the giveaway for one of two gift cards:
1. Fill out the Thrifty NW Mom Reader Survey
2. Leave a comment on this post saying that you filled out the survey (since this is an anonymous survey, we are going by the honor system for the entries).  There should only be one entry per person for this giveaway.
This giveaway will close on Tuesday November 1st at 9pm pst.    Thank you for taking the time to fill out the survey!